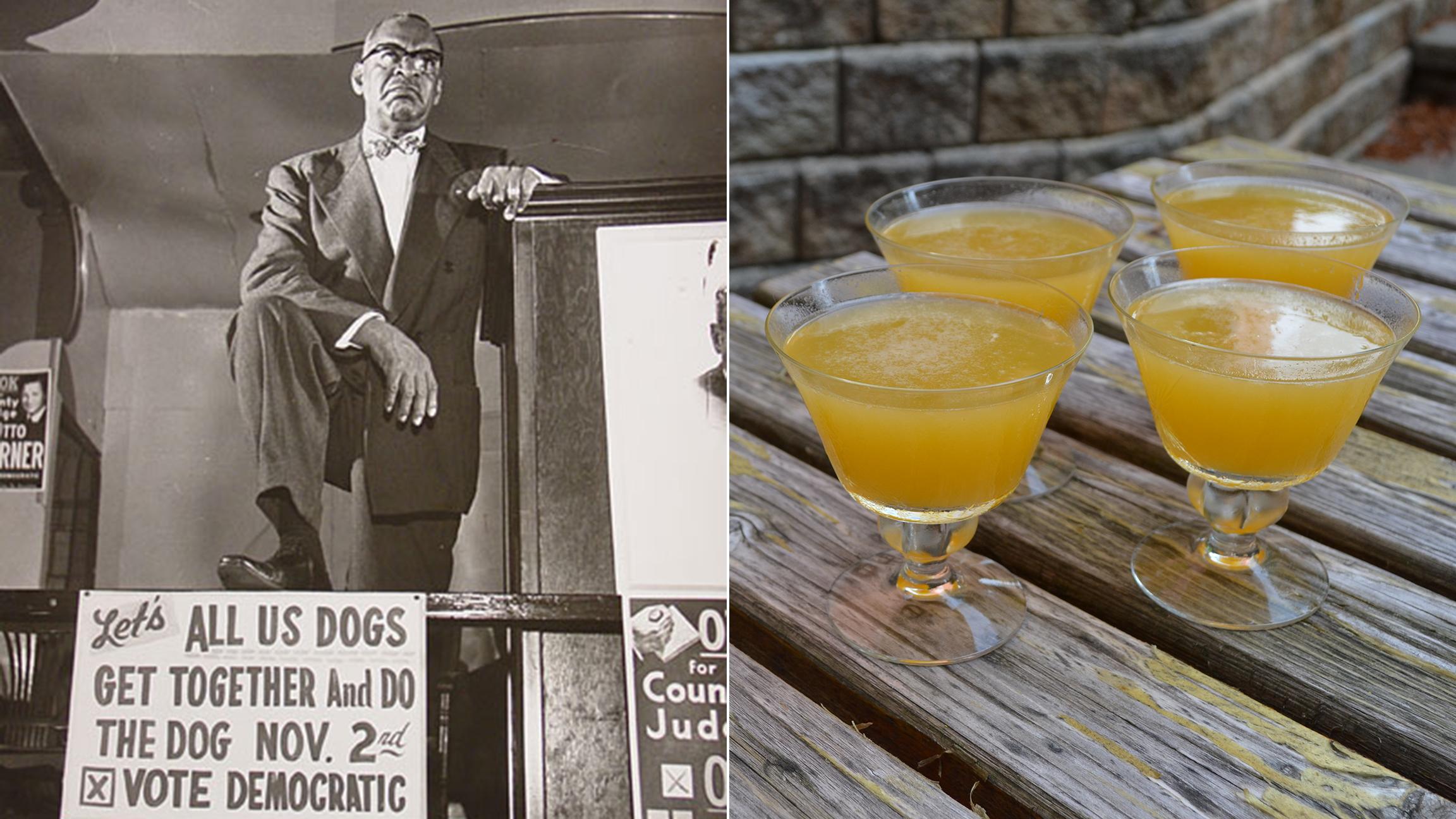 They say it's always 5 o'clock somewhere, but given Chicago's boozy history, we think it's fair to say that it's always 5 o'clock in Chicago. That's why this summer we're raising a glass to the Chicago spirit each Friday by sharing original cocktail recipes that celebrate some of Chicago's most colorful politicians.
Belly up to the bar and get a little taste of Chicago's spirited history.
More from this series: Bridgeport's Revenge • Cautionary Tale • Crooked Cowboy • Old Shoe • Pushcart Tony • Swing Bridge • New Deal, Old Deal • Blood Sport • Kentucky Colony • How's Harold? • The Man on Five • The Hinky Drink • Lord of the Levee • Mayor Bossy
William Dawson, 1886-1970
In a time of loud and showy politics, it's important to remember that sometimes, the politician who stays out of the limelight is the most effective politician. In other words, you've got to look out for the quiet ones – like alderman, committeeman, U.S. Representative and Chicago boss William Dawson.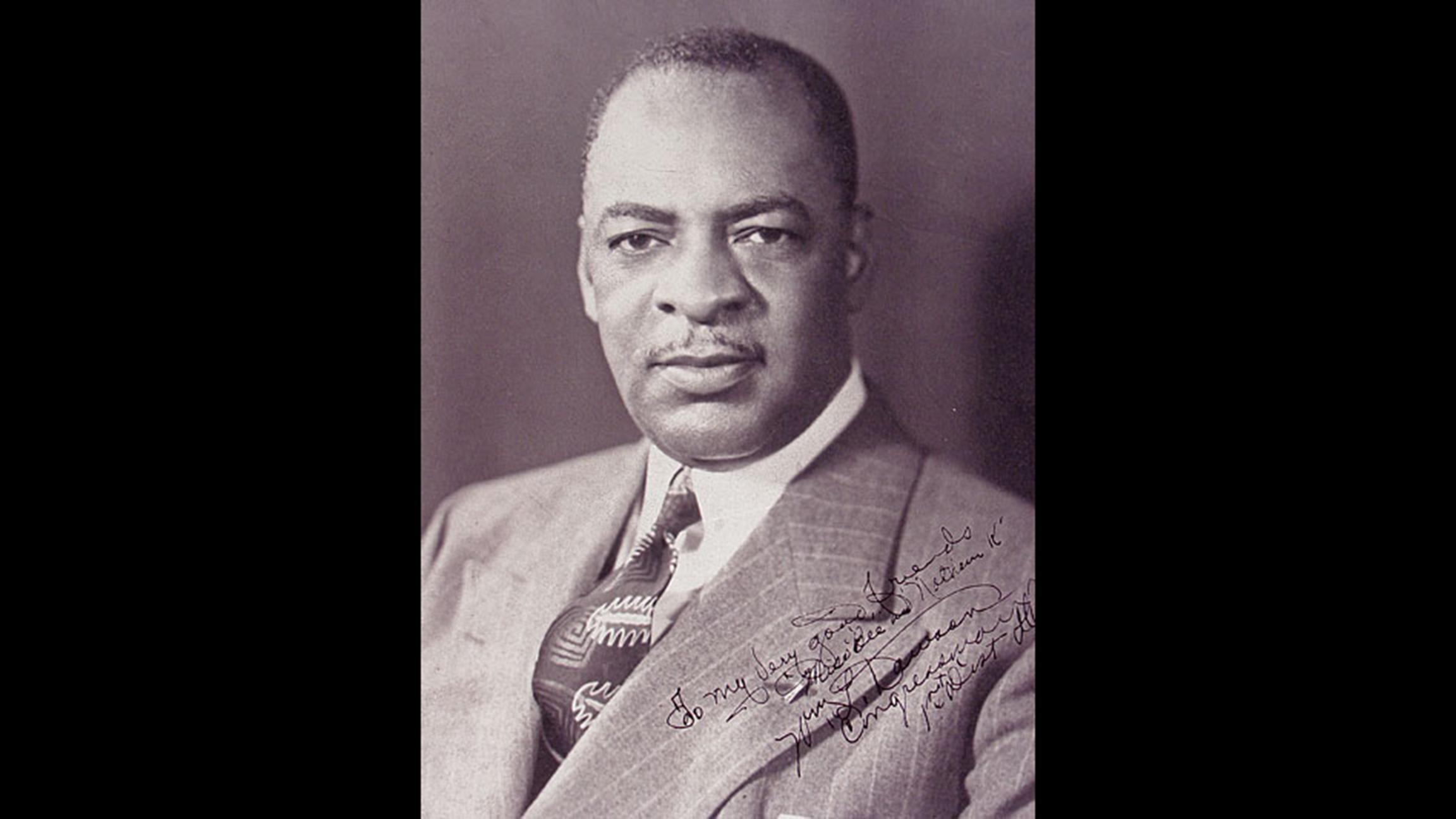 William Levi Dawson was born in 1886 in Atlanta into a family of eight. Sharp and ambitious, he worked as a porter and waiter to pay his way through college and later, Northwestern University law school. Dawson enlisted in the Army during World War I and rose to the rank of first lieutenant. Upon leaving the Army, he returned to Chicago and was admitted to the Illinois State bar in 1920.
Dawson began his political career as a Republican as a state central committeeman in 1930. In 1933, he became the second African-American to join the Chicago City Council. After six years, Dawson, along with many other black Republicans impressed by New Deal programs, defected to the Democratic Party. Dawson remained a Democrat for the rest of his career.
During his tenure as an alderman and ward committeeman, he created the first strong block of African-American voters in Chicago, comprising nearly five wards. This made Dawson a powerful ally to one Richard J. Daley as he made his first bid for mayor in 1955. Not only did Dawson help get out the black vote for Daley, he was also accused of getting out the ghost vote when Daley's opponent alleged that 15 nonexistent voters supposedly resided at the address of a slum dwelling Dawson owned. Once Daley was elected, Dawson became the boss of what was essentially a black "submachine" within the Democratic machine, which he ran using the same patronage-and-clout recipe as Old Man Daley did.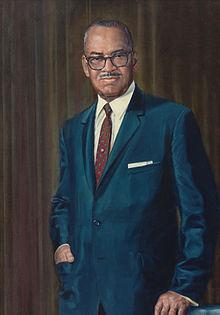 Dawson was a conservative man who did not seek publicity, preferring instead to use political channels to achieve his aims. This led many in the black community to question his dedication to the cause of civil rights; in fact, he was quoted as having said, "I am a politician first, and a Negro second." But that didn't mean he didn't get the job done. In 1942, Dawson was elected to the U.S. House of Representatives. During his 27 years in the House, he strongly opposed the poll tax, which in effect disenfranchised most black voters, and helped defeat an amendment that would have allowed members of the military to opt out of racially integrated units. Perhaps most importantly, Dawson was a mentor to young African-Americans as they worked their way up through the political system.
Furthering his image as a behind-the-scenes operator, Dawson was instrumental in helping John F. Kennedy get elected in 1960. Kennedy offered Dawson a slot as the U.S. Postmaster General in gratitude, but Dawson demurred, preferring to keep his seat in the House – because that's where things get done. He held that seat until he died of pneumonia in 1970.
For the Submachine, we bring north and south together – the sweet peaches of Dawson's ancestral Georgia with the Irish whiskey of Chicago's rough politics, and bring it together with the vanilla-and-clove-scented Velvet Falernum. Enjoy while quietly contemplating the power behind the throne. Cheers!
THE SUBMACHINE
2 oz. peach nectar
1.5 oz. Irish whiskey
1 oz. Velvet Falernum
1 oz. lime juice
Shake ingredients together over ice in cocktail shaker. Strain into coupe. 
---
More from this series: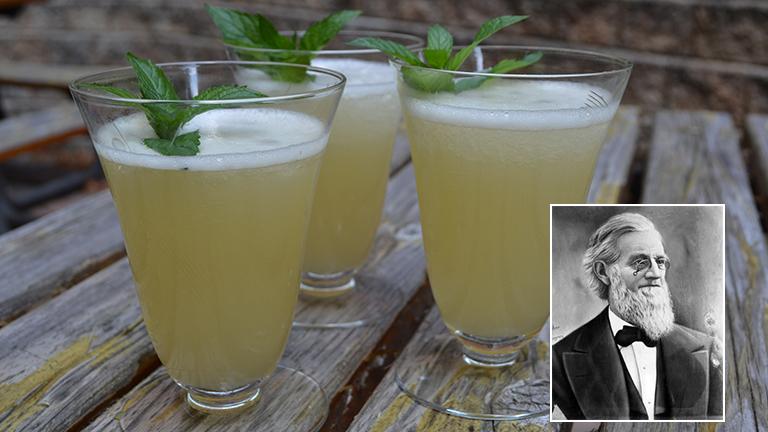 Original Chicago Cocktail: Bridgeport's Revenge
Aug. 12: Levi Boone was arguably one of the most disliked mayors in Chicago history for his crackdown on immigrants and alcohol. He inspires a frosty, boozy melting pot of Americana.
---
Original Chicago Cocktail: Cautionary Tale
Aug. 5: One-term Mayor Michael Bilandic's downfall in 1979 has become a cautionary tale to future would-be mayors of Chicago: Always make sure the snow gets plowed. His chilly defeat inspired this iced cocktail.
---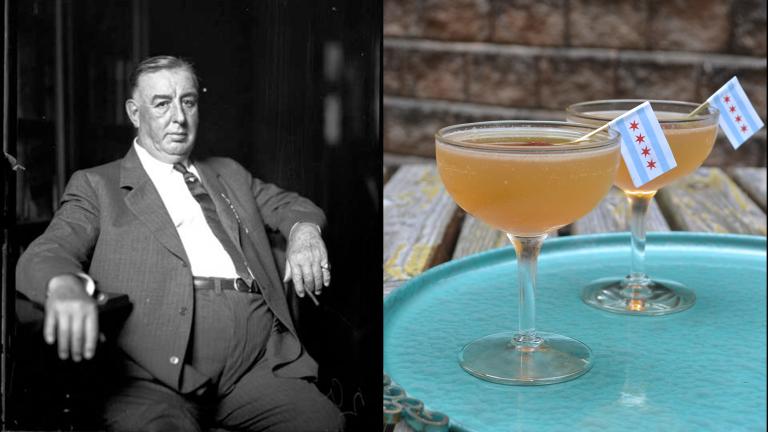 Original Chicago Cocktail: Crooked Cowboy
July 29: William Hale "Big Bill" Thompson was arguably the most corrupt politician Chicago has ever seen. He inspires a bourbon-based cocktail topped off with a taste of Chicago.
---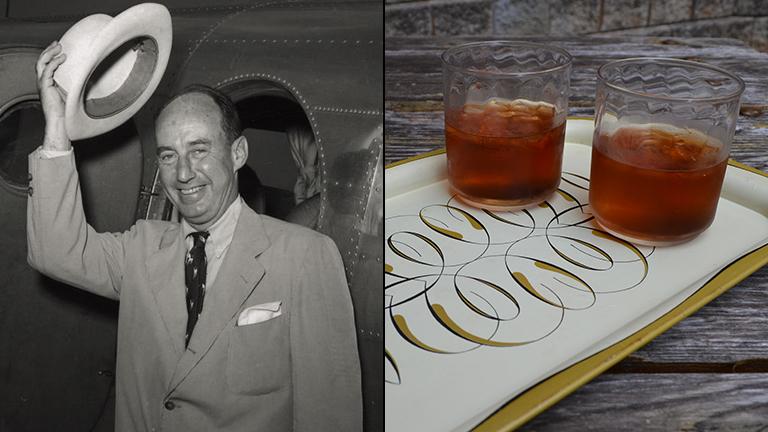 Original Chicago Cocktail: Old Shoe
July 22: It's never been easy or popular in America to be an egghead. Just ask Adlai Stevenson, who once remarked, "the way of the egghead is hard." For a drink befitting Stevenson's balance and brainpower, we create the Old Shoe from equal parts Old Tom gin, vermouth and applejack.
---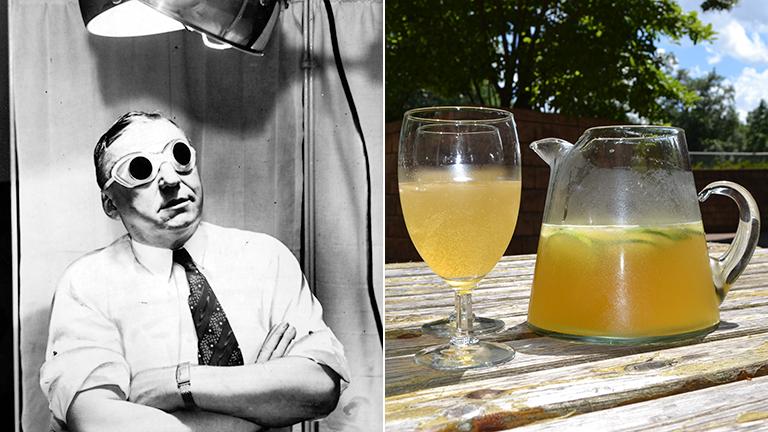 Original Chicago Cocktail: Pushcart Tony
July 15: We honor Anton Cermak's immigrant story with a Chicago-brewed Czech pilsner, Revolution Brewing's Rev Pils, and spike it with the spirit of a more recent group of Chicago immigrants: tequila.
---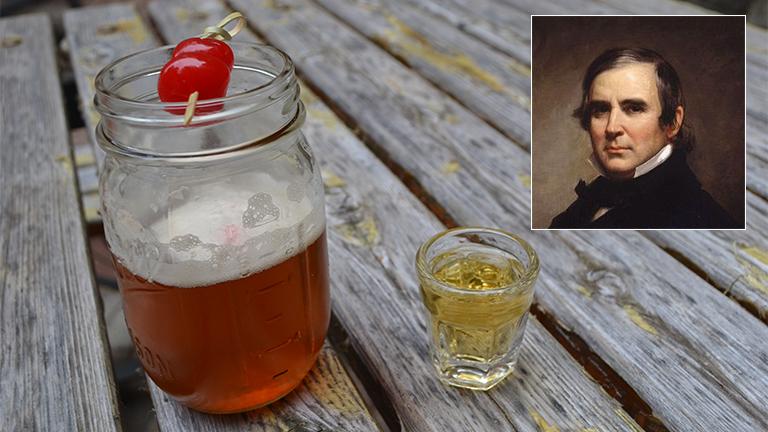 Original Chicago Cocktail: Swing Bridge
July 8: We toast Chicago's first mayor with a drink that gives a nod to William B. Ogden's influence on city bridges and railroads: the Boilermaker.
---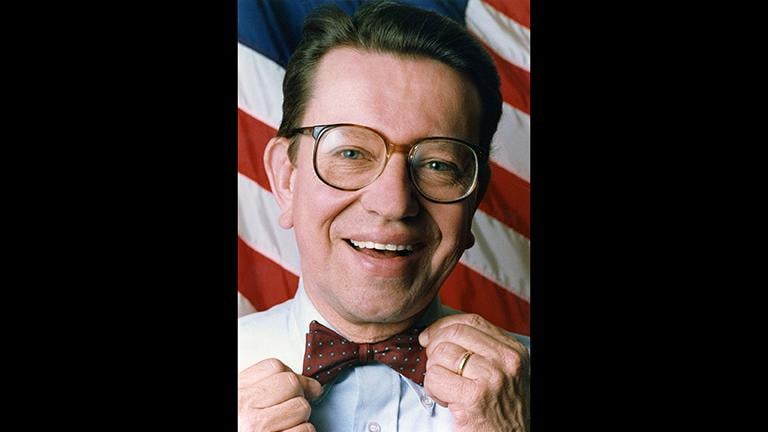 Classic Chicago Cocktail: New Deal, Old School
July 1: This week, we raise a glass to five-time U.S. Congressman and two-time U.S. Sen. Paul Simon, the O.G. hipster of the Senate, with a new twist on an old-school cocktail.
---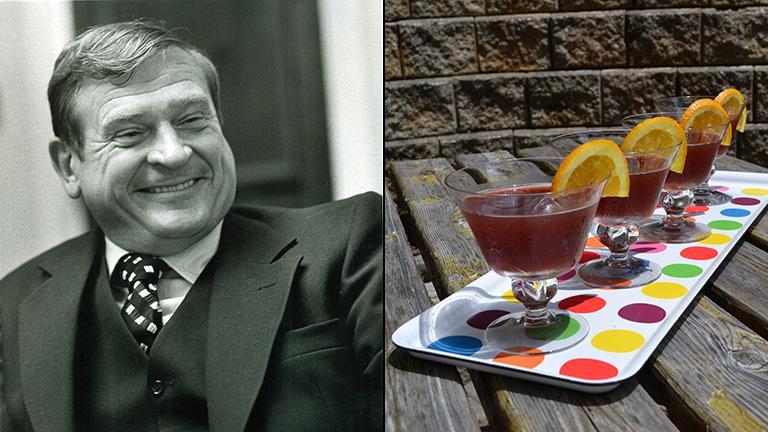 ​Classic Chicago Cocktail: Blood Sport
June 24: Longtime U.S. Congressman Dan Rostenkowski famously called Chicago politics "blood sport." We raise a glass to one of Chicago's own with a Polish twist on a classic cocktail.
---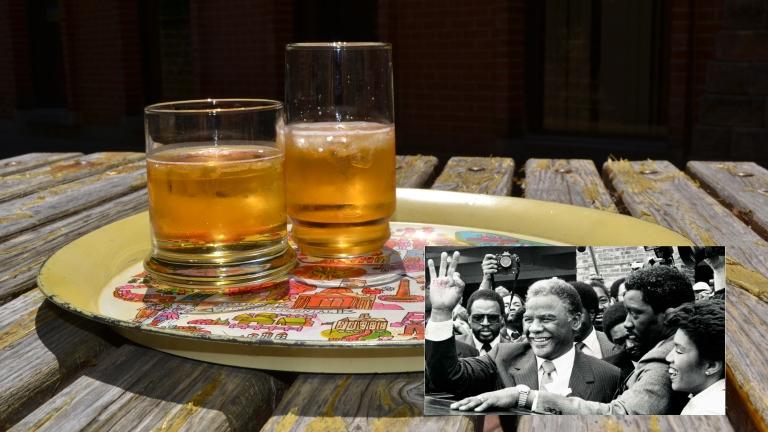 Original Chicago Cocktail: How's Harold?
June 17: Whether it was dancing with a polka queen or meeting with protesters, Mayor Harold Washington was always smiling. We celebrate Chicago's first and so far only African-American mayor with the signature drink, How's Harold?
---
Original Chicago Cocktail: Kentucky Colony
June 10: Chicago's early history has a surprising amount of Kentucky in it, including five-time Chicago Mayor Carter Henry Harrison. We honor Harrison's old Kentucky home by putting a Chicago spin on the classic mint julep.
---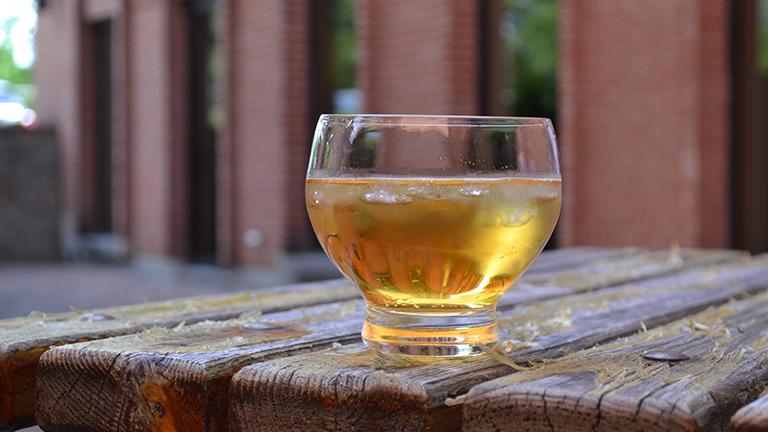 Original Chicago Cocktail: The Man on Five
June 3: Forty years after Richard J. Daley's death, Chicago still identifies itself with the man who steered it for more than two decades. Belly up to the bar and get a little taste of Chicago's spirited history: an Irish whiskey and smoky mezcal blended drink.
---
Original Chicago Cocktail: Mayor Bossy
May 27: Following a whopper of a blizzard in 1979, Sauganash native Jane Byrne narrowly upset Mayor Michael Bilandic for the Democratic mayoral nomination. Belly up to the bar and get a little taste of Chicago's spirited history: a frosty milkshake spiked with whiskey and vodka.
---
Original Chicago Cocktail: Lord of the Levee
May 20: For our second installment, we're saying "cheers" with the Lord of the Levee drink, inspired by Aldermen "Bathhouse" John Coughlin and Michael "Hinky Dink" Kenna.
---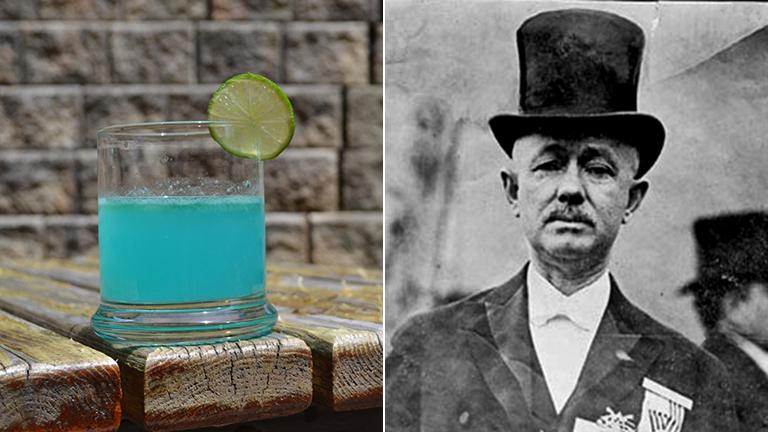 Original Chicago Cocktail: The Hinky Drink
May 13: Belly up to the bar and get a little taste of Chicago's spirited history. We're raising a glass to Michael "Hinky Dink" Kenna, who famously crowed "Chicago ain't no sissy town."
---