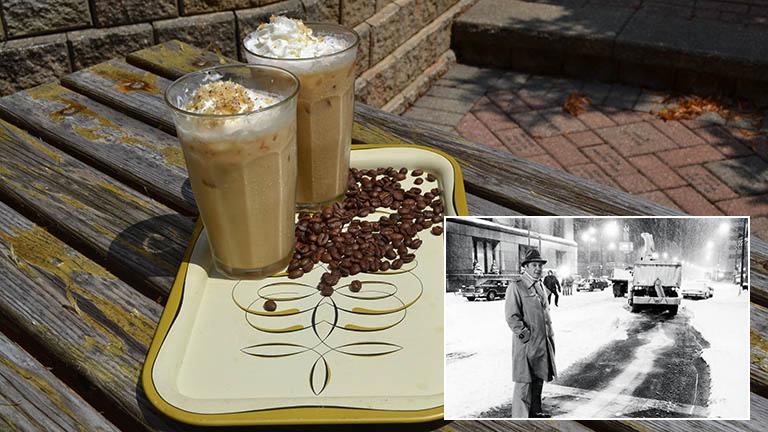 Michael Bilandic and the cocktail he inspired.
They say it's always 5 o'clock somewhere, but given Chicago's boozy history, we think it's fair to say that it's always 5 o'clock in Chicago. That's why this summer we're raising a glass to the Chicago spirit each Friday by sharing original cocktail recipes that celebrate some of Chicago's most colorful politicians.
Belly up to the bar and get a little taste of Chicago's spirited history.
More from this series • Crooked Cowboy • Old Shoe • Pushcart Tony • Swing Bridge • New Deal, Old Deal • Blood Sport • Kentucky Colony • How's Harold? • The Man on Five • The Hinky Drink • Lord of the Levee • Mayor Bossy
Michael Bilandic, 1923-2002
One-term Mayor Michael Bilandic's downfall in 1979 has become a cautionary tale to future would-be mayors of Chicago: Always make sure the snow gets plowed.
Michael Bilandic Bilandic was born in Chicago's Back of the Yards neighborhood to Croatian immigrants. Like four other Chicago mayors, he attended De La Salle High School in Bridgeport and went on to get his law degree. In Bridgeport, he became friendly with ward officials and made his way up through the ranks of the Democratic machine, eventually winning an alderman's seat in 1969. He rose to become the chair of the powerful finance committee, a spot considered by many to be second only to Hizzoner Mayor Daley himself.
But Bilandic was not what you'd call a colorful man. In fact, some went so far as to call him bland. He was precise and ordered, with a somewhat detached affect. Though he pulled down a significant salary as a lawyer and alderman, Bilandic lived at home with his mother until he married Chicago socialite Heather Morgan. In other words, this was not the go-to guy for political drama.
Still, if you're in Chicago politics long enough, political drama will come to you. When Mayor Daley died suddenly in 1976, African-American South Sider and president pro-tempore of the City Council Wilson Frost assumed that meant he was Chicago's new mayor. But this was 1976, and Frost was black. A sizable block of City Council conspired to lock Frost out of the mayor's offices (literally!) and crowned Bilandic Daley's successor with the stipulation that he would not run in the special election for mayor to serve out the rest of Daley's term. Bilandic agreed to the stipulation – but changed his mind, ran anyway and won handily. Among his accomplishments were the creating of the popular ChicagoFest, grandfather to Chicago's heralded summer festivals, and bringing the Chicago Marathon to the city.
Still, it quickly became apparent that Daley's iron-fist reign was a tough act to follow, and Bilandic's fists were decidedly non-ferrous. Bilandic's brief term was marred with a gravediggers' strike, a strike at the Lyric Opera and rumblings from the butchers' union. While Bilandic managed to contain those threats, he was seen as vulnerable to a challenge in the next election.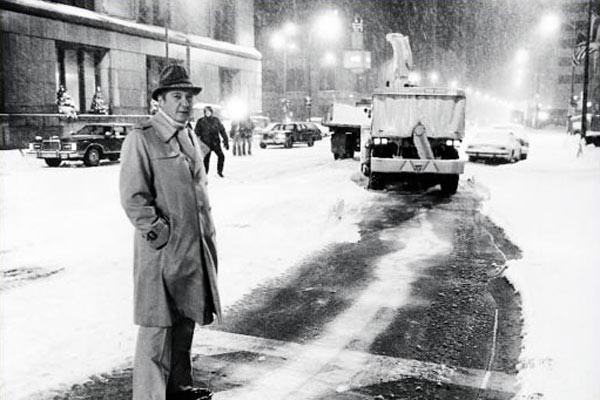 The January 1979 blizzard is seen as costing Michael Bilandic his bid for re-election.
The final blow came in the form of snow – and lots of it. In January of 1979, the city ground to a halt when a one-two punch of snowstorms blanketed the streets and shut down public transportation. Bilandic's limp response to the blizzard infuriated the city that works (but couldn't get to work) and a joke caught fire around town: "If Mayor Daley was alive, this never would've happened." "If Mayor Bilandic was alive, it wouldn't have either."
Bilandic never recovered, and he narrowly lost when he faced Jane Byrne in the 1979 Democratic primaries. He went on to serve on the Illinois Appellate Court and Illinois Supreme Court until 2000. Bilandic died in 2002 at age 78.
Bilandic's Croatian background gives the cocktail its base –coffee, of which the Croats are very fond – and his chilly defeat gives the cocktail its style – iced. We warm it up with cognac, and walnut and chocolate bitters, and smooth it out with cream. The result is a cool coffee cocktail that'll wake up even the most boring mayoral candidate. Cheers!
CAUTIONARY TALE
4 oz. cold brew coffee
1 1/2 oz. cognac
8 dashes chocolate bitters
8 dashes walnut bitters
1 oz. heavy cream
Whipped cream
Ground walnuts
Shake coffee, cognac, sugar, bitters and heavy cream in cocktail shaker with ice. Strain into tall glass. Top with whipped cream and ground walnuts – and just like Bilandic did – leave out the salt.
---
Sign up for our morning newsletter to get all of our stories delivered to your mailbox each weekday.
---
Related stories: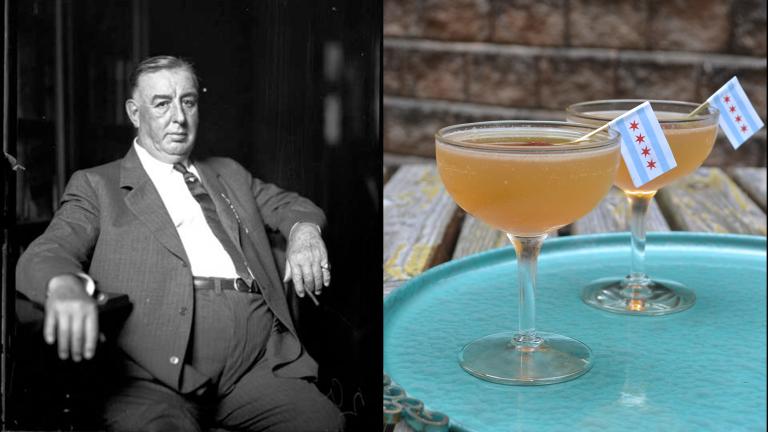 Original Chicago Cocktail: Crooked Cowboy
July 29: William Hale "Big Bill" Thompson was arguably the most corrupt politician Chicago has ever seen. He inspires a bourbon-based cocktail topped off with a taste of Chicago.
---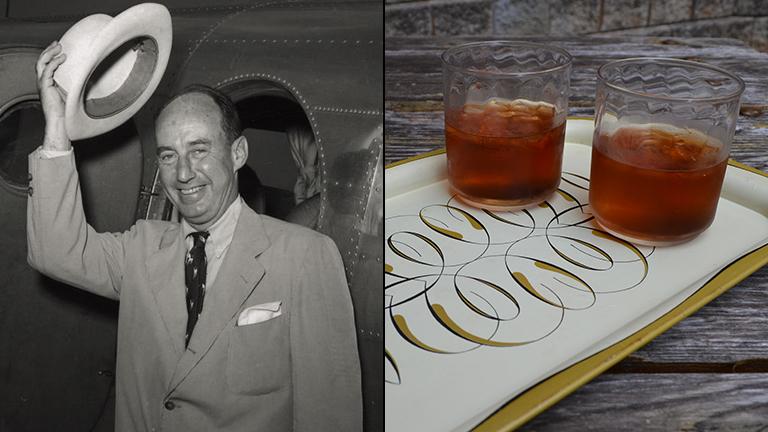 Original Chicago Cocktail: Old Shoe
July 22: It's never been easy or popular in America to be an egghead. Just ask Adlai Stevenson, who once remarked, "the way of the egghead is hard." For a drink befitting Stevenson's balance and brainpower, we create the Old Shoe from equal parts Old Tom gin, vermouth and applejack.
---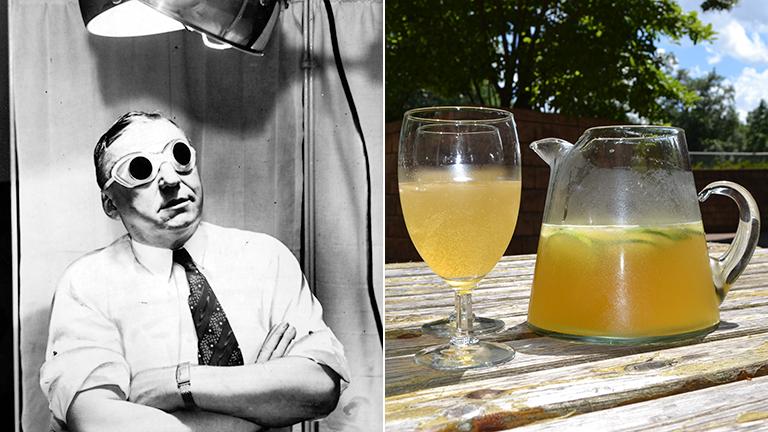 Original Chicago Cocktail: Pushcart Tony
July 15: We honor Anton Cermak's immigrant story with a Chicago-brewed Czech pilsner, Revolution Brewing's Rev Pils, and spike it with the spirit of a more recent group of Chicago immigrants: tequila.
---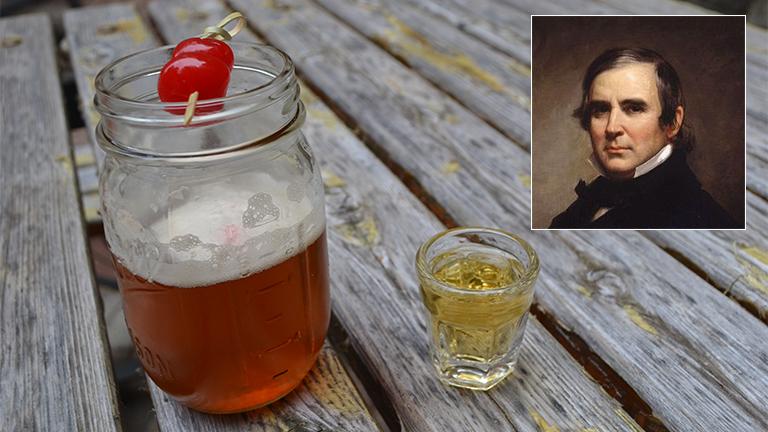 Original Chicago Cocktail: Swing Bridge
July 8: We toast Chicago's first mayor with a drink that gives a nod to William B. Ogden's influence on city bridges and railroads: the Boilermaker.
---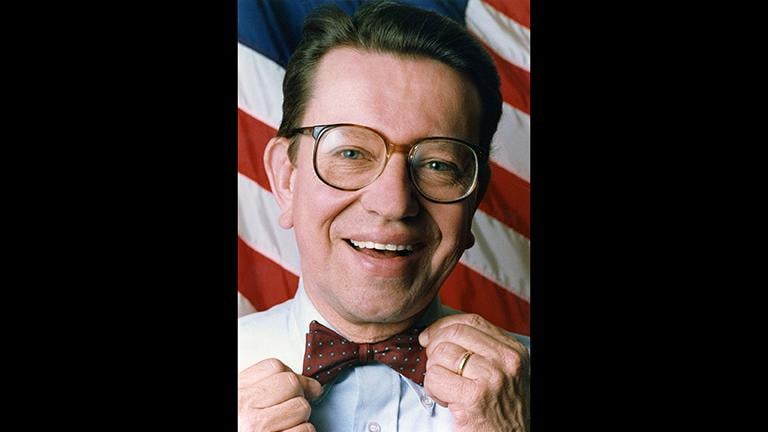 Classic Chicago Cocktail: New Deal, Old School
July 1: This week, we raise a glass to five-time U.S. Congressman and two-time U.S. Sen. Paul Simon, the O.G. hipster of the Senate, with a new twist on an old-school cocktail.
---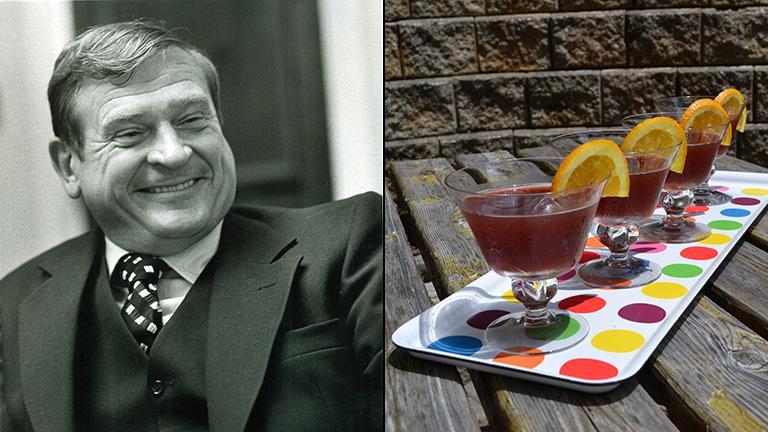 ​Classic Chicago Cocktail: Blood Sport
June 24: Longtime U.S. Congressman Dan Rostenkowski famously called Chicago politics "blood sport." We raise a glass to one of Chicago's own with a Polish twist on a classic cocktail.
---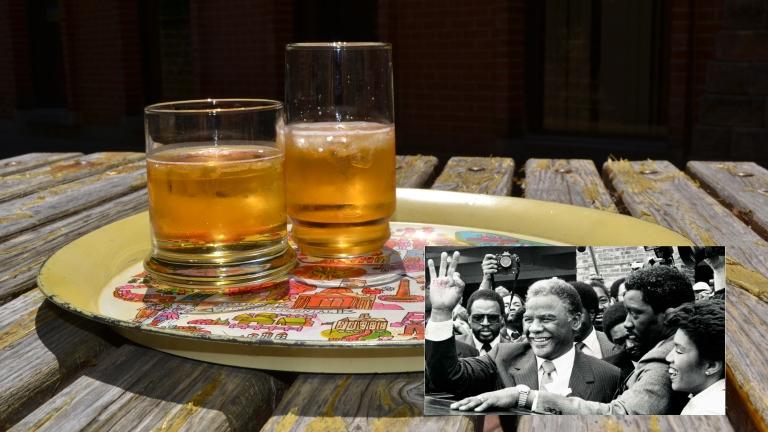 Original Chicago Cocktail: How's Harold?
June 17: Whether it was dancing with a polka queen or meeting with protesters, Mayor Harold Washington was always smiling. We celebrate Chicago's first and so far only African-American mayor with the signature drink, How's Harold?
---
Original Chicago Cocktail: Kentucky Colony
June 10: Chicago's early history has a surprising amount of Kentucky in it, including five-time Chicago Mayor Carter Henry Harrison. We honor Harrison's old Kentucky home by putting a Chicago spin on the classic mint julep.
---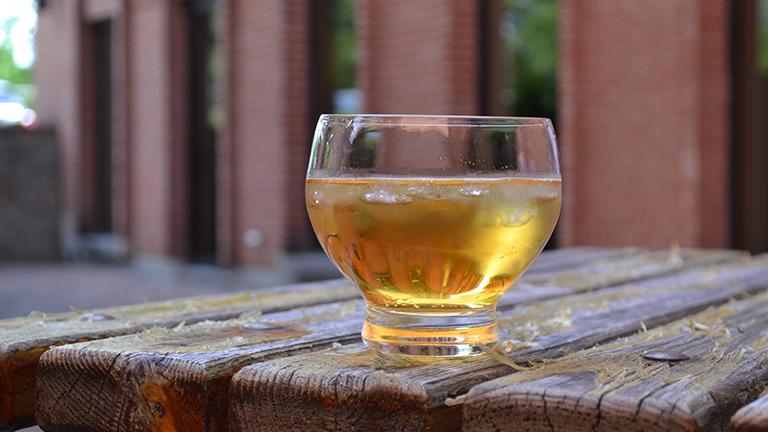 Original Chicago Cocktail: The Man on Five
June 3: Forty years after Richard J. Daley's death, Chicago still identifies itself with the man who steered it for more than two decades. Belly up to the bar and get a little taste of Chicago's spirited history: an Irish whiskey and smoky mezcal blended drink.
---
Original Chicago Cocktail: Mayor Bossy
May 27: Following a whopper of a blizzard in 1979, Sauganash native Jane Byrne narrowly upset Mayor Michael Bilandic for the Democratic mayoral nomination. Belly up to the bar and get a little taste of Chicago's spirited history: a frosty milkshake spiked with whiskey and vodka.
---
Original Chicago Cocktail: Lord of the Levee
May 20: For our second installment, we're saying "cheers" with the Lord of the Levee drink, inspired by Aldermen "Bathhouse" John Coughlin and Michael "Hinky Dink" Kenna.
---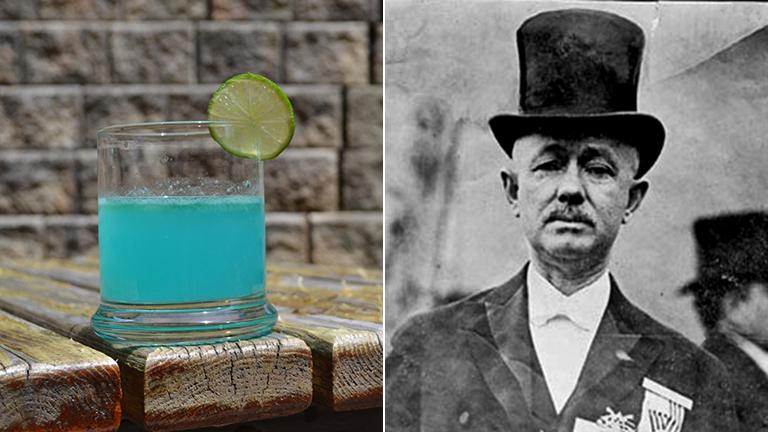 Original Chicago Cocktail: The Hinky Drink
May 13: Belly up to the bar and get a little taste of Chicago's spirited history. We're raising a glass to Michael "Hinky Dink" Kenna, who famously crowed "Chicago ain't no sissy town."
---