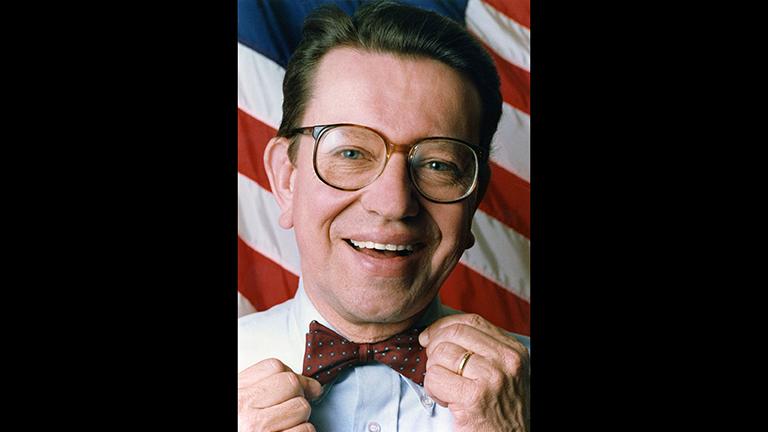 They say it's always 5 o'clock somewhere, but given Chicago's boozy history, we think it's fair to say that it's always 5 o'clock in Chicago. That's why this summer we're raising a glass to the Chicago spirit each Friday by sharing original cocktail recipes that celebrate some of Chicago's most colorful politicians.
Belly up to the bar and get a little taste of Chicago's spirited history. More from this series: Blood Sport, Kentucky Colony, How's Harold?, The Man on Five, The Hinky Drink, Lord of the Levee and Mayor Bossy.
Paul Simon (1928 – 2003)
No one ever accused five-time U.S. Congressman and two-time U.S. Sen. Paul Simon of being a hipster, but there's a strong case to be made that he was the O.G. hipster of the Senate. For one thing, he was born in Eugene, Oregon, birthplace of just about everything hipster. For another, 13 years after his death, trendy neighborhoods like Logan Square are full of hipsters stealing his signature look: a bow tie and horn-rimmed glasses.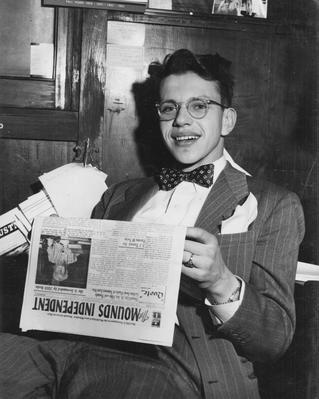 And in 1948, before making his bones as a politician, Simon pulled an utterly hipster move. At the age of 19, he dropped out of college and borrowed a few thousand bucks to start a boutique media company – well, the 1948 version of a boutique media company – a weekly newspaper named The Tribune in tiny downstate Troy, Illinois. As a publisher, he crusaded against corruption and vice and campaigned for a municipal sewer system, efforts that were early glimpses into the progressive values he held his entire life.  As an admiring competitor noted, "You can raise a lot of hell with a country printing press."
Not long after, Simon began his rise in Illinois politics after being elected to the Illinois House at age 25 in 1954 and State Senator in 1962. He rode a post-Watergate anti-Republican wave into the U.S. House in 1974 and in 1984, narrowly beat a three-term Republican senator for his seat. In 1987, Simon launched a campaign for the Democratic presidential nomination under the slogan, "Isn't it time to believe again?" – a slogan that would be right at home today on a box of organic, non-GMO freekeh.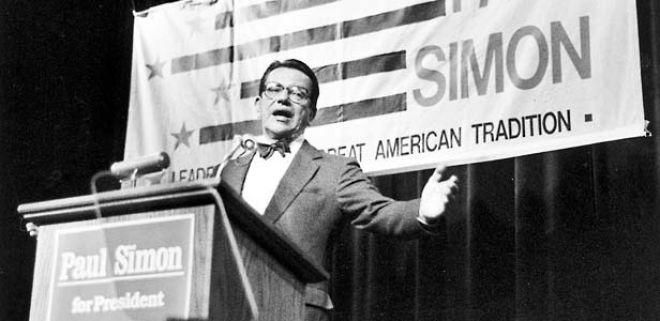 The presidential bid was not to be (despite an appearance on "Saturday Night Live" alongside singer/songwriter Paul Simon that would totally go viral in 2016), but he did win the Senator seat for a second time in 1990.
During his time in public service, Simon developed a reputation as straight-shooting, thoughtful, honest and above all, unabashedly liberal. Before Bernie, he advocated for New Deal-type government solutions for social ills, and believed that taxes were the way to pay for those solutions. Before Tipper, he rallied for government entities to limit violence and profanity in media. He championed high-speed rail and government-funded student loans, causes that you probably never heard of back then but are, like, totally mainstream now. But he also believed that the government should be open and transparent – in fact, he was sharing his own personal financial records with the public way before it was cool.
Simon retired from politics after leaving the Senate and moved on to living a super-authentic life when he opened a public policy institute and began teaching at Southern Illinois University. He died at age 73 in 2003 in Springfield, Illinois, after complications from heart surgery. In 2006, portions of downstate highways were designated the "Paul Simon Freeway" and marked with signs bearing his trademark bow tie, proving once and for all that there's no school like the old school.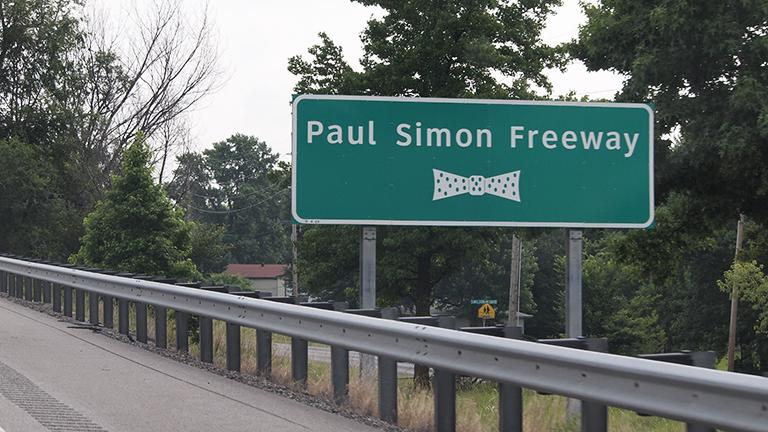 For the New Deal, Old School, we play on an old-school cocktail – the classic Seelbach – with old-school cognac. It gets a taste of Simon's outgoing populism with bright orange bitters, curacao and a froth of bubbly prosecco. Cheers!
New Deal, Old School
1 oz. cognac
½ oz. curacao
4 dashes orange bitters

Prosecco
Stir ingredients briefly over ice, strain into a chilled flute or coupe, top with prosecco and garnish with a curl of orange peel.
---
Sign up for our morning newsletter to get all of our stories delivered to your mailbox each weekday.
---
More from this series: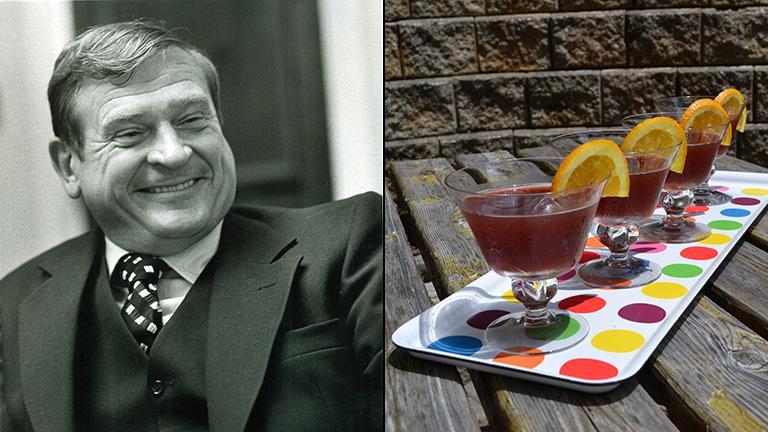 ​Classic Chicago Cocktail: Blood Sport
June 24: Longtime U.S. Congressman Dan Rostenkowski famously called Chicago politics "blood sport." We raise a glass to one of Chicago's own with a Polish twist on a classic cocktail.
---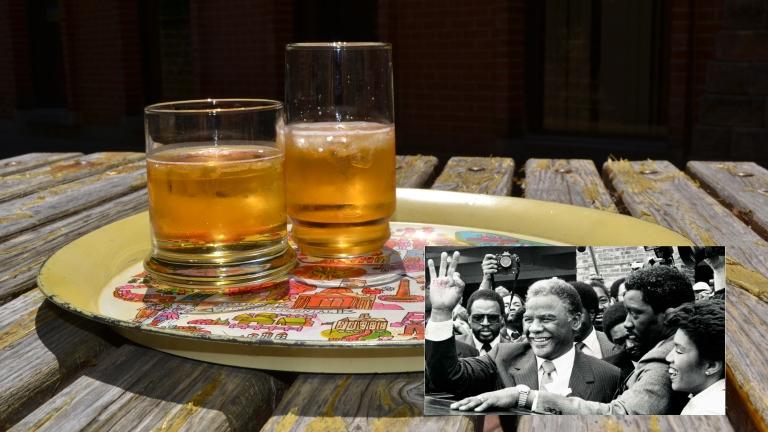 Original Chicago Cocktail: How's Harold?
June 17: Whether it was dancing with a polka queen or meeting with protesters, Mayor Harold Washington was always smiling. We celebrate Chicago's first and so far only African-American mayor with the signature drink, How's Harold?
---
Original Chicago Cocktail: Kentucky Colony
June 10: Chicago's early history has a surprising amount of Kentucky in it, including five-time Chicago Mayor Carter Henry Harrison. We honor Harrison's old Kentucky home by putting a Chicago spin on the classic mint julep.
---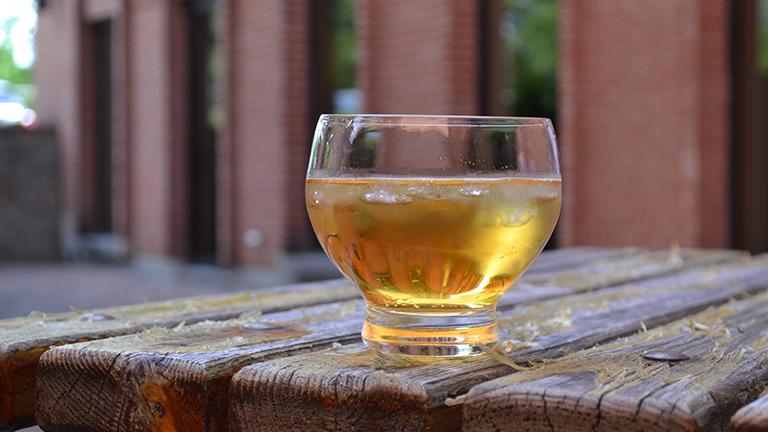 Original Chicago Cocktail: The Man on Five
June 3: Forty years after Richard J. Daley's death, Chicago still identifies itself with the man who steered it for more than two decades. Belly up to the bar and get a little taste of Chicago's spirited history: an Irish whiskey and smoky mezcal blended drink.
---
Original Chicago Cocktail: Mayor Bossy
May 27: Following a whopper of a blizzard in 1979, Sauganash native Jane Byrne narrowly upset Mayor Michael Bilandic for the Democratic mayoral nomination. Belly up to the bar and get a little taste of Chicago's spirited history: a frosty milkshake spiked with whiskey and vodka.
---
Original Chicago Cocktail: Lord of the Levee
May 20: For our second installment, we're saying "cheers" with the Lord of the Levee drink, inspired by Aldermen "Bathhouse" John Coughlin and Michael "Hinky Dink" Kenna.
---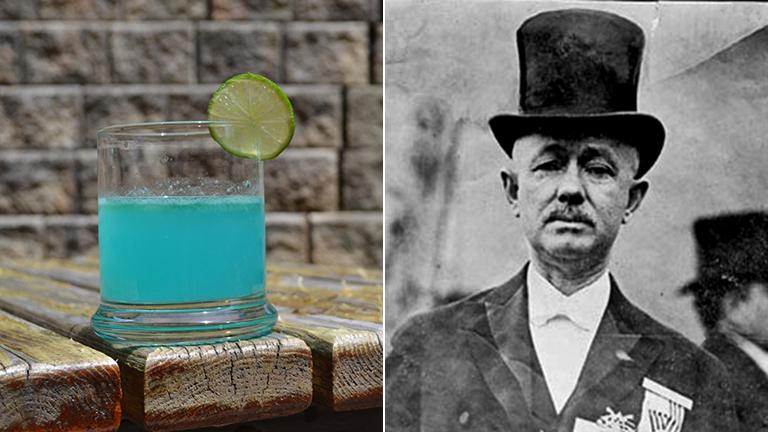 Original Chicago Cocktail: The Hinky Drink
May 13: Belly up to the bar and get a little taste of Chicago's spirited history. We're raising a glass to Michael "Hinky Dink" Kenna, who famously crowed "Chicago ain't no sissy town."
---