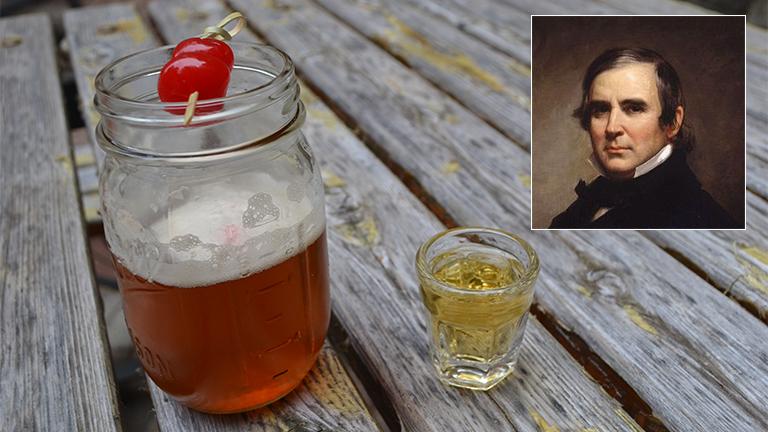 They say it's always 5 o'clock somewhere, but given Chicago's boozy history, we think it's fair to say that it's always 5 o'clock in Chicago. That's why this summer we're raising a glass to the Chicago spirit each Friday by sharing original cocktail recipes that celebrate some of Chicago's most colorful politicians.
Belly up to the bar and get a little taste of Chicago's spirited history. More from this series: New Deal, Old Deal; Blood Sport; Kentucky Colony; How's Harold?; The Man on Five; The Hinky Drink; Lord of the Levee and Mayor Bossy.
William B. Ogden (1805 – 1877)
Prepare to clutch your pearls, Chicagoans: Our city's first mayor was – gasp! – a native New Yorker. The upside, though, is that once he was here he used his New York real estate expertise to create a city out of the swampy town of Chicago.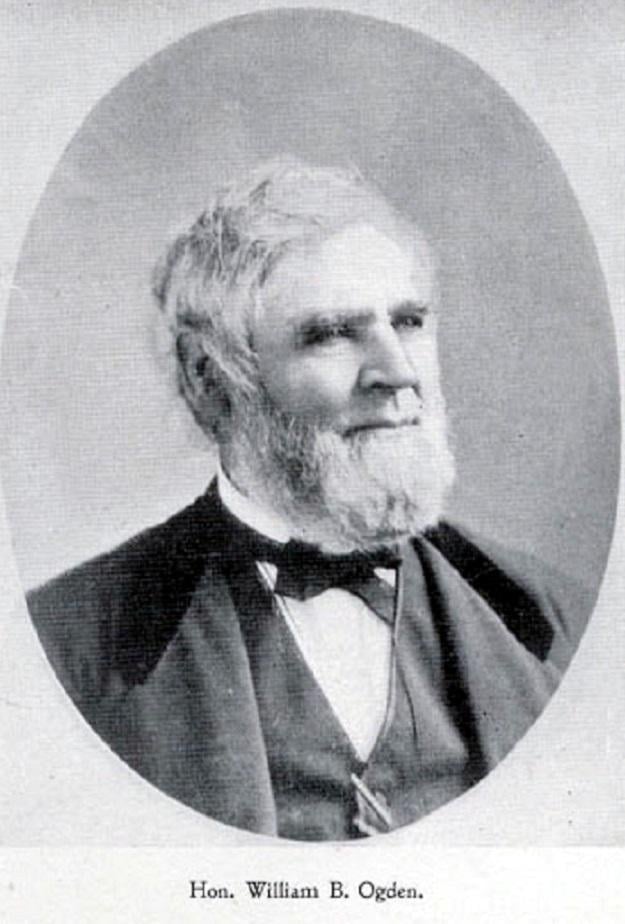 William B. Ogden was born in Walton, New York in 1805. He was orphaned young and took over his late father's real estate business at just 14 years old. When he was sent in 1835 to oversee a purchase in the burgeoning town of Chicago and saw his investment tripled, Ogden's real estate antennae twitched. He left the seat he had just won in the New York state legislature to put down stakes in Chicago.
That keen business acumen is what got him on the committee that officially created the city of Chicago in 1837, and he was elected the new city's first mayor. Ogden believed that business and government could, and should, exist in harmony. He raised taxes so that sidewalks, streets and bridges could be built. When that wasn't enough, Ogden and his investors (many of whom were New Yorkers themselves) paid out of pocket for what they could.
Ogden's most lasting contributions to the city did not come from his 10-month tenure, but his later real estate developments and railroads, including the Illinois-Michigan Canal and the Galena and Union Pacific railways. He also literally put Goose Island on the map when he directed the dredging of a canal through a bend in the North Branch of the Chicago River to provide a straighter path for boats, thereby creating an island that would later lend its name to one of Chicago's best-known beer purveyors. He even designed one of the city's trademark moving bridges himself – a pontoon-float swing bridge at Clark Street.
But Ogden was ultimately a businessman, and he did have a ruthless side. He mercilessly evicted tenants from his land purchases and used the Illinois-Michigan Canal to dispose of harmful waste from his own properties. You didn't think Chicago's first mayor was all sweetness and light, did you?
Still, his misdeeds were forgiven when the Great Fire of 1871 leveled the young city. Ogden lost all his properties in the fire, including his family home. When he received news of the disaster, he took an express train from New York to grieve with the rest of the city. Afterward, Ogden returned to New York, where he remained until his death in 1877. The Chicago Tribune wrote of him: "No one else in the history of the city better understood its prime commercial position, and no one did more to influence the world to appreciate it."
For the Swing Bridge, we pay tribute to the late great railroad tycoon by starting with a drink named for the men who worked on locomotives: the Boilermaker. (And what's more Chicagoan than a shot and a beer?) The beer in this case is Goose Island's Matilda Belgian ale, and the shot is Chicago's own Koval Oat whiskey. We add spiced syrup to sweeten the affair. The Swing Bridge swings both ways – you can serve it separately as a shot and a beer, or combine the shot and beer as a cocktail. Cheers!
---
Swing Bridge
1.5 oz. Koval Oat Whiskey
8 oz. Goose Island Matilda
1 oz. spiced syrup
Cherry garnish
For a cocktail: Combine the whiskey and syrup together with ice in a cocktail shaker and strain into a glass. Top with Matilda and stir gently. Garnish with a cherry.
For a shot and a beer: Pour syrup in glass, top with Matilda, and stir gently. Serve with whiskey shot on the side.
---
Sign up for our morning newsletter to get all of our stories delivered to your mailbox each weekday.
---
More from this series: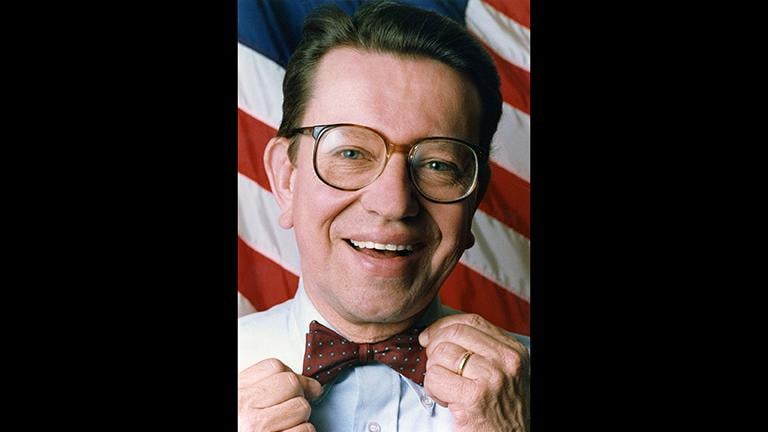 Classic Chicago Cocktail: New Deal, Old School
July 1: This week, we raise a glass to five-time U.S. Congressman and two-time U.S. Sen. Paul Simon, the O.G. hipster of the Senate, with a new twist on an old-school cocktail.
---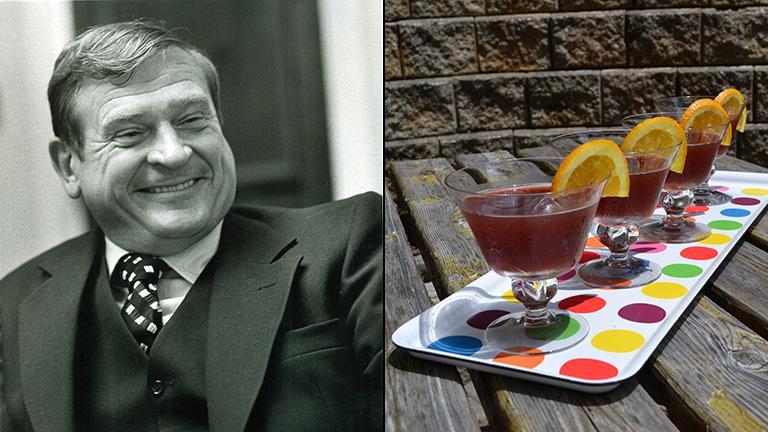 ​Classic Chicago Cocktail: Blood Sport
June 24: Longtime U.S. Congressman Dan Rostenkowski famously called Chicago politics "blood sport." We raise a glass to one of Chicago's own with a Polish twist on a classic cocktail.
---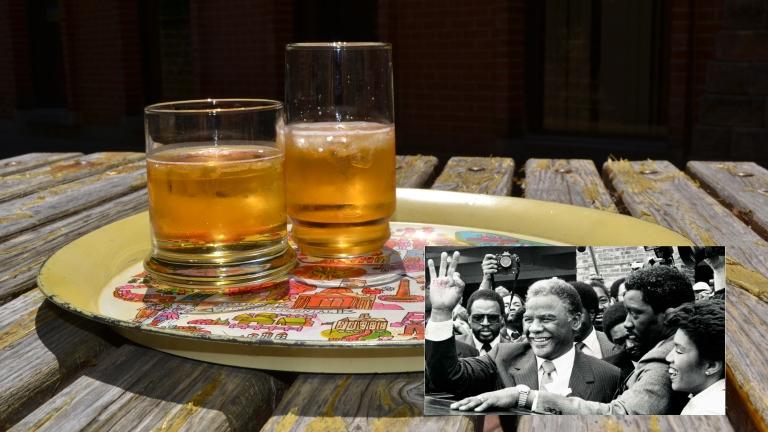 Original Chicago Cocktail: How's Harold?
June 17: Whether it was dancing with a polka queen or meeting with protesters, Mayor Harold Washington was always smiling. We celebrate Chicago's first and so far only African-American mayor with the signature drink, How's Harold?
---
Original Chicago Cocktail: Kentucky Colony
June 10: Chicago's early history has a surprising amount of Kentucky in it, including five-time Chicago Mayor Carter Henry Harrison. We honor Harrison's old Kentucky home by putting a Chicago spin on the classic mint julep.
---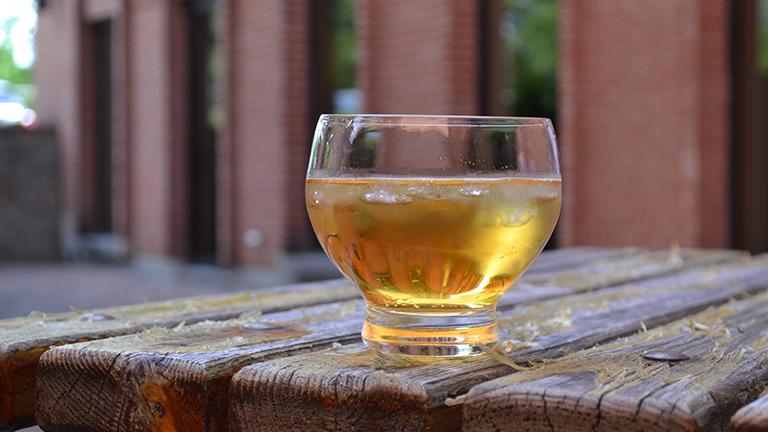 Original Chicago Cocktail: The Man on Five
June 3: Forty years after Richard J. Daley's death, Chicago still identifies itself with the man who steered it for more than two decades. Belly up to the bar and get a little taste of Chicago's spirited history: an Irish whiskey and smoky mezcal blended drink.
---
Original Chicago Cocktail: Mayor Bossy
May 27: Following a whopper of a blizzard in 1979, Sauganash native Jane Byrne narrowly upset Mayor Michael Bilandic for the Democratic mayoral nomination. Belly up to the bar and get a little taste of Chicago's spirited history: a frosty milkshake spiked with whiskey and vodka.
---
Original Chicago Cocktail: Lord of the Levee
May 20: For our second installment, we're saying "cheers" with the Lord of the Levee drink, inspired by Aldermen "Bathhouse" John Coughlin and Michael "Hinky Dink" Kenna.
---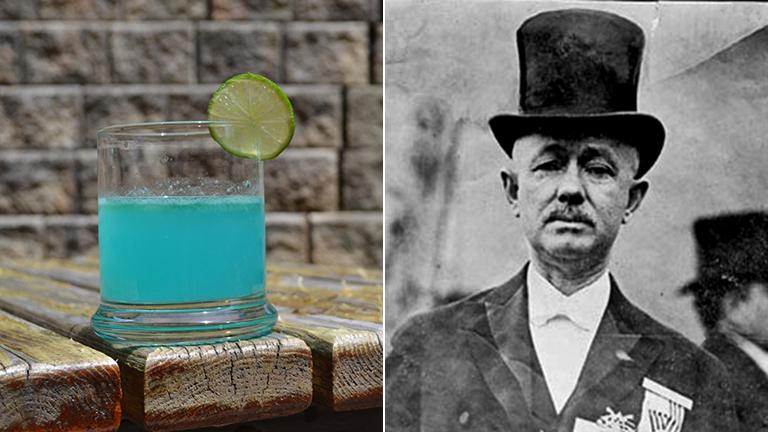 Original Chicago Cocktail: The Hinky Drink
May 13: Belly up to the bar and get a little taste of Chicago's spirited history. We're raising a glass to Michael "Hinky Dink" Kenna, who famously crowed "Chicago ain't no sissy town."
---