Cheers, Chicago! Our town loves its history as much as its hooch, so we're back for another round of cocktails that celebrate Chicago's finest – or most infamous. This summer, we're toasting 13 women of Chicago's past with original cocktail recipes.
Join us every week for a historical happy hour!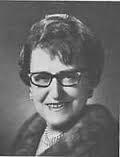 Esther Saperstein (1901 – 1988)
If you think that becoming a mother means there'll be no time for political ambition, consider this: the first Democratic woman elected to the Illinois Senate got started in politics walking door to door with a baby on her hip. Moms: they're good at multitasking.
Esther Saperstein was born and raised near Halsted and Roosevelt. She attended Chicago Public Schools and attended the University of Chicago for two years before having children. She later returned to school at Northwestern University when her eldest child began high school.
Like a lot of moms, as her children grew, Saperstein became active in the PTA. Unlike a lot of moms, she became president of the Chicago region of the PTA. Saperstein said that she didn't join the PTA to help her kids, though—she did it because she felt duty-bound to her community.
The same sense of duty drove her to get out the vote for an aldermanic candidate, which she did with her baby on Election Day. A few years later in 1955, Saperstein made a run herself at becoming the city's first alderwoman. (As we learned last week, it was another 16 years before that happened.) She didn't win, but she learned that she had developed a taste for politics. "I learned that I loved to campaign. And I loved to campaign because I had a deep abiding belief that people are entitled to … to know their government and the people responsible."
There was another victory to be found in that loss—the newly elected Mayor Richard J. Daley was impressed with her showing in the race. According to Saperstein's daughter, the Chicago Democratic organization invited her to work with them, even though she ran as an independent. In 1956, the Democratic Party backed her to run for state representative from Rogers Park, and she won. Then she won again, and again, and again, and again— and then she was elected to the Illinois Senate in 1966, where she chaired the Senate Education Committee, the Illinois Mental Health Commission and the Illinois Status of Women Commission, created by a bill she introduced to seek ways of improving the social, legal and economic status of Illinois women.
In 1967, feminists met in Chicago to organize chapters of the National Organization for Women and agitate for the passage of the Equal Rights Amendment, a cause Saperstein championed again and again. She recalled discussing the ERA with then-Senate President William Harris, who told her the reason he opposed the bill was that he liked women and wanted to help them, and if he voted for the bill, he wouldn't be able to help them anymore. (What?) Saperstein responded, "Bill, I have been in this senate a few years now. Do you remember my ever asking you to help me?"
Not one to leave a job unfinished, while still a senator in 1975, Saperstein ran again for 49th Ward alderwoman. This time, she won. After one term, she dropped the mic and retired. The man elected to succeed her, David Orr, evaluated her thusly: "She could be as sweet as apple pie but she also knew how to play tough when she needed to be." Sounds just like a mom.
Let's raise a glass to the moms who hold it down in the House (and the Senate) with a concoction as American as apple pie—fragrant applejack, tough whiskey and snappy lemon and ginger. 
Esther's Apple Pie
1 oz. applejack
1 oz. whiskey
½ oz. lemon juice
Few dashes Angostura bitters
2 oz. ginger beer
Stir applejack, whiskey, lemon juice and bitters in a cooler glass over ice. Top with ginger beer.
---
Related stories: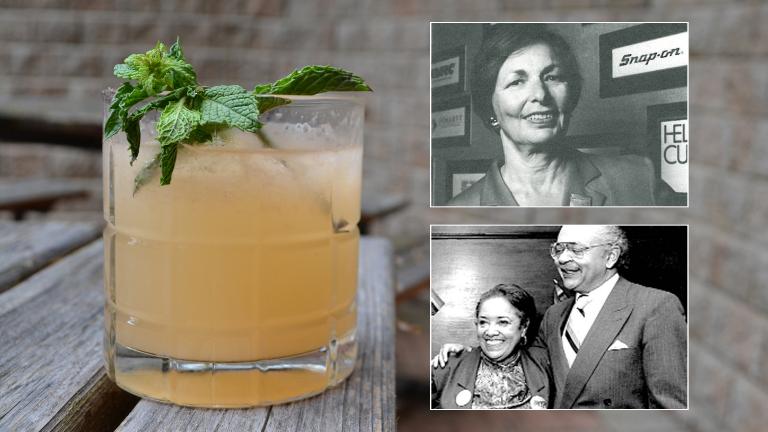 Historical Happy Hour: A Toast to Anna Langford and Marilou von Ferstel
Aug. 11: For decades, the steel industry forged Chicago's industrial spine. Now, we forge a no-nonsense drink for the no-nonsense lady who brought the titans of steel to their knees.
---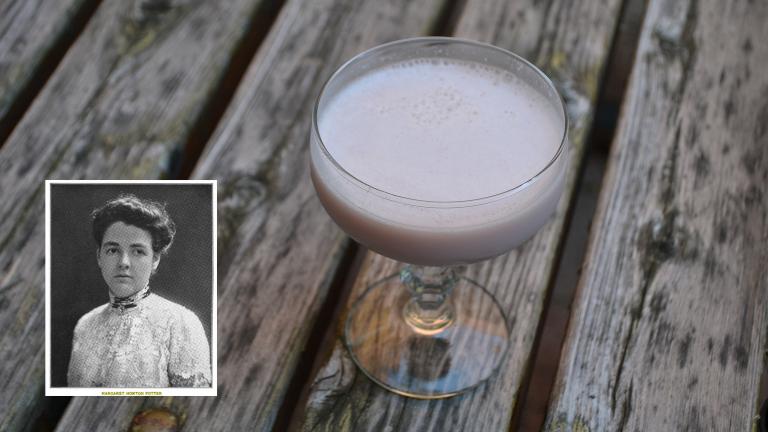 Historical Happy Hour: A Toast to Margaret Horton Potter
Aug. 4: From the start, young Miss Potter was a virtual word machine, publishing a book of verse at age 12. This week, we mix up a deceptively delicate cocktail inspired by the original pink drink. Cheers!
---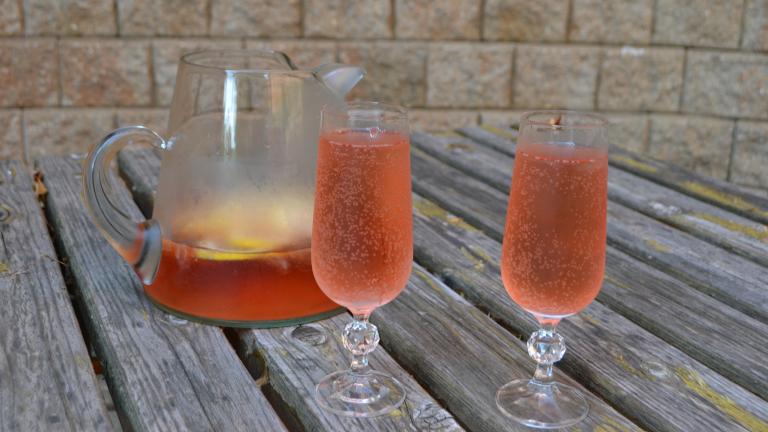 Historical Happy Hour: A Toast to the Everleigh Sisters
July 28: We raise a glass to a pair of sisters who made a fortune as brothel owners in the City of Big Shoulders with a ladylike drink.
---