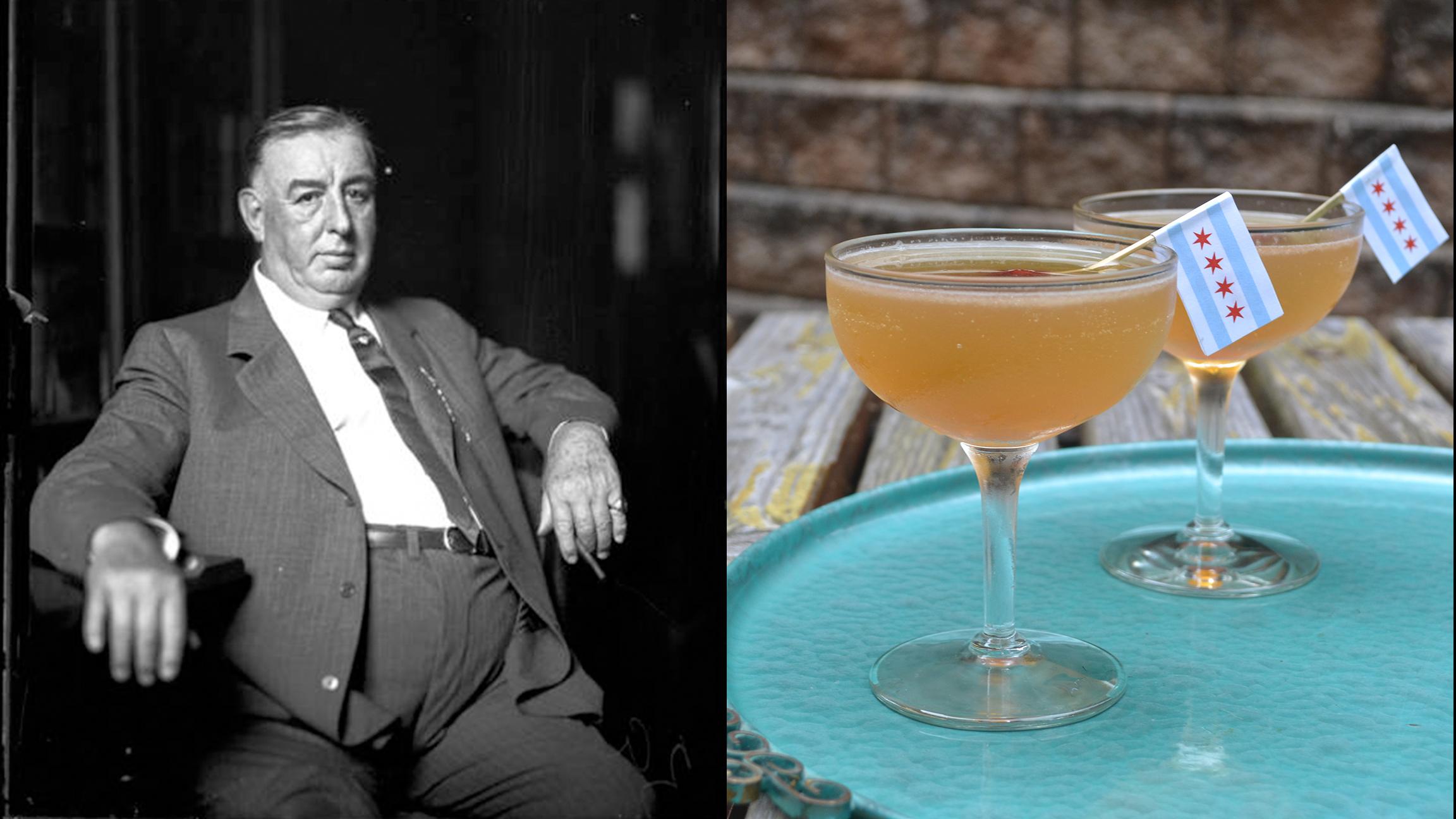 William Hale "Big Bill" Thompson and the cocktail he inspired us to make.
They say it's always 5 o'clock somewhere, but given Chicago's boozy history, we think it's fair to say that it's always 5 o'clock in Chicago. That's why this summer we're raising a glass to the Chicago spirit each Friday by sharing original cocktail recipes that celebrate some of Chicago's most colorful politicians.
Belly up to the bar and get a little taste of Chicago's spirited history.
More from this series • Old Shoe • Pushcart Tony • Swing Bridge • New Deal, Old Deal • Blood Sport • Kentucky Colony • How's Harold? • The Man on Five • The Hinky Drink • Lord of the Levee • Mayor Bossy
William Hale Thompson, 1869-1944
William Hale "Big Bill" Thompson was arguably the most corrupt politician Chicago has ever seen. That's a pretty big claim given Chicago's history of double-dealing public servants, and it's true that much of Thompson's corruption was of the patronage-and-mismanagement type Chicagoans often shrug off. But Big Bill took it a step further when he was bought off by Chicago's most notorious criminal.
Thompson was born into privilege in Boston in 1869, but his family moved to Chicago when he was just days old. Thompson's maternal grandfather, Stephen F. Gale, was one of the signatories to the city's original 1837 charter of incorporation. His father, Col. William H. Thompson, Sr., became one of the city's major rebuilders after the Great Fire, making Big Bill the scion of a real estate empire.
The junior Thompson skipped college, choosing instead to spend his youth as a rancher in the Southwest. When he returned to Chicago in 1892 to take over his father's real estate business, Thompson didn't leave the West behind. Throughout his life he maintained a wild-cowboy persona, sporting a broad-brimmed hat and quick with big boasts.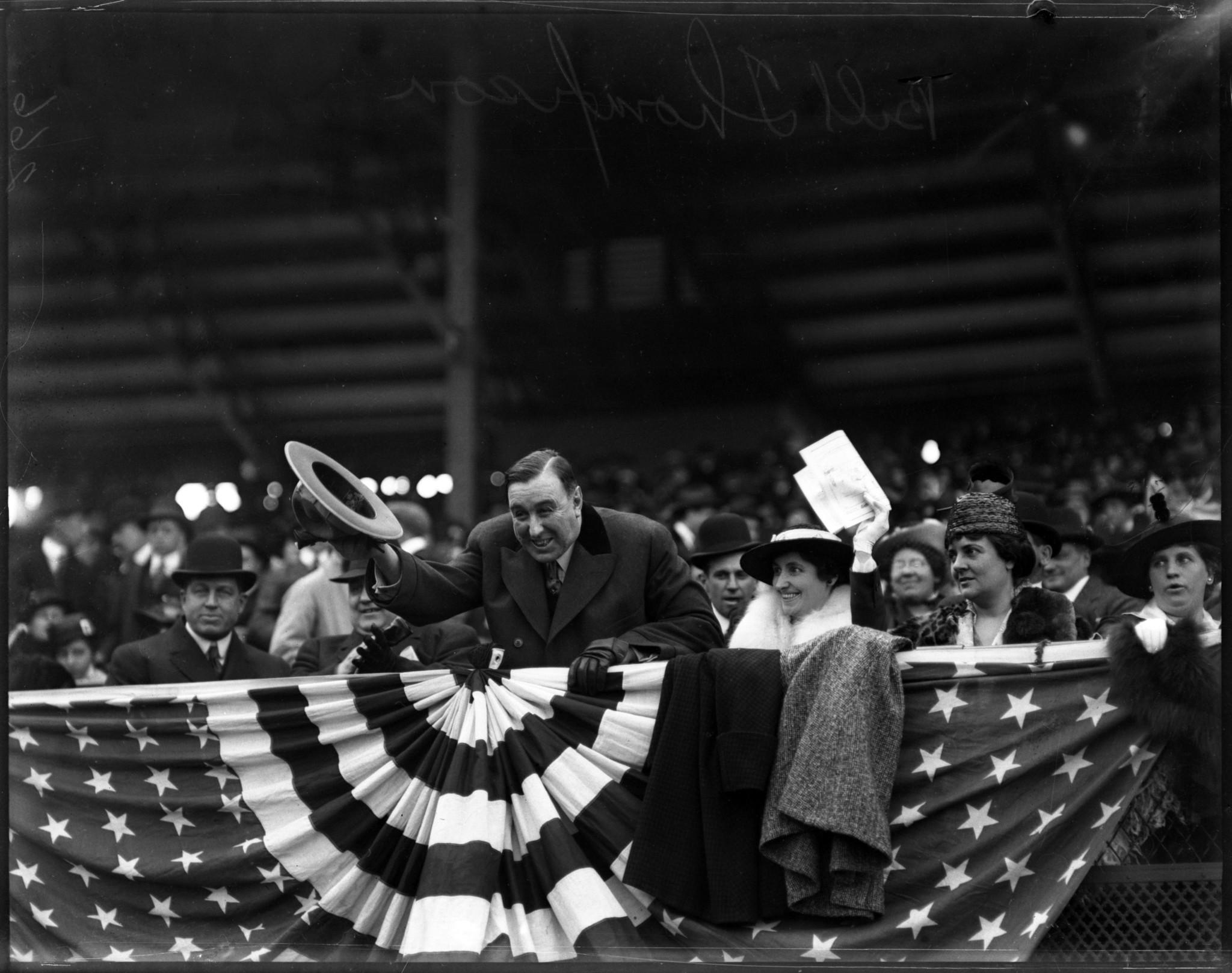 In 1915, his big talk got him elected to the mayor's office; he was re-elected four years later. During World War I, he was vocally opposed to the English – so much so that he promised publicly to "crack King George in the snoot" if he ever came to Chicago. (Can you imagine that sort of bloviating from a politician in the modern age? Unthinkable!)  His anti-British stance endeared him to many immigrant Chicagoans, but after his campaign manager became mixed up in a shakedown scandal too big to brush off, Thompson found himself on the outs with the city and briefly returned to private life.
A few years later, Big Bill turned back up like a bad penny. He ran for a third term in 1927, smack-dab in the heart of the Prohibition era. For this campaign, Thompson pulled out the big guns. One of his stunts was carrying two rats with him named for his opponents – he'd even engage in debates with them. Another, more menacing move was aligning himself with none other than Al Capone, who kept the Thompson campaign flush with cash in exchange for protection from the feds during his term as mayor. Once Big Bill was elected, he even appointed one of Capone's men to a city position so Capone could keep track of events at City Hall.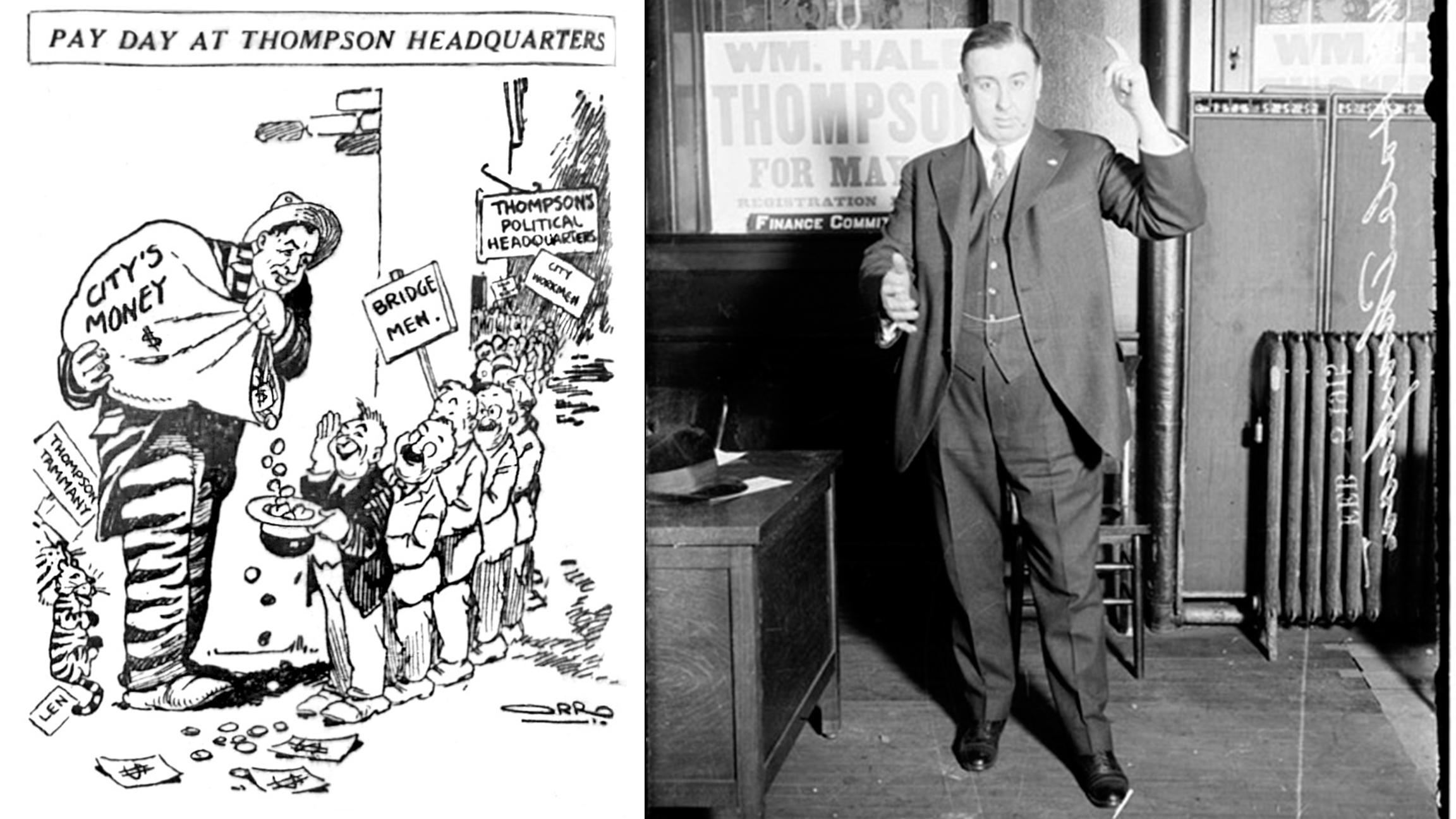 A 1920 political cartoon by David Orro (left) lampoons Chicago Mayor William Hale Thompson (right).
By the 1931 campaign, Chicagoans had had enough of Big Bill's bluster and dirty dealings. The immigrants who once loved him turned on him when he mocked opponent Anton Cermak's Bohemian origins and put Thompson out of office for good.
After his defeat, Thompson slunk away to a reclusive life in hotel suites, where he died in 1944. But even in death, Big Bill made big headlines when his safe deposit boxes were discovered, stuffed with $2 million in cash and securities. Capone might not have paid his taxes, but he definitely paid his Big Bill.
For the Crooked Cowboy, we look back to Thompson's Massachusetts roots and make a cooler out of the classic Boston cocktail, the Ward 8 (which has its own interesting history, by the way, and was traditionally garnished with a tiny Massachusetts flag). Instead of the Ward 8's rye, we use frontier bourbon to tip our Stetson to Thompson's Western ways, and we use grapefruit juice for some Big Bill bitterness. It's topped off with a taste of Chicago – Left Hand Brewing's Juju ginger ale – making the Crooked Cowboy a tasty tipple named for a terrible man. Cheers!
CROOKED COWBOY
2 oz. bourbon
1.5 oz. grapefruit juice
0.5 oz. maple syrup
2 oz. ginger beer
Shake the bourbon, grapefruit juice and maple syrup with ice in a shaker, then strain into a chilled cocktail glass. Top with ginger beer. Garnish with a cherry – and don't forget to fly that tiny Chicago flag!
---
Sign up for our morning newsletter to get all of our stories delivered to your mailbox each weekday.
---
More from this series: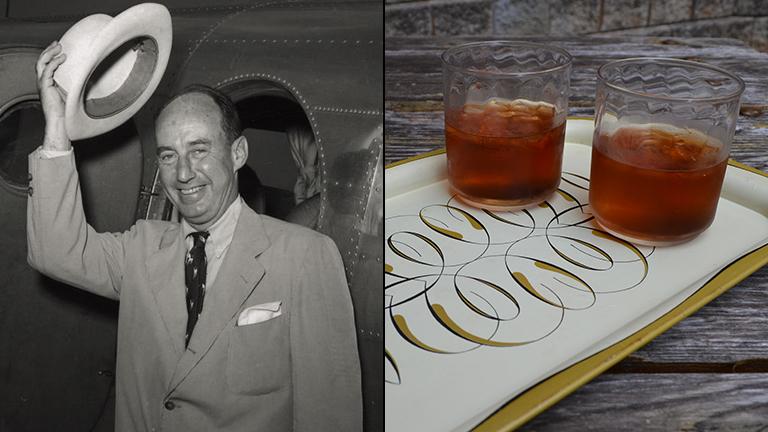 Original Chicago Cocktail: Old Shoe
July 22: It's never been easy or popular in America to be an egghead. Just ask Adlai Stevenson, who once remarked, "the way of the egghead is hard." For a drink befitting Stevenson's balance and brainpower, we create the Old Shoe from equal parts Old Tom gin, vermouth and applejack.
---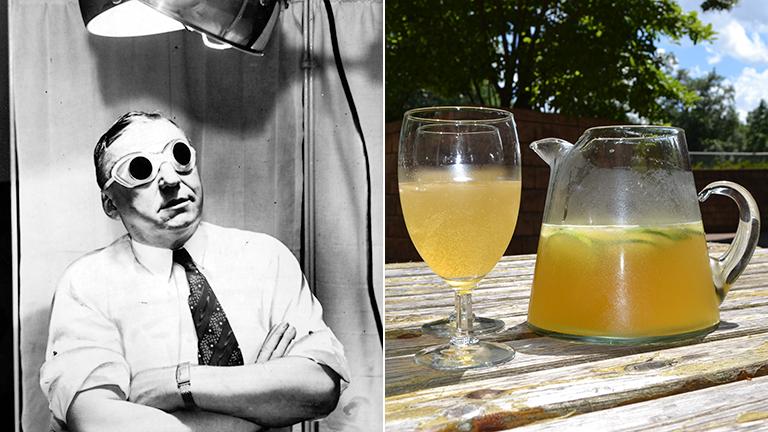 Original Chicago Cocktail: Pushcart Tony
July 15: We honor Anton Cermak's immigrant story with a Chicago-brewed Czech pilsner, Revolution Brewing's Rev Pils, and spike it with the spirit of a more recent group of Chicago immigrants: tequila.
---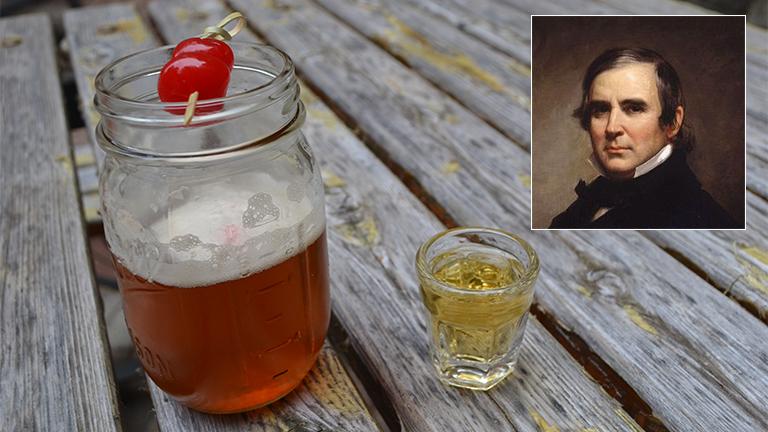 Original Chicago Cocktail: Swing Bridge
July 8: We toast Chicago's first mayor with a drink that gives a nod to William B. Ogden's influence on city bridges and railroads: the Boilermaker.
---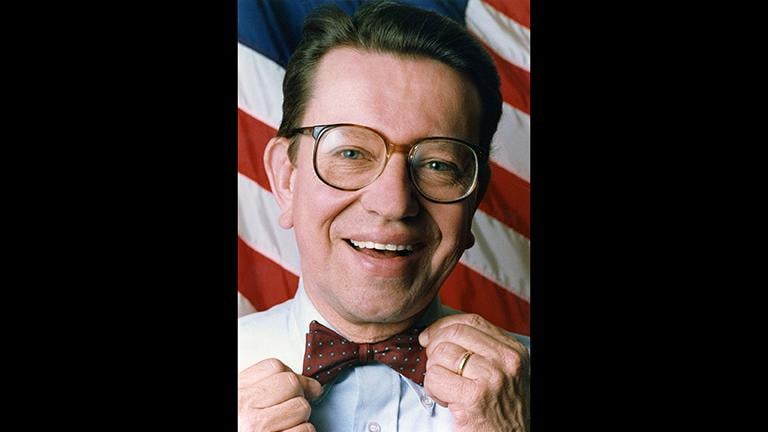 Classic Chicago Cocktail: New Deal, Old School
July 1: This week, we raise a glass to five-time U.S. Congressman and two-time U.S. Sen. Paul Simon, the O.G. hipster of the Senate, with a new twist on an old-school cocktail.
---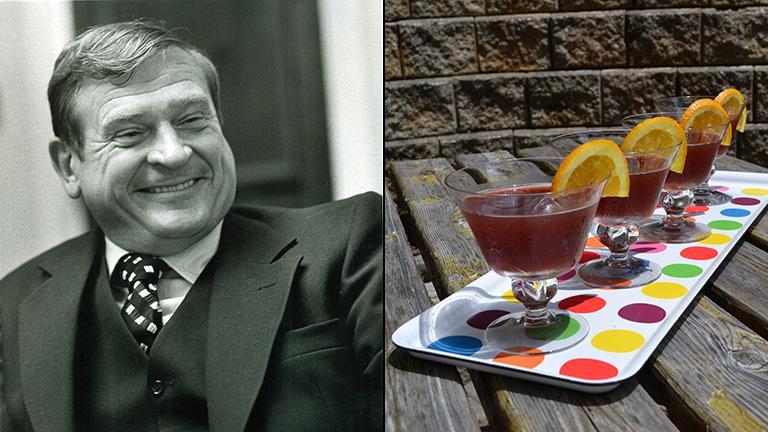 ​Classic Chicago Cocktail: Blood Sport
June 24: Longtime U.S. Congressman Dan Rostenkowski famously called Chicago politics "blood sport." We raise a glass to one of Chicago's own with a Polish twist on a classic cocktail.
---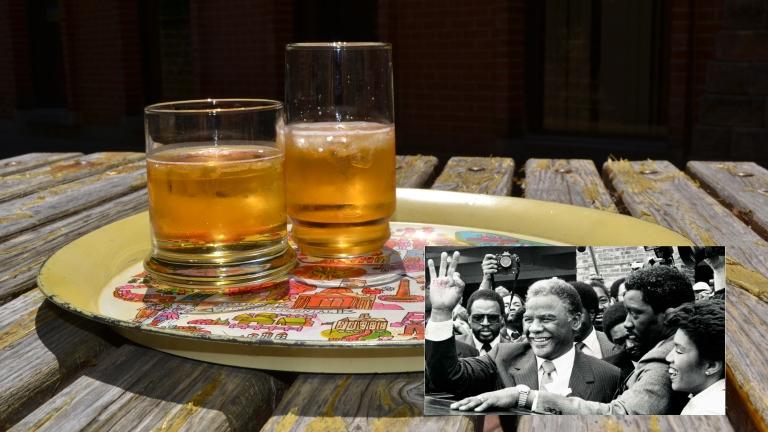 Original Chicago Cocktail: How's Harold?
June 17: Whether it was dancing with a polka queen or meeting with protesters, Mayor Harold Washington was always smiling. We celebrate Chicago's first and so far only African-American mayor with the signature drink, How's Harold?
---
Original Chicago Cocktail: Kentucky Colony
June 10: Chicago's early history has a surprising amount of Kentucky in it, including five-time Chicago Mayor Carter Henry Harrison. We honor Harrison's old Kentucky home by putting a Chicago spin on the classic mint julep.
---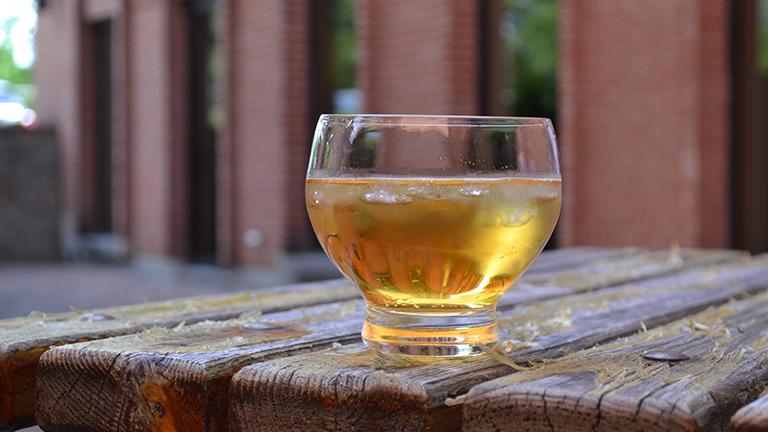 Original Chicago Cocktail: The Man on Five
June 3: Forty years after Richard J. Daley's death, Chicago still identifies itself with the man who steered it for more than two decades. Belly up to the bar and get a little taste of Chicago's spirited history: an Irish whiskey and smoky mezcal blended drink.
---
Original Chicago Cocktail: Mayor Bossy
May 27: Following a whopper of a blizzard in 1979, Sauganash native Jane Byrne narrowly upset Mayor Michael Bilandic for the Democratic mayoral nomination. Belly up to the bar and get a little taste of Chicago's spirited history: a frosty milkshake spiked with whiskey and vodka.
---
Original Chicago Cocktail: Lord of the Levee
May 20: For our second installment, we're saying "cheers" with the Lord of the Levee drink, inspired by Aldermen "Bathhouse" John Coughlin and Michael "Hinky Dink" Kenna.
---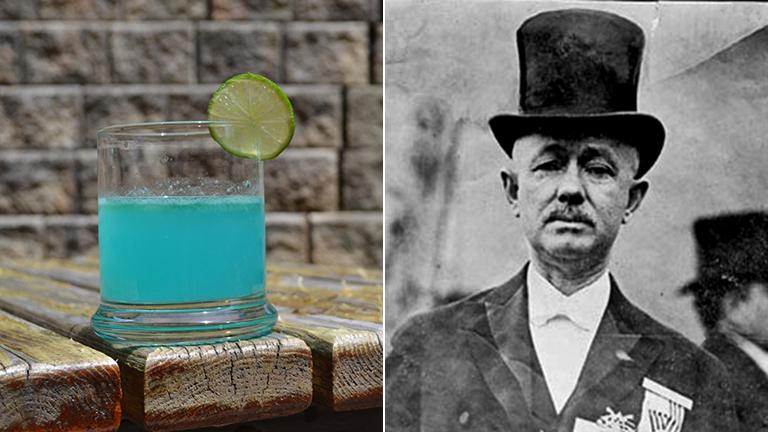 Original Chicago Cocktail: The Hinky Drink
May 13: Belly up to the bar and get a little taste of Chicago's spirited history. We're raising a glass to Michael "Hinky Dink" Kenna, who famously crowed "Chicago ain't no sissy town."
---