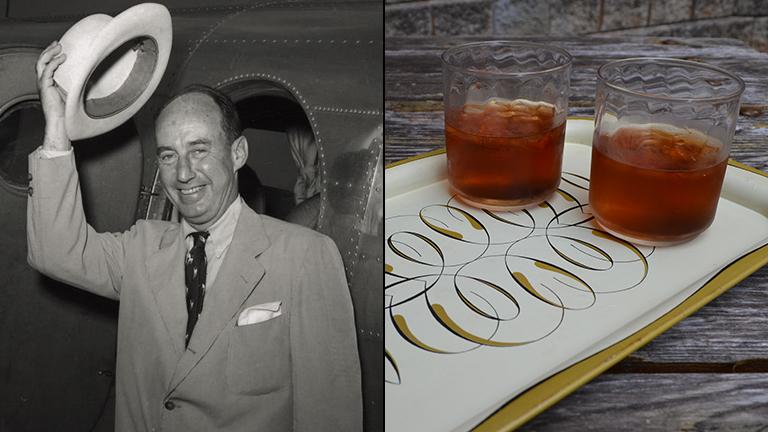 They say it's always 5 o'clock somewhere, but given Chicago's boozy history, we think it's fair to say that it's always 5 o'clock in Chicago. That's why this summer we're raising a glass to the Chicago spirit each Friday by sharing original cocktail recipes that celebrate some of Chicago's most colorful politicians.
Belly up to the bar and get a little taste of Chicago's spirited history. More from this series: Pushcart Tony; Swing Bridge; New Deal, Old Deal; Blood Sport; Kentucky Colony; How's Harold?; The Man on Five; The Hinky Drink; Lord of the Levee and Mayor Bossy.
Adlai Stevenson 1900-1965
It's never been easy or popular in America to be an egghead. Just ask Adlai Stevenson, who once remarked, "Via ovicapitum dura est" – Latin for, "the way of the egghead is hard."
Adlai Ewing Stevenson II was born in Los Angeles, California, in 1900. His family moved to Bloomington, Illinois, six years later – and it was quite a family. Stevenson was the namesake of his grandfather, who served as U.S. vice president under President Grover Cleveland. His father was a Hearst newspapers executive; his mother, a fourth-generation Illinoisan and descendant of the first person to nominate Abraham Lincoln for the presidency. Stevenson's education was equally impressive – degrees from Princeton and the Northwestern School of Law, whereupon he moved to Chicago to practice law. He went on to serve as secretary of the Navy, governor of Illinois, and U.S. ambassador to the United Nations. On a national stage, he is best remembered for his unsuccessful bids as the Democratic nominee for U.S. president in 1952 and 1956.
As one might expect of a man of his patrician pedigree, Stevenson was erudite, refined and incredibly elegant in his speech. It was these qualities that led his rival Dwight D. Eisenhower's running mate Richard Nixon to label Stevenson an "egghead," a term meant to imply that not only was Stevenson a nose-in-a-book nerd, but also out of touch with the common man – what modern politicos might call an "ivory-tower liberal." (It might've also been a knock on Stevenson's smooth pate, which it could fairly be said resembled a speckled hen's egg.) What Stevenson's backers saw as brilliant rhetoric was seen by his detractors as simply talking over people's heads.
Ironically, the biggest crack in Stevenson's egghead polish was in his shoes. A 1952 photo of him revealed a hole in the sole of his shoe – a charming, if perplexing, indicator of homely frugality to some, an elitist affect of the "Boston cracked shoe" variety to others. This quirk was seized upon by the Eisenhower campaign, which turned out buttons featuring a picture of a holey shoe sole and the slogan, "Don't Let This Happen to You! Vote for Ike!" Democratic voters got a kick out of Stevenson's retort: "Better a hole in the shoe than a hole in the head." Pretty soon, Stevenson's worn-out shoe sole became a trademark of his campaign, even turning up cast into silver lapel pins.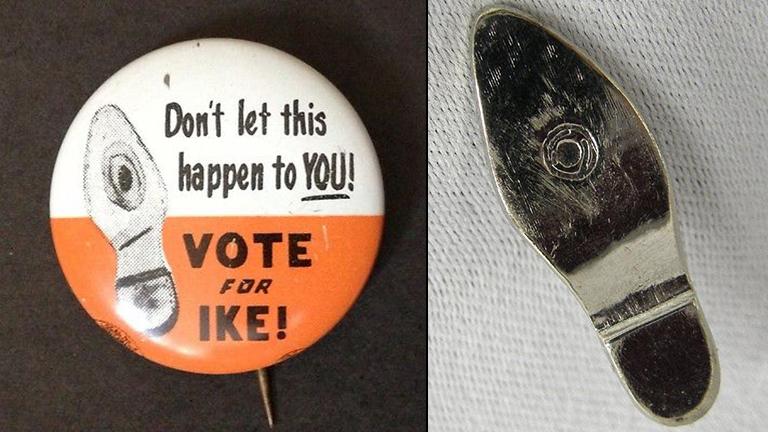 But five-dollar words weren't enough to beat a five-star general, and the presidency eluded Stevenson in 1952. In 1956, he was soundly drubbed by Ike for a second time. Though he mounted a late bid for the nomination in 1960, John F. Kennedy ultimately got the party's nod, and Stevenson was active in getting JFK elected. In 1960, Stevenson was appointed chief ambassador to the United Nations, a position which he would hold until his death in 1965.
Interestingly, Stevenson's shoes weren't the last beat-up pair in Illinois politics. In 2008, another Illinois presidential hopeful named Barack Obama was photographed with his feet propped up on a desk, revealing worn-out shoe soles. Even though a rival advisor said that Obama couldn't "win with just the eggheads and the African-Americans," as we know now, his story ended a bit differently than Stevenson's.
For a drink befitting Stevenson's balance and brainpower, we create the Old Shoe from equal parts of classic spirits – Old Tom gin, vermouth and applejack (a pedigreed spirit made by Laird's, America's first commercial distillery). Serve it with a few dashes of Peychaud's bitters and only the wittiest of repartee. Cheers!
OLD SHOE
1 oz. applejack
1 oz. dry vermouth
1 oz. Old Tom gin
2-3 dashes of Peychaud's bitters
While coming up with something clever and incisive to say, thoughtfully stir ingredients over ice in a rocks glass.
---
Sign up for our morning newsletter to get all of our stories delivered to your mailbox each weekday.
---
More from this series: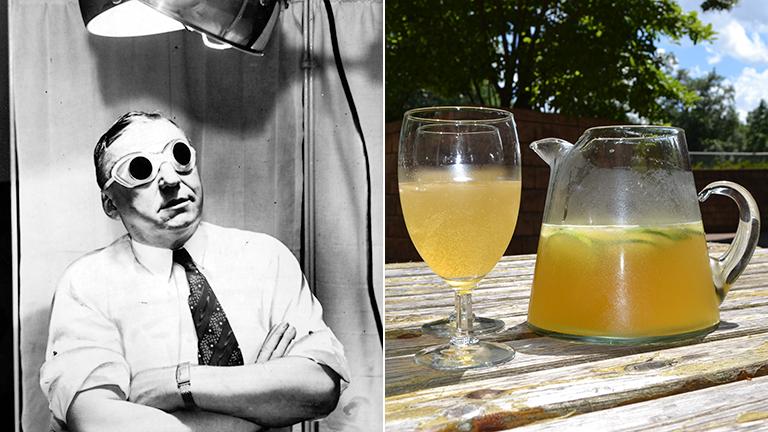 Original Chicago Cocktail: Pushcart Tony
July 15: We honor Anton Cermak's immigrant story with a Chicago-brewed Czech pilsner, Revolution Brewing's Rev Pils, and spike it with the spirit of a more recent group of Chicago immigrants: tequila.
---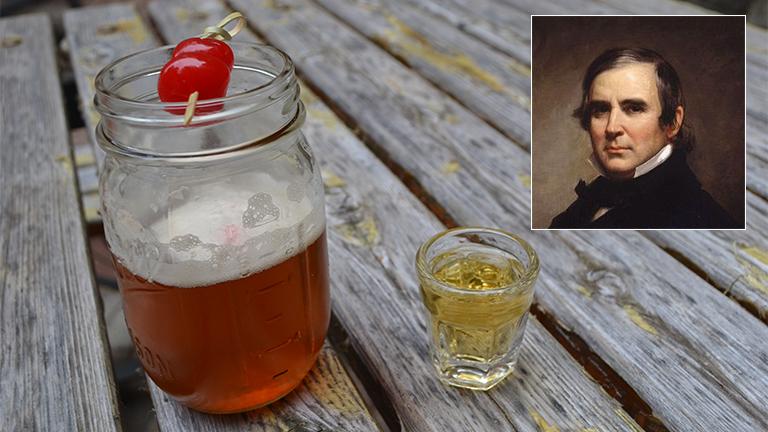 Original Chicago Cocktail: Swing Bridge
July 8: We toast Chicago's first mayor with a drink that gives a nod to William B. Ogden's influence on city bridges and railroads: the Boilermaker.
---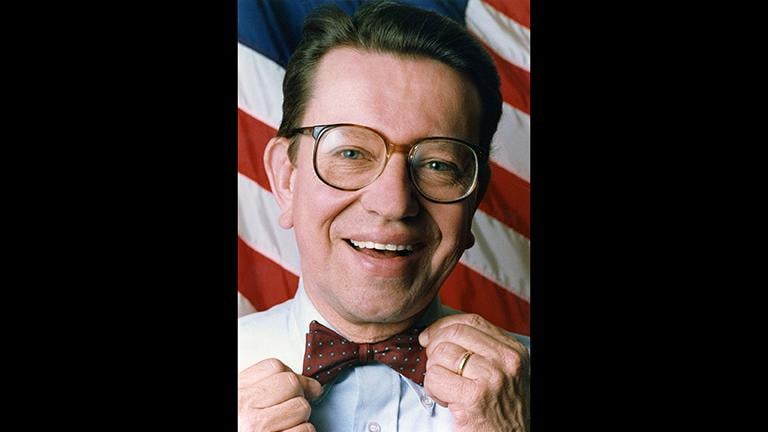 Classic Chicago Cocktail: New Deal, Old School
July 1: This week, we raise a glass to five-time U.S. Congressman and two-time U.S. Sen. Paul Simon, the O.G. hipster of the Senate, with a new twist on an old-school cocktail.
---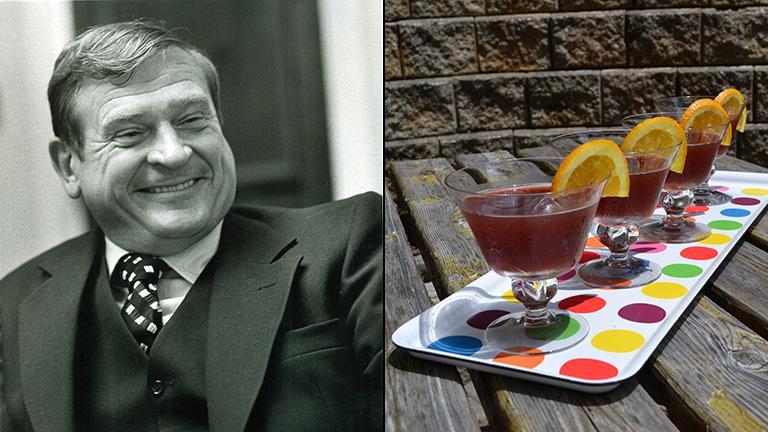 ​Classic Chicago Cocktail: Blood Sport
June 24: Longtime U.S. Congressman Dan Rostenkowski famously called Chicago politics "blood sport." We raise a glass to one of Chicago's own with a Polish twist on a classic cocktail.
---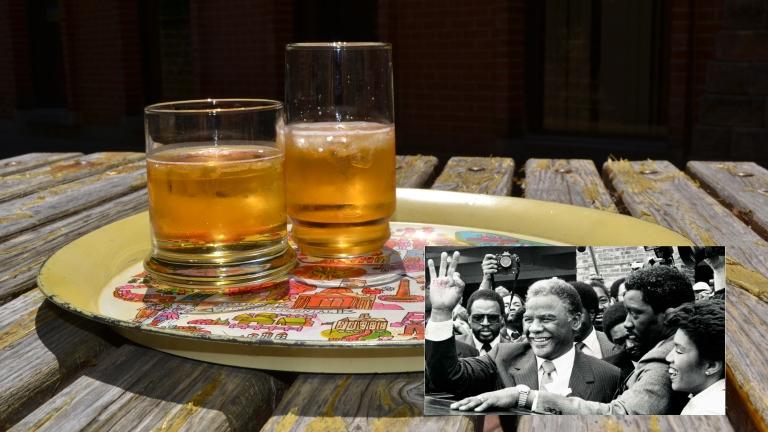 Original Chicago Cocktail: How's Harold?
June 17: Whether it was dancing with a polka queen or meeting with protesters, Mayor Harold Washington was always smiling. We celebrate Chicago's first and so far only African-American mayor with the signature drink, How's Harold?
---
Original Chicago Cocktail: Kentucky Colony
June 10: Chicago's early history has a surprising amount of Kentucky in it, including five-time Chicago Mayor Carter Henry Harrison. We honor Harrison's old Kentucky home by putting a Chicago spin on the classic mint julep.
---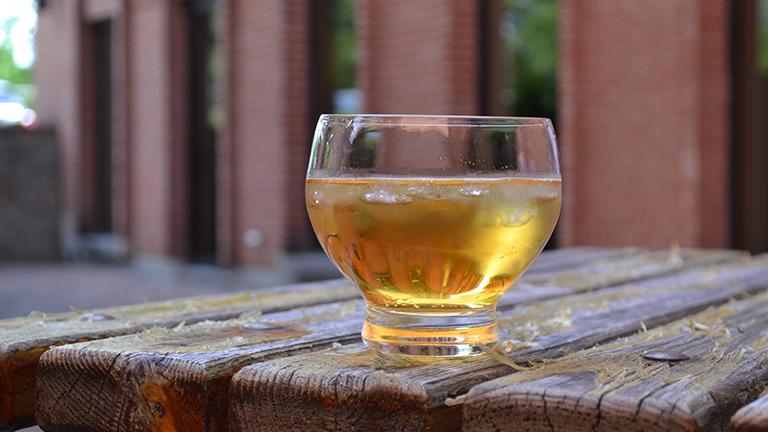 Original Chicago Cocktail: The Man on Five
June 3: Forty years after Richard J. Daley's death, Chicago still identifies itself with the man who steered it for more than two decades. Belly up to the bar and get a little taste of Chicago's spirited history: an Irish whiskey and smoky mezcal blended drink.
---
Original Chicago Cocktail: Mayor Bossy
May 27: Following a whopper of a blizzard in 1979, Sauganash native Jane Byrne narrowly upset Mayor Michael Bilandic for the Democratic mayoral nomination. Belly up to the bar and get a little taste of Chicago's spirited history: a frosty milkshake spiked with whiskey and vodka.
---
Original Chicago Cocktail: Lord of the Levee
May 20: For our second installment, we're saying "cheers" with the Lord of the Levee drink, inspired by Aldermen "Bathhouse" John Coughlin and Michael "Hinky Dink" Kenna.
---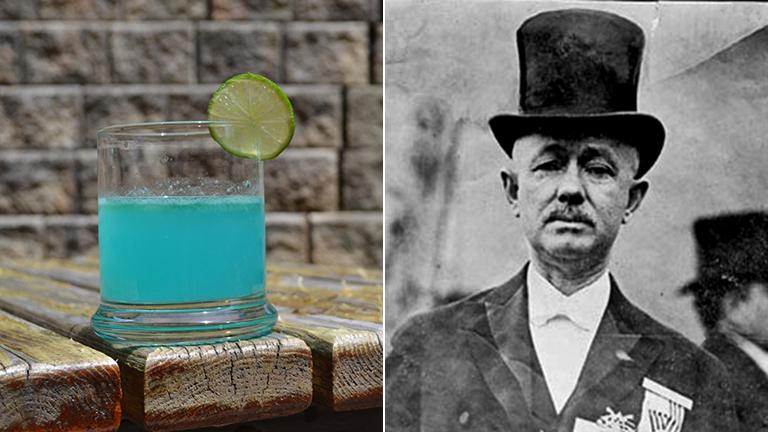 Original Chicago Cocktail: The Hinky Drink
May 13: Belly up to the bar and get a little taste of Chicago's spirited history. We're raising a glass to Michael "Hinky Dink" Kenna, who famously crowed "Chicago ain't no sissy town."
---