Video: Police Superintendent David Brown reflects on his first 100 days on the job.
---
Shortly after being sworn in by Mayor Lori Lightfoot on April 22, freshly minted Chicago Police Superintendent David Brown hugged his wife and daughter — and offered his new boss not the traditional handshake but an elbow bump, in a nod to the coronavirus pandemic that was raging throughout Brown's new home of Chicago and across much of the globe.
But the mammoth challenges posed by the pandemic did not stop Brown, 59, from embracing Daniel Burnham's exhortation for Chicago leaders and announcing "no little plans" for the long-beleaguered department now under his command.
"Buckle your seat belt, we're headed to the moon," Brown said, vowing to reduce shootings and murders in the city to all-time lows while rebuilding — or establishing — residents' trust in the Chicago Police Department. "I'm not here for average. Anyone can do average."
After nearly 100 days at the helm of the CPD, a milestone he reaches Friday, Brown's tenure has been anything but average — but certainly not in the way he had hoped. Amid the virus, which has so far been linked to the deaths of 2,765 Chicagoans, Brown also led the department as massive anti-police brutality protests swept the city and unrest led to the destruction of scores of businesses, many on the South and West sides.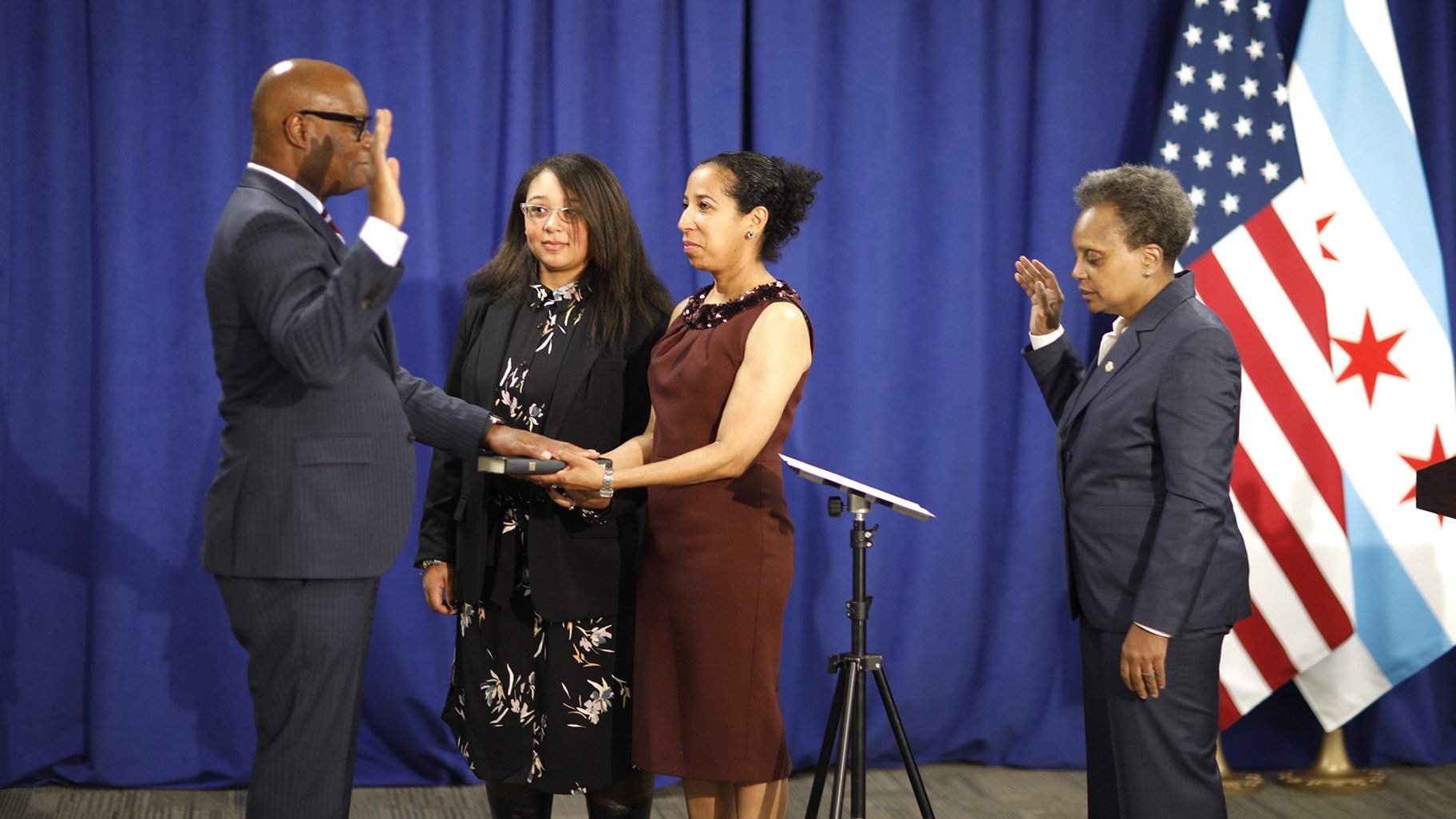 David Brown is sworn in as police superintendent by Chicago Mayor Lori Lightfoot after unanimous approval by the Chicago City Council on Wednesday, April 22, 2020. Brown's wife and daughter are also pictured. (@Chicago_Police / Twitter photo)
Nearly as soon as that unrest subsided, Brown and his 13,500-member department found themselves confronting a sustained surge in violent crime, with homicides and shootings soaring approximately 50%, as compared with the same time period in 2019.
"It is very early, and there is no doubt this is a very difficult assignment," said the Rev. Marshall Hatch, the senior pastor at New Mount Pilgrim Church in West Garfield Park, when asked to assess Brown's first 100 days in office. "Chicago is like nowhere else."
Lightfoot made the right call when she tapped Brown, the former chief of the Dallas police, to lead CPD, rather than someone from inside the department, said Hatch, an anti-violence activist who has consulted with Brown on the department's public safety plan.
But, Hatch said, "The jury is still out. If anyone could do it, it would be someone like him."
Hatch urged Brown to capitalize on his status as an outsider to change the culture of the department that in 2017 the Department of Justice found routinely violated the constitutional rights of Black and Latino Chicagoans. CPD is under the oversight of a federal judge to implement reforms, but the department has failed to meet more than two-thirds of those court-imposed deadlines mandated under a consent decree.
But 29th Ward Ald. Chris Taliaferro, the chairman of the City Council's Public Safety Committee, urged Brown to focus on getting a handle on the gun and gang violence that surged once the stay-at-home order designed to stop the spread of the coronavirus was lifted at the beginning of June.
"That's job No. 1," Taliaferro said.
Although Taliaferro urged Lightfoot to choose the Chicago Police Department's 63rd superintendent from within the department's ranks, he said he is "very pleased" with Brown's performance during his first three months on the job.
"He has an incredible responsibility." Taliaferro said.
In a statement to WTTW News, Lightfoot's office said she "has nothing but full confidence in David Brown to lead the Chicago Police Department. In a matter of 100 days that were filled with an unprecedented public health crisis, civil unrest and an increase in city violence across the nation, the superintendent has created a first-of-its-kind community policing initiative to build trust between officers and the residents they serve, added more than 100 officers to Chicago's local police districts to move resources closer to communities and prioritized police reforms to be launched within 90 days."
Interactive: Major events in Chicago during Superintendent David Brown's first 100 days on the job.
Historic violence
Moments after he was sworn in as superintendent, Brown pledged a series of "moonshot" goals: the lowest number of murders on record, the lowest number of shootings on record and the highest level of trust in police officers from city residents.
Days later, he announced another "moonshot" – keeping Chicago under 300 murders for the year, something that has reportedly not been done since 1957.
"We need to find a way to end violent crime that has plagued Chicago for far too long," he said after being appointed in April.
That solution has remained elusive in a year unlike any other in the city.
Chicago surpassed the 300-homicide mark before the halfway point of 2020 and has already seen more than 400 murders this year. But in just the three months since Brown was appointed, the city has recorded at least 275 homicides, according to police data, surpassing 90% of that "moonshot" total in just a quarter of the year.
May 2020 saw 85 homicides — more than any month of May since 1994, according to data obtained by WTTW News. The 94 homicides recorded in June was that month's highest total in at least the last 50 years.
Brown failed one of his first tests when, just weeks into his tenure, he opted to put far fewer officers on the streets during Memorial Day weekend than there had been in years past. Nearly 50 people were shot and 10 were killed in a weekend Lightfoot dubbed a "bloodbath."
Through July 19, CPD data shows there have been more than 1,600 shootings so far this year – 47% more than the same time period in 2019 – while shootings for the week prior (98) were up a whopping 92% over that same window last year (51).
And those totals don't include the 15 victims who were wounded outside a Gresham funeral home last week in one of the city's bloodiest mass shootings in years.
Public trust in police, both in Chicago and beyond, has also fallen amid ongoing protests following the May 25 killing of George Floyd in Minneapolis police custody.
Several high-profile local incidents during those protests have strained the public's relationship with CPD. More than a dozen officers were caught on camera lounging around inside the office of U.S. Rep. Bobby Rush as nearby businesses were being burglarized. One officer was relieved of his police powers after he was seen flipping off protesters. And earlier this month, an officer allegedly punched a female activist in the face during a protest, knocking out some of her teeth.
Responsibility for the uptick in shootings and homicides does not fall entirely on Brown's shoulders, and the superintendent has made efforts to better engage the communities hit hardest by gun violence.
Earlier this month, Brown expanded the CPD's Summer Mobile Patrol, a unit that's historically been used to quickly address anything from large crowds to violent crime, and launched a new initiative where officers would participate in community service projects each week across the city with an aim at both stopping crime and addressing the root causes of violence.
Within days, he ramped up that initiative further, moving from weekly service projects to daily ones.
"We should not be seen as an occupying force only there for enforcement," Brown said this month. "So I would say stand by. You'll see community policing on steroids in this department."
The superintendent has also made moves to hold his officers more accountable.
In June, Brown agreed with a ruling from the Civilian Office of Police Accountability – the agency which investigates claims of police misconduct – to fire three officers for lying to investigators.
Brown later said he doesn't see a contradiction between supporting officers and holding them responsible for their actions. Those comments came at a press conference where he stood beside Civilian Office of Police Accountability Chief Administrator Sydney Roberts, apparently over the objection of some within his own department who felt he may lose the support of rank-and-file officers for doing so.
And he's pushed to crack down on police overtime, which has cost the city hundreds of millions of dollars, by requiring officers to get approval for any overtime before beginning their shift.
---
'There is a ton of work to be done'
Ald. Maria Hadden (49th Ward), who was among a wave of progressive aldermen elected to the City Council alongside Lightfoot, said she welcomed Brown's "energy and enthusiasm" and his "optimistic and hopeful" approach to Chicago's challenges.
"After these 100 days, I'm glad he's still here," Hadden said.
But Hadden said Brown needed to "lean in to the serious work of reform" and catch up on the reform deadlines ordered by the court to comply with the consent decree.
Hadden said she was also worried by Brown's "tone" during the most violent weeks this summer, which she said appeared to pit police officers against Chicagoans.
"That makes me wonder how good a fit he is," Hadden said. "We should all adopt a more humble tone."
The pandemic, followed by citywide protests triggered by the death of George Floyd, exposed how badly the department needs to be reformed, Hadden said.
"There is a ton of work to be done," Hadden said.
Brown holds a weekly ReformStat meeting where he hold units accountable for implementing the changes required by the consent decree and "identify courses of action to catch up on missed deadlines," according to the mayor's office.
In addition, Hadden said she was concerned by Brown's determination to arrest teenagers on "drug corners" to reduce crime during the 4th of July holiday weekend, when violence typically surges. That move was slammed by police reform advocates as ineffective and counterproductive to efforts to reduce the number of young people in jail.
"That approach has not only failed, but it has inflicted grievous harm, particularly in Black communities, and has made us less safe," said Craig Futterman, a University of Chicago law professor. 
While he hasn't directly criticized Cook County State's Attorney Kim Foxx, Brown has repeatedly said the criminal justice system must do more to punish those who possess illegal firearms and sell drugs on corners – crimes which he's called the "precursors" to gun violence.
Futterman also objected to Brown's plan, announced Monday, to create two new citywide teams that aim to foster community relationships and protect the rights of peaceful demonstrators downtown.
While Brown said those teams were different from police units that were accused of misconduct in the past and would work to rebuild trust in the department, Futterman said he was unconvinced.
"Units like that have contributed mightily to the patterns and practices of civil rights violations in Chicago that have led to the present consent decree," Futterman said.
However, Ald. Raymond Lopez (15th Ward) said he wasn't sure that it was appropriate to hold Brown accountable for the city's crime surge or response to the protests and pandemic.
Lopez, who is a frequent critic of the mayor, said Lightfoot was "micromanaging" the department and was not allowing Brown to make decisions on everything from promotions to deployments.
"That level of micromanaging undermines him and what he is trying to do," Lopez said. "It is unfortunate, because Chicago needs an independent and visionary superintendent."
Lopez said Lightfoot, Chicago's first Black female mayor, had "emasculated" Brown and the Chicago Police Department.
"The wrong person is making the wrong decision at the wrong time," Lopez said.
Even if the pandemic fades and violence begins to drop as the weather cools, Brown faces another challenge in the fall, when the City Council will be forced to grapple with the economic crisis caused by the coronavirus. Lightfoot announced that the recession blew a $700 million hole in the city's 2020 budget, and the city's most recent budget forecast, released by the city in August, the city's deficit could swell to $1.6 billion in 2021.
Ald. Matt Martin (47th Ward) said he was hopeful that Brown was prepared to collaborate with aldermen coping with a "potentially catastrophic loss of revenue."
All city agencies and departments should be prepared to "rethink their core missions," Martin said.
That is particularly true for the Chicago Police Department, which accounts for nearly 40% of the city's general fund, and in light of a nationwide push to defund and reduce spending on law enforcement.
"We need to reimagine what public safety looks like in Chicago," Martin said. "And that is no small task."
Heather Cherone: @HeatherCherone | (773) 569-1863 | [email protected]
Matt Masterson: @ByMattMasterson | (773) 509-5431 | [email protected] 
---