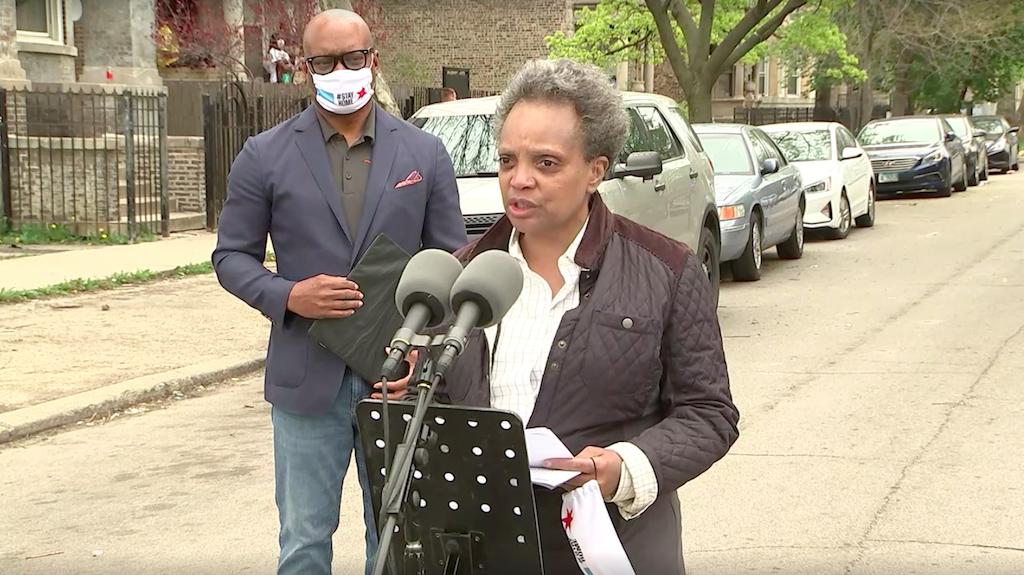 A screenshot from a May 2, 2020 livestream with Mayor Lori Lightfoot and Chicago Police Superintendent David Brown in the city's West Garfield Park neighborhood. (Chicago Mayor's Office)
Mayor Lori Lightfoot offered new Chicago Police Superintendent David Brown her "unflagging support" on Thursday — even as she once again called his strategy for Memorial Day "a fail."
Lightfoot said the comments she made on Tuesday had been misinterpreted by some as an attack on Brown, who has been on the job approximately a month.
"Superintendent Brown has, and will continue to have, my unflagging support, full stop," Lightfoot said at a news conference when she announced the latest on efforts to lift restrictions designed to stop the spread of the coronavirus.
During the Memorial Day holiday weekend, 49 people were shot in Chicago and 10 died. Brown called that an "unacceptable level of violence" that marked the city's bloodiest Memorial Day weekend since 2015, even as the city remains under a stay-at-home order during the coronavirus pandemic.
Lightfoot did not mince words Tuesday when asked about the performance of her hand-picked top cop. The mayor hired Brown and charged him with making Chicago the safest big city in America.
"Whatever the strategy was, it did not work," Lightfoot said, adding that she would not allow summer weekends to be turned into a "blood bath."
But Lightfoot said Thursday she backed Brown and is "100%-plus committed to his success."
In addition, the mayor said she and Brown are in "lockstep" in their efforts to reduce crime while building residents' trust in the Chicago Police Department by holding officers accountable for misconduct, even amid the pandemic.
Lightfoot said the importance of that effort was highlighted by the death of George Floyd in Minneapolis while in police custody after an officer used his knee to pin Floyd's throat to the asphalt for eight minutes.
The video of Floyd's death brought back the "trauma" caused by the video of the murder of Laquan McDonald, a teenager who was shot 16 times by former Chicago police Officer Jason Van Dyke in October 2014, Lightfoot said.
Like McDonald, Floyd was black, and died during a confrontation with a white police officer. While protests erupted in Chicago after the video of McDonald's death became public, riots have swept Minneapolis.
"There but for the grace of God goes Chicago," Lightfoot said, who noted that she ran for mayor in the aftermath of the scandal caused by McDonald's death. "It has been a painful reminder that while we have been focused on fighting this virus, we know our work in facing hard truths about disparities and injustices is not yet done and that we have to remain resolute and not lose sight of why fighting these fights is so critically important."
Lightfoot said she found the video "sickening" and that it made her hug her daughter tighter than usual, and worry about her brothers and other relatives who are black men.
"We need our police to be working alongside us, supporting us, and protecting all of us," Lightfoot said, vowing to hold Chicago's police officers to the highest standards. "We simply can't go backward."
Contact Heather Cherone: @HeatherCherone | (773) 569-1863 | [email protected]
---