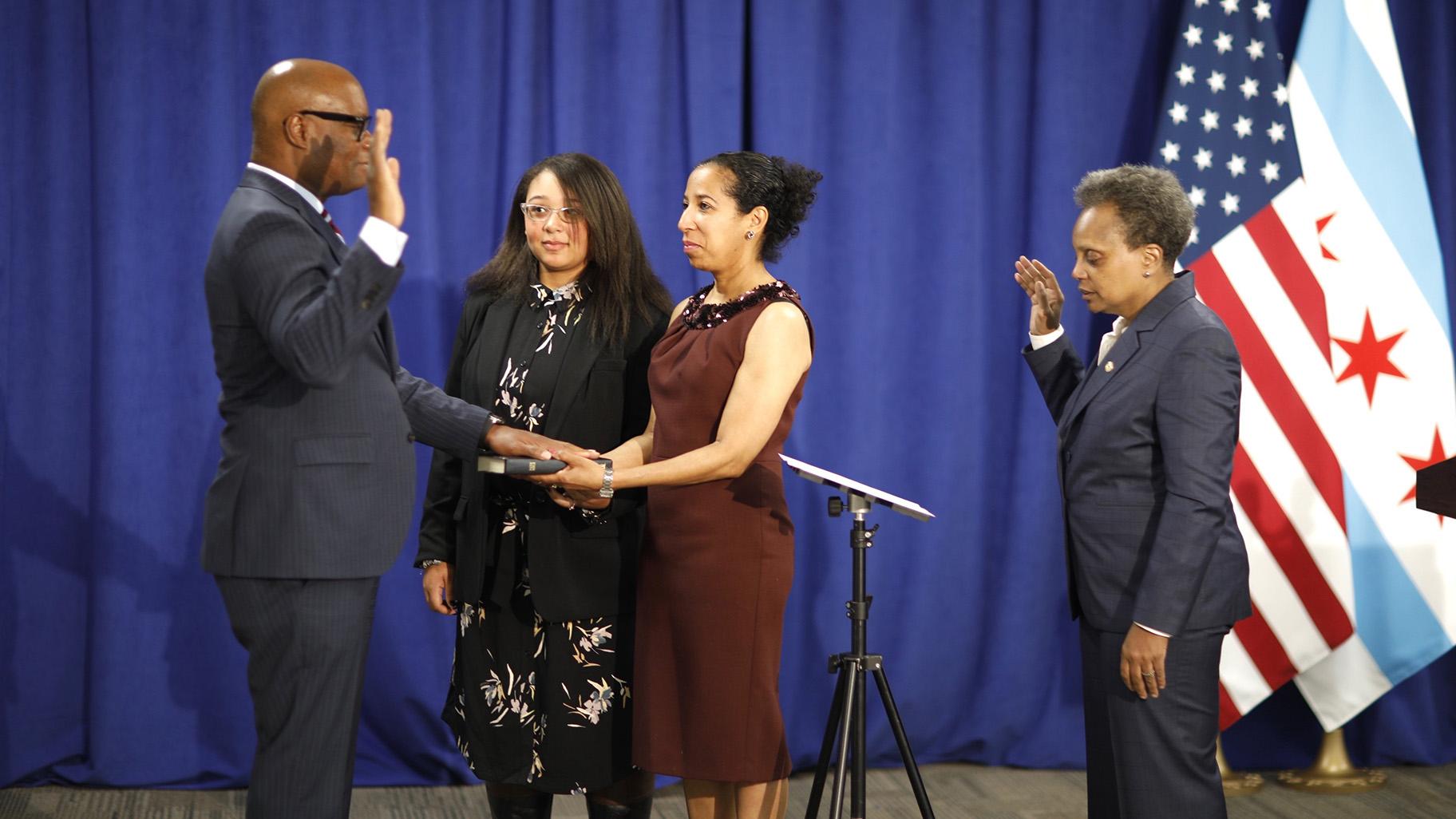 David Brown is sworn in as police superintendent by Chicago Mayor Lori Lightfoot after unanimous approval by the Chicago City Council on Wednesday, April 22, 2020. Brown's wife and daughter are also pictured. (@Chicago_Police / Twitter photo)
The City Council on Wednesday voted 50-0 to appoint former Dallas Police Chief David Brown to lead the Chicago Police Department.
After the vote, which came with no debate or the usual long speeches of praise and welcome that typically greet such a high-profile appointment, Brown briefly addressed the City Council, saying he looked forward to getting to know each alderman.
Mayor Lori Lightfoot picked Brown to replace interim Superintendent Charlie Beck, who took over the department under federal oversight after the mayor fired former Superintendent Eddie Johnson.
During his confirmation hearing before the City Council's Public Safety Committee on Monday, Brown vowed to rebuild trust in the police by revitalizing programs that call for officers to partner with residents to protect neighborhoods.
Brown said he would build on the reorganization started by Beck to add police resources focused on patrolling neighborhoods, while ensuring the department protects the rights of black and Latino Chicagoans and meets the requirements imposed by a federal judge overseeing reform efforts through a consent decree.
Brown also promised to make the department's rank-and-file and command staff more diverse.
Brown led the Dallas Police Department from 2010-2016. He won the job after being picked as a finalist by the Chicago Police Board along with Aurora Police Chief Kristen Ziman and Chicago Police Deputy Chief Ernest Cato.
"We are Chicago, and we deserve the best," Lightfoot said when she announced her pick. "In this moment, David Brown is the best."
Brown takes over a department that was roiled by the scandal that ended Johnson's career and is facing intense oversight by a federal judge charged with reforming a department that federal officials concluded routinely violated the civil rights of black and Latino Chicagoans.
Contact Heather Cherone: @HeatherCherone | (773) 569-1863 | [email protected]
---