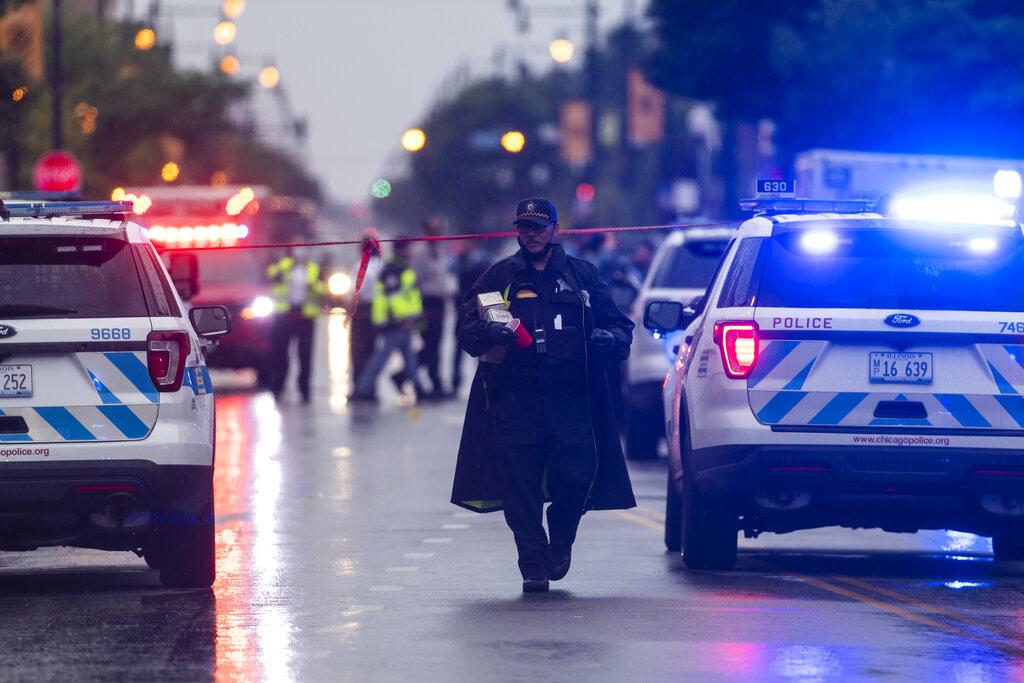 Chicago police investigate the scene of a mass shooting where more then a dozen people were shot in the Auburn Gresham neighborhood of Chicago, Tuesday, July 21, 2020. (Tyler LaRiviere / Chicago Sun-Times via AP)
More than a dozen people were shot Tuesday evening outside a funeral home in the Gresham neighborhood in what has become one of the largest mass shootings in Chicago in years.
First Deputy Superintendent Eric Carter confirmed late Tuesday that 14 adults were shot at 79th and Carpenter Street but he could not provide updates on any of their conditions during a brief media appearance.
A 15th victim was identified Wednesday morning.
The shooting occurred around 6:30 p.m., when the occupants of a black vehicle in the 1000 block of 79th opened fire at attendees of a funeral at that location. The attendees returned fire, Carter said, before the vehicle fled from the scene on Carpenter.
That vehicle then crashed and the occupants fled on foot in multiple directions. Carter said one person of interest is currently being interrogated.
It's unclear if anyone in the vehicle was wounded during the exchange of fire, but police on the scene located 60 shell casings.
Carter said the victims, who are all adults, are being treated at five separate area hospitals. It's not yet known if any of those victims were bystanders who weren't attending the funeral.
"The detectives will be conducting a canvass for the rest of this evening and early tomorrow," Carter said. "We are hoping the community, if you have any video or anybody that knows anything, will help the detectives in their canvass and offer any information that could help solve this crime."
Arnita Geder and Kenneth Hughes said they heard gunshots while in their home watching television, adding that they came outside to find bodies that were shot up and "laying everywhere."
"We thought it was a war out here," Geder told the Chicago Sun-Times. "It's ridiculous all the shooting that's going on out here, it really has to stop."
Carter said there's no known motive right now, but detectives are investigating whether there were any conflicts between these two groups in the past. A police squad car was assigned to cover the funeral by the area's district commander "just as a precaution" due to the size of the funeral, according to Carter.
Asked if the department or the officers on scene could have done more to prevent this shooting, Carter said: "That's being looked at."
Chicago has already recorded 414 homicides so far in 2020, according to CPD data. That's an increase of 51% over the same time period last year. The number of shootings – more than 1,600 so far this year – is also up 47% over 2019.
The Associated Press contributed to this report.
Contact Matt Masterson: @ByMattMasterson | [email protected] | (773) 509-5431
---