Video: "Chicago Tonight" takes a closer look at gun violence in Chicago as part of our WTTW Firsthand initiative. With Vanessa Perry DeReef, Mauricio Diaz and Ramon Hooks.
---
Chicago Police Superintendent David Brown is again calling for longer sentences for the "evil murdering bastards" who commit gun offenses after another violent weekend that saw 14 people, including three children, dead from gun violence.
A visibly angry Brown on Monday said he's not pointing the finger at the office of Cook County State's Attorney Kim Foxx, but he claimed there's currently "zero consequences" following certain gun arrests, which allows the "masterminds" behind gang-on-gang violence to get back on the streets quickly.
His comments came after an infant boy, 10-year-old girl and 17-year-old boy were killed in separate shootings over the weekend.
"As a dad, standing alongside other parents up here on this podium, I struggle to make sense of the reckless gun violence that continues to take the lives of our young people throughout the city," Brown said. "What I want to talk about are the guns we weren't able to get to on time, the guns and the cowards, these evil bastards behind those guns, that caused the senseless loss of life over the past weekend."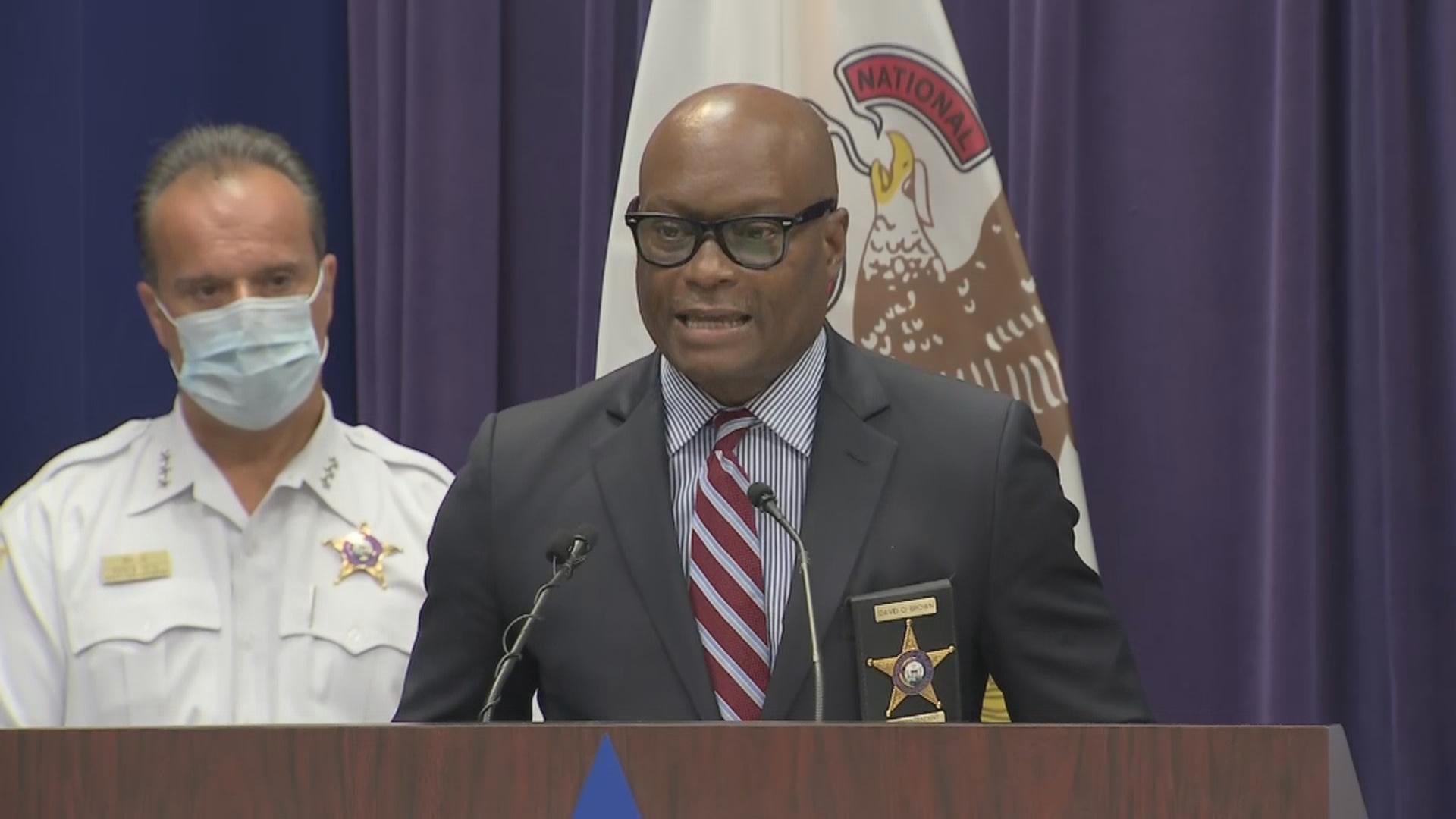 Chicago Police Superintendent David Brown speaks about weekend violence at a press conference Monday, June 29, 2020. (WTTW News via Chicago Police Department)
Brown said his department will be deploying an additional 1,200 officers each day from Thursday through Sunday in hot spots across the city during the Fourth of July weekend in an effort to stem the violence that claimed more than a dozen lives this past weekend.
Lina Nunez, 10, died at a hospital after a shooting in the Logan Square neighborhood on Saturday night. CPD Chief of Detectives Brendan Deenihan said she was sitting in her home when gang members opened fire on a rival gang outside. Nunez was struck in the head by a stray bullet.
Earlier Saturday in the Englewood neighborhood on the city's South Side, 1-year-old Sincere Gaston was shot when someone opened fire on his parent's vehicle from another car. His mother also suffered a graze wound to her head.
Deenihan believes the shooter was targeting Gaston's father. He said detectives are working to track that offending vehicle, a gray Infiniti.
No arrests have been made in either shooting as of Monday morning.
A 17-year-old was also reportedly killed in a shooting in the Humboldt Park neighborhood on Saturday.
The superintendent labeled unlawful use of a weapon and open-air drug market arrests as the "precursors" to gun violence, but he said there isn't nearly enough being done to hold those offenders accountable.
Brown said gang members – who he repeatedly referred to as "evil bastards" – hire young kids who don't have criminal backgrounds to work corners selling drugs for them. Because they don't have records, when they're arrested on drug or gun charges, they are quickly released and back out on the street.
"It is the method to the madness," Brown said.
When violent offenders have no consequence, violence continues. pic.twitter.com/NJ41Qx6fDp

— Chicago Police (@Chicago_Police) June 29, 2020
---
While he called for longer sentences, Brown repeatedly stressed that he isn't pushing for mass incarceration. Instead he wants the criminal justice system to better address street violence and keep violent offenders in prison longer.
"Electronic monitoring and low bond amounts given to offenders endanger our residents and flies in the face of the hard work our police officers put in on a daily basis to take them off the streets," he said.
Brown made similar comments last week following a violent Father's Day weekend that saw more than 100 people shot and 14 killed.
While he noted that he's "not into food fights," Brown said he's hoping to collaborate on a solution with Foxx and Chief Judge Timothy Evans' office.
Foxx issued a statement Monday afternoon, saying she's saddened by the "horrific" violence across Chicago and Cook County in recent weeks. She said it's critical her office collaborates with law enforcement, community and justice partners in order to achieve a "fair and equitable criminal justice system."
"Public safety remains our top priority," Foxx said. "We will continue to focus our attention on violent crime, and prosecuting those when an arrest is made by law enforcement."
Mayor Lori LIghtfoot said she's woken up each of the past two Mondays "with an incredible sense of dread" after a pair of weekends she described as "some of the deadliest that we've seen in our city in a very long time."
"This can't be who we are as a city," she said during a press conference announcing INVEST South/West grant recipients. "Dear God, and dear Chicago, we have to do better than what we're seeing."
Chicago has already seen more than 300 homicides in less than six months in 2020, topping the "moon shot" goal Brown had set for the city for an entire year. More warm weather is on deck for the coming week and the Fourth of July weekend, which means more people will likely be outside despite the COVID-19 pandemic. 
Brown said he's hoping those who are arrested in the coming days are kept in jail at least through the weekend.
"It's a full-court press," he said. "Our endgame is arrest for the precursors to violence. So every day we're gonna be clearing corners – every day we're going to be clearing these drug corners – to protect these young people from violence."
Contact Matt Masterson: @ByMattMasterson | [email protected] | (773) 509-5431
---