Video: Surveillance footage released by the Chicago Police Department on Monday, July 20, 2020 shows protesters marching Friday, July 17, 2020 through Grant Park and clashes between protesters and police near the Christopher Columbus statue.
---
Chicago's top cop is ordering his officers to wear "any and all protective gear" during future protests in the city following violent clashes Friday evening between police and protesters at the Christopher Columbus statue in Grant Park.
Police Superintendent David Brown said officers faced organized mob action "designed to provoke violent responses" during a protest that started peacefully but turned violent, leaving several officers and protesters injured.
"We cannot assume that protests are going to be peaceful, based on these actions and others," he said during a press conference Monday.
The CPD published a six-minute compilation of surveillance footage Monday morning, which it said shows some members in the protest using umbrellas to shield others as they changed into black clothing and masks before pelting officers at the statue with rocks, frozen water bottles, fireworks and other items Friday night.
Area 3 Deputy Chief Daniel O'Shea said protesters pushed carts and carried bags filled with items to throw at police, while others used sharpened PVC piping to jab at officers around the statue.
"What you're seeing here is obviously an ambush on police officers," O'Shea said.
In all, 12 people were arrested for mob action and 49 officers were injured, according to police. Eighteen of those officers had to be hospitalized.
Brown said the "vast majority" of officers acted professionally during the protest. But on social media, widely circulated videos allegedly showed police assaulting a reporter who was holding up his press credential and 18-year-old activist Miracle Boyd, who said she lost teeth after being punched in the face by an officer.
"There is no way I should have left a protest bruised and battered for exercising my freedom of speech and freedom to assemble," Boyd, a member of the activist group GoodKids MadCity, said during a press conference Monday morning. "I am disgusted and never would have ever thought I would become a victim to the biggest gang in America."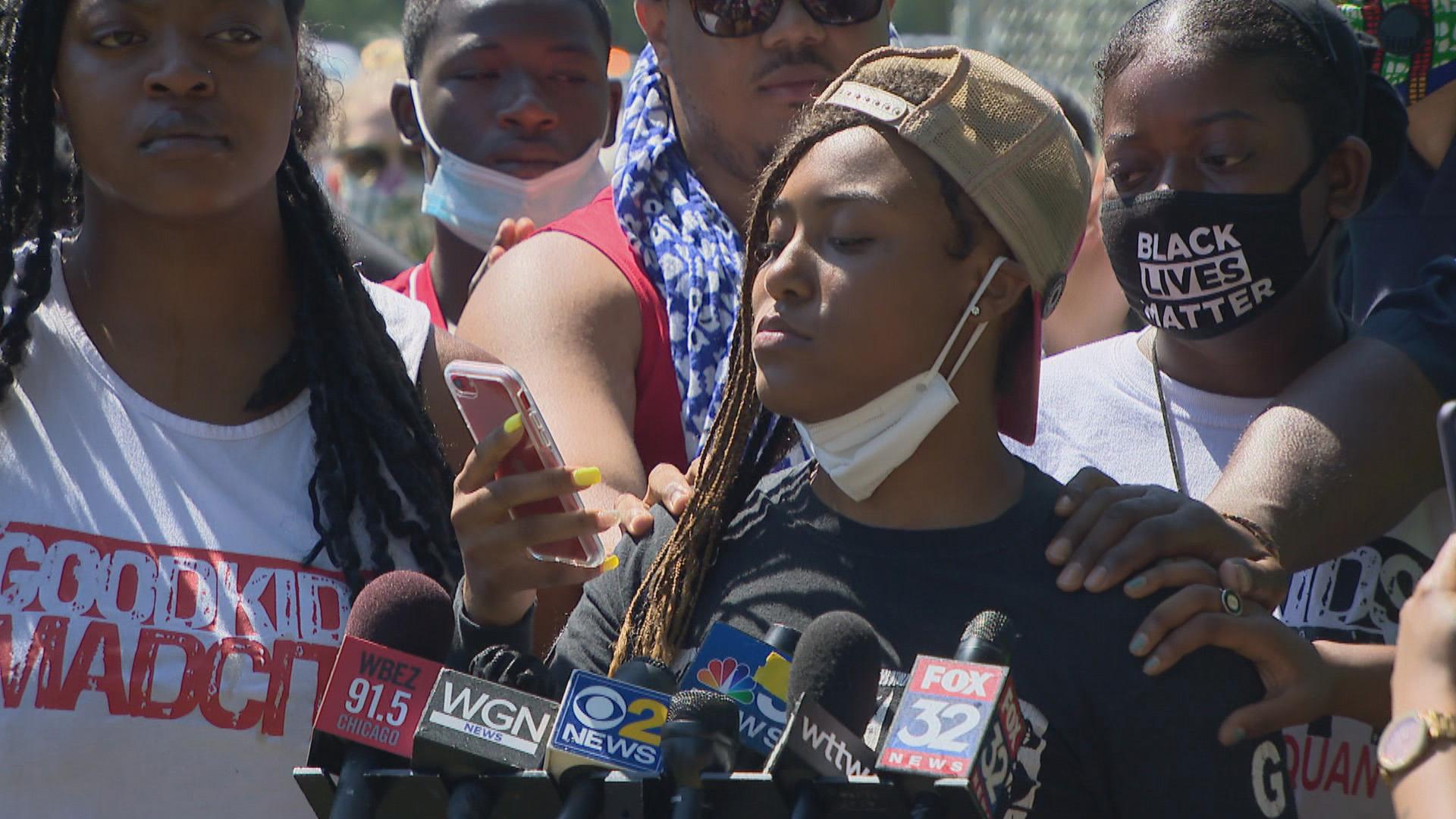 Miracle Boyd reads a statement from her phone at a press conference Monday, July 20, 2020. (WTTW News)
Activists also said police used tear gas on the crowd and beat some participants. On Sunday, the Civilian Office of Police Accountability said it had received more than 20 complaints of police misconduct stemming from the protest, including allegations of excessive force, denial of counsel, operations violations and the unnecessary use of "oleoresin capsicum," also known as pepper spray.
Asked about those incidents Monday, Brown stated simply that his department will conduct "a thorough investigation of any and all allegations" of police misconduct.
"I want to be clear, the Chicago Police Department does not want to engage in violent interactions with peaceful protesters," he said. "But when the law is being broken, or has been broken, our oath demands that we act. This is not a choice for our officers, this is a requirement of our oath. Even if that means protecting a statue."
The Columbus statue has been the scene of multiple protests in recent weeks following the police killing of George Floyd in Minneapolis.
Amika Tendaji, an organizer for the protest, during which artists tagged the statue with slogans including "Decolonize Chicago" and "Black Lives Matter," decried the officers' use of force to protect a statue.
"I think the people of Chicago and the world have proven that they are over police brutalizing people," she said. "They're over police murder, they're over police terrorism, so the people are going to keep fighting."
Protesters across the country have called for the removal of statues of Columbus, saying that the Italian explorer is responsible for the genocide and exploitation of native peoples in the Americas.
Mayor Lori Lightfoot on Monday said it appeared a group of "vigilantes" who had come "for a fight" hijacked the protest Friday and turned things violent.
This is Miracle. She's 18 years old and an organizer for @GKMC18. She is fighting gun violence everyday. Last week I offered her an internship.

She is just over 5 ft, 100 pounds. Tonight a police officer beat her. Knocked out her teeth.

I'm sad, angry, and disgusted. pic.twitter.com/9Qx9G1aNxE

— Robert Peters (@RobertJPeters) July 18, 2020
---
"That's not peaceful protest. That's anarchy," she said. "And we are going to put that down. We can't have a circumstance where a small subset of that try to take over and hijack the peaceful protest and then turn it into a fight with the police."
The mayor urged those who want to see that statue removed to build on Chicago's history of vigorous but peaceful protest.
"I know these are difficult, intense times, but we need to be better to each other," Lightfoot said. "We need to remember that we are neighbors and we need to remember that our children are watching."
63 shot, 12 murdered over the weekend
During Monday's press conference, Brown also announced that a dozen people were murdered and 63 people were shot in incidents across the city.
Just before midnight Sunday, two men were killed and three others were injured in a shooting outside a home in the Morgan Park neighborhood. Police said the group was standing in the street when an unknown offender began firing shots in their direction. A 26-year-old was struck multiple times and a 41-year-old was hit in the back of the head. Both men died. Another 26-year-old was also struck in the head and taken to the hospital in critical condition.
Multiple kids and teens were also wounded in shootings over the weekend, including 10- and 11-year-old boys who were injured Sunday afternoon outside a home in the Auburn Gresham neighborhood. In all, at least 10 minors were shot over the weekend.
Police also made 57 gun arrests, Brown said, and recovered 87 guns between Friday and Sunday, bringing the year-to-date total of confiscated weapons up to 5,296.
Brown complained that his department was forced to divert resources from the South and West sides on Friday in order to deal with the Grant Park protest – an action he said "puts lives at risk."
"Let us redirect our anger to the loss of life on the South and West sides of Chicago. Let us work together to improve outcomes on the South and West Side neighborhoods instead of forcing Chicago PD to divert our precious resources … from deterring violence to responding to angry mobs."
Heather Cherone and the Associated Press contributed to this report.
Contact Matt Masterson: @ByMattMasterson | [email protected] | (773) 509-5431
---