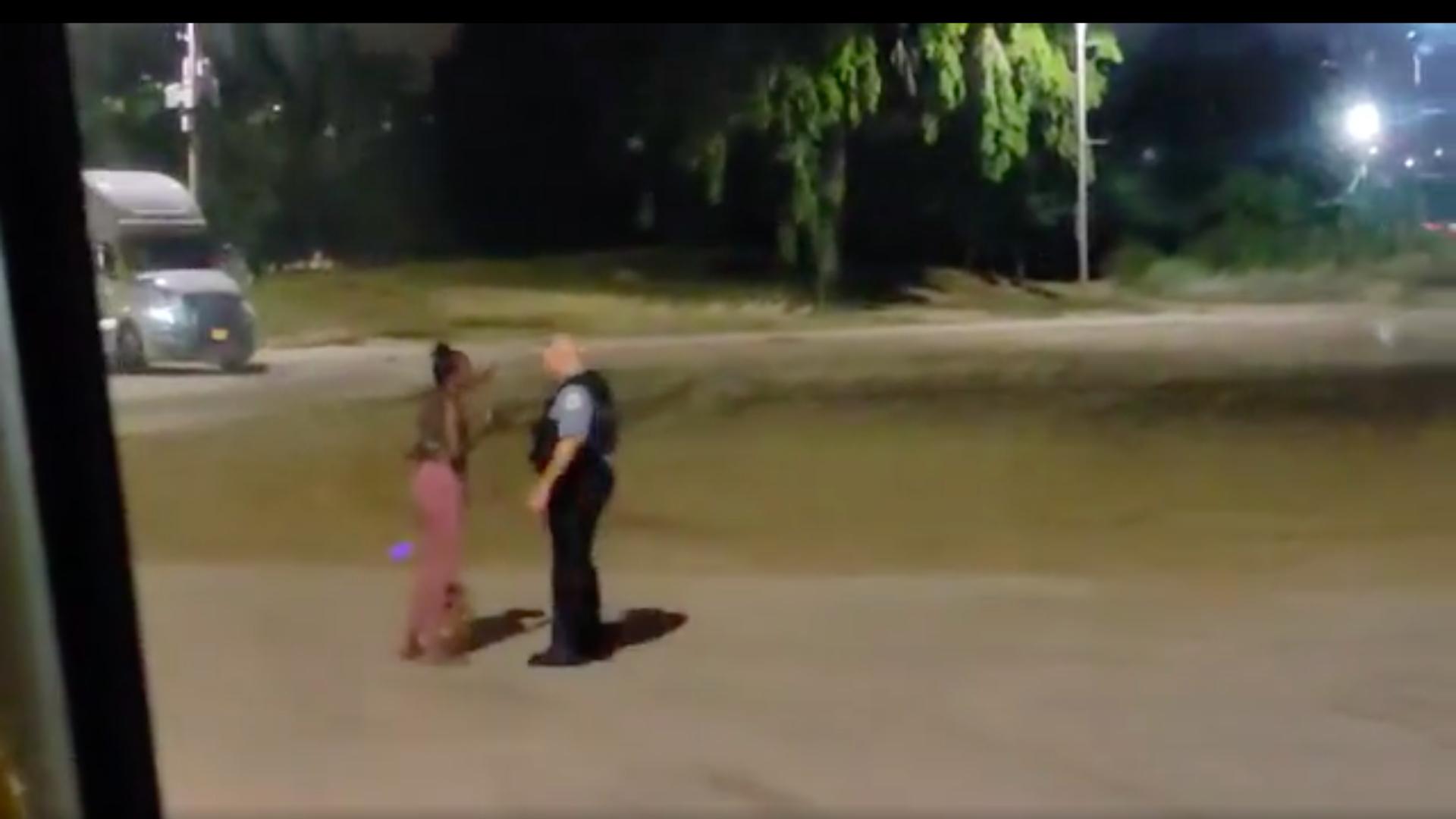 A still image taken from video provided to WTTW News shows Nikkita Brown and a Chicago police officer at North Avenue Beach around 12:12 a.m. Saturday, Aug. 28, 2021. (Courtesy of Saulter Law P.C.)
The Chicago police officer seen in a video grabbing a woman as she attempted to leave North Avenue Beach with her dog Saturday has been placed on administrative duties.
Chicago police Superintendent David Brown has directed that the officer involved be placed on "administrative duties pending the outcome of the ongoing investigation by the Civilian Office of Police Accountability," department spokesman Thomas Ahern said in an emal.
The incident occurred at around 12:12 a.m. Saturday, according to attorneys for Nikkita Brown, as she was taking her dog for a walk at North Avenue Beach in Lincoln Park.
The video was shared widely on social media. In it, Brown can be seen walking away from the officer, who appears to be attempting to make her leave the area.
The video shows she and the officer exchange words, and after Brown stops walking and looks down at her phone, the officer grabs her arm and attempts to restrain her. Brown can be heard screaming as the officer twists her around.
After more than a minute, the officer lets go of Brown, and they walk away in opposite directions.
Below, the video provided by Saulter Law P.C.
---
Nikkita Brown's attorneys with the firm of Saulter Law P.C. said she was "traumatized" by the incident, which they called a "obvious case of racial profiling." The firm on Tuesday declined to comment on the officer's discipline.
Mayor Lori Lightfoot on Monday said she was "quite disturbed" by what she saw on the video, and urged COPA to move its investigation "to the top of the priority list."
According to the CPD, Superintendent Brown made his decision to place the officer on administrative duties Monday. COPA, which is continuing to investigate the incident, had also recommended that Brown take some sort of disciplinary action against the officer.
"We have a responsibility to investigate allegations of police misconduct and determine if they are well founded based on the facts and evidence of each case," COPA Interim Chief Andrea Kersten said in a statement Monday. "If violations did occur, COPA will hold the officer accountable."
Contact Matt Masterson: @ByMattMasterson | [email protected] | (773) 509-5431
---