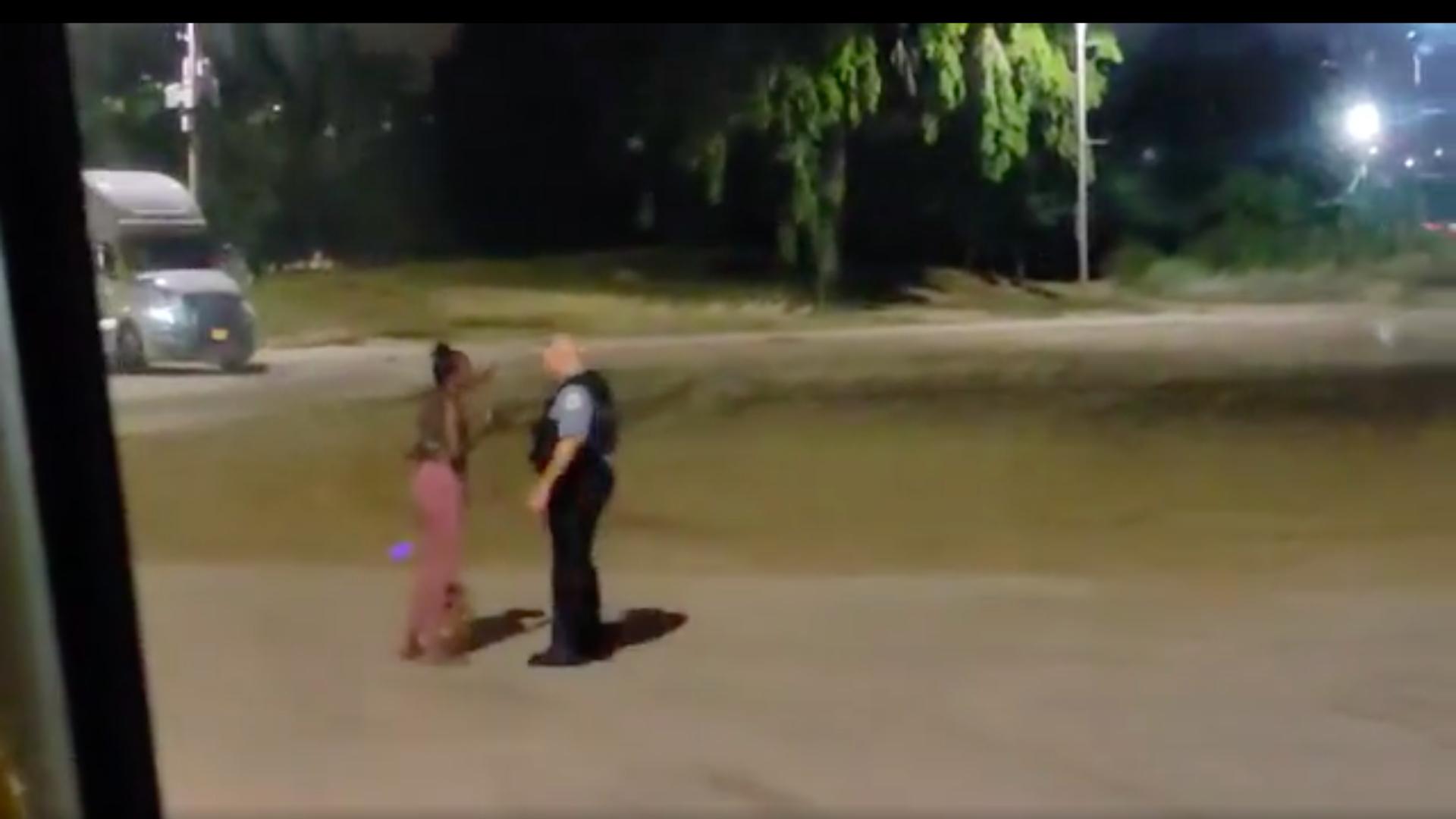 A still image taken from video provided to WTTW News shows Nikkita Brown and a Chicago police officer at North Avenue Beach around 12:12 a.m. Saturday, Aug. 28, 2021. (Courtesy of Saulter Law P.C.)
An investigation is underway following the release of a video that shows a Chicago police officer grabbing a woman as she attempts to leave North Avenue Beach with her dog in what her attorneys call an "obvious case of racial profiling."
Mayor Lori Lightfoot said she was "deeply concerned" by the altercation between a white male officer and Nikkita Brown, a Black woman, which is now under investigation by the Civilian Office of Police Accountability.
"COPA is aware of the incident & video currently circulating on social media regarding a CPD officer & woman with her dog on a Chicago beach," the office tweeted Sunday night. "We are investigating and in communication with the woman's attorney."
The incident occurred at around 12:12 a.m. Saturday, according to Brown's attorneys, as she was taking her dog for a walk at North Avenue Beach in Lincoln Park.
The video was shared widely on social media. In it, Brown can be seen walking away from the officer, who appears to be attempting to make her leave the area.
The video shows she and the officer exchange words, and after Brown stops walking and looks down at her phone, the officer grabs her arm and attempts to restrain her. Brown can be heard screaming as the officer twists her around.
After more than a minute, the officer lets go of Brown, and they walk away in opposite directions.
Below, the video provided by Saulter Law P.C.
---
"Ms. Brown is suffering from emotional trauma as a result of this brutal, unprovoked and unlawful attack by this Chicago Police Department Officer," attorneys with the firm of Saulter Law P.C., which is representing Brown, said in a press release.
Another video released by Brown's attorneys shows part of her interaction with the officer as the altercation begins. In that video, the officer can be heard saying he is turning on his body camera and saying he will "make this an official incident."
The officer then begins walking toward Brown, who asks him to "respect my space." She says she's concerned about COVID-19 and points out that the officer is not wearing a mask, at which point he responds, "I don't need a mask on, I'm outside," before the video ends.
According to her attorneys, Brown went home after the altercation and called 911, still "hysterical and traumatized from this encounter."
No arrests were made as a result of the incident.
COPA in a statement Monday afternoon recommended that police Superintendent David Brown either relieve the officer involved of his police powers or place him on administrative duties.
"We are committed to a fair, timely and objective investigation to determine if the actions of the involved officer are in accordance with Department Policy and Training," COPA Interim Chief Andrea Kersten said in a statement. "We have a responsibility to investigate allegations of police misconduct and determine if they are well founded based on the facts and evidence of each case. If violations did occur, COPA will hold the officer accountable."
While COPA is handling the investigation, police Superintendent David Brown said he wants to "get more facts" before he makes any decision on potential discipline for the officer.
The superintendent said the beach had been closed prior to the altercation, but he shed little new light on what occurred. He said the officer has not yet been interviewed, so his department does not yet "fully understand" what transpired.
"We don't yet know what was done or said," he said, "all we know is that the person was not arrested. … I would just ask the public to allow COPA to do its job and get to the bottom of what happened."
Speaking at an unrelated news conference Monday morning, Lightfoot said she hopes COPA "moves this (investigation) to the top of the priority list and gets this done."
"I was quite disturbed by what I saw," she said. "It looked like the woman was following the direction of the officer and leaving the beach … I think this woman deserves to have answers as to what happened, as do members of the public."
Contact Matt Masterson: @ByMattMasterson | [email protected] | (773) 509-5431
---