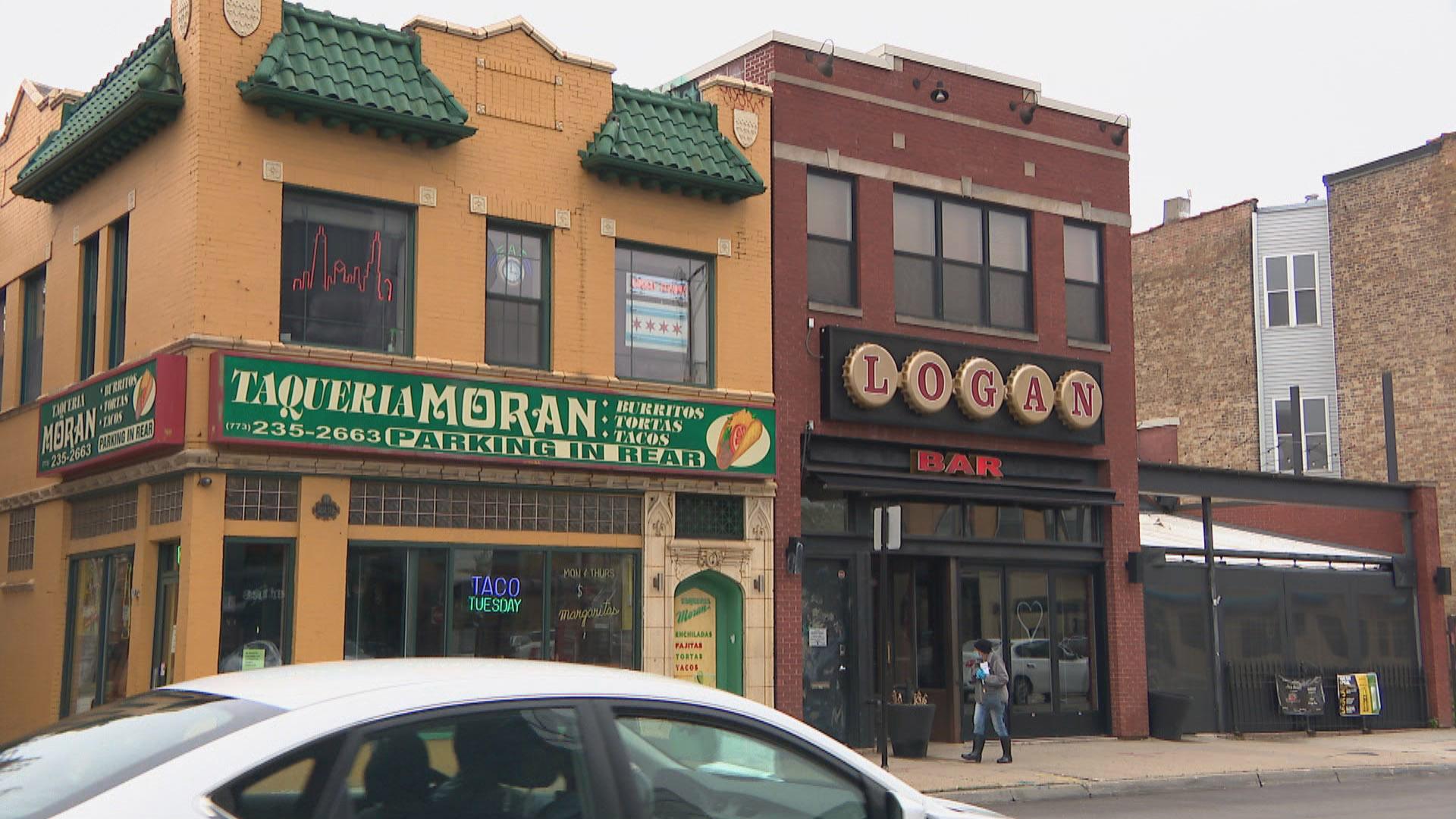 A lone pedestrian is seen walking along the street in Chicago's Logan Square neighborhood on May 19, 2020. (WTTW News)
Mayor Lori Lightfoot announced Thursday that Chicago will start to cautiously reopen next Wednesday as the peak of the coronavirus pandemic in Chicago appears to have passed. 
Restaurants and coffee shops can reopen to outdoor dine-in service, along with stores, barbershops and salons, child care centers and golf courses with strict limits on the number of people allowed indoors, officials said.
All branches of the Chicago Public Library will reopen on June 8 along with parks west of Lake Shore Drive, Lightfoot said. However, beaches and the lakefront trail will remain closed until Lightfoot and public health officials are satisfied that it will not cause a surge in confirmed cases of the coronavirus.
Chicagoans will be required to wear masks, and keep at least 6 feet between themselves and strangers whenever possible, Lightfoot said. Social gatherings will be limited to no more than 10 people, according to the guidelines.
"Folks, let's just be smart," Lightfoot said, warning that she would not hesitate to reimpose restrictions if health officials document a surge in new cases of the respiratory virus.
Approximately 300,000 Chicagoans have been unable to work since the pandemic hit, officials said. Approximately 130,000 could return to work on June 3.
The rest of Illinois is set to enter the third phase of the state's reopening plan Friday.
Nonessential businesses in Chicago will be limited to 25% of their normal capacity, while those outside the city will be allowed to reach 50% of their regular capacity to ensure social distancing. The 25% cap in Chicago also applies to "common areas" in office buildings, officials said.
Lightfoot said officials will monitor Chicago's buses and trains to avert overcrowding, and urged companies to allow employees to work staggered schedules to reduce passenger loads during the morning and evening rush hours. 
The total number of confirmed coronavirus cases in Chicago has dropped by 1.7% each day during the past seven days. The rates of positive tests began dropping 26 days ago, according to data from the Chicago Department of Public Health.
The rates of confirmed infections among black and Latino Chicagoans also continued to drop, according to the data. Those two demographic groups make up approximately 75% of infections and deaths caused by the coronavirus in Chicago, according to city data.
In addition, the number of people admitted to Chicago hospitals has declined for 13 days, with the number of patients in the intensive care unit stable or declining during the past 18 days, according to city data.
The city is now testing enough people every day to move to the next phase of Lightfoot's reopening plan, said Dr. Allison Arwady, the commissioner of the Chicago Department of Public Health. The city is testing an average of 5,000 people a day, beating the city's goal of 4,500 people per day.
But the rate of positive tests also remains too high for the city to immediately move to the next phase of the reopening plan. The city's overall positive test rate is 16.3%, while the goal to move to phase three is 15%, Arwady said.
The rate is above 20% in some South and West side neighborhoods, which have been particularly hard hit by the pandemic, Arwady said.
"We still have a lot of COVID here," Arwady said, referring to the disease caused by the coronavirus. "A few days could make all the difference."
Contact Heather Cherone: @HeatherCherone | (773) 569-1863 | [email protected]
---