The past year gave Chicago a new mayor and Illinois a new governor while some veteran politicians were caught in the FBI's crosshairs.
Elsewhere in 2019, Chicago students missed 11 days in the classroom while their public school teachers went on strike, and a Hollywood actor put the city's criminal justice system on the world stage.
When voters overwhelmingly elected Lori Lightfoot in April, Chicago became the largest city to elect a black woman as its mayor.
"For years, they've said Chicago ain't ready for reform. Well, get ready … because reform is here," Lightfoot said during her inauguration speech in May. "I campaigned on change, you voted for change and I plan to deliver change to our government."
In the seven months since, Lightfoot has gone after the Chicago tradition of aldermanic privilege, eliminated overdue fines at city libraries, given wider berth to scofflaws and those who can't afford city stickers and associated traffic fines, and shepherded through a budget that avoids the massive property tax hike she'd warned may be necessary.
But Lightfoot has also upset alderman who see her as trying to rule with an iron fist despite promises of teamwork. She was unable to ward off a Chicago Teachers Union strike and she could not get state lawmakers on board with key priorities, including a change to the tax structure the Illinois General Assembly put in place for a future casino.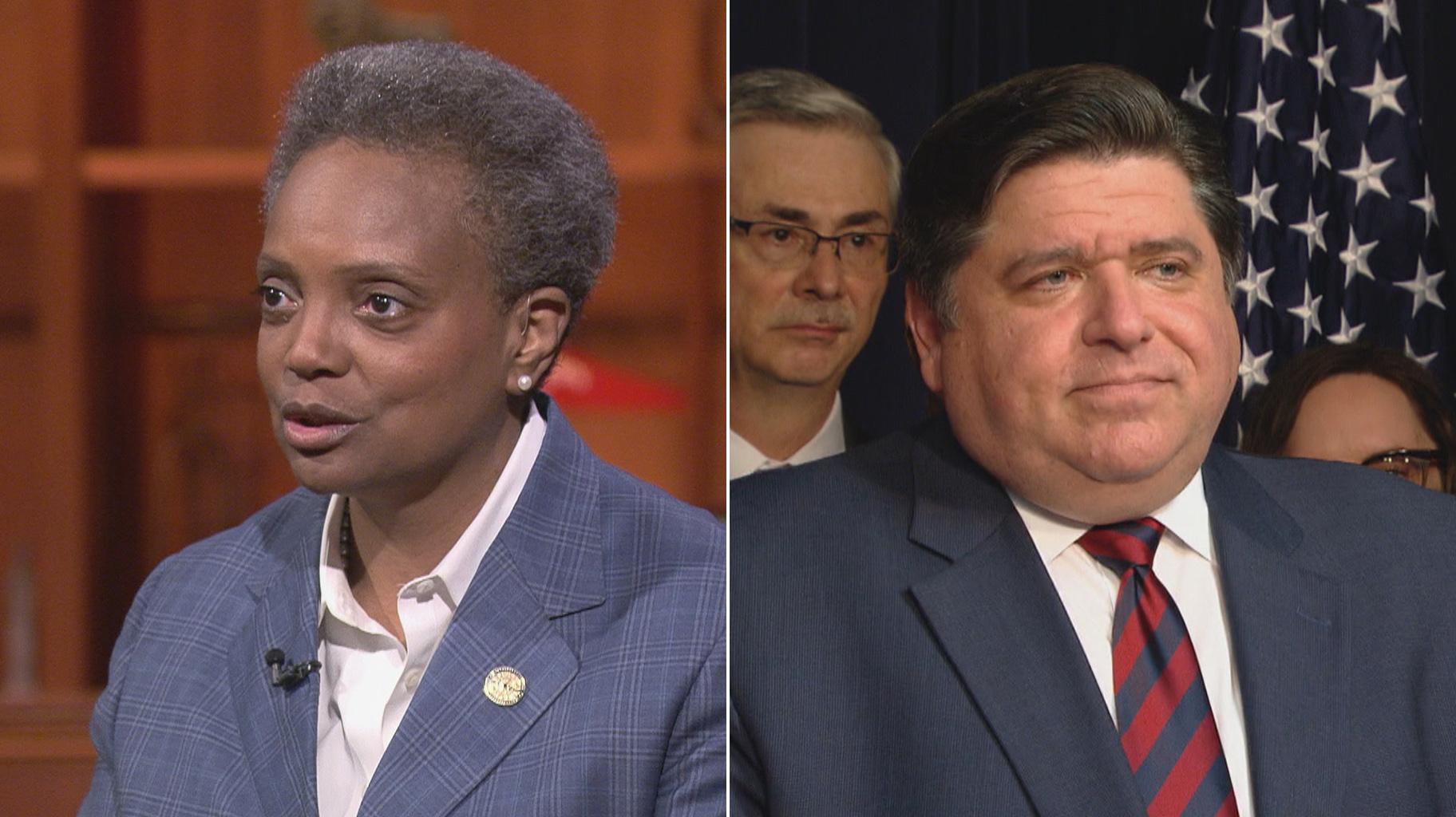 File photos of Chicago Mayor Lori Lightfoot and Illinois Gov. J.B. Pritzker. (WTTW News)
The jockeying over a casino could jeopardize funding for one of Democratic Gov. J.B. Pritkzer's main initiatives: a massive infrastructure plan funded by new casinos, sports betting and hikes in the state gasoline tax and license plate fee.
In his first year in the governor's mansion, Pritkzer made good on a promise made during his January inauguration speech that, unlike the partisan impasse that was the hallmark of his predecessor's term, Illinois would have a budget. And it would be on time.
"With all the challenges Illinois faces, Democrats and Republicans will work together, and we must begin with our most basic responsibilities. We will propose, debate and pass a balanced budget this year," Pritkzer said at his swearing-in ceremony in January.
Critics say the budget is precariously balanced, however, as the governor's fiscal hopes are pinned on taxpayers in 2020 authorizing a constitutional change that would allow Illinois to implement a graduated income tax, rather than the existing flat tax.
While it's in the eye of the beholder whether the changes made in the first year of the Pritzker administration (aided by supermajorities in both chambers of the General Assembly) are positive for the state, there's no question that his first session was productive. Among the major laws signed by the governor: a higher statewide minimum wage, and legalization of recreational marijuana.
At some points in Illinois history, those would have been hallmarks of the year in politics.
Instead, the actions of Lightfoot and Pritzker were overshadowed by a cascade of activity by the FBI: In Chicago, veteran Ald. Ed Burke was indicted on 14 counts of corruption; agents in June raided the offices of 34th Ward Ald. Carrie Austin, while state. Sen. Martin Sandoval will soon resign following a September raid on his home and offices, followed by raids of a trio of suburban offices. Power-player lobbyists and executives tied to energy giant Exelon and utility provider ComEd appear to be at the heart of the wide-ranging probe, with speculation that longtime Illinois House Speaker Michael Madigan is the ultimate target. 
Madigan's Senate counterpart, Pres. John Cullerton, will depart from public office before the probe's wrapped up; he announced in November that he will retire early in 2020. 
An entirely different scandal led to Lightfoot in December firing a hitherto ally: Chicago Police Superintendent Eddie Johnson, who was supposed to finish 2019 with a soft retirement. Instead, Lightfoot accused Johnson of lying about the circumstances surrounding his being found passed out behind the wheel of his car. According to media reports, Johnson had been drinking with a police officer on his security force.
If it all sounds like a Hollywood screenplay, so does the real-life storyline that played out around former "Empire" actor Jussie Smollett. On Jan. 29, 2019, Smollett told Chicago police he had been the victim of a hate crime when a pair of men used racial and homophobic slurs against him, poured bleach on him and put a noose on him. But a month later, police alleged that Smollett himself had orchestrated that attack. Smollett was charged in a 16-count indictment.
Johnson and then-Mayor Rahm Emanuel were livid when in March, the office of Cook County State's Attorney Kim Foxx suddenly announced it was dropping the charges, setting off a fresh firestorm, this time with Chicago's criminal justice system in the spotlight.
Dueling court-cases between Smollett and the city continue, while Foxx is facing a battle for re-election.
Follow us on Twitter: @wttw | @paschutz | @AmandaVinicky | @CarolMarin | @BrandisFriedman
---
Related stories:
President Donald Trump Impeached By US House on 2 Charges
20 New Illinois Laws to Know in 2020
Lori Lightfoot Makes History as Chicago Mayor-Elect
J.B. Pritzker Defeats Gov. Bruce Rauner in Race for Illinois Governor
CTU Members Vote to Ratify 5-Year Contract
Smollett Says He Was Maliciously Prosecuted in Counterclaim Against City
---