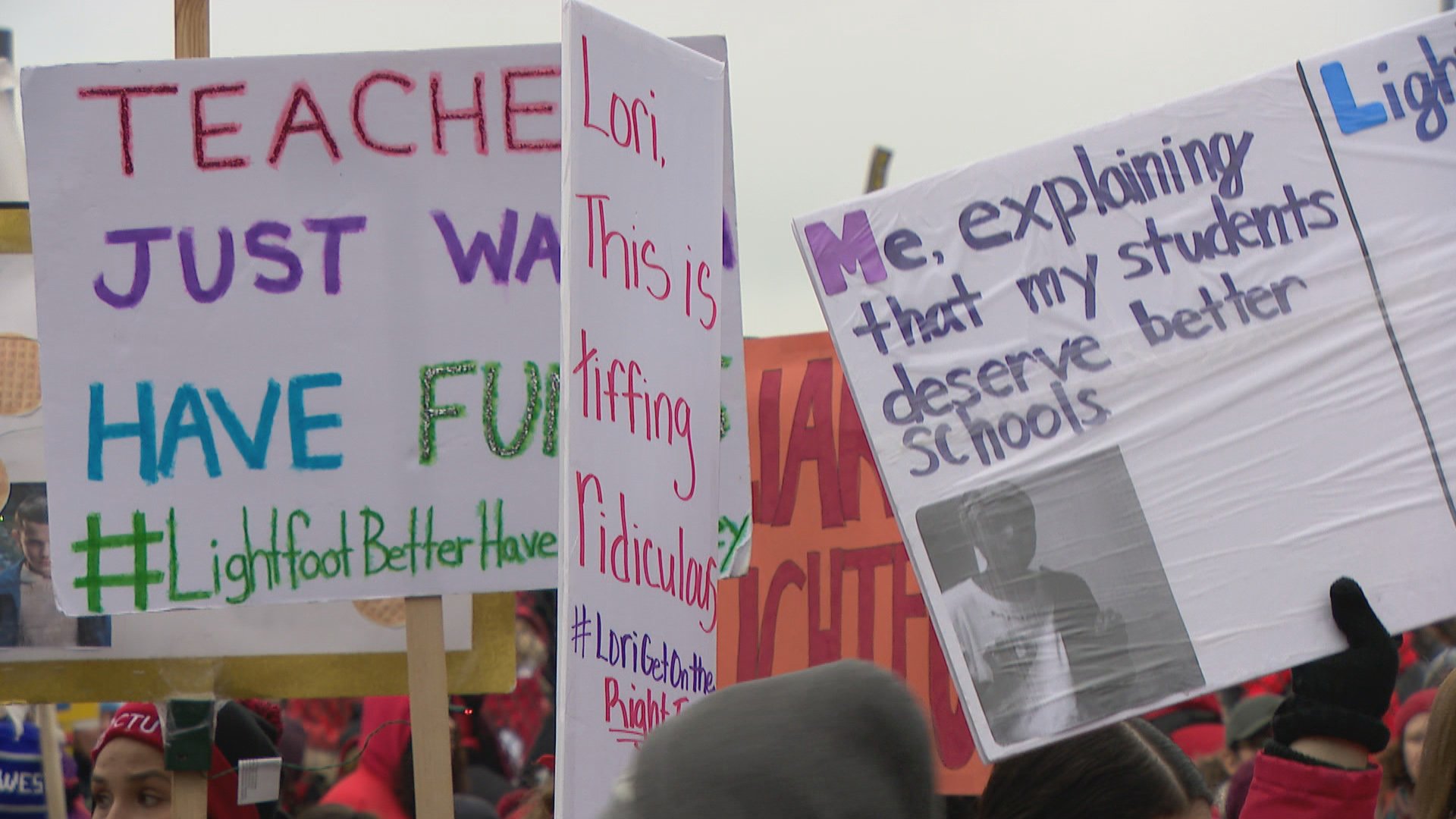 Chicago Teachers Union members ended their strike last month after 11 missed days of class. (WTTW News)
Rank-and-file members of the Chicago Teachers Union have voted to ratify their new five-year contract with the Chicago Board of Education, two weeks after they returned to classes following the longest teachers strike the city had seen in more than three decades.
The union on Friday evening announced its 25,000-plus members had approved the new contract, putting to rest for good Chicago's first teachers strike since 2012. That decision came with 81% approval after the union counted 80% of submitted ballots as of Friday night.
"This contract is a powerful advance for our city and our movement for real equity and educational justice for our school communities and the children we serve," CTU President Jesse Sharkey said late Friday. "We live in one of the richest cities in the wealthiest nation in the world, and finally Chicago must start investing in the future of our city – our children."
Mayor Lori Lightfoot and the CTU announced a contract had been reached on Oct. 31 – two weeks, or 11 school days, after the teachers first walked off the job.
Sharkey on Thursday penned an open letter to union members as the contract vote got underway, saying they had collectively "accomplished what we set out to do."
"Our fight brought desperately needed resources and supports to CPS classrooms, new class size provisions, puts a nurse and social worker in every school, and for the first time, ensures a living wage for the mostly Black and Brown PSRPs women who are the backbone of our school communities," Sharkey wrote.
"Ultimately, the goal of contract negotiations is to put something in place that makes your life at work better, and we have achieved that through tremendous effort and selflessness – all of the things that made our strike wonderful."
Despite that sentiment from union leadership, some teachers felt they could have gotten more out of the city. In a survey of 62 teachers conducted this week by Chalkbeat Chicago, 58% of respondents said they felt the strike "did not achieve their desired results and was not worth it to them personally."
Some of them used words like "gypped" and "betrayed" to describe their feelings toward union leadership.
Another 30% of responding teachers had a favorable outlook of the contract, according to the survey, while 12% were neutral or reserved judgment.
Included in the deal is a 16% raise for teachers over the next five years. The union also pushed for and won things like enforceable staffing increases and class size guarantees that will go into effect in the coming years, a moratorium on charter school openings, and special education improvements.
Even with those wins, many teachers were upset with the city's plan to make up the 11 lost strike days. CTU leaders had pushed for all 11 days to be made up, but eventually settled with the city to add back only 5 of those days.
That means upcoming Thanksgiving and winter breaks will be shortened and teachers won't be paid for the other six days that won't be made up.
With the union's vote, the only remaining step comes next week at the Board of Education's monthly meeting, where its seven members are expected to approve the contract.
Lightfoot on Friday night said she was pleased with the union's vote results.
"We are proud of the significant benefits the agreement will provide to our staff, students and families," she said, "and we look forward to all that our school community will accomplish together over the next five years."
Contact Matt Masterson: @ByMattMasterson | [email protected] | (773) 509-5431
---
Related stories:
CTU's Strike Remains Suspended. To End it, 25,000 Teachers Must Ratify New Contract
The Week in Review: 11-Day Teachers Strike Comes to an End
Strike-Ending Deal Will Shape Chicago Schools for Years
Chicago Teachers Strike Comes to an End, Classes Resume Friday
CTU Reaches Tentative Deal But Won't Return to Work Thursday
---