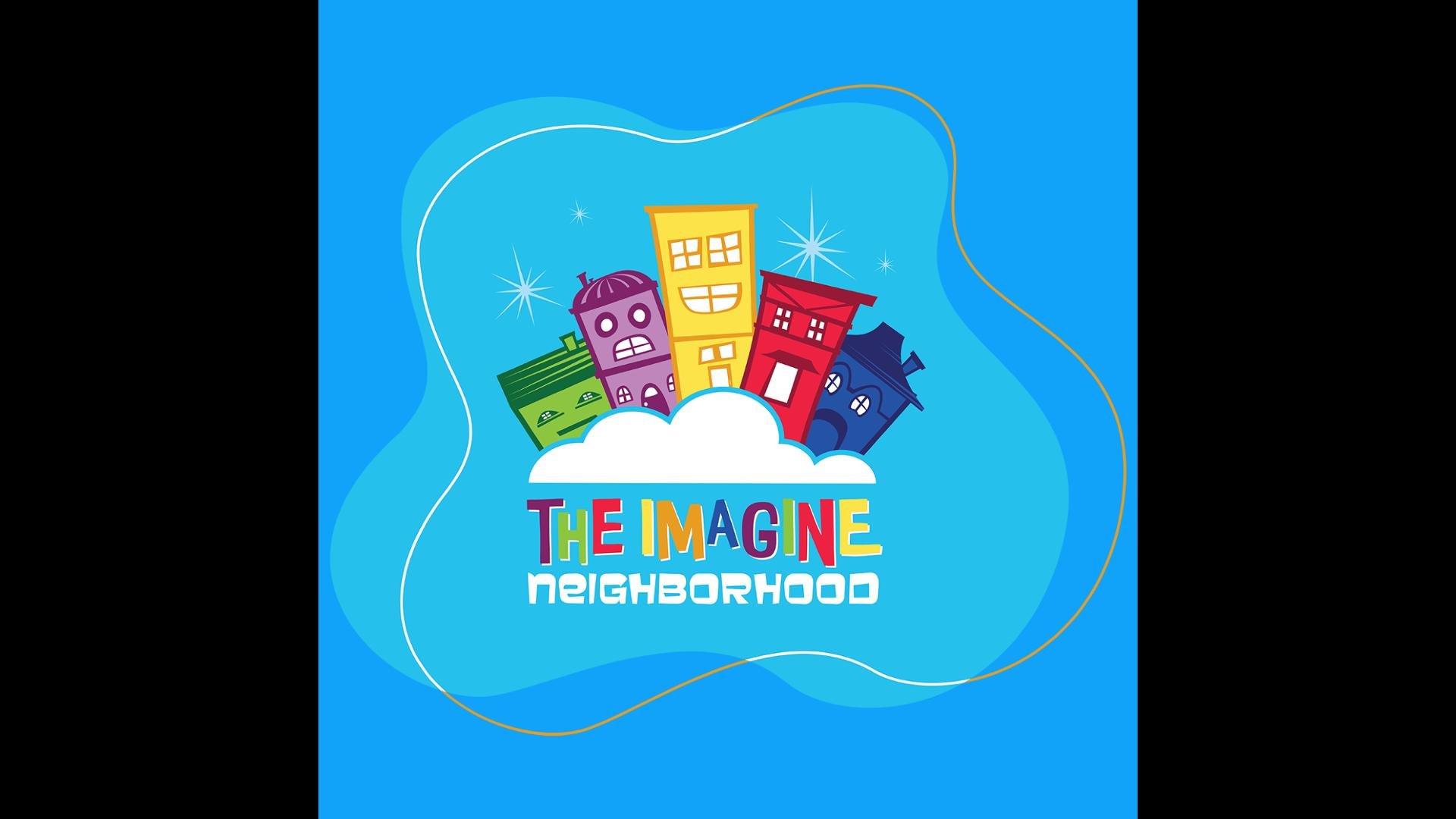 (Credit: "The Imagine Neighborhood")
Racism. Prejudice. Equity. Not the typical topics you'd expect from a podcast for kids. But they're among the many covered by "The Imagine Neighborhood."
"We don't want to shy away from ideas like race-based bullying or prejudice," said Scotty Iseri, who's the host and creator of the podcast.
Bilal Dardai, an Evanston-based writer for the podcast, helped compose a six-part series on equity and diversity. In one episode, two characters – Macho Supreme and Count Vacula – are playing a game based on their favorite movie.
"They're on this play date together and one of them keeps telling the other he can't play (a specific) character because that character is White and (he's) not White," said Dardai. "It's things like that where the behavior is coming from a relatively innocent place but it's nonetheless harmful. … We want (kids) to see themselves in both the lessons they learn and the mistakes they might make."
Developed by the Committee for Children, a nonprofit dedicated to the well-being of children, the podcast uses stories, music and activities to help children and adults talk about their feelings and solve problems together.
"(The podcast) combines cutting-edge research with fart jokes and funny stuff that's aligned with social-emotional learning from Second Step, a widely used curriculum developed by the Committee for Children to help kids talk about their feelings and solve problems," said Iseri.  "The show's been described as 'Mister Rogers' meets 'Pee-Wee's Playhouse.'"
Current events also inform which topics the podcast addresses. Launched in 2020, producers saw the need to address the COVID-19 pandemic, so they created a "pixie pandemic."
"A lot of tiny pixies were getting all over everybody and pixies were being transmitted to other people," Dardai said. "I appreciated that it talked about the real aspects of how the (coronavirus) was spreading but put it in this whimsical format."
More recently, creators were motivated to address the Robb Elementary School shooting in Uvalde, Texas.
"School shootings are a reality kids have to deal with and it's tragic," said Iseri. "The decision about what to do about that is our responsibility as grown-ups, but how we feel about it that's everyone."
Just days after the shooting, the podcast released an episode titled, "Scared plus Mad equals Smad."
"The 'Smad' episode was created based on research and lived experience of the creators who were feeling scared and mad that these things were happening," Iseri said, "and kids might feel that as well."
While adults may not know how much information a child has about an event, "we do know there are some big emotions there," he added.
Helping children navigate their emotions and grow their social-emotional skills are the goals of the podcast.
"It's important for us to give kids those skills so they can become strong people, so they grow into adults who are kind and can help and can express their feelings in a way that's helpful to the situations they're in," Iseri said. "There's a lot of evidence (that) with strong social-emotional skills, kids do better academically and have fewer behavioral problems."
The podcast is geared toward 5- to 8-year-olds – but both older and younger kiddos tune in, according to Iseri – and is designed for kids and grown-ups to listen together.
"Episodes are 18 to 20 minutes long, which is the average commute in the U.S., so we thought (families) would listen to them in the car together," Iseri said.
But Iseri, who's a single father, acknowledges sometimes parents just don't have the time or desire to listen to a podcast for kids. But parents can still be involved even if they don't listen.
"In every episode, we ask kids to ask a grown-up a question, like 'how does your body feel when you're angry?'" Iseri said. "I love the fact that we're nudging parents to have those conversations."
Dardai said working on and listening to the show has helped him connect with his 10-year-old son.
"I've learned a lot about not just the issues that young kids are facing, but the issues my kid in particular has been facing and how to talk to him about them," he said. "That's been incredibly valuable on a personal parenting level."
Iseri said he hopes the podcast help families "wherever they live."
For more information about "The Imagine Neighborhood," including the latest podcasts, visit the show's website.
Contact Kristen Thometz: @kristenthometz | (773) 509-5452 |  [email protected]
---