The Chicago Teachers Union strike is officially over and students will return to class Friday after Mayor Lori Lightfoot and union leadership agreed Thursday to make up five of the 11 school days lost to the work stoppage.
The announcement came from the mayor herself Thursday afternoon following additional negotiations with CTU President Jesse Sharkey.
"We have an agreement and teachers will be back in class and students will be back in class tomorrow," Lightfoot said. "I'm grateful it's over, I'm grateful we have a new deal."
Welcome back, everyone! pic.twitter.com/6BHr6j5BsC

— ChicagoPublicSchools (@ChiPubSchools) October 31, 2019
---
The union's House of Delegates on Wednesday night voted 364 to 242 in favor of accepting a new five-year contract with the city, two weeks after they initially walked off the job for the first time since 2012.
But even with that deal in place, teachers refused to return to schools Thursday morning and end the strike, demanding Lightfoot agree to make up all of the 11 days lost to the strike. The mayor called that a "nonstarter" and instead pushed for a "spirit of compromise" between the sides to make sure Chicago Public Schools students could return to class this week.
"It's now time for us to move past the acrimony, the name-calling, the outrage hashtags and get back to focusing on students," CPS CEO Janice Jackson said in a series of tweets Thursday afternoon. "We are a district on the rise and we will continue to be a shining example of what is possible for an urban school district."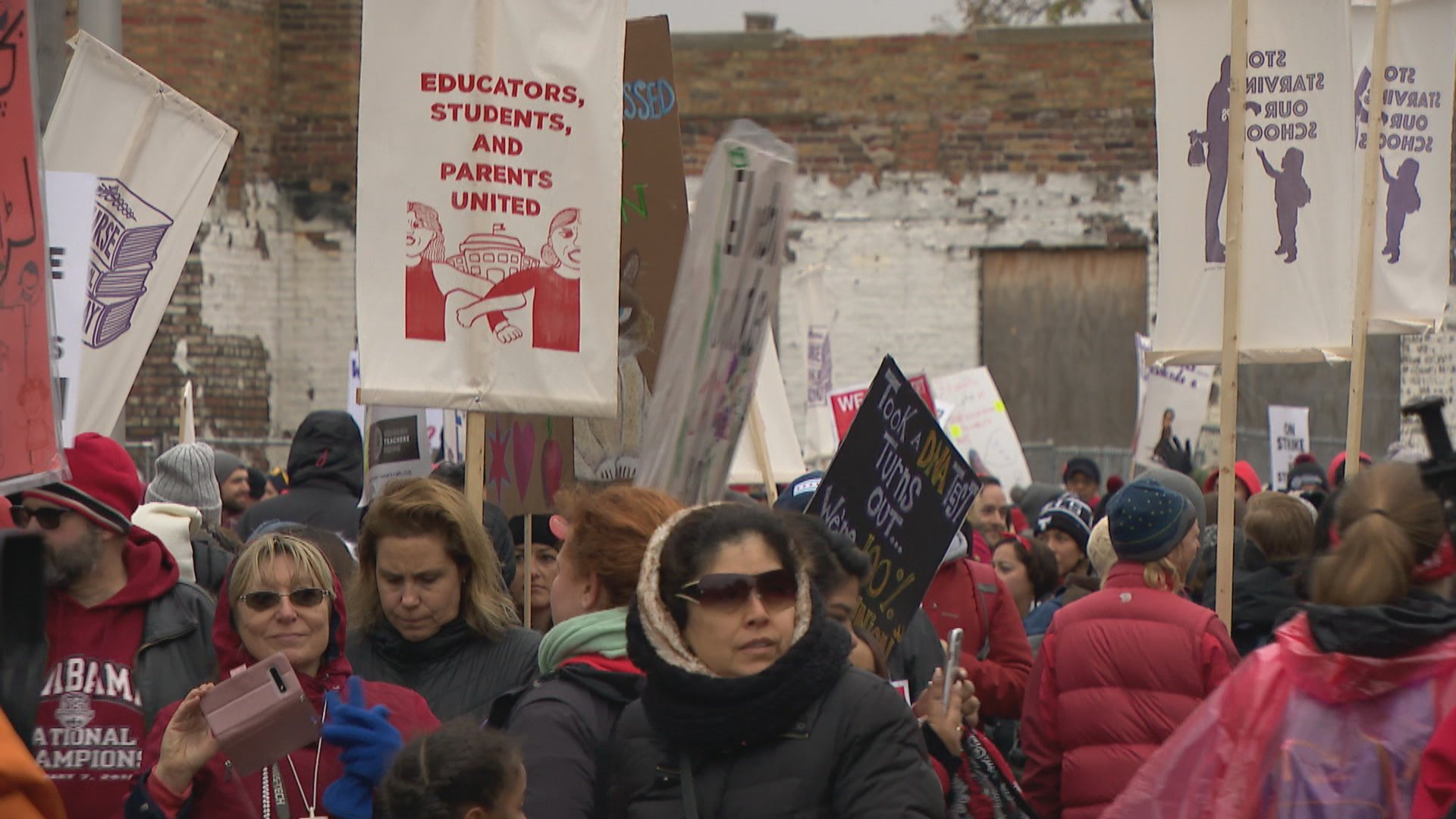 Chicago teachers and students will return to their classrooms Friday following the longest teachers strike in more than three decades. (WTTW News)
The tentative contract agreement must still be ratified by the union's full membership. They have 10 school days to do so.
By making up just five of the missed school days, that means teachers will not be paid for the other six strike days.
Sharkey and CTU Vice President Stacy Davis Gates held their own press conference moments after declining to stand with the mayor during her comments Thursday.
"This has been a tense last two weeks, but it's not about me or the mayor," Sharkey said. "It's about the members of the Chicago Teachers Union … and frankly our members are still out there on the picket line today and they don't need to see me smiling with the mayor."
Despite the agreement, Davis Gates still accused the mayor of taking "her anger out on (CTU) members" by refusing to make up all of the days lost to the strike.
Follow us on Twitter: @ByMattMasterson | @BrandisFriedman | @AmandaVinicky | @WTTW
---
Related stories:
CTU Reaches Tentative Deal But Won't Return to Work Thursday
Internal Document Provides Insight into CTU Bargaining
Chicago Teachers Strike Day 9: Negotiations at a Standstill
Lightfoot Accuses CTU of Moving Goal Posts After Marathon Bargaining Session
Chicago Principals Concerned About Possibility of Long Strike
---