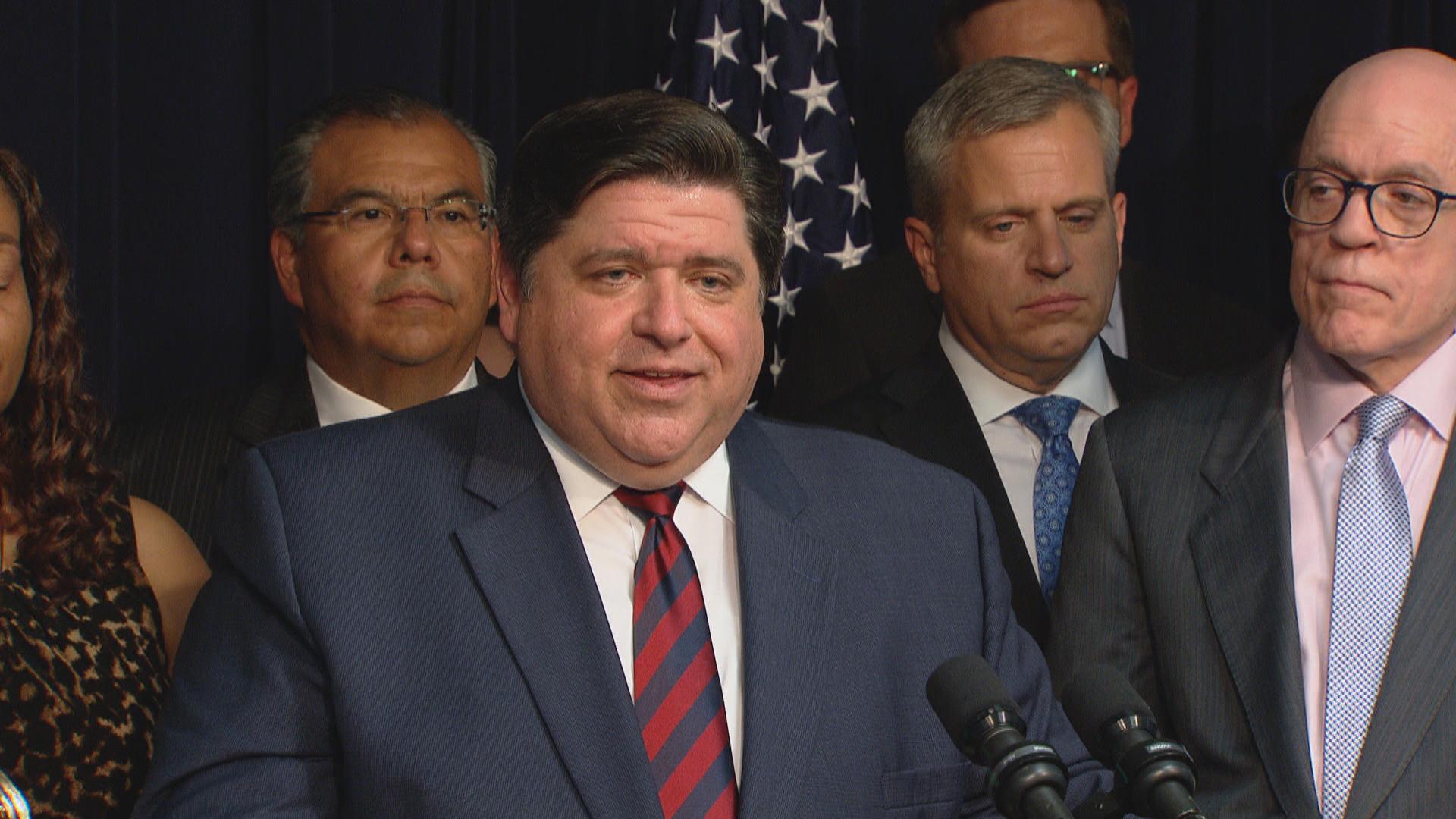 "We're investing in the things that really matter in this state," Gov. J.B. Pritzker said at a press conference after signing the $40 billion spending plan Wednesday, June 5, 2019. "Many of these things haven't been addressed for 20 years."
Passing and managing a budget is one of government's most basic functions, but as he signed a new $40 billion spending plan into law Wednesday, Illinois Gov. J.B. Pritzker called it a "watershed moment."
Democratic officials and advocates on hand for the public bill signing were so jubilant, at one point they broke into song, treating House Majority Leader Greg Harris, D-Chicago, to a chorus of "Happy Birthday."  
So many were in attendance and wanting a memento of the occasion – in the form of a ceremonial pen – that the governor portioned out signing his short name, seeming to use one pen to write a swooping part of the "J" and then another to cross it at the top, and so on.
"What a difference a year and a governor makes," said Sen. Heather Steans, D-Chicago. "Fiscal stability in the state of Illinois is of the upmost importance."
Steans, a leading budget negotiator, credited Pritzker for a shift in tone from previous Gov. Bruce Rauner.
It's actually the second year in a row that lawmakers joined in a bipartisan fashion to craft, and pass on time, a budget described as "balanced."
But the plan that Rauner, a Republican, signed into law for the current fiscal year, which ends June 30, came on the heels of a historic rift that left Illinois without a budget for two years, as schools, social services and even prisons careened from fiscal crises.
The exuberance on display Wednesday shows a shift in the mentality of state government – at least for Democrats, who with Pritzker in the governor's mansion now control all of state government and have supermajorities in the House and Senate that were ably willing to help Pritkzer pass an ambition agenda in the spring session.
Had they been invited, credit agencies and critics may have put a damper on the party.
Moody's on Tuesday issued a note affirming Illinois' worst-in-the-nation credit rating, meaning that while Springfield managed to avoid doing anything to sink the state's credit status to below investment grade, their actions did nothing to help it, either.
"The state has avoided material worsening of its credit vulnerabilities and marginally built on strengths," the Moody's note reads. "However, pension contribution requirement remain on track to outpace organic revenue growth, which will subject the state to persistent fiscal pressure, barring further politically difficult decisions on tax increases or essential service cuts."
And Rep. David McSweeney, R-Barrington Hills, decried it as reliant on "overly optimistic revenues with no required revenue estimate passed, combined with the highest spending budget ever, and no reforms."
McSweeney was in the minority even within the minority GOP, with both chambers' Republican leaders and most of their caucuses voting for the budget.
Still, the Republicans who joined with Democrats to pass the fiscal year 2020 budget were not on hand for Wednesday's press conference.
Pritzker said it was hard for GOP legislators to make it to the press conference, held in the Thompson Center in the heart of downtown Chicago, but in actuality, it's a demonstration of a looming political rift.
At the same press conference, the governor signed into law a set of new tax rates that would take effect in early 2021 – but only if Illinois voters in November 2020 agree to ratify the state constitution to allow for a graduated income tax structure.
Under what Pritzker calls those "fair tax" rates, the majority of Illinois residents would see their tax rates marginally decrease, from the current rate of 4.95% to between 4.75% and 4.95%.
Those with higher incomes – individuals and joint filers with net income above $250,000 – would pay higher rates, ranging from 7.75% to 7.99%.
According to the Pritzker administration, the shift in tax policy will net the state an extra $3.4 billion should it take effect.
House Minority Leader Jim Durkin indicated in a statement that the rookie governor's praising of the forthcoming fiscal year 2020 budget, which Durkin supported, as "balanced" seems to belie the necessity of the change in tax policy, which the Pritzker administration says will net the state an extra $3.4 billion.
"For two years in a row, Republicans and Democrats have proven that we can balance the state's budget with no new taxes on Illinois families. However, the graduated tax rates signed into law today are simply the next step to giving Illinois Democrats a blank check for uncontrolled spending for years to come. Illinois families should remain very wary on the rates that are being 'promised' today – as Democrats will continue to come back, year after year, and pickpocket more money from Illinois families and businesses," Durkin said.
Pritzker shrugged it off as politics.
"I was pleased to have bipartisan support for this budget," the governor said. "Look, we're going to work together going forward. I realize that … we're once again going to be in a political season where people are telling untruths about the fair tax. But the fact is nevertheless we're going to work across the aisle to get things done in this state."
Video: We speak with two key lawmakers who helped make the budget a reality: Illinois Senate President John Cullerton; and Illinois House Minority Leader Jim Durkin.
---
It's notoriously difficult to back up the accuracy of "balanced" budget claims; despite both parties ascribing that designation to this year's fiscal 2020 spending plan, the budget proved to overspend by $1.2 billion.
The new budget allocates additional money to hire more Illinois State Police cadets, to help low-income students go to college using a Monetary Award Program (MAP) grant, bumps pay for home health providers who care for the elderly and foster parents, and sends additional Medicaid money to nursing homes. There's extra funding for community health centers and addiction programs.
"This is really putting our money where our mouth is, and saying that we need to make sure that we're actually taking care of the folks in Illinois. That's what's going to keep folks here. And doing so in a way that's actually fiscally responsible," Steans said. "There's no one-time revenues, no gimmicks, this is all sustaining things that really have the support  that we need to shore up our finances and make all these great investments."
Elementary schools will continue a trend of receiving more money from the state under a relatively new formula that aims to send dollars to schools that most need it, while Illinois' universities are set to see their first increase in years.
"After four very long years, it is refreshing to deliver a budget that meets the needs of our state with a disciplined and realistic approach. We prioritized education from early childhood to higher education, and strengthened our safety-net services to provide a hand up to struggling families," Senate Majority Leader Kimberly Lightford, D-Maywood, said in a statement.
The budget package also contains additional tax credits or changes sought by Republicans and business groups that they say will make Illinois more competitive but which, as Pritzker pointed out, come at a cost to the state, given that it means eating into the state's revenue.
Legislators will see a $1,600 pay increase as a result; Pritzker declined to use his veto powers in any capacity, including to eliminate that spike. He said Tuesday that it was because the budget was "highly negotiated" and because he respects lawmakers for their hard work, which often keeps them away from their families.
Drafters of the package say it doesn't rely much in the way of new revenue streams, save for a new tax on Managed Care Organizations. Rather, the budget is buttressed by an unexpected $1.5 billion windfall in higher-than-expected receipts.
Already, state government's nonpartisan Commission of Government Forecasting and Accountability is warning not to grow reliant on such surprises.
"After a stunning April which saw receipts jump over $1.5 billion, May receipts relinquished some of the previous month's gains as base general funds revenues fell $222 million," revenue manager Jim Muschinske wrote in the latest COGFA newsletter. "The majority of the fallow stemmed from a very weak month for federal reimbursement."
Bills Pritker signed Wednesday:
• SB262: Fiscal year 2020 operating budget
• SB689: Revenue for fiscal year 2020 budget
• SB1814: Budget Implementation Bill
• SB687: Proposed graduated tax rates
Follow Amanda Vinicky on Twitter: @AmandaVinicky
---
Related stories:
Place Your Bets: Where Should the Chicago Casino Be Built?
Recapping an 'Extraordinarily Productive' Legislative Session
Springfield Showdown: Lawmakers Weigh In on Session's Local Impact
'Consequential' Session Comes to a Close; Pritzker Takes a Victory Lap
Lawmakers Vote for Chicago Casino, Plus Gas and Cigarette Taxes
Illinois Welcomes Weed, Waits on a Budget with Another Extended Session
---