Mayor Lori Lightfoot announced Monday that Chicago Police Superintendent Eddie Johnson has been terminated for cause, effective immediately, after an inspector general's investigation into an October incident revealed Johnson "repeatedly lied" to both the mayor and the public.
"It has become clear that Mr. Johnson has engaged in a series of actions that are intolerable for any leader in a position of trust, particularly the head of the Chicago Police Department," a visibly upset Lightfoot said during a press conference Monday morning.
Johnson had already planned to step down at the end of the year after announcing his retirement last month. But his sudden ouster comes on the heels of an October incident in which he was found slumped over behind the wheel of a car. A day after that incident, Johnson informed the mayor he had had a couple drinks that night, but blamed the incident on his blood pressure medication.
Lightfoot now believes that statements made both directly to her and to the public about that incident were lies.
My full statement from today's announcement regarding Eddie Johnson. pic.twitter.com/7eMHyYm6eN

— Mayor Lori Lightfoot (@chicagosmayor) December 2, 2019
---
Johnson told reporters in October that he was driving home at about 12:30 a.m. on Oct. 17, after having let his driver go home to his family, when he felt lightheaded. He said he pulled over and fell asleep.
After someone called 911 to report a man sleeping inside his vehicle, responding officers found Johnson slumped over, but allowed him to drive home and did not administer a Breathalyzer test or a field sobriety test. Johnson said officers do such tests only when a motorist appears impaired or officers smell alcohol or cannabis.
He said the medical episode was the result of not following doctor's orders.
"When he adjusted my medication, I took the old medication for high blood pressure, but I failed to put the new medication in," he told media back in October.
While Lightfoot already knew that Johnson had been drinking that night, she wouldn't say specifically what new information she learned from the inspector general, stating only that "the facts that I know now are fundamentally different than the facts that I knew then."
She cited three specific reasons for Johnson's termination: engaging in conduct unbecoming of superintendent, intentionally misleading the public at his own press conference a day after the incident, and finally, lying directly to Lightfoot herself.
"He maintained that he was telling the truth," she said. "I now know definitively that he was not."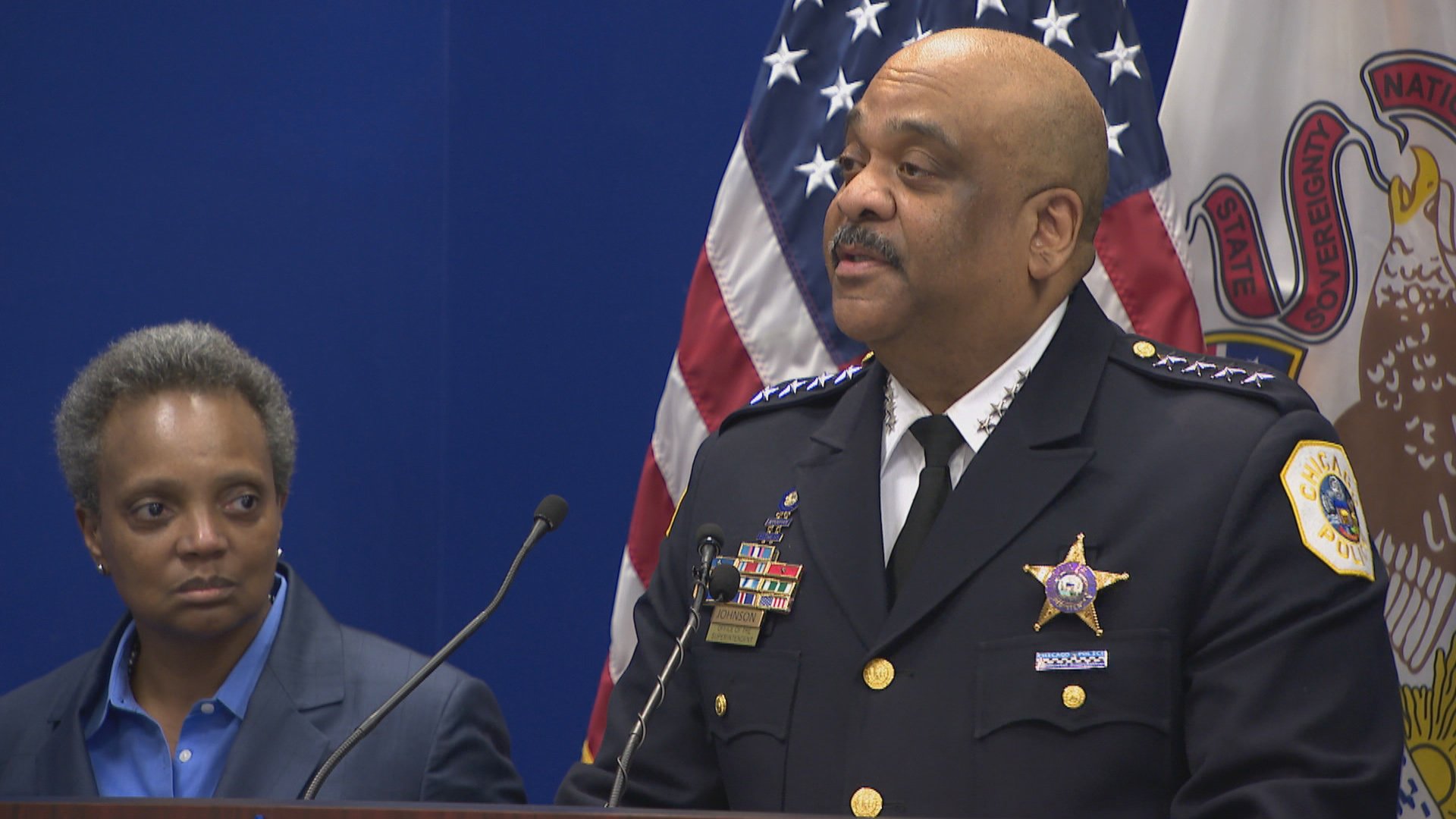 Chicago Police Superintendent Eddie Johnson announces his retirement during a press conference at police headquarters on Thursday, Nov. 7, 2019. Less than a month later, Mayor Lori Lightfoot fired Johnson during a surprise announcement on Monday, Dec. 2, 2019. (WTTW News)
Former Los Angeles Police Chief Charlie Beck, who was previously named interim CPD superintendent, will take over in that role immediately until a full-time replacement can be found.
The inspector general's report on the October incident has not yet been made public, and Lightfoot said it would not be fair now to Johnson's wife or children to discuss the specific details contained within it.
But the mayor demanded Johnson's firing be a turning point for the way things are done both in the city and in the police department itself. In years past, she said, someone in Johnson's position would have been allowed to retire. But Lightfoot wants Monday's surprise announcement to be part of a "culture change" in Chicago.
"The old Chicago way must give way to the new reality," she said. "Ethical leadership, integrity, accountability, legitimacy, and yes, honesty must be the hallmarks of city government. There must be no mistake about the message I am sending today."
The Associated Press contributed to this report.
Contact Matt Masterson: @ByMattMasterson | [email protected] | (773) 509-5431
---
Related stories:
Spotlight Politics: Top Cop Ousted Weeks Before Retirement
Top Cop Eddie Johnson Announces Retirement: 'It's Time'
Spotlight Politics: Johnson's Retirement Will Set Off Political Fight for Next Superintendent
Mayor Lightfoot on Eddie Johnson Retirement Reports: 'He's Still Here'
Eddie Johnson Responds to Trump Barbs: 'I'm Doing the Right Thing'
CPD Releases New Crime Data as Trump Again Attacks Eddie Johnson
Police Union Leaders Issue Vote of No Confidence in Eddie Johnson
---