Video: Former federal prosecutor Patrick Collins weighs in on the federal indictment filed against Ald. Ed Burke on Thursday.
---
The U.S. attorney's office has returned a sweeping indictment against longtime 14th Ward Ald. Ed Burke, alleging he used his powerful position as alderman and as head of the City Council's Finance Committee to try to personally enrich himself. The indictment outlines multiple instances in which Burke allegedly used his aldermanic powers to try and win business for his private tax appeal law firm, Klafter & Burke.
In all, Burke is charged with 14 counts of racketeering, attempted extortion, conspiracy to commit extortion, and using interstate commerce to facilitate an unlawful activity. All of this for alleged schemes related to a Burger King franchise in his ward, the redevelopment of the Old Main Post Office, and an unnamed "Museum 1" that had sought to increase its admissions fees.
In a statement, Mayor Lori Lightfoot called the allegations "alarming" and said Burke "must resign immediately."
The charges carry a maximum of 20 years in federal prison.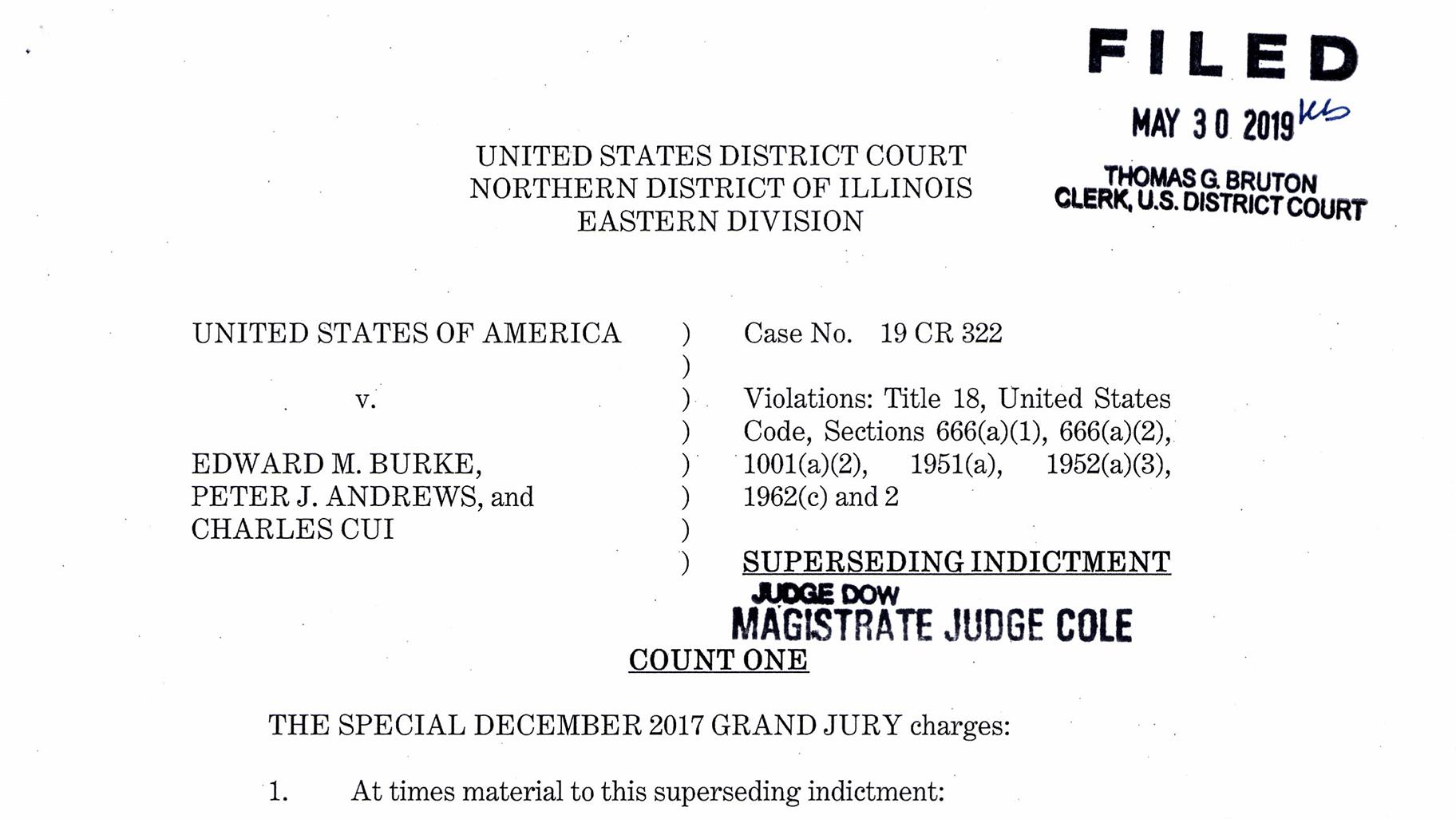 Document: Read the indictment According to the indictment, "Burke corruptly solicited legal business from Company A and Individual A-1 for Burke's law firm, Klafter & Burke, in return for Burke's official assistance concerning the redevelopment of, and financing concerning, the Post Office project, a development project located in Alderman A's ward." 
"Alderman A" refers to former 25th Ward Ald. Danny Solis, who was revealed by the Chicago Sun-Times late last year to have been wearing a wire. Solis appears in the indictment as Burke's right-hand man in trying to extort Company A, but he is not charged in the indictment.
Solis was already working as a mole for the government at this point, taking directions from the feds to inform Burke that the developer, 601W Companies, would hire his law firm in exchange for Burke's help with issues concerning Amtrak and the city's Water Department.
In one alleged recording, Burke asks Solis, "So, did we, uh, land the tuna?"
Also at play were millions in TIF funds and the approval of a Class L designation for the building, which Burke says would be worth about $100 million to the developer. Burke controlled the fate of these things, as they had to be approved by the Finance Committee.
"Good luck getting it on the agenda," he allegedly tells Solis in one recording, still frustrated that he doesn't have their tax business.
"As far as I'm concerned, they can go f--- themselves," he is alleged to have said.
Eventually, according to the indictment, the developer retained Klafter & Burke for a $45,000 contingency fee over three years, but Burke never disclosed the conflict of interest to city ethics officials.
In a statement, the developer says Burke assured them he would report the conflict of interest, and that no money ever changed hands in the alleged contingency agreement.
"601W Cos. was the victim of a corrupt solicitation by Ald. Burke, who the indictment alleges engaged in a persistent, two-year effort to obtain private legal business from the company for his law firm. The government has informed 601W and its representatives that it was victimized. 601W and its representatives have and will continue to voluntarily provide information to the government on this matter."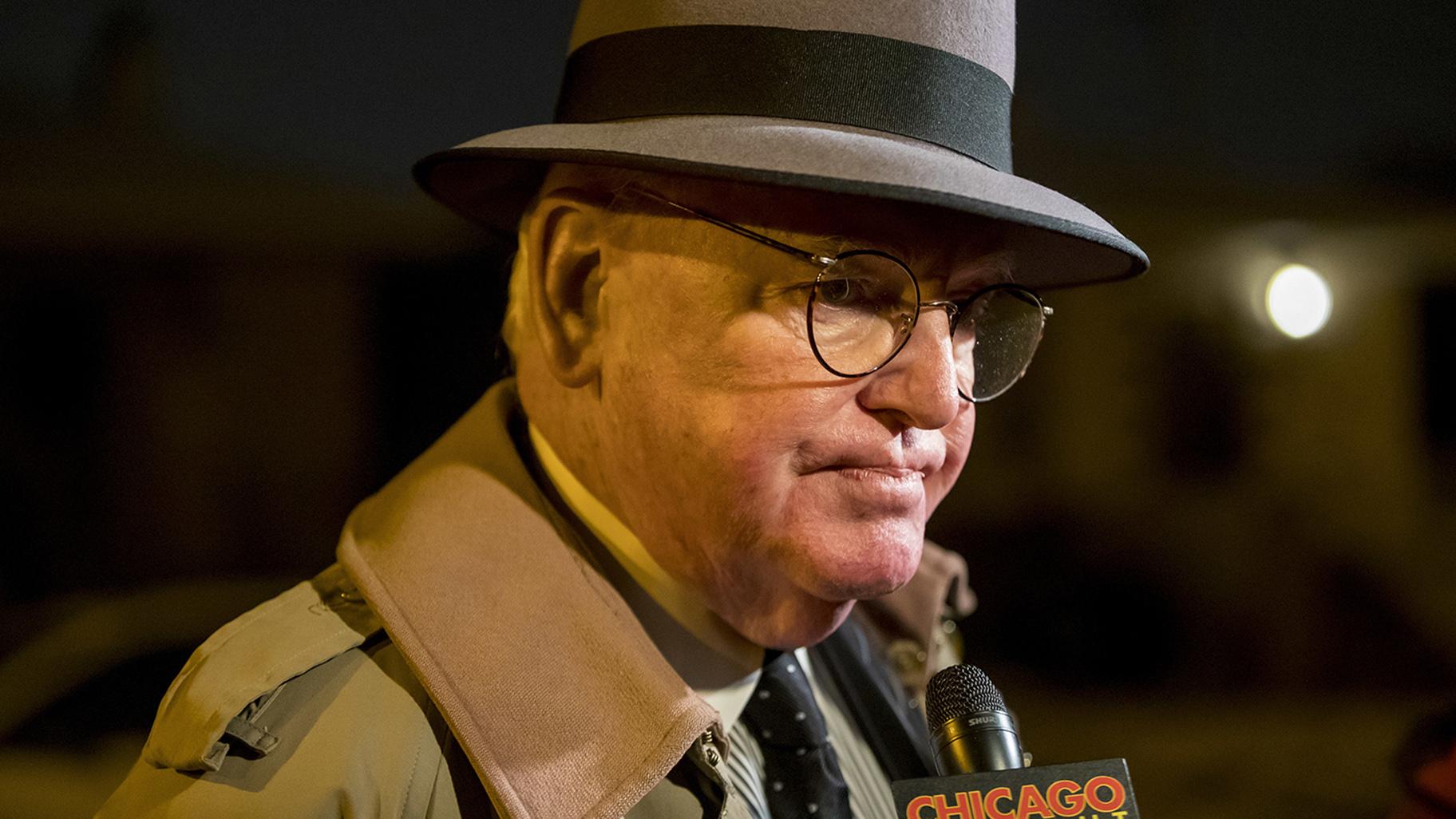 Ald. Ed Burke speaks to "Chicago Tonight" and other media after returning to his home on the Southwest Side on Thursday, Nov. 29, 2018. Earlier in the day, federal agents conducted a raid on his offices. (Brian Cassella / Chicago Tribune via AP)
Burke is also alleged to have extorted an unnamed "Museum 1" in a plot to try and win a job for an acquaintance's son. According to the indictment, "Burke threatened to contact the President of the Park District Board and object to Museum 1's requested admission fee increase because Museum 1 had failed to respond to Burke's prior effort to obtain an internship for 'Individual E1.'" "Museum 1" is reported to be the Field Museum.
The indictment also outlines Burke's involvement in an alleged scheme to bribe developer Charles Cui to hire Klafter & Burke for property tax appeals, in exchange for Burke's help in getting Cui a permit for a pole sign. Cui is also facing a federal bribery charge for the alleged plot, outlined in an indictment that was handed down last month. Cui owned the property at 4901 W. Irving Park Road, and allegedly solicited Burke's business in exchange for his help on the sign permit.
The indictment includes Burke's alleged plot to get business for his law firm from a Burger King franchisee by trying to hold up remodeling permits the franchisee was seeking, a charge outlined in an earlier federal criminal complaint against Burke.
Burke is alleged to have repeatedly violated the city ethics code by failing to disclose many of his conflicts of interest with City Council.
"In order to further conceal his corrupt activity, Burke did not disclose he had a financial interest in matters that he considered and voted upon within the Committee on Finance and the City Council, and further concealed his violation of the City of Chicago's ethics ordinance prohibiting such conduct," according to the indictment.
Burke's legal council at the firm Jenner & Block issued a statement maintaining his innocence.
"For over 50 years, Ed Burke has served the citizens of the 14th Ward and the city of Chicago honorably and tirelessly. His accomplishments on behalf of the community and his constituents are notable and many. Any suggestion that Alderman Burke abused his position as a public official for personal gain is simply not true."
Burke's longtime political associate Peter Andrews faces multiple criminal charges in the indictment. 
Burke and Andrews are scheduled to appear in court for their arraignments at 10 a.m. June 4. Cui faces one charge of attempted bribery; his arraignment has not yet been scheduled. 
Follow Paris Schutz on Twitter: @paschutz
---
Related stories:
Mayor Lightfoot Exerts Control Over Burke, City Council
Federal Prosecutors Seek Second Delay to File Ed Burke Indictment
Chicago Developer Linked to Ald. Burke Faces Bribery Charge from US Attorney
Burke's Finance Committee Paid Aldermen's Phone Bills, Travel Expenses, Records Show
Why Aldermen Who Need Extra Help Call Ed Burke
---