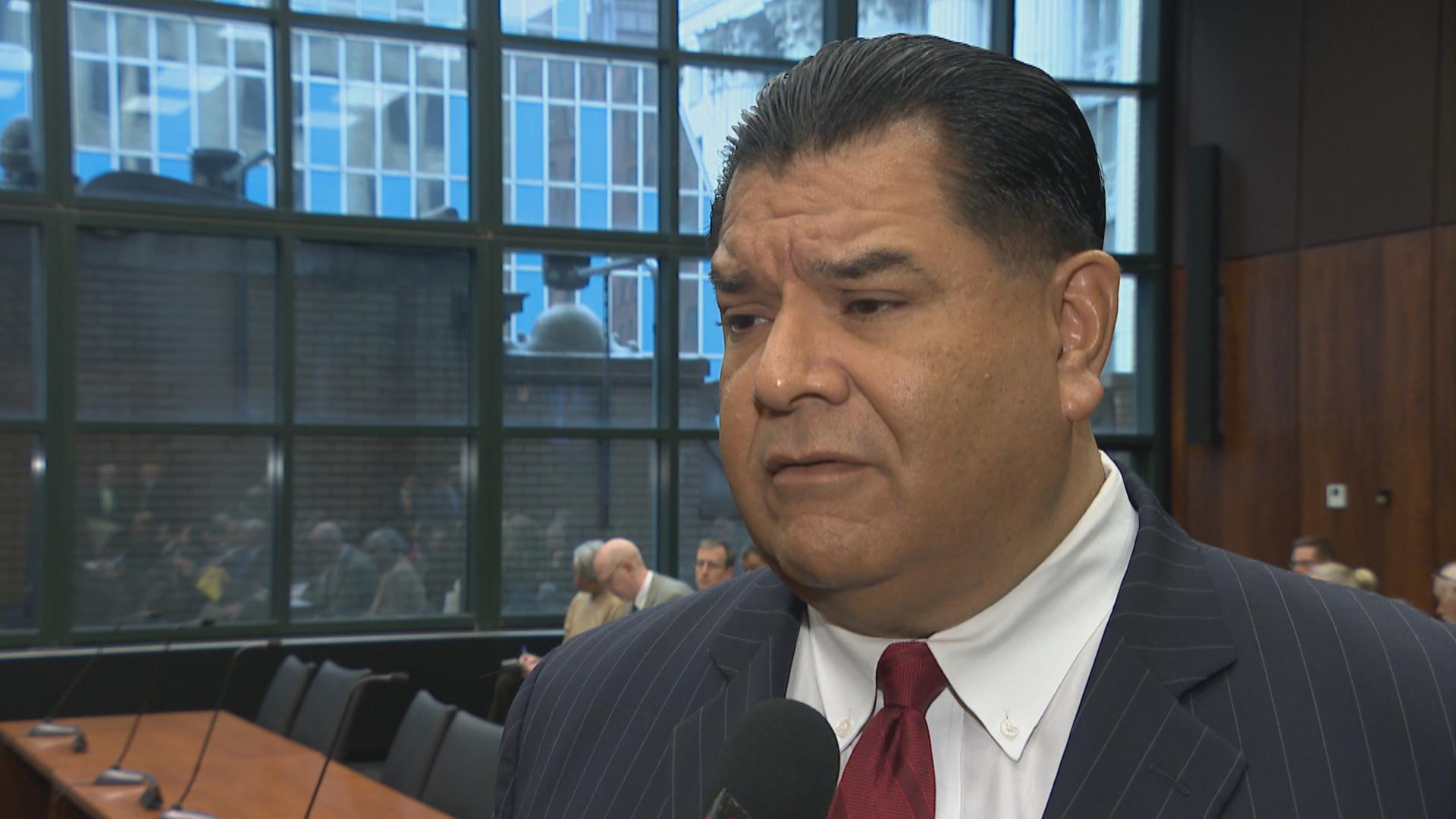 In this file photo, state Sen. Martin Sandoval speaks with WTTW News.
A state lawmaker who appears to be in the crosshairs of federal investigators will resign Jan. 1.
Sen. Martin Sandoval, D-Cicero, hasn't made a public appearance – including skipping all of the Illinois General Assembly's veto session this fall – since the FBI raided his home and Springfield and legislative offices on Sept. 24.
Document: Read Sandoval's resignation letter. "It has been an honor of a lifetime to serve the State of Illinois and fight on behalf of the good people of the Southwest-Side of Chicago/Suburban West Cook," Sandoval wrote in a resignation letter submitted Wednesday, the day before the Thanksgiving holiday when it's easier for news to go under the radar. "Respect for my constituents and the Senate has convinced me that this action is necessary in order to proceed without distraction to the important work that needs to be accomplished for working families throughout the state of Illinois in the future."
According to the search warrant served on Sandoval's Springfield office, information on utility giants ComEd and Exelon is among the material the feds are interested in.
The search warrant also seeks information related to a prominent asphalt business, construction company and highway officials.
Sandoval had served as chairman of the Senate's powerful transportation committee until he stepped down from that post in mid-October.
Days after the raid on Sandoval's offices and home, federal agents also conducted searches in McCook, Lyons and Summit – all municipalities that are in Sandoval's 11th District.
Democratic precinct leaders, including House Speaker Michael Madigan, former Chicago Ald. Mike Zalewski (whose home was also subjected to an FBI raid), state Sen. Steven Landek of Bridgeview (who also serves as that village's mayor), state Sen. Tony Munoz of Chicago, and state Rep. Mike Zalewski (the son of the former 23rd Ward alderman), will have until late January to choose a replacement for Sandoval. 
The individual who gets their blessing will hold the seat until Dec. 7, 2020.
After that, the seat will be held by whoever wins it in the Nov. 3, 2020 general election. That term expires Jan. 11, 2023.
Residents who want to run have to hurry to begin collecting valid signatures from registered voters, then submit those petitions to the state elections board between Dec. 3 and Dec. 9.
Sandoval isn't the only senator under scrutiny. State Sen. Tom Cullerton, D-Vernon Hills, is fighting an embezzlement charge. Another, Sen. Terry Link, D-Waukegan, has been identified by the Chicago Tribune and the Chicago Sun-Times as a mole for the FBI in a case that led to the arrest on bribery charges of former state Rep. Luis Arroyo, D-Chicago.
Arroyo has since resigned, though some Democratic leaders may try to bar his successor, Eva-Dina Delgado, from being seated to the House. Madigan said in a statement has questioned the legitimacy of any appointment made with involvement from Arroyo.
Follow Amanda Vinicky on Twitter: @AmandaVinicky
---
Related stories:
Illinois House Moves to Investigate Indicted Representative
What the Feds Were Searching for When they Raided Sandoval's Office
Spotlight Politics: Another Day, Another Politician, Another FBI Raid
Raid at Home, Office of Powerful State Sen. Martin Sandoval
---