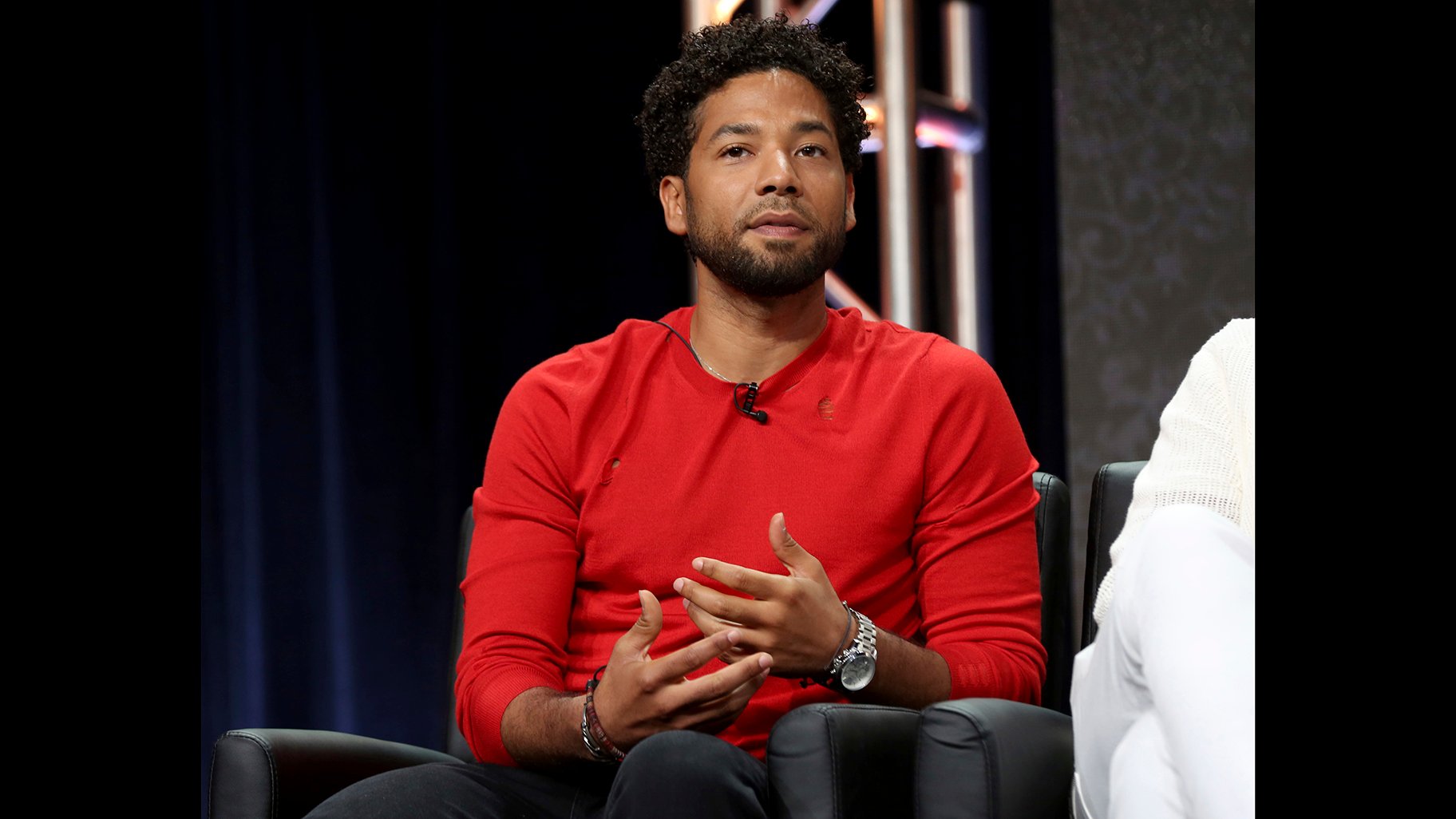 In this Aug. 8, 2017 file photo, Jussie Smollett participates in the "Empire" panel during the FOX Television Critics Association Summer Press Tour at the Beverly Hilton in Beverly Hills, California. (Photo by Willy Sanjuan / Invision / AP, File)
UPDATE: Chicago Police Arrest 'Empire' Actor Jussie Smollett
Hours after Chicago police deemed him a "suspect" in his own alleged attack, "Empire" actor Jussie Smollett has been charged with disorderly conduct, according to the Cook County State's Attorney's office.
Smollett is expect in court for a bond hearing Thursday afternoon.
The move comes weeks into a criminal investigation that's garnered national attention after Smollett reported being attacked last month on the city's Near North Side. The Chicago Police Department says its detectives will be in contact with Smollett's legal team to "negotiate a reasonable surrender for his arrest."
Felony criminal charges have been approved by @CookCountySAO against Jussie Smollett for Disorderly Conduct / Filing a False Police Report. Detectives will make contact with his legal team to negotiate a reasonable surrender for his arrest. pic.twitter.com/LvBSYE2kVj

— Anthony Guglielmi (@AJGuglielmi) February 21, 2019
---
Earlier Wednesday, CPD spokesman Anthony Guglielmi said Smollett was officially being investigated for filing a false police report, saying detectives were "presenting evidence before a Cook County Grand Jury."
Guglielmi had told the Associated Press that police investigators and prosecutors were in contact with Smollett's attorneys. Police have sought another interview with the actor after releasing two persons of interest involved in the investigation last week.
Filing a false police report falls under disorderly conduct, which is a Class 4 felony in Illinois, punishable by probation or up to three years in prison and a fine of up to $25,000.
Guglielmi did not immediately respond to a request for comment from Chicago Tonight.
The case began last month when Smollett reported to Chicago police that he had been attacked in the early morning hours of Jan. 29 in the Streeterville neighborhood. Early police statements indicated two suspects had yelled racial and homophobic slurs at Smollett before they hit him in his face, poured "an unknown chemical substance" on him and wrapped a "rope" around his neck.
Police say Smollett, 36, told detectives the attackers also yelled he was in "MAGA country" in an apparent reference to President Donald Trump's "Make America Great Again" campaign slogan.
The incident was initially treated as a possible hate crime and came a week after Smollett said he had received a letter containing a homophobic message and a "white powder." That powder was later determined to be crushed aspirin.
The story quickly garnered national attention as the investigation reportedly shifted focus when police began examining the possibility Smollett orchestrated the "attack" on himself.
Smollett doubled down on his accusations last week in his first interview since the incident, and his attorneys over the weekend said the actor has felt "victimized" by reports that he played a role in the assault. "Nothing is further from the truth and anyone claiming otherwise is lying," they said. 
Detectives last week interviewed two brothers known to the actor who were considered possible suspects, but after initial reports that they had been arrested, the pair were released without charges.
Case Update: Due to new evidence as a result of today's interrogations, the individuals questioned by police in the Empire case have now been released without charging and detectives have additional investigative work to complete. pic.twitter.com/Hswn1Qjgcy

— Anthony Guglielmi (@AJGuglielmi) February 16, 2019
---
They reportedly met with investigators again on Tuesday.
Also on Tuesday, Cook County State's Attorney Kim Foxx abruptly recused herself from the case "out of an abundance of caution" in order to "address potential questions of impartiality based upon familiarity with potential witnesses."
Smollett has reportedly assembled a legal team that includes famed attorney Mark Geragos – whose client list has included Michael Jackson, Chris Brown and Scott Peterson, among others – and local attorney Todd Pugh, who represented one of three CPD officers accused of covering up the Laquan McDonald shooting.
20th Century Fox Television and Fox Entertainment issued a statement Wednesday supporting Smollett, saying he continues to be a "consummate professional on set." Smollett has portrayed the character Jamal Lyon on "Empire" since 2015.
The Associated Press contributed to this report.
Contact Matt Masterson: @ByMattMasterson | [email protected] | (773) 509-5431
---
Related stories:
Chicago Police Seek Follow-Up Interview with Jussie Smollett
Chicago Police: 2 Questioned in Smollett Attack Are Suspects
Chicago Police, Fox Dispute Reports About Smollett Attack
Police Questioning 'Persons of Interest' in Smollett Case
Smollett Says He Redacted Phone Files to Protect Privacy
Smollett Told Police Attackers Knew He Was on 'Empire'
'Empire' Star Jussie Smollett Breaks Silence on 'Horrific,' 'Cowardly' Attack
Police Release Photos of 'Persons of Interest' in Attack on 'Empire' Star
---