Lori Lightfoot wasn't born in Chicago, but it's the city where she's always felt at home. It's where she met her wife, Amy Eshleman. It's where their adopted daughter Vivian was born. And Monday, after a historic election in which she became the city's first black female and openly gay mayor-elect, it's where Lightfoot was officially sworn into office as Chicago's 56th mayor.
"Chicago is not where my story began," she told the crowd Monday morning in her inaugural address inside the Wintrust Arena on the Near South Side, "but from the moment I arrived in Hyde Park to attend law school and begin my career, this city felt like where I belonged."
Lightfoot was swept into office on the strength of a dominating victory in last month's runoff election, earning nearly three times as many votes as her opponent, Cook County Board President Toni Preckwinkle.
The career litigator was among a handful of candidates who threw her name in the race before outgoing Mayor Rahm Emanuel announced he would not be running for re-election. Lightfoot ran on a progressive campaign, pushing for increased public safety, police accountability and improvements in public education and economic opportunities.
Video: The inauguration ceremony of Chicago Mayor Lori Lightfoot on Monday, May 20.
---
Her status as a reformer, her outsider appeal and a lack of ties to Chicago's political machine helped her emerge from an enormous 14-candidate field in February's general election as the top vote-getter heading into April's faceoff with Preckwinkle. 
She's already taken aim at part of that machine: aldermanic prerogative. Lightfoot is seeking to remove their unilateral power to initiate, block or delay a number of decisions within their wards, such as who gets a sidewalk permit or a liquor license.
She didn't mince words during her address Monday, saying one of her main goals as mayor is to restore faith in city government.
More: Read Lightfoot's full remarks, as prepared for delivery, here.
"When public officials cut shady backroom deals, they get rich and the rest of us get the bill," she said.
"These practices have gone on here for decades. This practice breeds corruption. Stopping it isn't just in the city's interest," Lightoot added, turning to the 50 aldermen seated behind her. "It's in the City Council's own interest."
One example of this involves Ald. Ed Burke, who is facing federal charges that allege he used his power to hold up a driveway permit for a business in exchange for that business hiring his law firm.
Under Lightfoot's plan, the old system would be replaced with one in which departments under the mayor's purview would establish uniform criteria to decide who gets permits, licenses and more.
The new mayor is wasting no time either, moving immediately to sign an executive order to "end the worst abuses" of aldermanic prerogative Monday afternoon.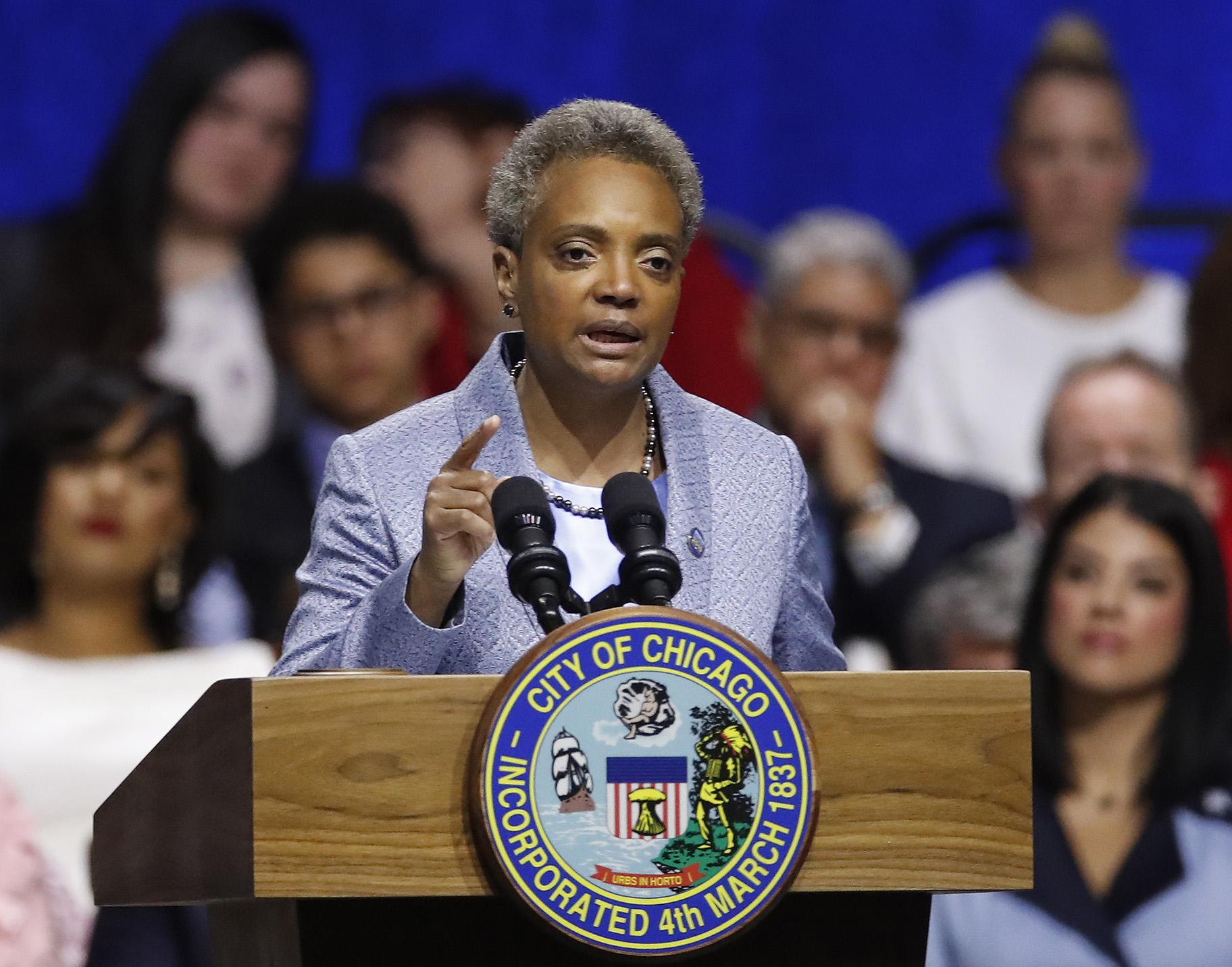 Chicago Mayor Lori Lightfoot speaks during her inauguration ceremony at Wintrust Arena on Monday, May 20, 2019. (AP Photo / Jim Young)
'Reform is here'
The Massillon, Ohio, native is the youngest of three children. She moved to Chicago in 1986 when she was accepted into law school at the University of Chicago.
Lightfoot has worn a number of hats during her professional career, most notably working as a federal prosecutor and head of the Chicago Police Board. She also spent time with the law firm of Mayer Brown and as chief of the Chicago Police Department's Office of Professional Standards.
In the wake of the Laquan McDonald shooting, Emanuel tapped Lightfoot to head up the Police Accountability Task Force, which was charged with rooting out cultural issues within the police department.
But Lightfoot, who was initially supportive of the mayor's response to the McDonald case, publicly broke with Emanuel, angry with him for not implementing the lion's share of the task force's recommendations.
In her speech, Lightfoot also outlined her four "guiding principles" based on the four stars of the Chicago flag: community safety, public education, stability and integrity.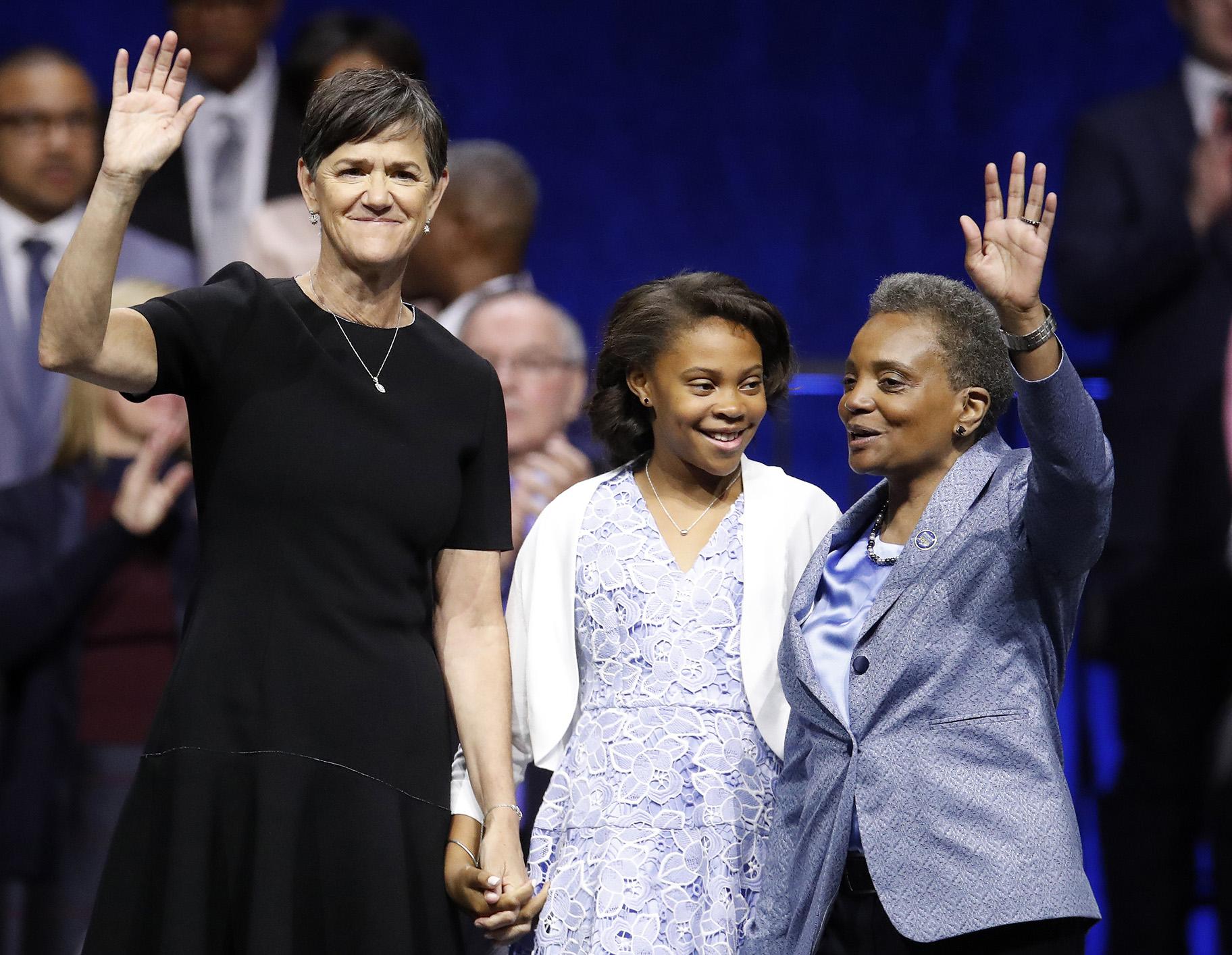 Chicago Mayor Lori Lightfoot, right, is joined on stage with her spouse Amy Eshleman, left, and her daughter Vivian during her inauguration ceremony on Monday, May 20, 2019. (AP Photo / Jim Young)
For safety, she plans to develop a proactive strategy in partnership with the communities that face the highest levels of gun violence. She pledged to hasten the development of a "trauma-informed city" by fixing the city's broken mental health safety net.
On public education, Lightfoot said families can't be expected to come to or stay in Chicago without quality schooling. She's planning to expand options for early childhood education and build a pipeline for students entering a vocational or technical trade to work with businesses and find jobs more quickly.
"Our goal is simple," she said, "starting in our schools, we will create a citywide workforce as the pipeline for jobs of today and tomorrow that will be the envy of the world."
For stability, Lightfoot stressed that Chicago must get its financial house in order after decades of mismanagement that's created a structural deficit, a persistent and growing pension debt. But the city also must do more to create affordable housing, she said, and allow small businesses to thrive.
The final principle, integrity, points back to her attack on aldermanic prerogative and restoring public trust.
"For years, they've said Chicago ain't ready for reform," Lightfoot said. "Well, get ready because reform is here. I campaigned on change, you voted for change, and I plan to deliver change to our government."
Amanda Vinicky and Paris Schutz contributed to this report.
Contact Matt Masterson: @ByMattMasterson | [email protected] | (773) 509-5431
---
Related stories:
Lori Lightfoot Makes History as Chicago Mayor-Elect
The Choice for Mayor 2019: Lori Lightfoot
How Will Chicago's 2019 Runoff Election Go Down in History?
New Face and Longtime Politician Vying for Chicago Mayor
---