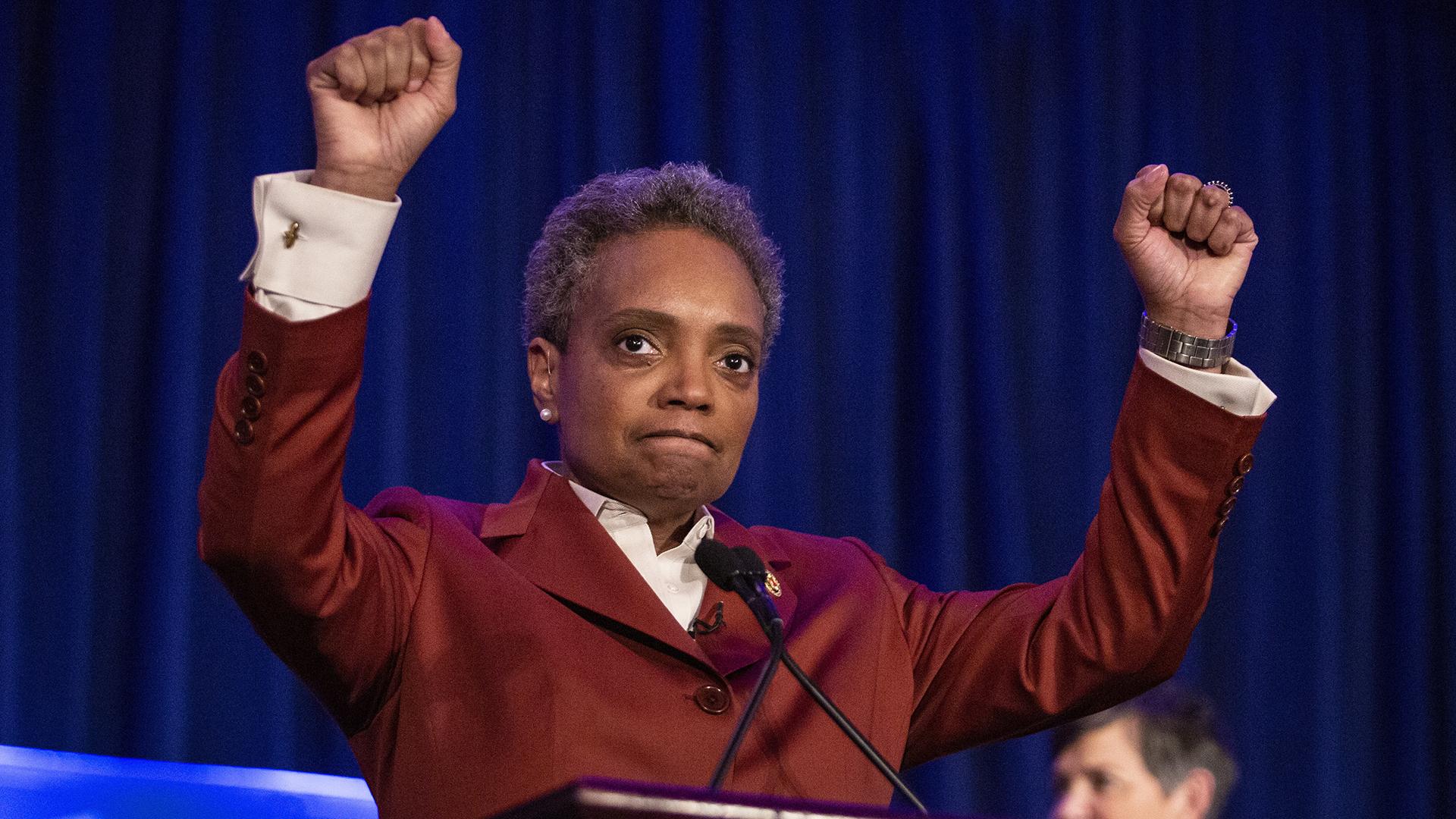 Lori Lightfoot celebrates at her election night rally at the Hilton Chicago after defeating Toni Preckwinkle in the Chicago mayoral election, Tuesday, April 2, 2019. (Ashlee Rezin / Chicago Sun-Times via AP)
It's a historic night in Chicago.
Lori Lightfoot has become the first African-American woman elected mayor of Chicago, defeating her opponent, Cook County Board President Toni Preckwinkle, in a landslide with more than 73 percent of the vote.
Lightfoot, a former federal prosecutor who was initially considered a longshot, capitalized on an apparent desire by Chicago voters to elect an outsider rather than someone who had come to be seen as part of the Chicago political establishment.
"Today, you made more than history," Lightfoot told supporters at her campaign rally at Chicago's Hilton and Towers. "You created a movement for change."
Lightfoot says that one of her first orders of business will be to mend fences with Preckwinkle, whom she will have to collaborate with on county and city matters.
"I know she and I will work together for the city we both love," Lightfoot said.
It was an often bitter and contentious runoff campaign, despite the similar profiles of the two candidates. Both referred to themselves as independent progressives and voiced support for increased police accountability, an elected school board and progressive forms of revenue. But the two regularly lobbed insults at one another during candidate forums and debates, with Lightfoot branding Preckwinkle an "insider" and part of the "political machine." Preckwinkle, meanwhile, dismissed Lightfoot as a "corporate lawyer" who did not have the necessary experience to run the nation's third-largest city.
"I may be disappointed, but I am not disheartened," Preckwinkle said before a gathering of her supporters at the Promontory in Hyde Park. "To begin with, this is truly a historic night."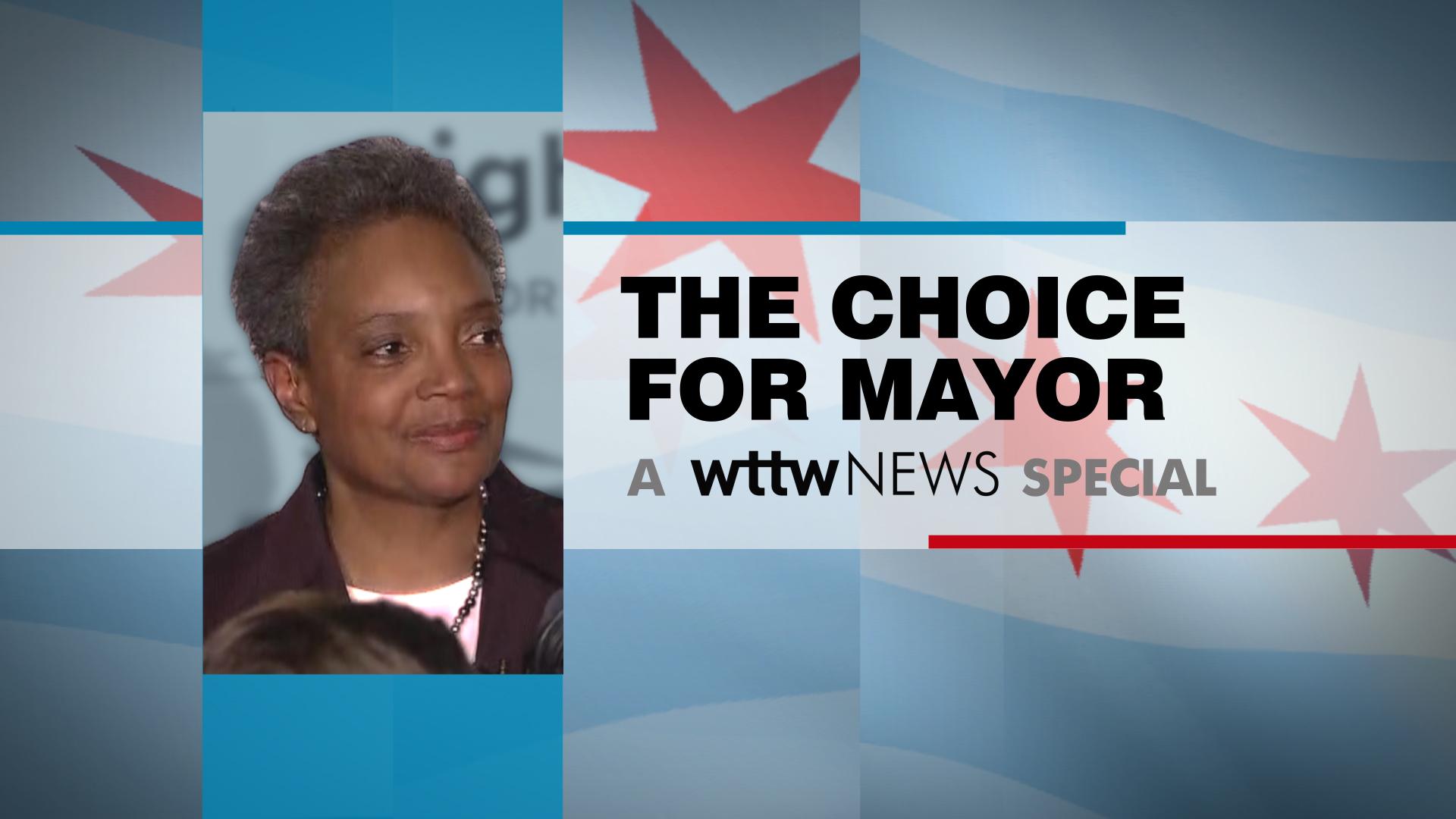 Watch: From humble beginnings in Massillon, Ohio, to a high-powered federal prosecutor. We bring you an in-depth profile of Lori Lightfoot.
---
Lightfoot's campaign began nearly a year ago, before Mayor Rahm Emanuel announced he would not seek re-election. The move came amid a breakdown of the professional relationship between Emanuel and Lightfoot, in which Emanuel, like former Mayor Richard M. Daley before him, called on Lightfoot on multiple occasions to clean up various messes in city government. Emanuel first appointed Lightfoot to chair the Chicago Police Board, the agency responsible for adjudicating and disciplining police misconduct cases, and for searching for a police superintendent.
But Lightfoot's profile rose in the wake of the Laquan McDonald murder in 2014 and subsequent battle over the release of dashcam video that became the key piece of evidence to convict former police Officer Jason Van Dyke of second-degree murder. Emanuel had named Lightfoot to chair a new Police Accountability Task Force to help stem the outrage over McDonald. Lightfoot presided over a report that was damning for the police department, calling it "racist," and recommending a host of reforms, including the creation of a civilian police oversight board. But Lightfoot publicly condemned Emanuel for not adopting all of the reforms her task force came up with. The relationship further soured when Emanuel went around Lightfoot and the rest of the police board to pick his own police superintendent, Eddie Johnson, after the board had recommended three other finalists.
Lightfoot insisted that her campaign for mayor was not the result of a personal vendetta.
"I'm running because, fundamentally, I think our city is going in the wrong direction," Lightfoot said. "And when I looked at the body of work, I became convinced that the big, tough issues that needed to be addressed, would not be addressed by this mayor and this administration."
In September 2018, Emanuel shocked many in the political establishment by announcing he would not seek a third term as mayor. At the time, the move seemed to diminish Lightfoot's chances of winning, as several high-profile candidates, including Preckwinkle, used the opportunity to get into the race. The field of candidates ultimately swelled to 14, and included names like Paul Vallas, Bill Daley, Illinois Comptroller Susana Mendoza, former school board president Gery Chico, and former Police Superintendent Garry McCarthy. But in late November, the federal raid of longtime Ald. Ed Burke's City Council and ward offices changed everything. The revelation that Chicago's most powerful alderman was under federal investigation thrust the issue of ethics reform into the spotlight. That proved to benefit Lightfoot, who had already proposed action such as removing Burke from his post as chair of the powerful Finance Committee. Lightfoot then received the endorsement of the Chicago Sun-Times, and edged out Preckwinkle in the city's Feb. 26 election, getting 17 percent of the vote to Preckwinkle's 15 percent.
Lightfoot will preside over a very different-looking city government than Emanuel did. For starters, there will be a new city treasurer. Current state Rep. Melissa Conyears-Ervin defeated Ald. Ameya Pawar in that race. 
Lightfoot will be working with a City Council that has moved even further to the left. In the 40th Ward, longtime incumbent Ald. Patrick O'Connor lost to self-described democratic socialist Andre Vasquez. Other races were too close to call as of 9:45 p.m.
Follow Paris Schutz on Twitter: @paschutz
---
Related stories:
Chicago Runoff Election: Live Results
How Will Chicago's 2019 Runoff Election Go Down in History?
New Face and Longtime Politician Vying for Chicago Mayor
The Choice for Mayor 2019: Lori Lightfoot
---