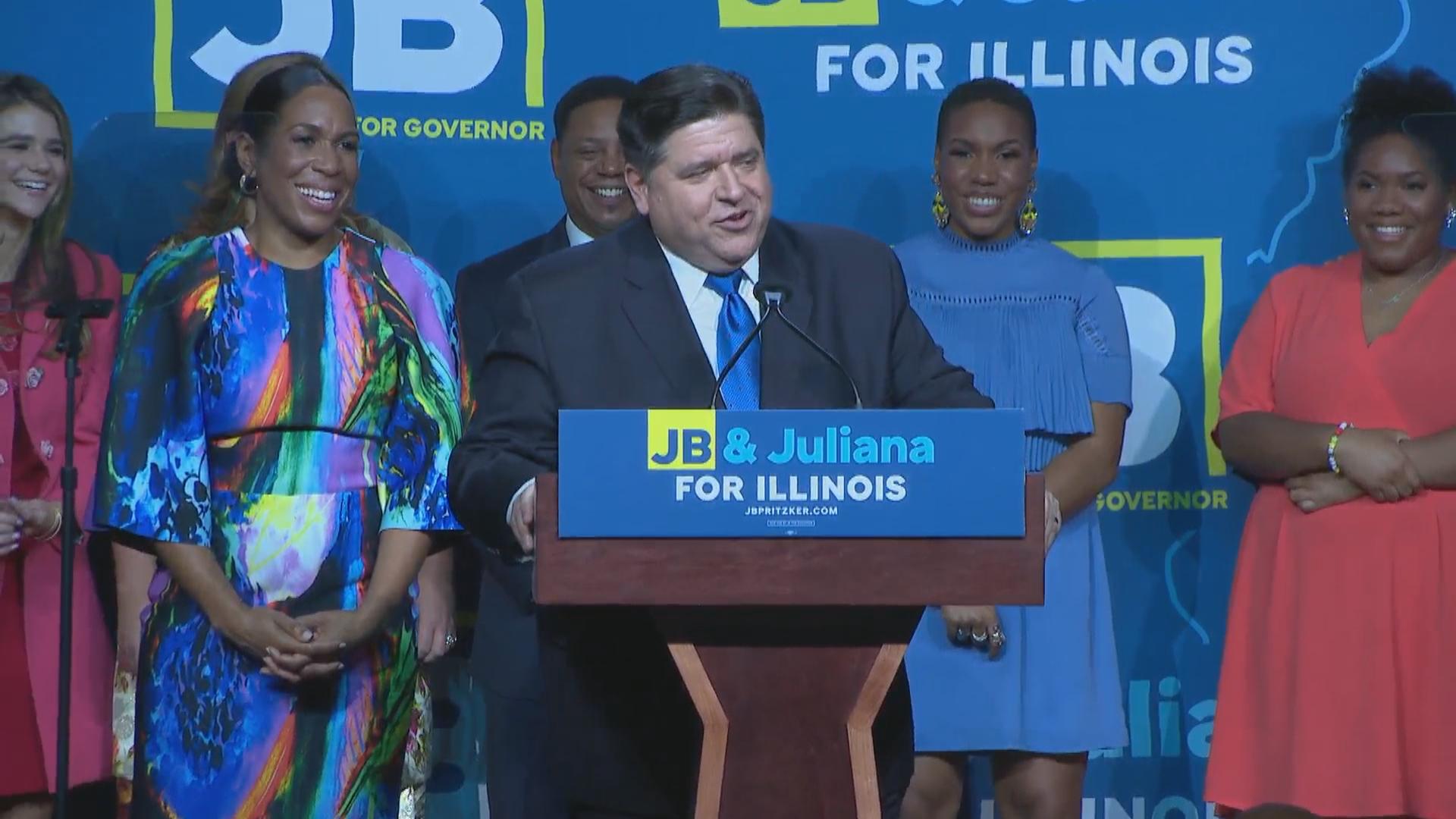 VIDEO: Gov. Bruce Rauner delivers his concession speech. Gov.-elect J.B. Pritzker addresses his supporters.
Billionaire Hyatt hotels heir, Democrat J.B. Pritzker, handily defeated Republican incumbent Gov. Bruce Rauner on Tuesday, closing out one of the most expensive statewide races in U.S. history. Rauner conceded the race to Pritzker early in the evening, as several outlets projected Pritzker the winner with only a few of the precincts reporting. 
"I want to thank Rauner for his service to this state over the last four years, and I wish him and his family well," Pritzer told his supporters during his victory speech. "Voting is an act of optimism that the levers of our democracy still work. … From the bottom of my heart, I thank you for your faith in Juliana (Stratton) and me."
The 2018 campaign has pitted two extremely wealthy Illinoisans with vastly different visions of how to run the state against each other. They have engaged in a campaign-spending spree that could wind up as one of the most expensive statewide races in U.S. history.
Rauner, who entered the governor's mansion four years ago as a political novice following a lucrative career in private equity, has been in an uphill fight to win another term.
Pritzker, the billionaire businessman and philanthropist from one of Chicago's most famous families, announced his candidacy to unseat Rauner a year and a half ago in a roomful of supporters on Chicago's South Side.
"You want to know why I'm running for governor? Because everything we care about is under siege by Donald Trump and Bruce Rauner," Pritzker told the crowd on April 6, 2017.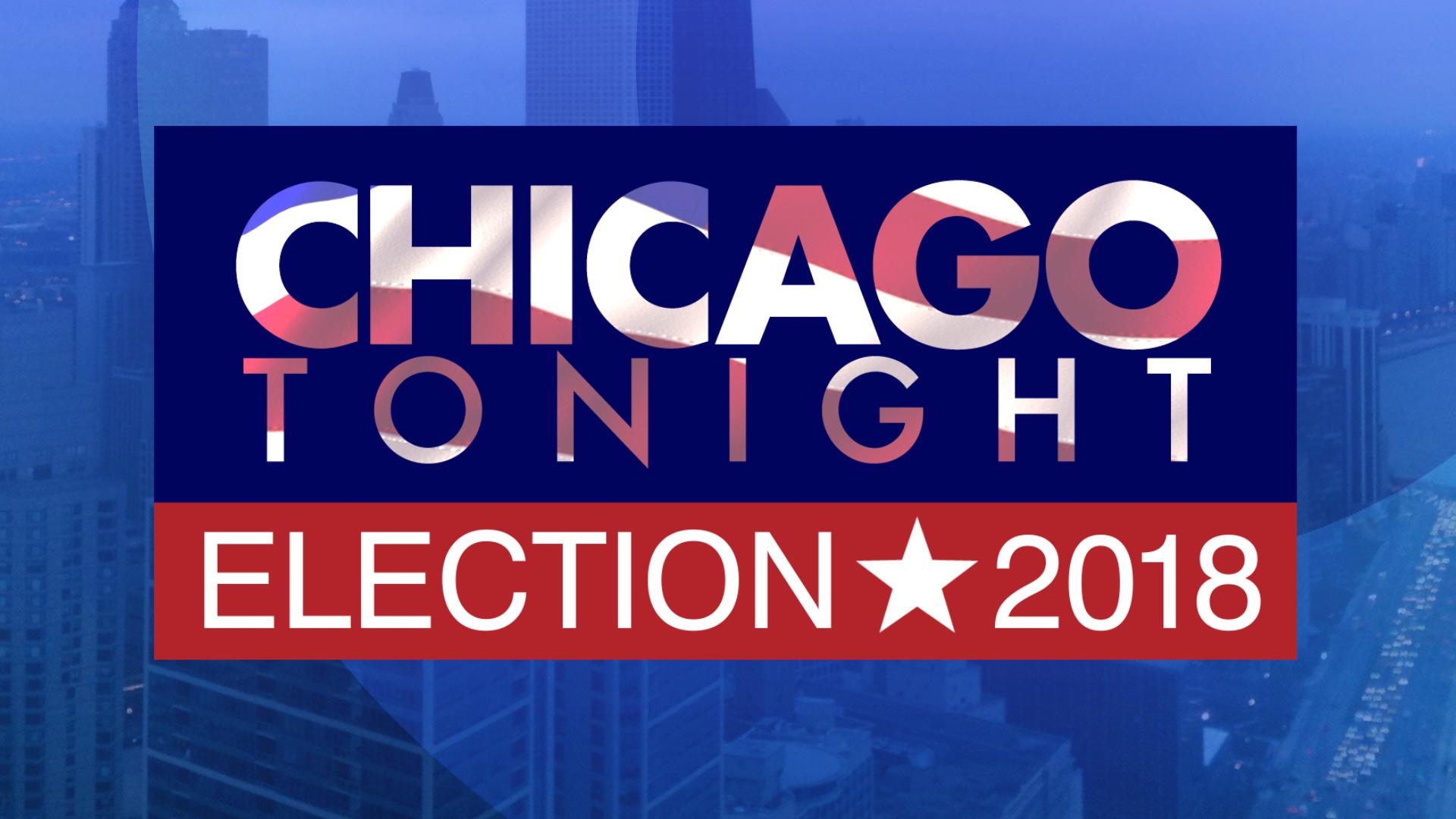 More election coverage from WTTW News and Chicago Tonight
---
Pritzker has sought to portray Rauner's tumultuous first term in office as a failure, citing the nearly two-year budget impasse and the state's ballooning budget deficit and pension obligations. Rauner has vilified Pritzker as a "trust fund baby," claiming in debates that "he never had a real job in his life," and warning that he believes Pritzker would be a rubber stamp for powerful and unpopular Democratic House Speaker Michael Madigan. Rauner's campaign has gone so far as to air a commercial claiming an "unholy union" between Pritzker and Madigan, in which they join hands in a mock wedding, and the officiant declares Illinois "F-----."
The spending in this heated race has soared toward $300 million, with much of that money coming from the candidates' own pockets. As of Friday, Pritzker had shattered the U.S. record for self-financing a campaign, pouring in $171 million out of $175 million total funds raised. Rauner has raised a total of nearly $80 million.
Rauner narrowly escaped a primary challenge from ultra-conservative Wheaton state Rep. Jeanne Ives, who had a fraction of the campaign money available to Rauner. Ives led a backlash of social conservatives who were irate that Rauner had signed Senate Bill 40, which expands abortion access for Medicaid recipients and ensures abortion remains legal in Illinois should the Supreme Court overturn or limit Roe v. Wade.
Video: The Race for Illinois Governor 2018: Bruce Rauner
Rauner also grew unpopular within the more moderate flank of his party after insisting for nearly two years that he would only sign off on a state budget if Democrats agreed to a laundry list of reforms. Those included initiatives aimed at curbing wages and collective bargaining power of unionized state employees, and instituting term limits and independent redistricting. It led to an epic, unwinnable battle with Madigan who repeatedly insisted that those policy items should be considered separate from the budget-making process. The standoff crippled social service programs that relied on state funding and drove up the state's backlog of bills to a record $14 billion. In the end, a handful of Republican lawmakers defected to vote for a budget that included an income tax hike from 3.75 percent to 4.95 percent. Rauner has laid the lion's share of the blame at Madigan's feet, claiming on numerous occasions that he doesn't have the power to run the state that Madigan has.
Pritzker more comfortably defeated a primary field that included wealthy businessman and former University of Illinois Board Chairman Chris Kennedy, the son of the late Robert F. Kennedy, and progressive state Sen. Daniel Biss. The two challengers took issue with Pritzker's opaque finances and the vast wealth that he derives from offshore trust funds that pay minimal taxes. Pritzker has maintained that he doesn't control any offshore trust funds in his name, that they were set up by previous generations of his family, and that all of the disbursements go to charity, even though a Chicago Tribune investigation found his name on offshore funds that control businesses in his name.
Pritzker also drew fire for unearthed wire-tapped phone conversations between himself and convicted former Gov. Rod Blagojevich, in which Pritzker apparently sought out an appointment to the state treasurer's job, and used racially insensitive language to describe former Senate President Emil Jones and Secretary of State Jesse White. Pritzker has never been implicated by the federal government in any wrongdoing related to those phone conversations.
"Clearly I made a mistake, and clearly I was not my best self," Pritzker later said at a public apology, standing before a group of African-American public officials who maintained their support for him.
Video: The Race for Illinois Governor 2018: J.B. Pritzker
Pritzker has ridden the wave of anti-Trump progressivism sweeping the Illinois Democratic Party. He has campaigned on a platform of instituting a progressive income tax, something that would take a constitutional amendment to achieve. But he has been vague on the details, repeatedly refusing to divulge what he believe the different tax rates and brackets should be. He has also promised to legalize and tax recreational marijuana, expand health care access, and support labor rights. 
Rauner is opposed to both a progressive income tax and legalized marijuana. He began his tenure for governor four years ago by undertaking a statewide tour promoting right-to-work zones and a weakening of collective bargaining laws, but he has backed off that rhetoric during this campaign. One of Rauner's most significant victories during his term wasn't even legislative, but a Supreme Court ruling that outlawed mandatory fair-share fees for public workers who opted out of joining unions. Rauner was a plaintiff in the case and a driving force in getting it before the courts.
Beyond the policy differences and attacks, the two candidates share a host of similarities. Most notably, they are extremely rich. Pritzker's reported net worth is $3.2 billion, while Rauner's has hovered at just under a billion. Both grew up with mothers struggling with mental illness. Pritzker has been open about his mother's struggles with severe alcoholism and her untimely death. 
Rauner's mother, Ann Erickson Rauner, was diagnosed with bipolar disorder early in Rauner's childhood.
Follow Paris Schutz on Twitter: @paschutz
---
Related stories:
Obama Stumps for Pritzker, Democrats in Chicago
AP: Political Money in State-Level Campaigns Exceeds $2B
2018 General Election: Illinois Governor
2018 Voters' Guide to the General Election
JB Pritzker Fields Questions from High School Students
---