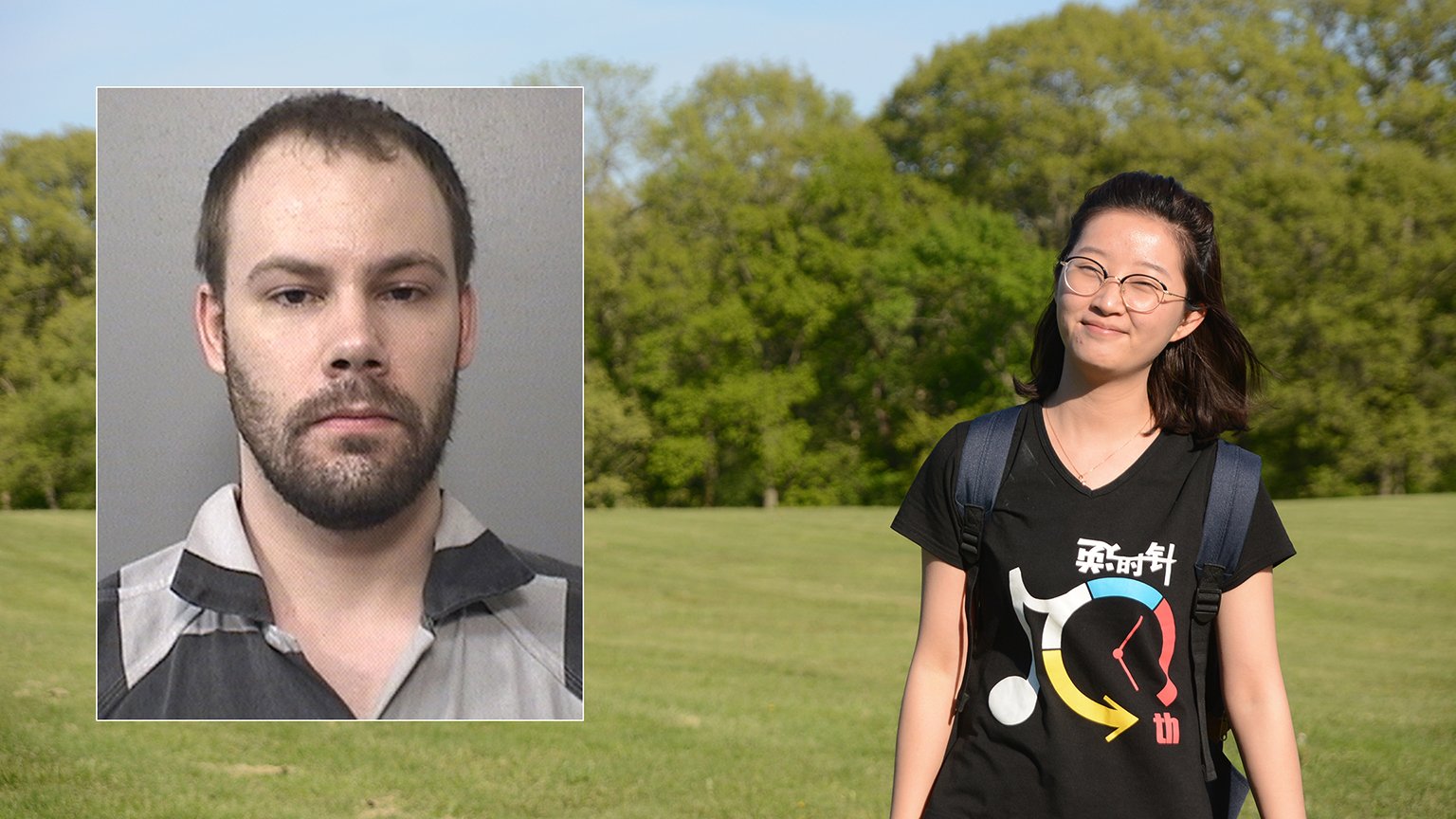 Yingying Zhang disappeared on June 9, 2017. (University of Illinois Police Department). Inset: Brendt Christensen (Macon County Sheriff's Department)
UPDATE: Brendt Christensen Sentenced to Life in Prison for Yingying Zhang Killing
Following more than a month of testimony at trial and sentencing, jurors began deliberating Brendt Christensen's appropriate sentence following closing statements Wednesday in Peoria's federal courthouse. Their two choices for the 30-year-old man convicted of kidnapping and killing Chinese scholar Yingying Zhang: life in prison without the possibility of release, or death.
"The only question is whether (his life) ends with his natural life or with a needle and drugs at a date set by the government," federal defender Elisabeth Pollock said during her closing statements Wednesday. "He's leaving prison in a casket. The only question is when."
Pollock asked the 12-person jury to consider mercy and spare her client, claiming he sought help for his homicidal thoughts in the weeks and months before he killed Zhang. She showed jurors pictures of Christensen growing up in Stevens Point, Wisconsin, and talked about the good deeds he's done throughout his life.
"We have stood with Brendt for almost two years," she said, walking over to the defense table to stand behind Christensen, who was crying. "He is a whole person, not just the worst thing he did."
Prosecutors painted a much darker picture.
Assistant U.S. Attorney James Nelson said Christensen killed Zhang "for sport" and because he believed he could get away with it. Nelson spent an hour walking the jury through each of the aggravating factors the government has told jurors to consider: that Zhang's death occurred during the commission of another crime, that it was heinous and cruel and involved torture, and that the crime involved substantial premeditation.
"She had so much to live for," Nelson said. "She did not want that man to be the last thing she saw."
Zhang was last seen on June 9, 2017 getting into Christensen's black Saturn Astra on campus at the University of Illinois after she missed a bus to an appointment. She had only been in the U.S. for a matter of weeks, studying photosynthesis and crop productivity as a visiting scholar at the university in Urbana-Champaign.
FBI investigators testified they found her blood and DNA inside Christensen's Champaign apartment, where he raped, beat and decapitated her, according to a statement he made to his then-girlfriend, who was wearing a wire for the FBI.
It took jurors less than two hours last month to convict Christensen of kidnapping resulting in death and two counts of making false statements to FBI investigators.
His attorneys admitted at trial that Christensen had, in fact, killed Zhang, though they disputed the details of how exactly that occurred, saying his recorded confession and claims he'd killed 12 others were nothing more than drunken embellishments.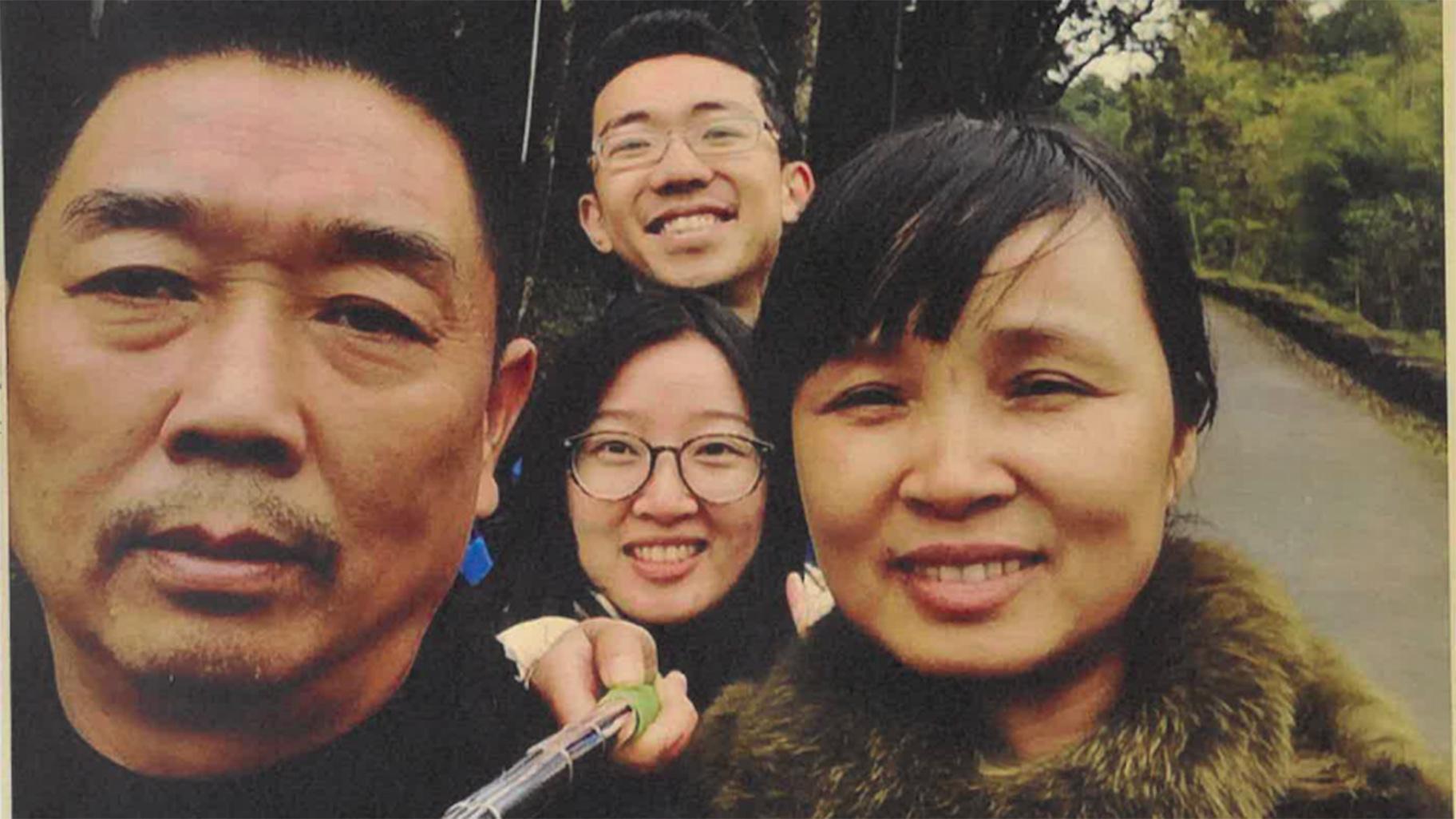 Yingying Zhang, center, takes a photo with her father Ronggao Zhang, left, mother Lifeng Ye and fiance Xiaolin Hou. (U.S. Attorney's Office)
But prosecutors argue he was telling the truth when he detailed Zhang's brutal death. Nelson claimed the only reason Christensen told anyone about the killing was because he wanted to become "infamous."
"The defendant ultimately learned the downside of getting away with murder is no one knows about it," Nelson said. "Pride goes before the fall. The defendant's arrogance was his undoing."
The defense called witnesses for nearly a week at sentencing to testify about Christensen's upbringing, his struggles with alcoholism and his family's history of mental health issues. Those are among the 49 mitigating factors they say jurors should consider when determining Christensen's fate.
They also claim he did not receive proper care when he expressed to U. of I. counselors in the months before Zhang's death that he had been having homicidal thoughts. Those counselors and Christensen himself are now the subject of a federal lawsuit brought by the head of Zhang's estate.
Zhang's parents, brother and fiance also testified at sentencing, detailing their ongoing grief over her brutal death.
"She is part of me as if my life without her would not be complete," her father Ronggao Zhang testified last week. "To tell you the truth, I do not know how to live the rest of my life."
If he is executed, Christensen would become the first Illinois resident to receive the death penalty since the state abolished such punishment in 2011. Currently, more than 60 people sit on federal death row in Terre Haute, Indiana, but the federal government has not carried out an execution since 2003.
Jurors began their deliberations around 1:30 p.m. They were dismissed for the night before 5 p.m and will resume their deliberations Thursday morning.
Contact Matt Masterson: @ByMattMasterson | (773) 509-5431 | [email protected]
---
Related stories:
Jurors Likely to Begin Deliberating Brendt Christensen Sentence This Week
Christensen Breaks Down During Emotional Testimony from Yingying Zhang's Family
'She Was the Hope of Her Family': Sentencing Underway in Yingying Zhang Murder Case
Brendt Christensen Defense Team Wants Evidence Tossed or Sentencing Delayed
Brendt Christensen Offered to Reveal Location of Yingying Zhang's Body
Brendt Christensen Found Guilty in Kidnapping, Death of Yingying Zhang
'She is Gone': Christensen Bragged About Zhang's Death, Former Girlfriend Says
Defense Attorney: 'Brendt Christensen Killed Yingying Zhang'
---