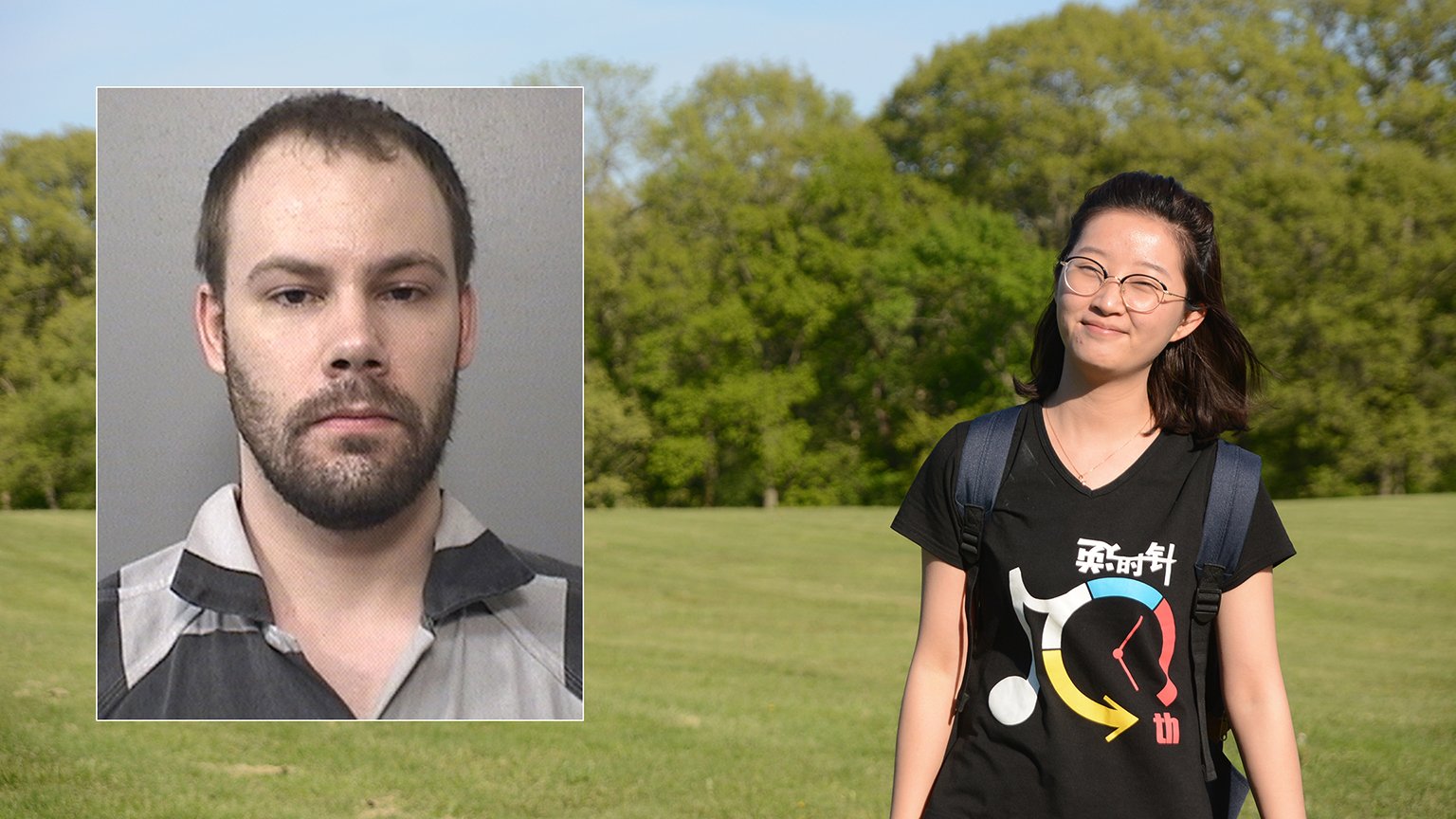 Yingying Zhang disappeared on June 9, 2017. (University of Illinois Police Department). Inset: Brendt Christensen (Macon County Sheriff's Department)
The man convicted this week of kidnapping and killing a Chinese scholar at the University of Illinois told federal investigators just six months after his 2017 arrest he would reveal where he disposed of her body and cooperate fully with investigators. But the U.S. Attorney's Office apparently declined that offer.
Attorneys for Brendt Christensen, who faces a possible death sentence for the slaying of Yingying Zhang, say in a new motion filed Tuesday evening that their client agreed more than a year ago to plead guilty and tell investigators everything about how he kidnapped and killed the 26-year-old in exchange for a life sentence.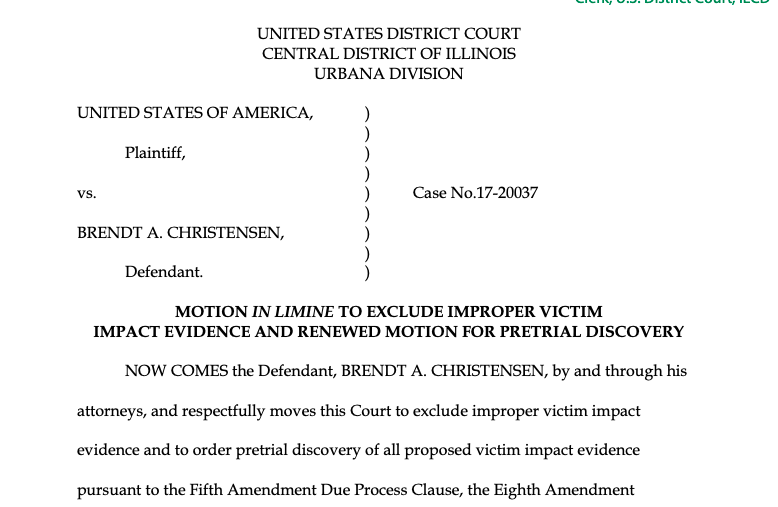 Document: Read the full motion.
"Within six months of his arrest Mr. Christensen agreed to plead guilty to the charges against him," federal defenders Elisabeth Pollock and George Taseff wrote in the motion, "to cooperate fully with investigators and provide all information in his possession regarding the crime and the location of the victim's remains and to accept a sentence of life without possibility of release."
Christensen was convicted Monday following a two-week trial in Peoria's federal court. His sentencing is scheduled to begin in Peoria on July 8.
In a statement sent Wednesday to WTTW News, the Zhang family said, in part:
"We were made aware of this defense claim during the progress of the case. We asked that the prosecution obtain truthful information about the whereabouts of remains, that the remains be located and we be allowed to return them to China. We were told that the response to our request by the Defendant was that it was not possible to verify any claim the Defendant would make. There was no promise that Yingying's remain would be discovered.
"We were leery of Defendant's claims because he had lied so many times in the past.
"Nothing has ever stopped the Defendant from pleading guilty. Yet, the family sat through a trial where the horrible details of Yingying's death have been publicly disclosed."
Last seen alive
Zhang was last seen alive on June 9, 2017 getting into Christensen's black Saturn Astra on the U. of I. campus in Urbana-Champaign after she missed a bus to an appointment.
FBI investigators testified they found her blood and DNA inside Christensen's Champaign apartment, where he raped, beat and decapitated her, according to a statement he made to his then-girlfriend Terra Bullis, who was wearing a wire for the FBI.
Zhang's remains have not been found. Christensen bragged on tape that investigators would never find her body and that he "will never tell" what he did with her remains. But he quickly changed course following his arrest, according to his attorneys, seemingly in a bid to save his own life.
At trial, his attorneys openly admitted Christensen did kill Zhang. In her closing statements Monday, Pollock said the only reason a trial was necessary was because the "government wants to take (Brendt's) life."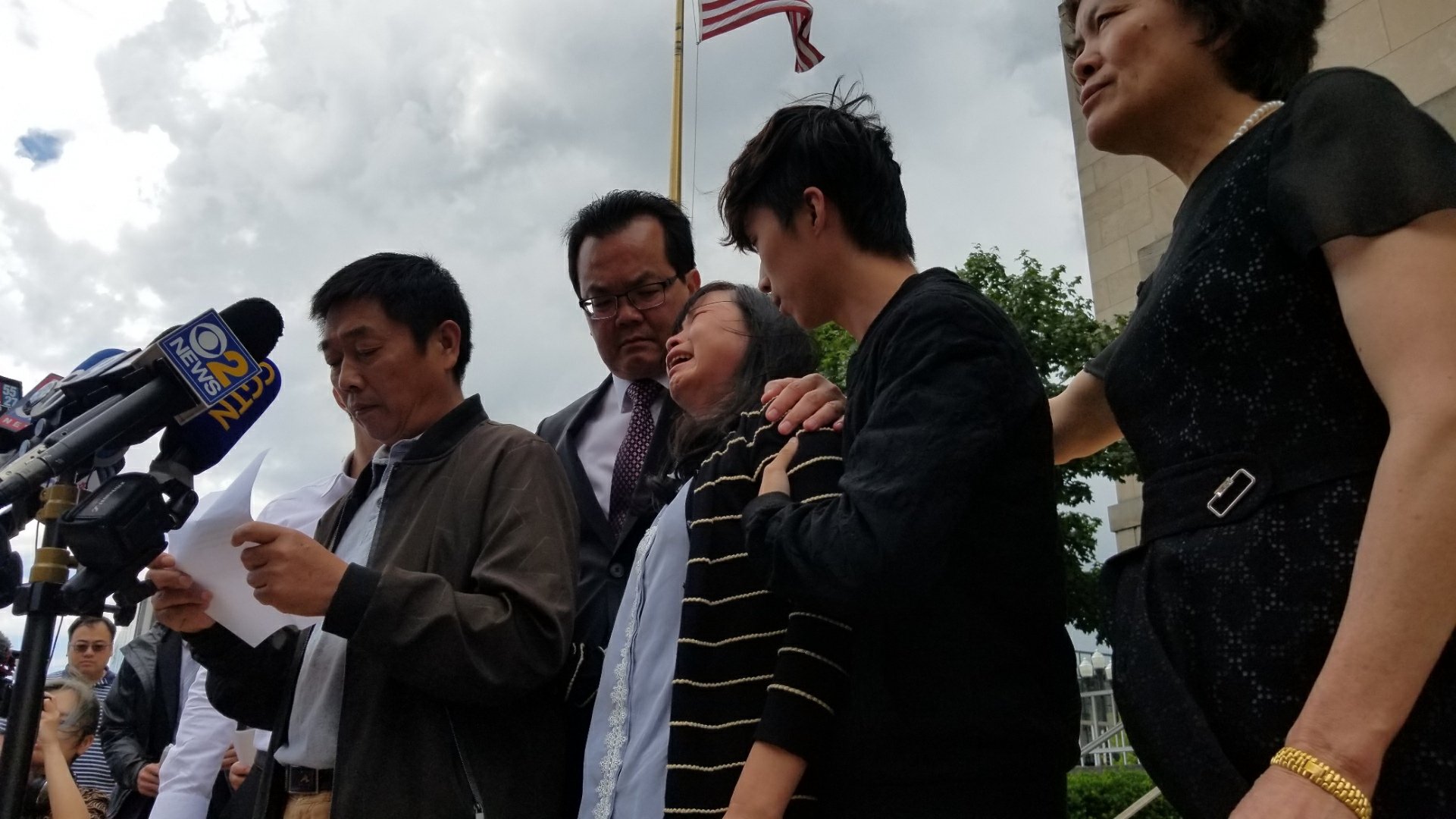 Yingying Zhang's father, Ronggao Zhang, reads a statement in Chinese outside the federal courthouse in Peoria, Illinois, on Monday, June 24, 2019, moments after a 12-person jury found Brendt Christensen guilty of her kidnapping and death. Yingying Zhang's mother, Lifeng Ye, sobs as her husband addresses the media. (Matt Masterson / WTTW News)
Pollock and Taseff filed the motion seeking to bar the court from allowing what they call "improper victim impact evidence" at sentencing next month. That includes statements made by Zhang's family that are "inconsistent with certain objective facts in this case."
"For example, Ms. Zhang's mother stated in a recent television interview: 'We hope the prosecutors can help find our daughter soon. We hope that bad person reveals the truth soon. We have been waiting for two years. Two entire years,'" the motion states.
Such statements, Christensen's attorneys say, would falsely imply he "has refused to provide any information about what he did to Ms. Zhang."
The motion also seeks to limit the number of Zhang's family members who could give victim impact statements at sentencing and exclude Zhang's personal journal.
"A special danger of presenting a first-person narrative by the victim is that it is likely to result in a dramatic reenactment, with the script in the victim's own words and the acting by a grieving family member," the motion states. "This creates an emotional environment that overtakes any probative value of the journals."
Zhang's family has repeatedly said they believe the death penalty would be just in this case, a claim their attorney told media again following the verdict Monday.
Contact Matt Masterson: @ByMattMasterson | (773) 509-5431 | [email protected]
Note: This story was originally published June 25, 2019. It has been updated to include a statement from the Zhang family.
---
Related stories:
Brendt Christensen Found Guilty in Kidnapping, Death of Yingying Zhang
Christensen Drove Car 200 Miles in Days Surrounding Zhang's Disappearance
'She is Gone': Christensen Bragged About Zhang's Death, Former Girlfriend Says
Brendt Christensen Seemed 'Excited' and 'Amused' by FBI's Interest, Former Girlfriend Testifies
Brendt Christensen Researched Rape Fantasies Before Kidnapping Scholar
Defense Attorney: 'Brendt Christensen Killed Yingying Zhang'
Lawsuit: 'Deliberate Indifference' of U of. I. Social Workers Allowed Scholar's Kidnapping
Brendt Christensen Defense Team Wants Mental Health Records of Key Witness
Death Penalty, Religious Questions Highlight Day 1 of Brendt Christensen Trial
Attorney: Family of Missing U. of I. Scholar Wants to Believe She's Alive
---