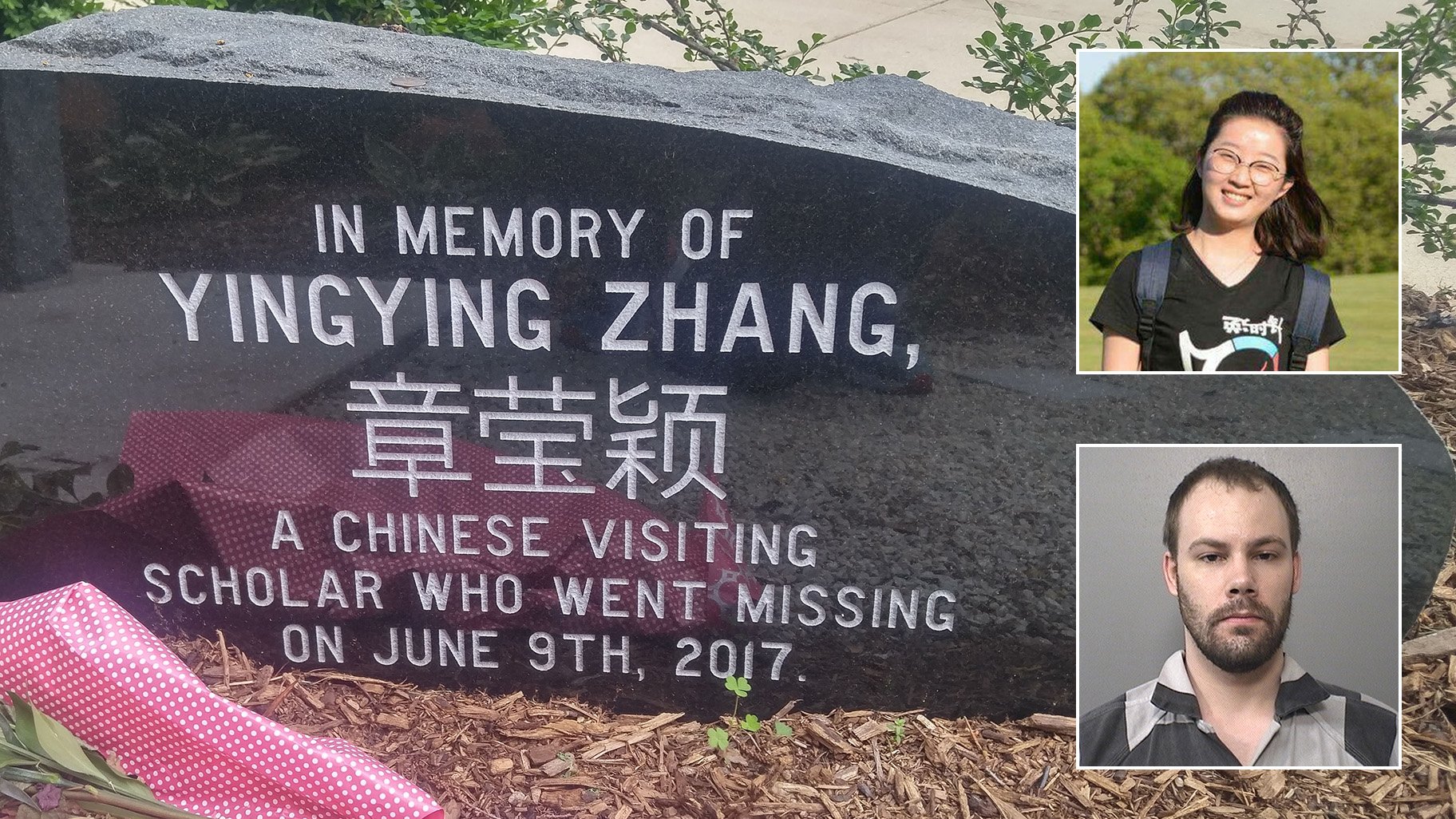 A memorial stone engraved with Yingying Zhang's name in both English and Chinese on the campus of the University of Illinois at Urbana-Champaign in June 2019, two years after her disappearance. (Photo by Mark Van Moer) Inset, top: Yingying Zhang (Courtesy University of Illinois Police Department). Bottom: Brendt Christensen (Courtesy Macon County Sheriff's Department).
Brendt Christensen will spend the rest of his life in prison for the 2017 kidnapping and death of Chinese scholar Yingying Zhang.
A 12-person jury deliberated for more than eight hours over the course of two days in Peoria's federal courthouse, but failed to reach a unanimous decision in the death-penalty case. Instead, the judge officially imposed a sentence of life in prison without the possibility of release.
Before entering the sentence, U.S. District Court Judge James Shadid called Christensen out for his "complete and total lack of remorse" and refusal to make any sort of apology when given the chance.
"This inexplicable act of violence has taken a toll on so many," Shadid said, adding that Christensen acted out his own "selfish fantasies with no regard for anyone but himself."
Shadid said the mercy jurors extended to Christensen was reflective of their "humanity, not your character."
After the jury's announcement was read Thursday afternoon, Christensen bowed his head and smiled. Members of Zhang's family, who were also present in the courtroom, had no visible reaction.
"For his unthinkable acts, he's being held accountable," U.S. Attorney for the Central District of Illinois John Milhiser said. "He will serve the rest of his life in prison and he will die in prison as he should for these horrendous acts."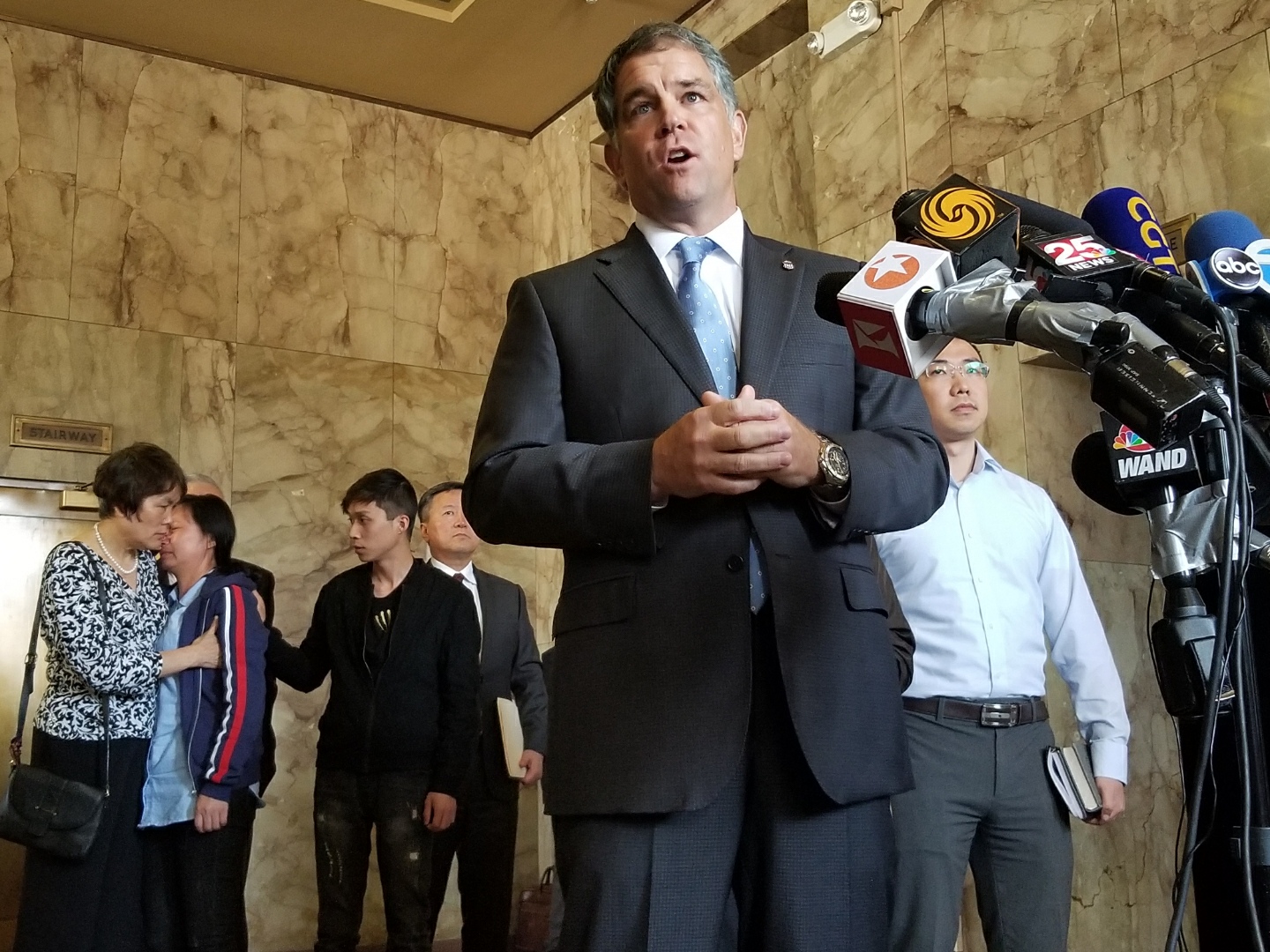 John Milhiser, U.S. attorney for the Central District of Illinois, speaks to the press in Peoria's federal courthouse following the sentencing of Brendt Christensen on July 18, 2019 while Yingying Zhang's mother cries in the background. (Matt Masterson / WTTW News)
Christensen was convicted last month of kidnapping resulting in death and two counts of making false statements to the FBI. It took jurors just two hours to reach a verdict after the defense admitted in their opening statements that Christensen did, in fact, kill Zhang.
In addition to the life sentence, Shadid sentenced Christensen to consecutive five-year terms on both counts of making false statements to the FBI. He will also be required to pay a $250,000 fine – the maximum allowable – for each of his three convictions.
Jurors tipped their hand moments before the sentence was finalized Thursday when posing a question to Shadid. Stating "we need help," the jury asked what would happen if they were unable to reach a unanimous verdict.
Shadid instructed them at that time to continue deliberating, but said if they couldn't reach a consensus one way or the other, a life sentence would be imposed. Only minutes later, the jury foreman turned in the finished verdict form.
Zhang was last seen alive on June 9, 2017 getting into Christensen's black Saturn Astra on the University of Illinois campus after she missed a bus to an appointment. The two did not previously know each other. Her remains have never been found.
But FBI investigators testified they found her blood and DNA inside Christensen's Champaign apartment, where the former Ph.D. candidate raped, beat and decapitated her, according to a statement he made to his then-girlfriend as they attended a memorial vigil for Zhang. Christensen was unaware his girlfriend was cooperating with the FBI and wearing a wire.
That tape was played for jurors multiple times during trial and referenced extensively during the government's closing statements Wednesday.
"You could hear the pride dripping from his voice," federal prosecutor James Nelson said. "He was delighted. There was no remorse."
During deliberations, which began Wednesday afternoon, jurors were required to choose which, if any, aggravating and mitigating factors they wanted to consider in making their determination.
Prosecutors presented a handful of aggravating factors in support of the death penalty, arguing Zhang's death occurred during the commission of another crime (kidnapping), it occurred in a "heinous, cruel or depraved" manner in that it involved torture, and it required substantial pre-meditation. Christensen's defense team, on the other hand, offered 49 mitigating factors relating to Christensen's family history of mental illness, his own substance abuse and alcohol issues, and the impact his execution would have on his family.
"Our job is to present the whole picture (of Christensen)," federal defender Elisabeth Pollock said during her own closing statements Wednesday.
Jurors then had to weigh the factors they chose to consider before issuing their sentence.
Beyond the 49 factors offered by the defense, jurors themselves came up with two additional mitigators on their verdict form. Two jurors felt it was relevant Christensen had been taking alcohol and anti-depressants, which they felt could "result in serious side effects." Five jurors also felt that because Christensen "is not a social, charismatic person" that he would be unlikely to "recruit others to commit violent acts on his behalf."
Christensen would have become the first Illinois resident to receive a death sentence since the state abolished capital punishment in 2011. Only one other Illinois man is currently on federal death row.
There hasn't been a federal execution in more than 15 years. Between 1988 – when the federal death penalty was reinstated – and 2018, only 78 federal defendants have been sentenced to death, according to the Death Penalty Information Center. Of those, just three have been executed.
While they said they respect the jury's decision, Zhang's family disagree with the result and made clear their singular goal has not changed: locating Yingying's remains and taking her home.
"Now that the trial is over and the jury has made its decision, we ask the defendant to unconditionally tell us what he knows about Yingying's location," Zhang's father Ronggao told media through an interpreter. "If you have any humanity left in your soul, please help end our torment."
Contact Matt Masterson: @ByMattMasterson | (773) 509-5431 | [email protected]
---
Related stories:
Brendt Christensen Jury Deliberations Begin After Lengthy Closing Arguments
Jurors Likely to Begin Deliberating Brendt Christensen Sentence This Week
Christensen Breaks Down During Emotional Testimony from Yingying Zhang's Family
'She Was the Hope of Her Family': Sentencing Underway in Yingying Zhang Murder Case
Brendt Christensen Defense Team Wants Evidence Tossed or Sentencing Delayed
Brendt Christensen Offered to Reveal Location of Yingying Zhang's Body
Brendt Christensen Found Guilty in Kidnapping, Death of Yingying Zhang
Defense Attorney: 'Brendt Christensen Killed Yingying Zhang'
---