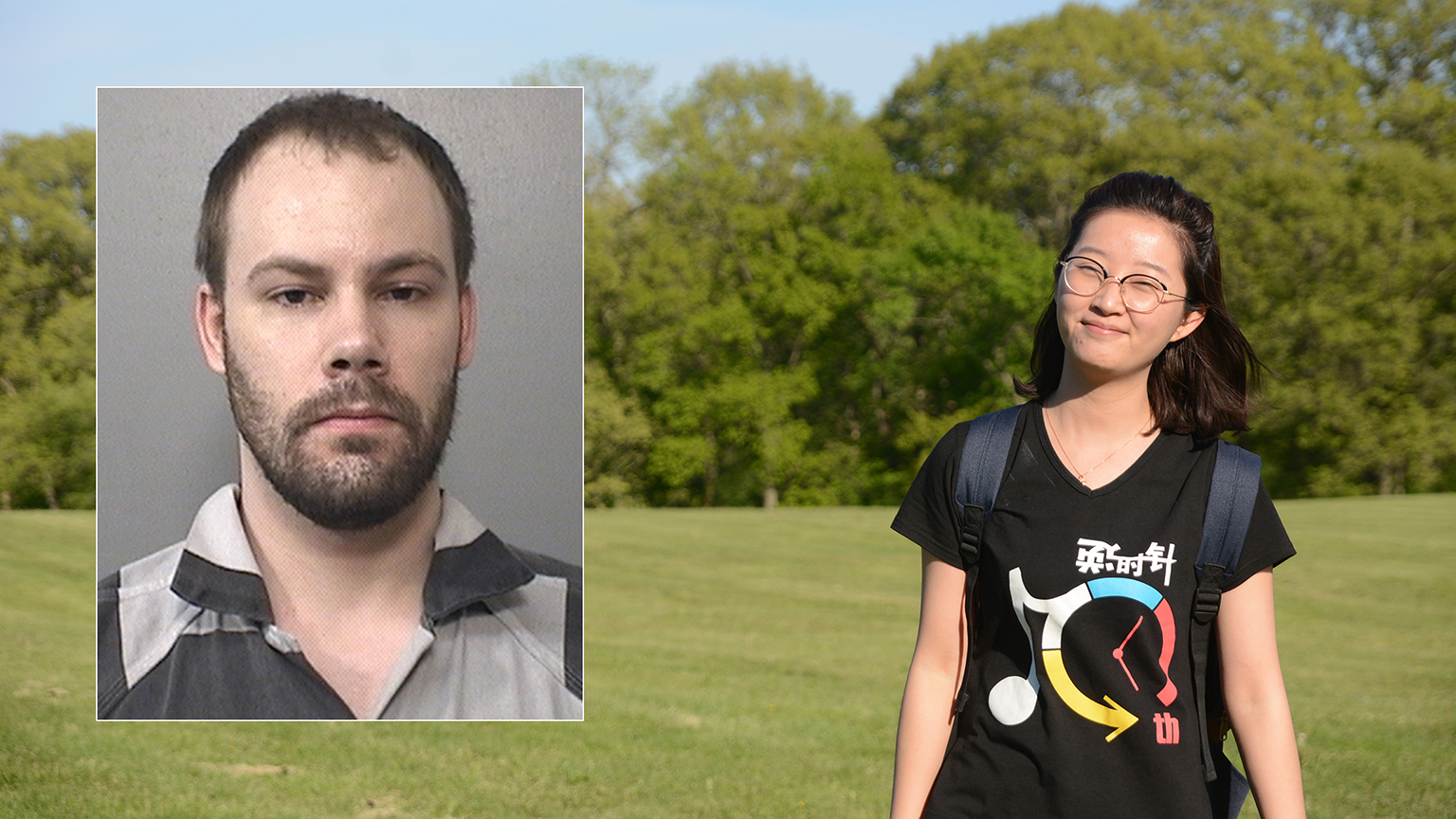 Yingying Zhang disappeared on June 9, 2017. (University of Illinois Police Department). Inset: Brendt Christensen (Macon County Sheriff's Department)
Two University of Illinois social workers who once treated Brendt Christensen, the man sentenced last month to life in prison for the kidnapping and death of a visiting Chinese scholar, are asking a federal judge to toss out a lawsuit filed against them.
Thomas Miebach and Jennifer Maupin acted with "deliberate indifference" toward warning signs presented by Christensen months before he kidnapped and murdered Yingying Zhang, according to a lawsuit brought by Zhang's estate in June.
Miebach and Maupin this week filed a motion to dismiss that suit, which claims they failed to address Christensen's "known risk of harm" after he expressed "suicidal and homicidal ideations" during a pair of visits to the University of Illinois Counseling Center (UICC) in March 2017.
But the pair claim they cannot and should not be held legally responsible for Christensen's "random and incomprehensible actions" that occurred more than two months after the parties met just once, each, with Christensen.
"The U.S. Constitution does not impose upon state-employed mental health professionals the impossible duty of predicting and preventing the infinite permutations by which one person can decide to harm another, and state law likewise does not hold them to such an unattainable standard of care," attorney Gregory Ostfeld wrote in a memorandum supporting the motion to dismiss.
Christensen, 30, was convicted in June for Zhang's brutal kidnapping and death. Federal prosecutors alleged he raped, beat and decapitated her inside his Champaign apartment in June 2017.
The lawsuit, filed by the administrator of Zhang's estate Daniel Deneen, also names Christensen himself as a defendant.
Deneen alleges, among other things, the social workers created a "heightened danger" and "affirmatively encouraged" Christensen's homicidal ideations by representing to him that his "symptoms had resolved."
Miebach and Maupin believe that claim should be dismissed because the lawsuit doesn't "plausibly allege" they "created or increased" a danger to Zhang, nor did they "proximately cause" her death through their actions.
Christensen, who was working at the U. of I. as a graduate teacher after earning his master's degree there, went to the UICC in March 2017 seeking treatment for his substance abuse issues and the "suicidal and homicidal ideations" he'd been experiencing, according to the complaint.
His wife had recently left him, and on an intake assessment, Christensen allegedly scored at or near 100% on scales measuring depression, generalized anxiety, family distress, substance abuse and distress index, the complaint states.
During an initial interview with a counseling center intern, Christensen claimed he'd previously bought items with the intention of using them to conceal a murder. Video of that meeting was played at his trial.
"I was pretty far along," he said when asked if he'd taken any steps toward harming someone.
But he also said he wouldn't actually kill anyone because he didn't "want to live with the guilt."
About a week after this initial meeting, Christensen returned to the center to meet with Maupin, and later Miebach. During these meetings, he allegedly "relayed specific and plausible threats of harm to others," including stating that he had purchased items that could be used to transport and dispose of a body.
Zhang, 26, had been studying photosynthesis and crop productivity as a visiting scholar at the U. of I.'s Urbana-Champaign campus for just a few weeks before her disappearance. She was last seen alive on June 9, 2017 getting into Christensen's vehicle on campus after missing a bus to an appointment.
Her remains have never been found, but her family now believes her body could be in a landfill in Danville, Illinois.
Zhang's estate now has until Sept. 3 to file a response to the dismissal motion.
Contact Matt Masterson: @ByMattMasterson | [email protected] | (773) 509-5431
---
Related stories:
Lawsuit: 'Deliberate Indifference' of U of. I. Social Workers Allowed Scholar's Kidnapping
Finding Yingying Zhang's Remains 'May Be Impossible' Family Says After New Details Surface
U. of I. Names Endowment in Honor of Slain Scholar Yingying Zhang
Family Told Dead Chinese Scholar's Body May Be in Landfill
Brendt Christensen Sentenced to Life in Prison for Yingying Zhang Killing
Brendt Christensen Jury Deliberations Begin After Lengthy Closing Arguments
Jurors Likely to Begin Deliberating Brendt Christensen Sentence This Week
'She Was the Hope of Her Family': Sentencing Underway in Yingying Zhang Murder Case
---