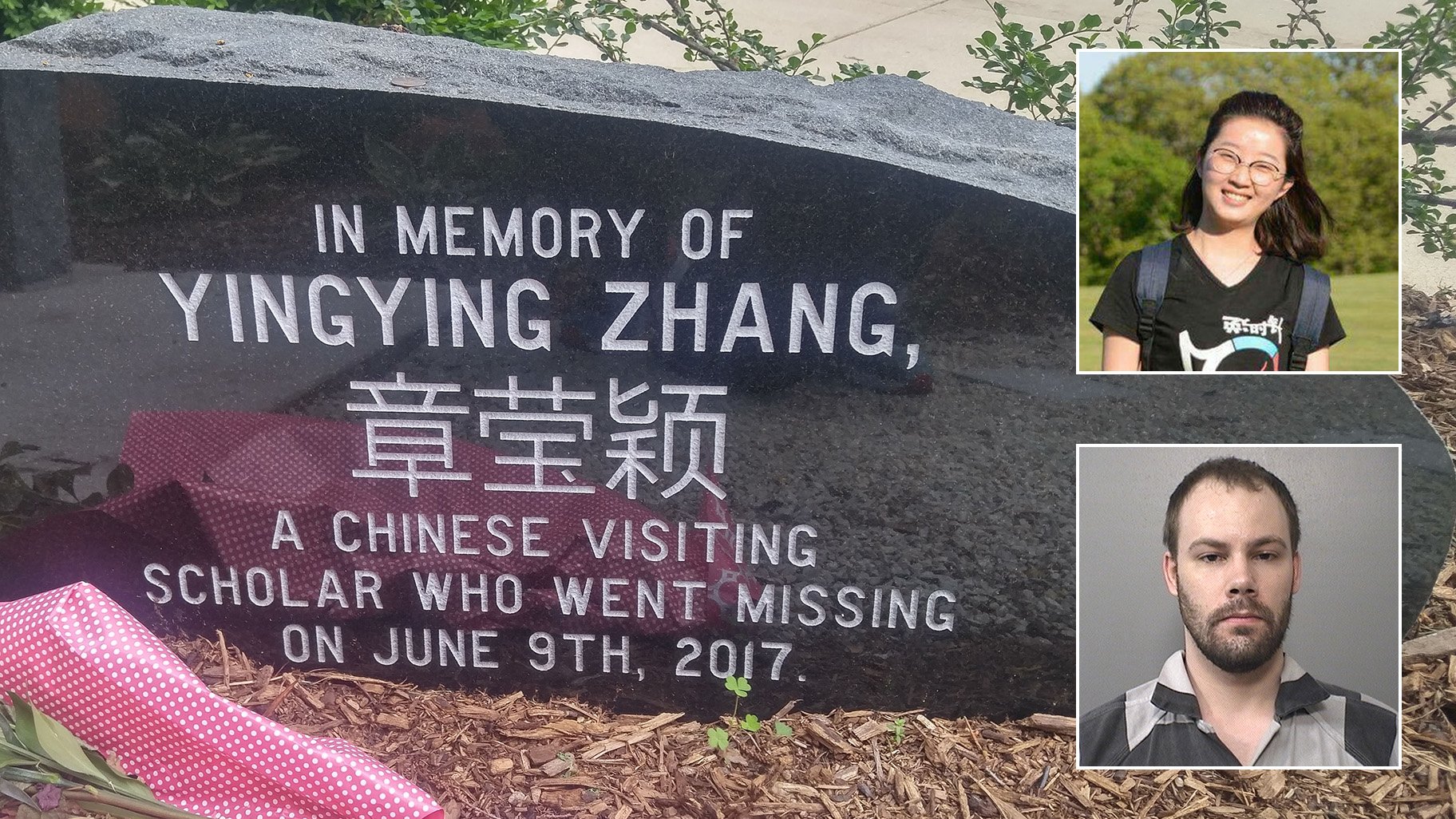 A memorial stone engraved with Yingying Zhang's name in both English and Chinese on the campus of the University of Illinois at Urbana-Champaign in June 2019, two years after her disappearance. (Photo by Mark Van Moer) Inset, top: Yingying Zhang (Courtesy University of Illinois Police Department). Bottom: Brendt Christensen (Courtesy Macon County Sheriff's Department).
A Champaign County judge has thrown out a lawsuit brought on behalf of murdered Chinese scholar Yingying Zhang, which alleged a pair of University of Illinois social workers who interviewed her eventual killer failed to intervene after he expressed homicidal ideations.
Judge Jason Bohm on Wednesday dismissed the lawsuit against Thomas Miebach and Jennifer Maupin, each of whom interviewed Brendt Christensen weeks before he kidnapped Zhang from the U. of I. campus and killed her inside his Champaign apartment in June 2017.
Christensen had expressed a general desire to kill, but because he made no specific threat against Zhang – whom he did not know and who was not even in the U.S. until weeks after the interview – Bohm ruled that Miebach and Maupin could not be held accountable for his actions.
"To be sure Christensen made disturbingly ugly comments to Miebach and Maupin," Bohm wrote in his 13-page ruling. "He was having 'homicidal ideations,' developing an 'obsession with serial killers,' and analytically thinking about 'killing a person and getting away with it.' And given what transpired months after Christensen talked to Miebach and Maupin, his comments are even more disturbing.
"But the Court cannot accept the Estate's invitation to use hindsight as the barometer for measuring whether Christensen made a specific threat."
This is the second legal defeat for Zhang's estate, which filed a similar lawsuit last year in federal court. That case was dismissed in December, with the judge ruling that Miebach and Maupin did not create or heighten a "specific danger" to Zhang.
Zhang, 26, was last seen alive on June 9, 2017 getting into Christensen's black Saturn Astra on the U. of I. campus after she missed a bus to an appointment. Christensen eventually confessed to raping and murdering her in a recorded statement made to his girlfriend, who was working with the FBI, weeks later during a campus memorial walk for Zhang.
Christensen, who earned his master's degree from the U. of I. and was working there as a graduate teacher, went to the university's Counseling Center where Miebach and Maupin worked in March 2017 seeking treatment for his substance abuse issues and the "suicidal and homicidal ideations" he'd been experiencing.
During a videotaped interview, he discussed his depression and marital issues, as well as thoughts of both suicide and homicide. About a week later, Christensen returned to the Counseling Center to meet with Maupin, and later Miebach, who initiated a treatment plan, but then discharged him without implementing any emergency treatment options.
But Bohm ruled that he could not "impose upon mental health professionals a duty to break their patient's confidence" just because what Christensen told them was "revolting."
"Instead there must be a specific threat," he wrote. "Christensen's 'analytical' thinking about murder does not qualify as such."
"What happened to Zhang is unconscionable," the judge continued. "But Miebach and Maupin cannot be said to have caused, or in any legal sense contributed to her death."
Zhang's remains have never been recovered, though Christensen's defense team has intimated they may be in a landfill in Vermilion County along the Illinois-Indiana border. Christensen was convicted last summer in Zhang's murder and sentenced to life in prison without the possibility of parole. He's currently being housed at a high-security federal penitentiary in Florida.
Contact Matt Masterson: @ByMattMasterson | [email protected] | (773) 509-5431
---