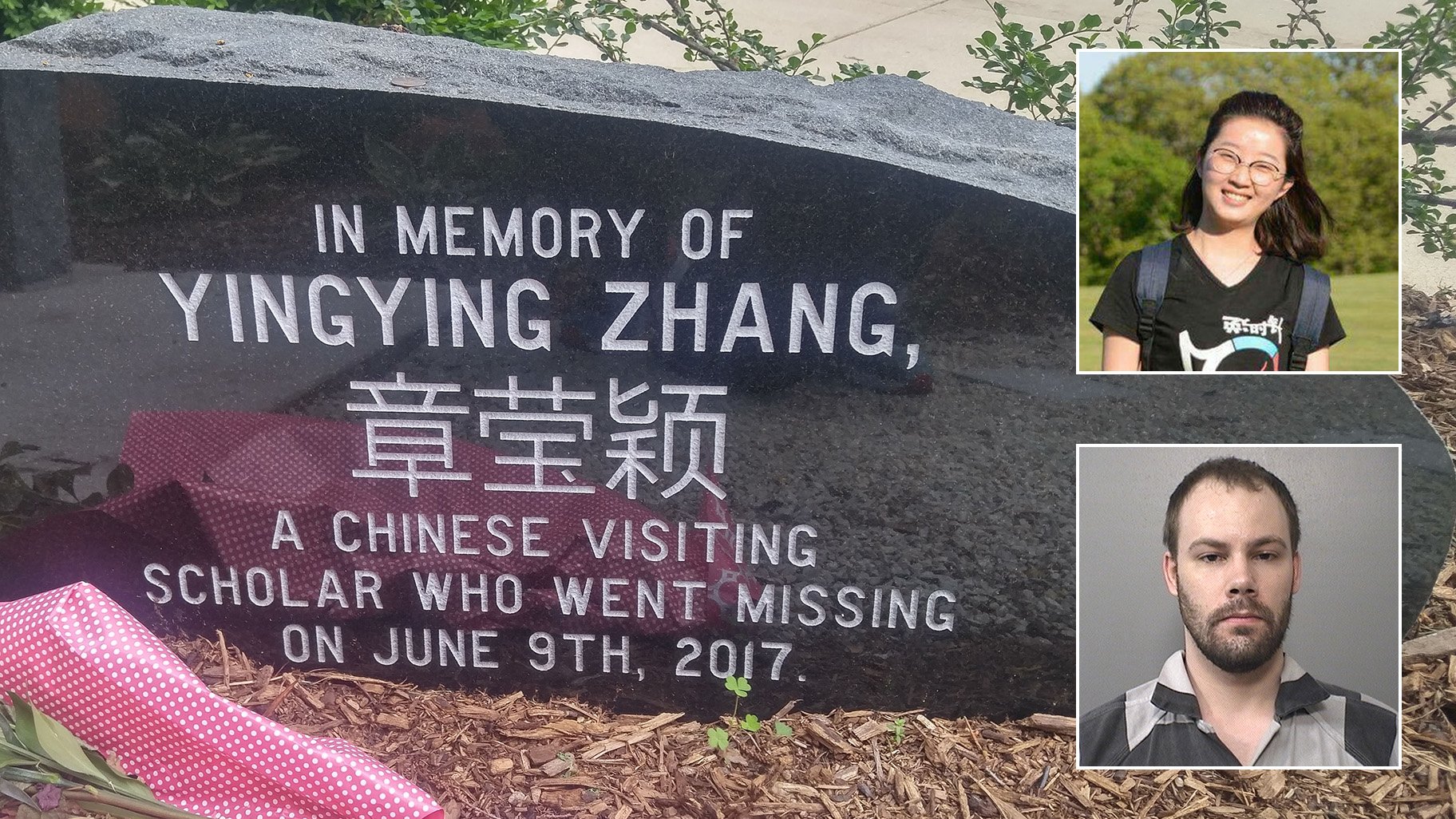 A memorial stone engraved with Yingying Zhang's name in both English and Chinese on the campus of the University of Illinois at Urbana-Champaign in June 2019, two years after her disappearance. (Photo by Mark Van Moer) Inset, top: Yingying Zhang (Courtesy University of Illinois Police Department). Bottom: Brendt Christensen (Courtesy Macon County Sheriff's Department).
A lawsuit filed by the family of murdered Chinese scholar Yingying Zhang against the University of Illinois social workers who interviewed her eventual killer was tossed out this week after a federal judge ruled they did not create or heighten a "specific danger" to Zhang.
The administrator of Zhang's estate filed the suit on her family's behalf against U. of I. Counseling Center social workers Thomas Miebach and Jennifer Maupin, who were accused of acting with "deliberate indifference" toward warning signs shown by Brendt Christensen in the months before he kidnapped and murdered the 26-year-old.
But in a 36-page ruling filed Monday, U.S. District Court Judge Colin Bruce dismissed that suit, stating it was "complete speculation" that Miebach and Maupin's failure to carry out a treatment plan did anything to put Zhang in further danger.
"Defendants did not change a 'safe situation' into a dangerous one," Bruce wrote, "the situation with Christensen was already dangerous and would remain so."
Zhang was last seen alive on June 9, 2017 getting into Christensen's black Saturn Astra on the U. of I. campus after she missed a bus to an appointment. The two had not previously met, but in a recorded statement made to his girlfriend weeks later, Christensen confessed to raping and murdering her.
Christensen, who earned his master's degree from the U. of I. and was working there as a graduate teacher, went to the Counseling Center in March 2017 seeking treatment for his substance abuse issues and the "suicidal and homicidal ideations" he'd been experiencing.
According to the lawsuit, his wife had recently left him, and on an intake assessment, Christensen scored at or near 100% on scales measuring depression, generalized anxiety, family distress, substance abuse and distress index.
During a videotaped interview, he discussed his depression and marital issues, as well as thoughts of both suicide and homicide. About a week later, Christensen returned to the Counseling Center to meet with Maupin, and later Miebach, who initiated a treatment plan, but then discharged him without implementing any "emergency or acute" treatment options, according to the lawsuit.
Bruce ruled that in doing so, the defendants did not create a "specific danger" to Zhang, noting that Christensen's statements were "very unspecific," without a set timeframe or specific threat to any person or group of people.
"Zhang's death was simply too remote a consequence of Defendants' alleged actions to hold them responsible under the federal civil rights law," the judge wrote.
Bruce, who is based in Urbana, was actually the first judge set to hear Christensen's criminal trial after charges were filed in 2017. But he was removed from that case and all other criminal matters before him the following year after being admonished by a judicial panel for communications he had with a U.S. Attorney's Office employee.
The case was transferred to U.S. District Court Judge James Shadid, who presided over Christensen's trial in his Peoria courtroom.
U. of I. spokeswoman Robin Kaler on Tuesday said the university is "gratified" by the dismissal, and hopes this puts an end to the lawsuit.
"We stand by our social workers, their professionalism, and their commitment to the health and safety of our students," Kaler said in an email. "Though we respectfully disagree with the filing of this litigation, we continue to grieve with Ms. Zhang's family and loved ones over her death."
Christensen was convicted in June of kidnapping resulting in death and two counts of making false statements to the FBI.
Because he was charged in federal court, he faced a possible death sentence. But his jury deadlocked during its sentencing deliberations, and Christensen was instead ordered to spend the rest of his natural life in prison.
He is currently serving out that sentence at a high security prison in Kentucky.
Contact Matt Masterson: @ByMattMasterson | [email protected] | (773) 509-5431
---
Related stories:
U. of I. Social Workers Ask Judge to Toss Lawsuit Filed by Yingying Zhang's Estate
Lawsuit: 'Deliberate Indifference' of U of. I. Social Workers Allowed Scholar's Kidnapping
Finding Yingying Zhang's Remains 'May Be Impossible' Family Says After New Details Surface
U. of I. Names Endowment in Honor of Slain Scholar Yingying Zhang
Family Told Dead Chinese Scholar's Body May Be in Landfill
Brendt Christensen Sentenced to Life in Prison for Yingying Zhang Killing
Brendt Christensen Jury Deliberations Begin After Lengthy Closing Arguments
Jurors Likely to Begin Deliberating Brendt Christensen Sentence This Week
---