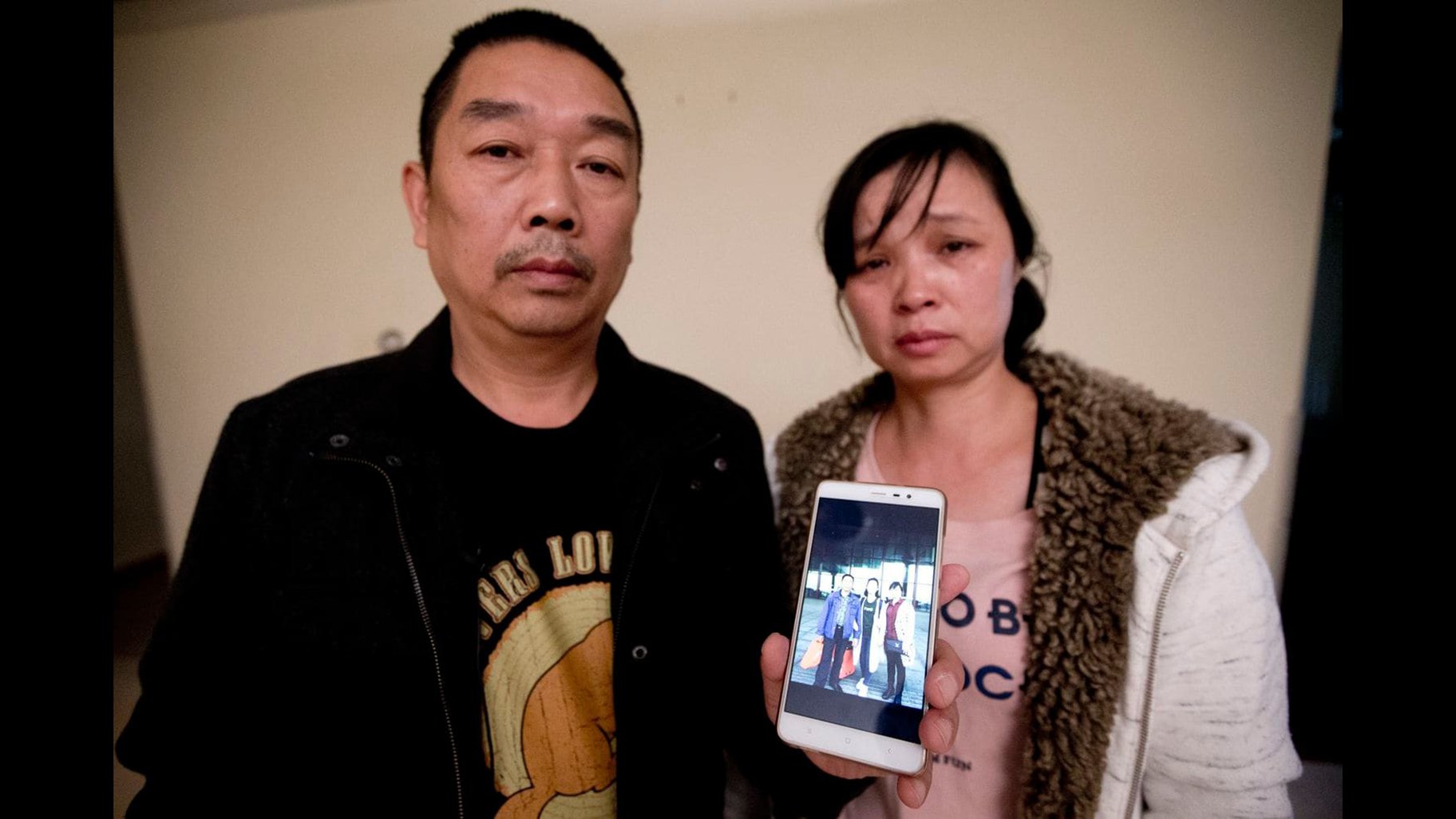 Ronggao Zhang, left, and Lifeng Ye display a photo of them with their missing daughter, Yingying Zhang, in this Nov. 1, 2017 file photo. They have now returned to Illinois as the trial of the man accused in her disappearance is set to begin June 3, 2019. (Michael Conroy File / Associated Press)
It's been nearly two years since 26-year-old Chinese scholar Yingying Zhang was last seen alive, getting into the passenger side of a black Saturn Astra on the University of Illinois at Urbana-Champaign campus. Her body has never been found.
On the eve of the capital trial of her accused kidnapper, Zhang's parents still believe their daughter may have somehow escaped death.
"Every time we talk, they want to believe that she's alive," said Steve Beckett, an Urbana-based attorney representing Zhang's family. "But law enforcement has told them they believe she's not alive."
Jury selection in the trial of Brendt Christensen, the 29-year-old former Ph.D student authorities believe was behind the wheel of that Saturn the day Zhang went missing, is scheduled to begin Monday in federal court in Peoria. 
Christensen is charged with kidnapping resulting in death and federal prosecutors have already signaled their intent to seek the death penalty should he be convicted. He has entered a plea of not guilty.
Zhang's family – father Ronggao Zhang, mother Lifeng Ye and brother Zhengyang Zhang – still reside in China, but made the trip back to Illinois last week. Beckett said they expect to be in court Monday and will be present at each step of the trial.
The family first traveled to Illinois days after Zhang disappeared, spending six months in the Urbana area as the community searched for their daughter and investigators gathered evidence against Christensen.
"(They were) hoping the case would progress and that they would be able to deal with it and either she would be discovered or they would find her remains and they would take them back to China," Beckett said. "And obviously she wasn't discovered and also no remains have been found."
Because of that, it remains unclear what exactly happened to Zhang. Federal prosecutors have alleged she was tortured and killed by Christensen, who they say had an "expressed desire to be known as a killer."
His attorneys, at least early on, claimed Zhang might still be alive and sought to investigate purported sightings of her around the country. But federal prosecutors and investigators have made clear their belief that Zhang was taken against her will to Christensen's apartment and killed in the commission of her kidnapping.
"(Her family's) satisfactory conclusion is Yingying is alive and gets to come back home," Beckett said. "I think that pretty much everybody agrees that's an impossibility."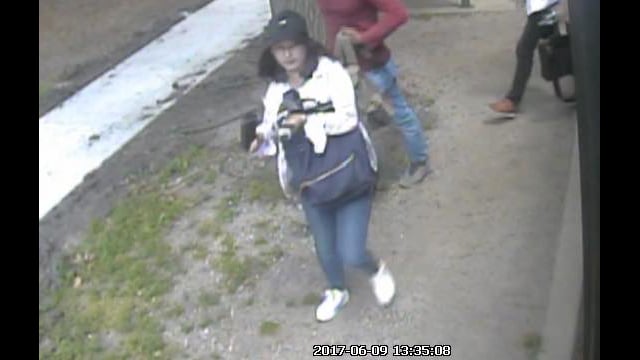 Surveillance footage showed Yingying Zhang standing outside a Champaign-Urbana Mass Transit District bus on the day of her disappearance. (University of Illinois Police Department)
Day of disappearance: Friday, June 9, 2017
Zhang is described as a gifted scholar who studied in China and chose to continue her education at the U. of I. She arrived on campus to study photosynthesis and crop productivity just a month before she went missing.
Below is a timeline of Zhang's disappearance as outlined by Department of Justice Special Agent Anthony Manganaro in the June 2017 criminal complaint filed against Christensen.
8:30 a.m.: Zhang arrives at the university's Turner Hall (1102 S. Goodwin Ave., Urbana) where she conducts her research.
12:30-1 p.m.: She returns to her apartment for lunch.
1:35 p.m.: Zhang is seen boarding a Champaign-Urbana Mass Transit District (MTD) bus at the Orchard Downs South Shelter (intersection of South Orchard Street and West George Huff Drive, Urbana).
1:39 p.m.: Zhang sends a text message to the manager of a different apartment complex in Urbana, where she intended to sign a lease, telling them that she was running behind schedule. She said she would be about 10 minutes late and expected to meet him at 2:10 p.m.
1:52 p.m.: Zhang exits the bus at the intersection of West Springfield and North Mathews avenues.
1:56 p.m.: She is seen on video trying to flag down another MTD bus, which drives past without stopping because Zhang is on the wrong side of the street to board.
1:57 p.m.: Zhang proceeds northbound on North Goodwin Avenue to West Clark Street where there is another bus stop.
---
Watch: Surveillance footage released by the FBI shows Yingying Zhang entering a black Saturn Astra on the day of her disappearance.
---
2 p.m.: A black Saturn Astra, allegedly driven by Christensen, drives past Zhang on North Goodwin before circling the block and returning to her location.
2:03 p.m.: The Astra pulls over near Zhang, who is seen speaking to the driver through the vehicle's passenger window for about one minute.
2:04 p.m.: Zhang enters the front passenger seat of the vehicle, which proceeds northbound on North Goodwin Avenue.
2:38 p.m.: The apartment manager Zhang had expected to meet sends her a text message. He receives no response.
9:24 p.m.: A U. of I. associate professor contacts university police to report Zhang missing. The professor and several of Zhang's colleagues indicate that multiple calls made to her phone went unanswered.
---
Initial investigation
Investigators quickly zeroed in on the vehicle Zhang was seen getting into before she disappeared. University police searched state records and found there were 18 such vehicles registered in Champaign County.
Following up on those leads, investigators located a 2008 black Saturn Astra registered to Christensen at his home in the 2500 block of West Springfield Ave., in Champaign. Beyond a similar make and model, Christensen's vehicle also had a sunroof and a cracked hubcap on the front passenger tire – just as the vehicle that picked up Zhang did.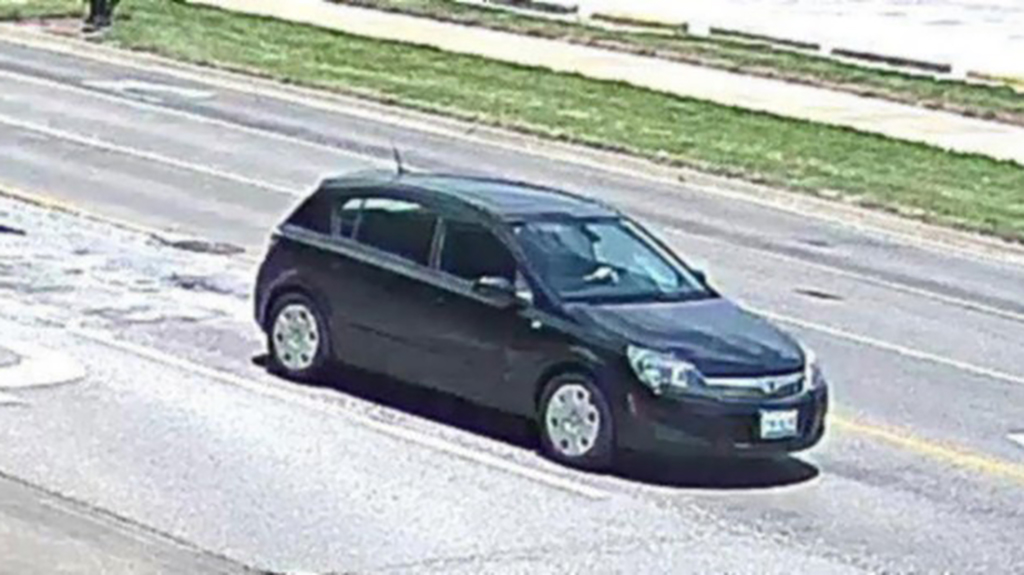 The black Saturn Astra Yingying Zhang was seen entering the day she disappeared. (FBI)
At first, Christensen said he couldn't recall where he was on the afternoon of June 9, but claimed he was likely sleeping or playing video games at home, according to the criminal complaint. On June 15, university police and FBI agents executed a search warrant on Christensen's vehicle and brought him in for questioning.
He agreed to talk, but changed his story, allegedly admitting that he had been driving around the U. of I. campus on June 9. He claimed he picked up an "Asian female" who appeared distressed and agreed to drive her because she was late for an appointment, the complaint states. During the short drive, Christensen said he must have made a wrong turn as the woman started panicking and fled from the car.
A forensic search of Christensen's phone revealed he had visited a web forum titled "Abduction 101" in April 2017, investigators said. That forum included threads discussing "perfect abduction fantasy" and "planning a kidnapping." Prosecutors would later claim Christensen had posed as a police officer and attempted to lure another woman into his car the same day Zhang went missing.
Christensen was released, but investigators immediately placed him under continuous surveillance.
During this time, Christensen allegedly attended a vigil held for Zhang and was overheard discussing what type of person would make his "ideal victim." On June 29, investigators say an audio recording captured Christensen explaining how he kidnapped Zhang and took her back to his apartment against her will. FBI agents arrested him the following day.
---
Death penalty
Christensen was initially charged in federal court in July 2017 with a single count of kidnapping. But in October, a grand jury returned a superseding indictment adding two new charges of making false statements to FBI agents and upping the original charge to kidnapping resulting in death.
That meant the grand jury believed Zhang had been murdered, despite the fact her body had not been found. But it also gave prosecutors the option to seek the death penalty against Christensen – a choice they ultimately pursued in January 2018, citing the "especially heinous, cruel or depraved" manner of Zhang's death, which they claimed involved torture or serious physical abuse.
"The defendant is likely to commit criminal acts of violence in the future that would constitute a continuing and serious threat to the lives and safety of others," then-U.S. Attorney John Childress wrote in a January 2018 notice, "as evidenced by, at least, his demonstrated lack of remorse for his acts of violence; his other serious acts of violence; his expressed desire to be known as a killer; and his claims of additional victims and expertise in avoiding detection."
Investigators allegedly found a bloody handprint inside Christensen's apartment and a cadaver-sniffing dog detected traces of a dead body in the bathroom near the door and sink.
Despite the fact that Illinois abolished the death penalty within its state boundaries in 2011, capital punishment is still federally legal. That means someone convicted of a capital crime in federal court is still eligible for the death penalty even if they were convicted in a state where such punishment is not allowed.
Currently, there are 62 federal death row inmates, all held at the United States Penitentiary in Terre Haute, Indiana. Sixty-one of those prisoners are men, including Ronald Mikos – the lone Illinois death row convict who received his sentence following the 2002 murder of a federal grand jury witness in Chicago.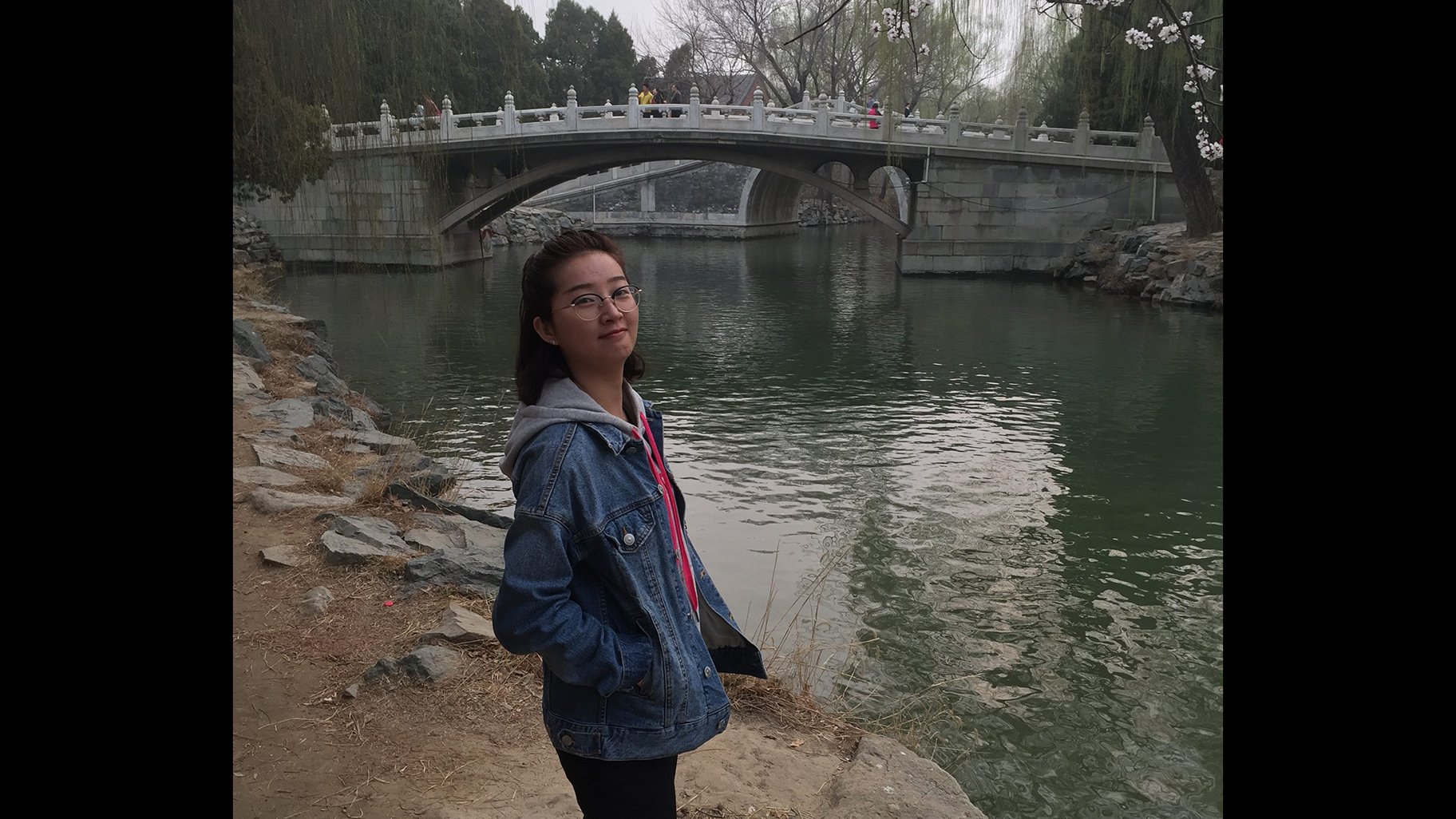 Yingying Zhang (University of Illinois Police Department)
Change of venue
Zhang's disappearance garnered headlines across the U.S. and abroad in her home country of China. Christensen's defense team believed "prejudicial pretrial publicity" surrounding the case would prevent their client from getting a fair trial in the Central District of Illinois, Urbana Division court where the case was initially charged. Because of this, in early 2018 they sought a change of venue to the federal courthouse in Peoria.
Prosecutors argued that request was "premature and insufficient," claiming any decision on venue should be delayed until jury selection got underway in order to truly gauge whether the jury pool in Urbana had been tainted by the notoriety of the case or if they could weigh Christensen's case impartially.
Arguments on that issue dragged on for several months before U.S. District Judge James Shadid in late 2018 ordered the case be moved to Peoria, not because of the publicity of the case, but rather because the Peoria courthouse is better equipped to handle what is expected to be a highly publicized trial.
"If the Court were to consider pretrial publicity, it would likely only add further support for transferring this matter to the Peoria Division," Shadid wrote in his December 2018 order. "However, even if the Court were to find a complete absence of prejudicial pretrial publicity – an unlikely finding given the significant public interest in this case – the Court's balancing ... would still weigh in favor of transfer to the Peoria Division."
Peoria's federal courthouse has more courtrooms than Urbana's – four compared to three – and more than 1,000 additional parking spaces to accommodate prospective jurors, according to Shadid.
Zhang's family wanted the trial to take place in Urbana, but Beckett said they have housing set up for them in Peoria and a video feed of the proceedings will be available for them in Urbana if they don't want to attend each day of jury selection.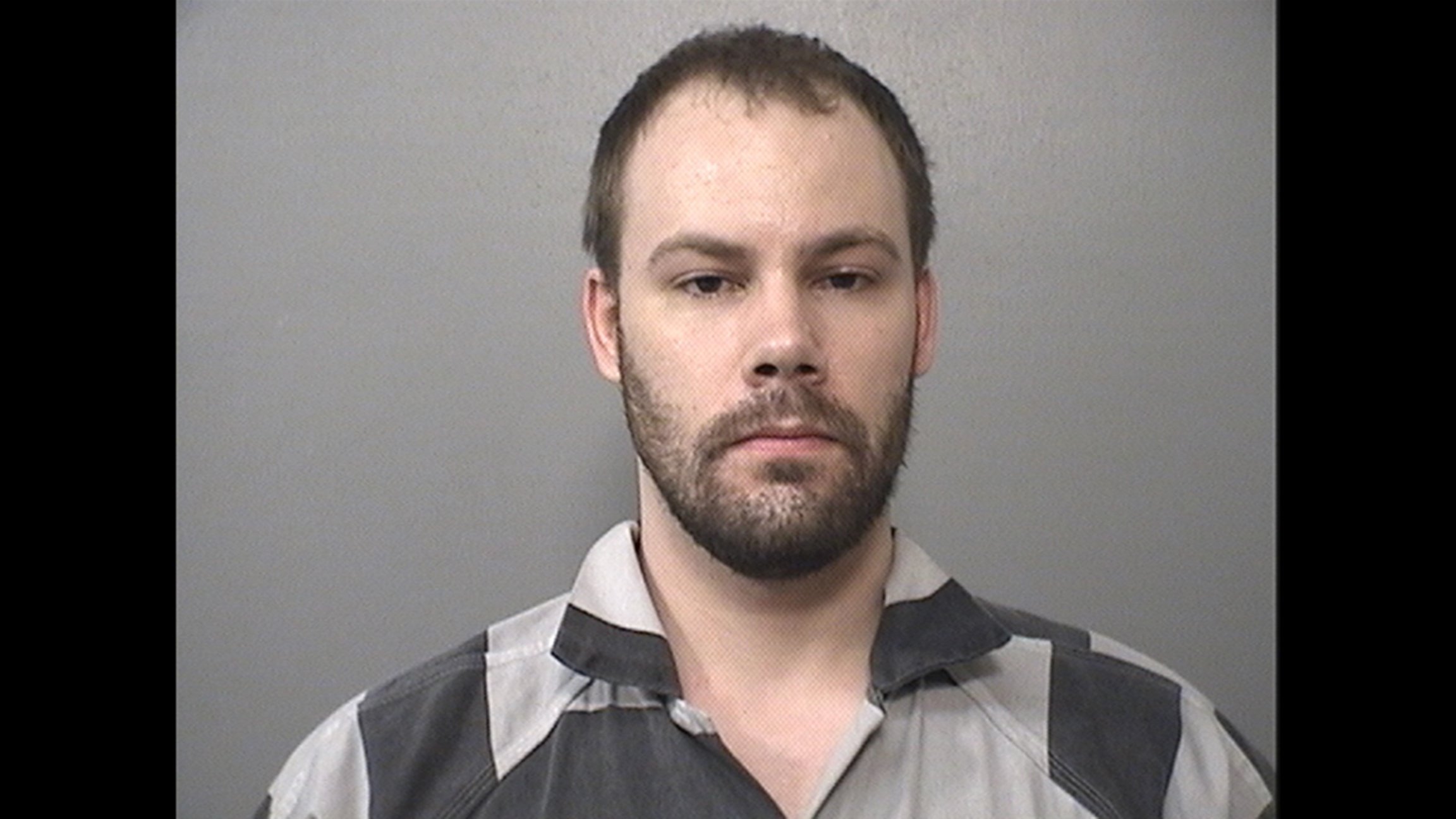 Brendt Christensen (Macon County Sheriff's Department)
Defense strategy
More than two months before he allegedly kidnapped and killed Zhang, Christensen walked into a U. of I. counseling center in March 2017, saying he had recurring thoughts of committing murder and "ruminating about how one might go about killing a person and 'get away with it,'" according to a defense filing unsealed earlier this year. He said he even bought items as part of plans to kill someone and dispose of a body but later returned them.
Defense attorneys had wanted Judge Shadid to allow clinical psychologist Susan Zoline to tell jurors that "the treatment of Mr. Christensen ... did not comply with the applicable standards of care."
But barely a month before trial, they abruptly changed course, withdrawing their expert's evidence and abandoning the mental health defense.
Christensen's legal team indicated last December that if their client was found guilty, they planned to present mental health evidence during sentencing to prove their client suffers from a mental illness and should avoid the death penalty. But Christensen refused to speak with the prosecution's mental health experts – meaning he won't be allowed to present any of his own witnesses to testify about his mental health.
His attorneys this week also submitted a 66-item exhibit list showing the evidence they plan to present at trial, including Christensen's photos and home movies, his financial records, medical records, inmate files and various communications between himself and family.
In addition, they submitted a proposed jury instruction for the possible sentencing phase telling them they can choose not to impose a death sentence "because of mercy or for any other mitigating factor."
Regardless of whether "mercy" is considered for the man they believe killed their daughter, Zhang's family has made clear they're focused solely on getting justice for Yingying.
"I think their goal here is to be present on her behalf, to follow the case closely – because they miss their daughter, miss her every day – and I think they would like to have a feeling that justice would be done," Beckett said. "And to them, that would mean that he is found guilty and he receive the death penalty."
The Associated Press contributed to this report.
---
Related stories:
Mental Health Defense Dropped in Chinese Scholar Case
Defense: Accused in China Scholar's Death Denied Proper Care
Judge Sets June 3 Trial in Missing Chinese Scholar Case
Bloody Handprint Among Evidence in Chinese Scholar's Case
Lawyer Argues Scholar Kidnapping Case Belongs in State Court
Change of Venue Granted in Case of Missing U. of I. Student
---