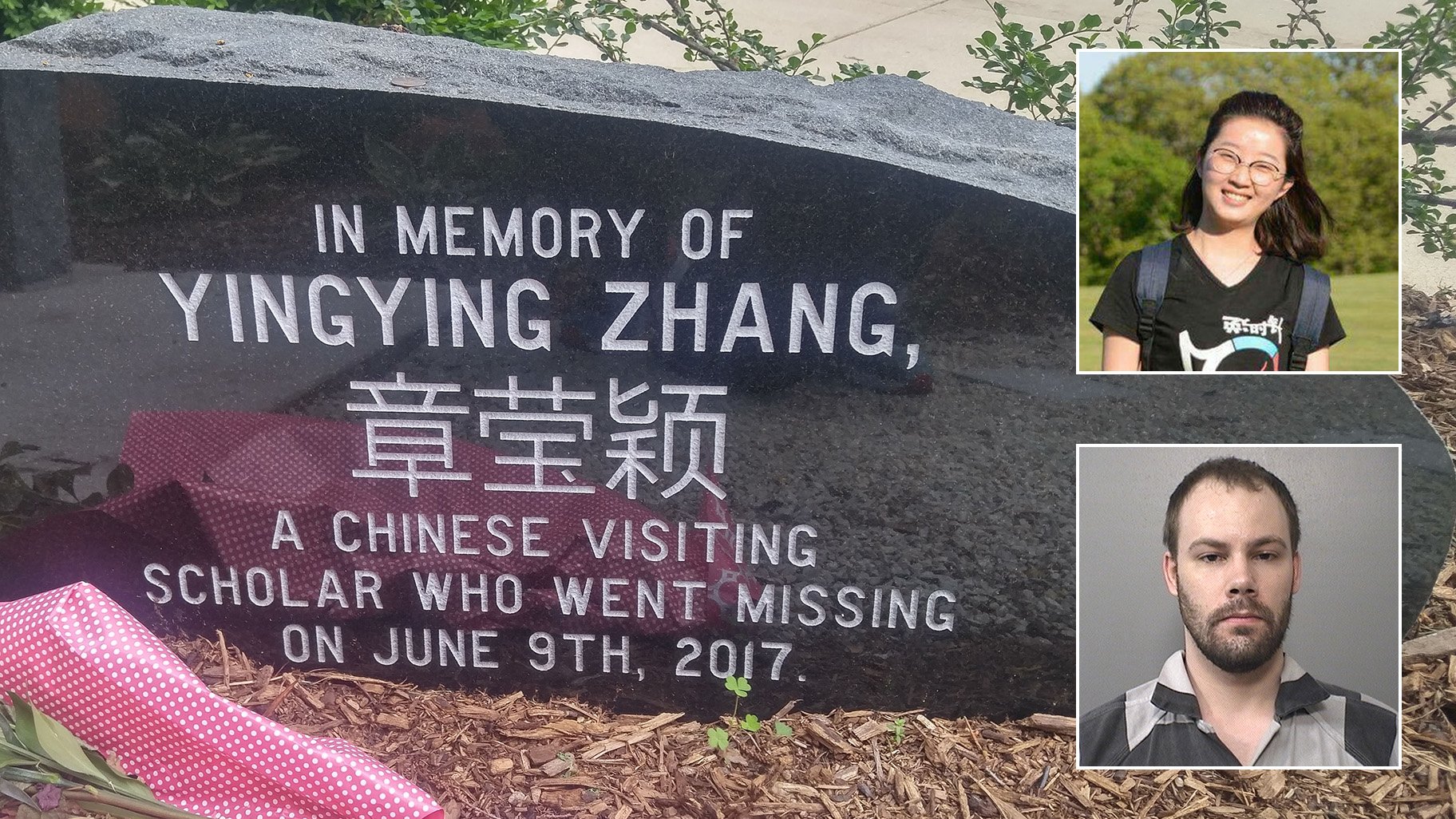 A memorial stone engraved with Yingying Zhang's name in both English and Chinese on the campus of the University of Illinois at Urbana-Champaign in June 2019, two years after her disappearance. (Photo by Mark Van Moer) Inset, top: Yingying Zhang (Courtesy University of Illinois Police Department). Bottom: Brendt Christensen (Courtesy Macon County Sheriff's Department).
The former Ph.D. candidate convicted this year of kidnapping and killing University of Illinois Chinese scholar Yingying Zhang has been placed into a high-security federal prison in Kentucky where he will begin serving his life sentence.
Brendt Christensen, 30, this week has been sent to the McCreary United States Penitentiary in southern Kentucky, according to publicly available records. For the past several weeks, he had been held at a federal transfer center in Oklahoma City as he awaited an assignment to a permanent prison facility.
In June, Christensen was convicted of kidnapping resulting in death following a weeks-long federal trial in Peoria. Though he faced a possible death sentence, the jury determining his fate deadlocked after more than a day of deliberations, which instead resulted in a mandatory life sentence without the possibility of release.
Zhang was last seen alive on June 9, 2017 getting into Christensen's black Saturn Astra on the University of Illinois campus after she missed a bus to an appointment. The two did not previously know each other.
Christensen later told his girlfriend he took Zhang back to his Champaign apartment, where he raped, beat and ultimately decapitated her. The girlfriend surreptitiously recorded that conversation for the FBI and testified against Christensen at trial.
Despite his admission, Zhang's body has never been found. It was later revealed Christensen told federal prosecutors under an immunity agreement that after killing Zhang, he disposed of her body in three separate garbage bags. Her body is now believed to be in a Danville, Illinois garbage dump, but recovery of those remains may be impossible.
The McCreary penitentiary houses nearly 1,500 male prisoners total inside the high-security facility and a minimum security satellite camp located on site. It's also home to several other high-profile prisoners including Thomas Pitera, an ex-hitman for the Bonanno crime family in New York; John DeRoss, a former underboss in the Colombo crime family; and Ricky Mungia, a white supremacist convicted following a shooting spree in Lubbock, Texas, that killed one and injured two others.
All three men, like Christensen, are currently serving life sentences.
Contact Matt Masterson: @ByMattMasterson | [email protected] | (773) 509-5431
---
Related stories:
Finding Yingying Zhang's Remains 'May Be Impossible' Family Says After New Details Surface
U. of I. Names Endowment in Honor of Slain Scholar Yingying Zhang
Family Told Dead Chinese Scholar's Body May Be in Landfill
Brendt Christensen Sentenced to Life in Prison for Yingying Zhang Killing
Brendt Christensen Jury Deliberations Begin After Lengthy Closing Arguments
Jurors Likely to Begin Deliberating Brendt Christensen Sentence This Week
'She Was the Hope of Her Family': Sentencing Underway in Yingying Zhang Murder Case
---