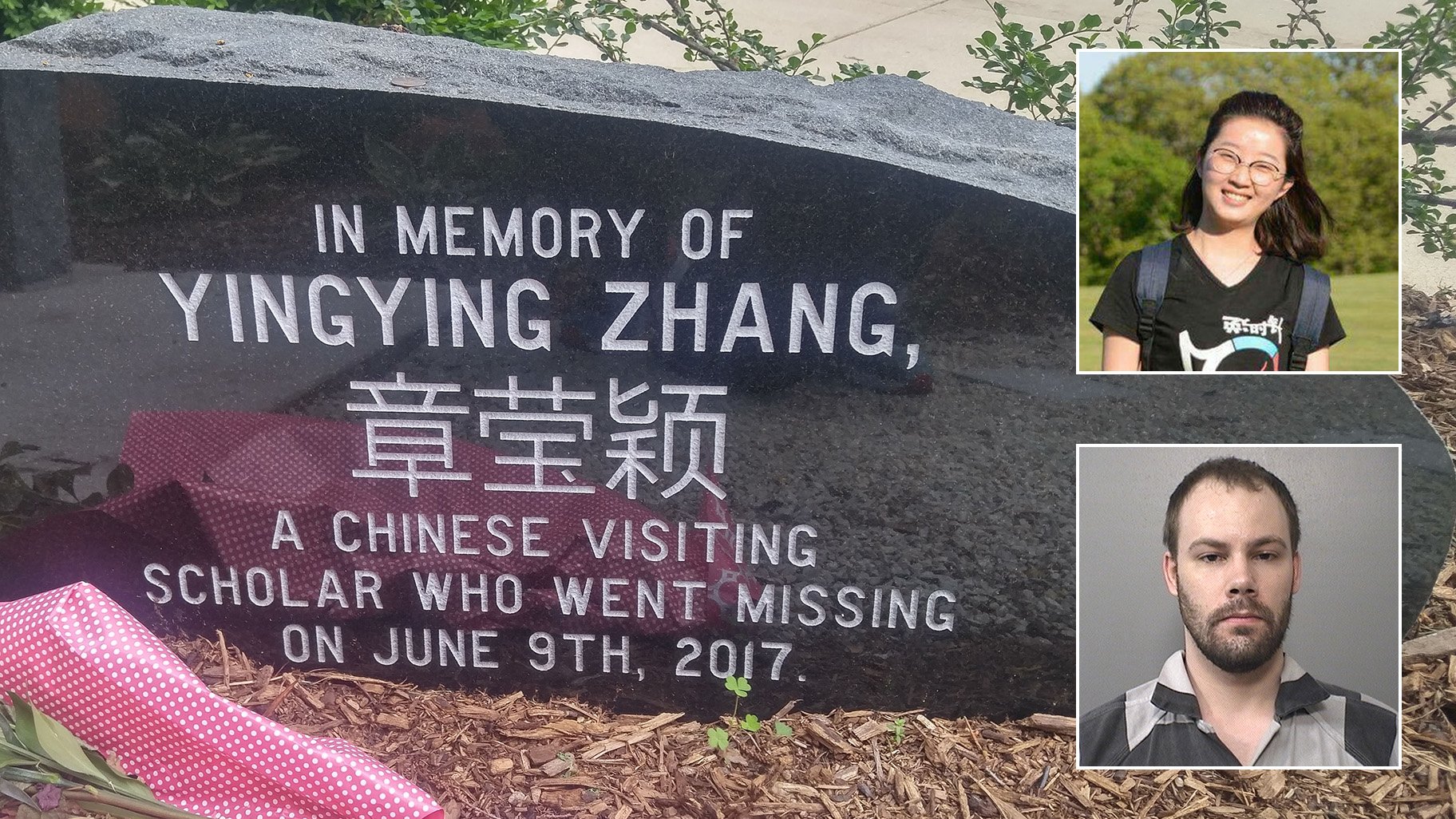 A memorial stone engraved with Yingying Zhang's name in both English and Chinese on the campus of the University of Illinois at Urbana-Champaign in June 2019, two years after her disappearance. (Photo by Mark Van Moer) Inset, top: Yingying Zhang (Courtesy University of Illinois Police Department). Bottom: Brendt Christensen (Courtesy Macon County Sheriff's Department).
"It was me."
"She was #13."
"She is gone."
"Forever."
Brendt Christensen allegedly typed those four messages on his then-girlfriend's phone in June 2017, nearly three weeks after Yingying Zhang was last seen alive, informing her that he was the one responsible for the disappearance and death of the Chinese scholar.
During day two of her testimony in her ex-boyfriend's capital trial, Terra Bullis described her fear in wearing a wire for the FBI and how "disgusted" she felt as Christensen detailed what he had done to Zhang.
Bullis, who was cooperating with FBI investigators and recording her conversations with Christensen in the weeks after Zhang's disappearance, explained how she kept her emotions in check and continuously sought to keep Christensen talking before his eventual confession.
"I was terrified," she testified in Peoria's federal court, later adding that her heart was racing so fast it can actually be heard on the recordings. "I was walking a pretty fine line with someone suspected of doing something, or under investigation at least."
Zhang, a visiting scholar at the University of Illinois, was last seen alive on June 9, 2017 getting into Christensen's black Saturn Astra on campus after she missed a bus to an appointment. The two did not previously know each other and her remains have never been found.
Prosecutors alleged Christensen took Zhang back to his Champaign apartment, where he raped, beat and decapitated her, according to a statement Christensen made to Bullis. He is charged with kidnapping resulting in death and faces a possible death sentence if convicted.
Christensen's defense team has already admitted he did kill Zhang. But they claim it didn't occur the way prosecutors say it did.
'I really do live a double life'
Bullis began testifying Wednesday afternoon, detailing the dynamics of her bondage, dominance, sadism and masochism, or BDSM, relationship with Christensen and explaining how and why she came to wear a wire for the FBI.
Following a "whimsical" start to their relationship, Bullis testified that Christensen increasingly abused alcohol and spoke with her about his belief that he could murder someone and not get caught.
After she started taping their conversations, Christensen spoke about the FBI's interest in him for Zhang's disappearance. He understood that he was a prime suspect and believed he was being followed, but stressed that he was only cooperating to clear his name and help find "that missing girl."
That changed on June 29, almost three weeks after Zhang was last seen, when Christensen told Bullis how he had kidnapped and killed Zhang. At the time, the couple was attending a memorial vigil for the missing scholar.
Read: Brendt Christensen Seemed 'Excited' and 'Amused' by FBI's Interest, Former Girlfriend Testifies
Christensen had already implied that he had something to tell Bullis about the case, but said he was withholding information from her to protect her and himself from further scrutiny.
On the night of Zhang's vigil, Bullis testified Christensen took her phone to write and promptly delete the four messages explaining his involvement in Zhang's death. Later on, he pointed out a woman in the crowd who he said would make a good victim and then began discussing how he had killed Zhang.
"I really do live a double life," he told Bullis on the recording, explaining that he had killed 12 people before Zhang, but none had ever been traced back to him. An FBI agent previously testified his agency is investigating that claim, but currently has no evidence linking Christensen to any other murders.
Christensen bragged that investigators will never find Zhang's body and that he "will never tell" what he did with her remains, adding, "I am apparently very good at this."
"I can do this within hours," he told Bullis on a recording about how quickly he can dispose of a body. "It's a weird thing to be really good at but it's true."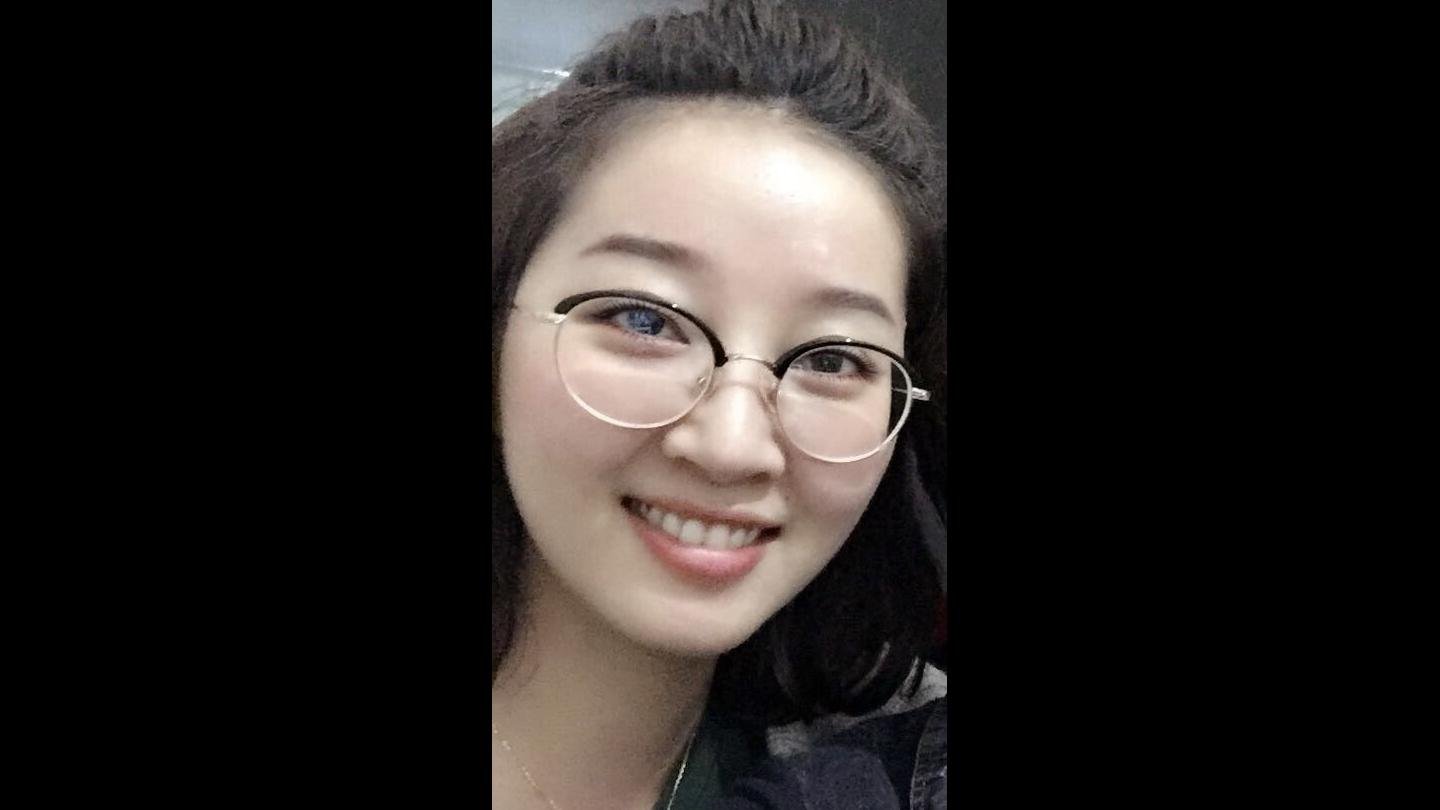 Yingying Zhang (University of Illinois Police Department)
He seemed "excited" as he talked about killing Zhang, Bullis said, even laughing when he said he had cut off her head. She kept the conversation going, eventually asking if she was in any danger, but Christensen told her she was safe.
That is, until Bullis said, "Unless I'm a complete idiot and say something to someone, then I'm not safe."
"That's true," Christensen replied.
The defense has claimed Christensen was embellishing what happened because he was drunk, and accused Bullis of trying to take advantage of him because she knew he'd been drinking. The pair had been sharing a bottle filled with rum and water during the vigil.
But Bullis testified repeatedly that Christensen did not appear drunk nor did he ever contact her in the subsequent days to claim he'd been lying about his admission.
Prosecutors wrapped up their direct examination of Bullis on Thursday afternoon. They are expected to formally rest their case Friday morning.
Contact Matt Masterson: @ByMattMasterson | (773) 509-5431 | [email protected]
---
Related stories:
Brendt Christensen Seemed 'Excited' and 'Amused' by FBI's Interest, Former Girlfriend Testifies
Brendt Christensen Researched Rape Fantasies Before Kidnapping Scholar
Defense Attorney: 'Brendt Christensen Killed Yingying Zhang'
Lawsuit: 'Deliberate Indifference' of U of. I. Social Workers Allowed Scholar's Kidnapping
Brendt Christensen Defense Team Wants Mental Health Records of Key Witness
Death Penalty, Religious Questions Highlight Day 1 of Brendt Christensen Trial
Attorney: Family of Missing U. of I. Scholar Wants to Believe She's Alive
Mental Health Defense Dropped in Chinese Scholar Case
Defense: Accused in China Scholar's Death Denied Proper Care
---