An already surprising trial took another unusual turn this week in Peoria when a federal juror tasked with deciding Brendt Christensen's fate stood up and walked out of court Tuesday in the middle of video testimony.
Federal defense attorneys representing Christensen – who last month was convicted in the 2017 kidnapping and killing of 26-year-old Chinese scholar Yingying Zhang – on Wednesday claimed that "unprecedented" action was grounds for a mistrial.
"No defense counsel or member of the Federal Death Penalty Resource Counsel Project – involved in virtually every federal capital case tried under the modern federal death penalty – has ever heard of a juror running from the courtroom in tears during the sentencing hearing in a federal capital trial," assistant federal defenders Elisabeth Pollock and George Taseff wrote in their 13-page motion.
Multiple jurors were crying in court Tuesday, the second day of sentencing, while listening to prerecorded testimony from Zhang's mother speaking about how the loss of her daughter has affected her. While she tearfully lamented that Zhang would never get to wear a wedding dress or start her own family, a female juror – identified in the motion only as juror number 100384905 – suddenly stood and walked out of the courtroom.
After collecting herself, she was taken into the chambers of U.S. District Court Judge James Shadid, who said she gave "satisfactory answers" to his questions; she was allowed to remain on the jury.
The defense attorneys said Christensen "in no way blames the juror" for her response to the emotional testimony, but claimed her actions surely prejudiced the rest of the jury.
"Upon further reflection Mr. Christensen sees no way in which juror number 100384905 can remain on the jury," the motion states. "Despite juror number 100384905's good faith attempts to be fair."
Shadid denied that motion Wednesday morning, but it marks just one more peculiarity in the landmark case.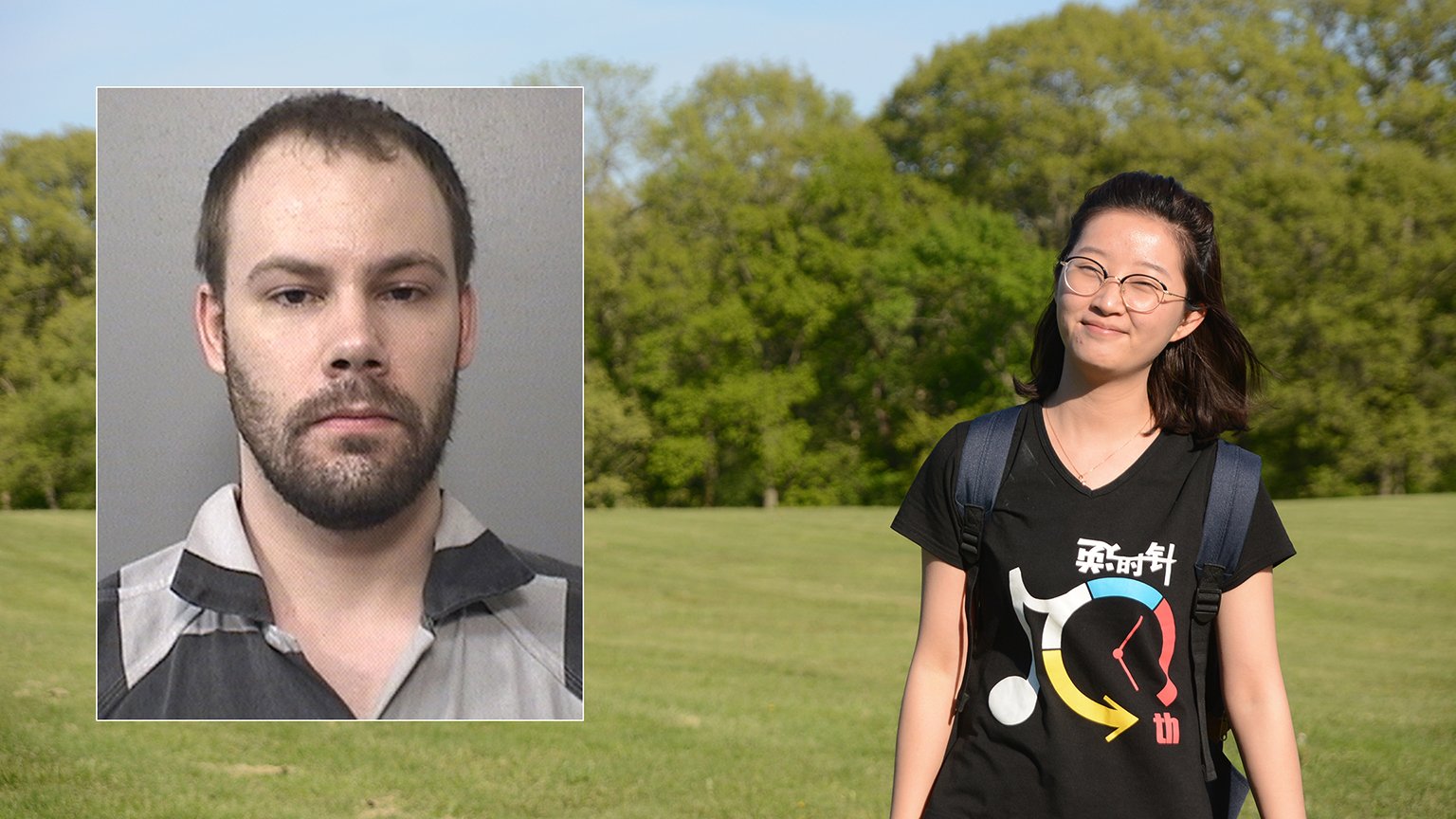 Yingying Zhang disappeared on June 9, 2017. (University of Illinois Police Department). Inset: Brendt Christensen (Macon County Sheriff's Department)
For one, Zhang's remains have never been found, and there's been little mention in open court of what Christensen may have done with her body. The case is also on its second judge and second venue in as many years. And Christensen faces a possible death sentence – a punishment Illinois has abolished and has only been carried out in federal court against two other Illinois residents.
Then came a bombshell admission in opening statements when Taseff told jurors in no uncertain terms that Christensen had indeed killed Zhang after picking her up on the University of Illinois campus and taking her against her will to his Champaign apartment.
Pollock requested a separate mistrial earlier on Tuesday after Zhang's fiancé Xiaolin Hou called Christensen a "criminal" and claimed what he'd done to Zhang was "too painful for a young girl." She argued this violated Christensen's Payne rights – victim impact witnesses may only testify about how the crime impacted them, not about the crime itself, the defendant or any potential punishment.
Shadid agreed to strike that testimony, but refused to declare a mistrial.
Sentencing testimony continued Wednesday after the government formally rested its case. The defense called Christensen's father and uncle as their first witnesses, and are expected to continue calling mitigation witnesses into next week.
Contact Matt Masterson: @ByMattMasterson | (773) 509-5431 | [email protected]
---
Related stories:
Christensen Breaks Down During Emotional Testimony from Yingying Zhang's Family
'She Was the Hope of Her Family': Sentencing Underway in Yingying Zhang Murder Case
Brendt Christensen Defense Team Wants Evidence Tossed or Sentencing Delayed
Brendt Christensen Offered to Reveal Location of Yingying Zhang's Body
Brendt Christensen Found Guilty in Kidnapping, Death of Yingying Zhang
Christensen Drove Car 200 Miles in Days Surrounding Zhang's Disappearance
'She is Gone': Christensen Bragged About Zhang's Death, Former Girlfriend Says
Brendt Christensen Seemed 'Excited' and 'Amused' by FBI's Interest, Former Girlfriend Testifies
Brendt Christensen Researched Rape Fantasies Before Kidnapping Scholar
Defense Attorney: 'Brendt Christensen Killed Yingying Zhang'
---