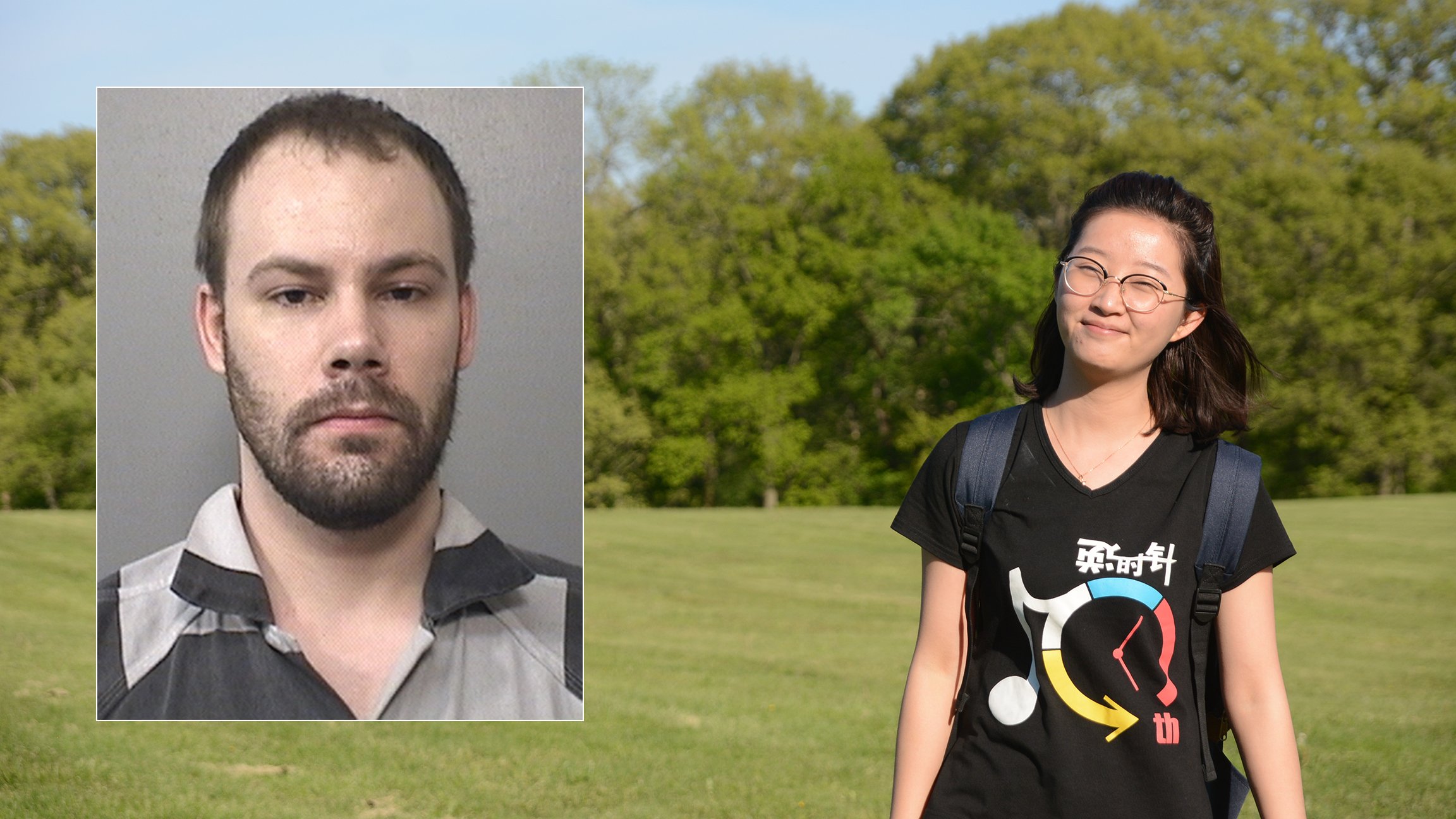 Yingying Zhang disappeared on June 9, 2017. (University of Illinois Police Department). Inset: Brendt Christensen (Macon County Sheriff's Department)
Citing convenience and spacing issues, a federal judge overseeing the case of a Champaign man facing the death penalty in the disappearance and death of a University of Illinois scholar has approved a change of trial venue.
U.S. District Court Judge James Shadid this week granted an intradistrict change of venue request for Brendt Christensen, moving his upcoming trial about 90 miles from Urbana to Peoria.
Christensen is charged with the kidnapping and death of 26-year-old Yingying Zhang, who disappeared from the U. of I. campus over the summer last year. His attorneys cited extensive media coverage of the case as reason enough to move the trial elsewhere.
But Shadid instead focused on accommodation issues, and in a 13-page ruling issued Thursday outlined other reasons for the move.
"However, considerations of docket management, courthouse space, and prompt administration of justice persuade the Court that, 'all relevant things considered, the case would be better off transferred' to the Peoria Division," Shadid wrote, adding that he did not consider the publicity issues in making his ruling.
"If the Court were to consider pretrial publicity, it would likely only add further support for transferring this matter to the Peoria Division. However, even if the Court were to find a complete absence of prejudicial pretrial publicity – an unlikely finding given the significant public interest in this case – the Court's balancing of the Rule 18 factors would still weigh in favor of transfer to the Peoria Division."
While the case is moving, it will remain in Illinois' Central District court just as it would have if the trial had remained in Urbana. Peoria's federal courthouse has more courtrooms than Urbana's – four compared to three – and more than 1,000 additional parking spaces to accommodate prospective jurors, according to Shadid.
Christensen faces charges of kidnapping resulting in death and lying to FBI investigators. His attorneys had repeatedly sought a change of venue over the past year, citing a "journalistic tsunami" of media coverage they believe would prejudice potential jurors in the high-profile case.
Surveillance footage showed Zhang entering a car allegedly driven by Christensen on June 9, 2017. She has not been seen since and her body has not been recovered. Prosecutors have alleged Christensen tortured and killed Zhang, saying he had previously attacked another woman and has an "expressed desire" to be known as a killer.
Zhang's family had reportedly called for the case to remain in Urbana.
The trial is scheduled to begin next April and attorneys believe it will last more than five weeks.
Contact Matt Masterson: @ByMattMasterson | [email protected] | (773) 509-5431
---
Related stories:
Defense Seeks Dismissal, New Venue in Case of Missing U. of I. Student
Attorneys for Brendt Christensen Seek Judge's Recusal, 2019 Trial Start
Defense Seeking Trial Delay in Case of Missing U. of I. Student