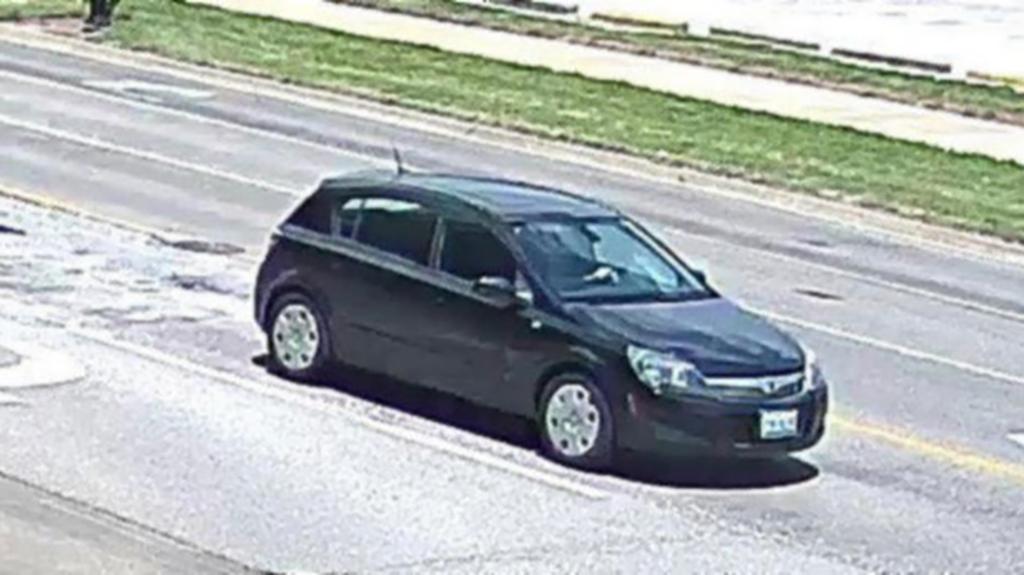 The black Saturn Astra that Yingying Zhang was seen entering the day she disappeared. (FBI)
In the days surrounding the disappearance of Chinese scholar Yingying Zhang in June 2017, Brendt Christensen's car, a black Saturn Astra, logged some 200 miles.
Prosecutors say it's the same car FBI surveillance footage shows Zhang entering on Friday, June 9, 2017 – the last day she was seen alive.
It's a detail that may shed light on what happened to Zhang's body after she was allegedly kidnapped by Christensen. Prosecutors allege the former University of Illinois Ph.D. candidate took Zhang back to his Champaign apartment, where he raped, beat and decapitated her, according to a statement Christensen made to his then-girlfriend, who testified this week.
Read: 'She is Gone': Christensen Bragged About Zhang's Death, Former Girlfriend Says
After the prosecution rested its case Friday, Christensen's ex-wife Michelle Zortman took the witness stand for the defense. She outlined for jurors her open relationship with the defendant, his struggles with alcohol abuse and the marital issues that led to their eventual divorce.
Zortman was visiting the Wisconsin Dells with her boyfriend the weekend Christensen allegedly kidnapped and killed Zhang, a 26-year-old visiting scholar at the U. of I. On cross-examination she said she put a full tank of gas in the black Saturn Astra she shared with Christensen on the Wednesday before she left. When she returned the following Monday, she noticed the tank was only half full, meaning it had been driven some 200 miles while she was away.
Video: Surveillance footage released by the FBI shows Yingying Zhang entering a black Saturn Astra on the day of her disappearance.
---
Zortman, who appeared nervous but resigned, testified that Christensen was the only one besides her with access to the vehicle. Zhang was last seen entering the Astra after she missed a bus to an appointment. Her remains have never been found and Christensen has said previously that he would never tell what he did with her body.
He faces a possible death sentence if convicted.
'Our marriage had hit a dead end'
Zortman detailed for jurors her long-standing relationship with Christensen, saying they first met in high school before they began dating in 2008. They eventually moved to Madison together where Christensen attended the University of Wisconsin. It was also there where he began abusing alcohol extensively during his summer and winter breaks, Zortman said.
Despite her concerns about his alcohol use, the two married in 2011 and moved two years later to Champaign, where Christensen began his postgraduate studies at the U. of. I.
Zortman said the couple had almost no social life outside of each other and spent each night together playing video games and watching movies. That changed one night in December 2016, when Christensen got drunk and made comments to his wife that scared her to the point where she began considering a divorce.
"I felt like our marriage had hit a dead end with his drinking and substance abuse," Zortman testified.
It's unclear what exactly Christensen said to his wife that night, but he would later say on an FBI recording that he opened up to her about his fascination with serial killers and it almost led to a divorce.
Zortman moved closer to that option when she was propositioned by a co-worker to enter into an open marriage and begin dating other people. Christensen was initially reluctant, but ended up agreeing to the arrangement and eventually began dating another woman, Terra Bullis, in 2017.
The couple continued living together, but Zortman said she started to become more leery of her husband after he was initially brought in for questioning by the FBI about Zhang's disappearance.
She no longer slept in the same bed as Christensen and kept objects by her bedroom door that would wake her up if he tried to enter the room at night.
After he was arrested, Zortman said she eventually learned Christensen had indeed killed Zhang.
"I know he's responsible for her death," she testified.
Still, Zortman has kept in contact with Christensen, whom she has since divorced, during his incarceration. Why?
"He was the biggest person in my life for almost a decade," she testified. "It's very difficult to cut ties like that."
'I've always been interested in the bad guys'
Christensen's defense team rested its case Friday afternoon after calling four witnesses. That did not include Christensen, who told U.S. District Court Judge James Shadid he'd made the decision not to testify.
But jurors did hear more from Christensen in his own words. A video of his interview with a University of Illinois Counseling Center intern in March 2017, about three months before Zhang's kidnapping, was played in court during defense arguments.
Christensen told the intern he had been struggling with alcohol and substance abuse that had affected his marriage. He eventually began talking about his own homicidal and suicidal thoughts that had continued growing in recent weeks and months.
He always explained his mounting fascination with serial killers after finding an online forum about them.
"I've always been interested in the bad guys," Christensen told the intern.
She probes him specifically about his homicidal thoughts, asking if had ever taken any steps towards harming someone.
"I was pretty far along," he replied, saying he had bought "a few things" that could be used in a murder.
But Christensen claimed he backed off that notion, realizing those thoughts were coming from his alcohol abuse.
"I don't think I'm a psychopath or a sociopath," he said, adding that he wouldn't kill because "I don't want to live with the guilt."
The intern suggests a "moderation plan" to try and get him away from alcohol. She also goes to her computer and sends a message to a colleague asking for a further consultation, but no one ever arrives on the video.
With testimony concluded, closing arguments are set for 9:30 a.m. Monday morning.
Contact Matt Masterson: @ByMattMasterson | (773) 509-5431 | [email protected]
---
Related stories:
'She is Gone': Christensen Bragged About Zhang's Death, Former Girlfriend Says
Brendt Christensen Seemed 'Excited' and 'Amused' by FBI's Interest, Former Girlfriend Testifies
Brendt Christensen Researched Rape Fantasies Before Kidnapping Scholar
Defense Attorney: 'Brendt Christensen Killed Yingying Zhang'
Lawsuit: 'Deliberate Indifference' of U of. I. Social Workers Allowed Scholar's Kidnapping
Brendt Christensen Defense Team Wants Mental Health Records of Key Witness
Death Penalty, Religious Questions Highlight Day 1 of Brendt Christensen Trial
Attorney: Family of Missing U. of I. Scholar Wants to Believe She's Alive
Mental Health Defense Dropped in Chinese Scholar Case
---