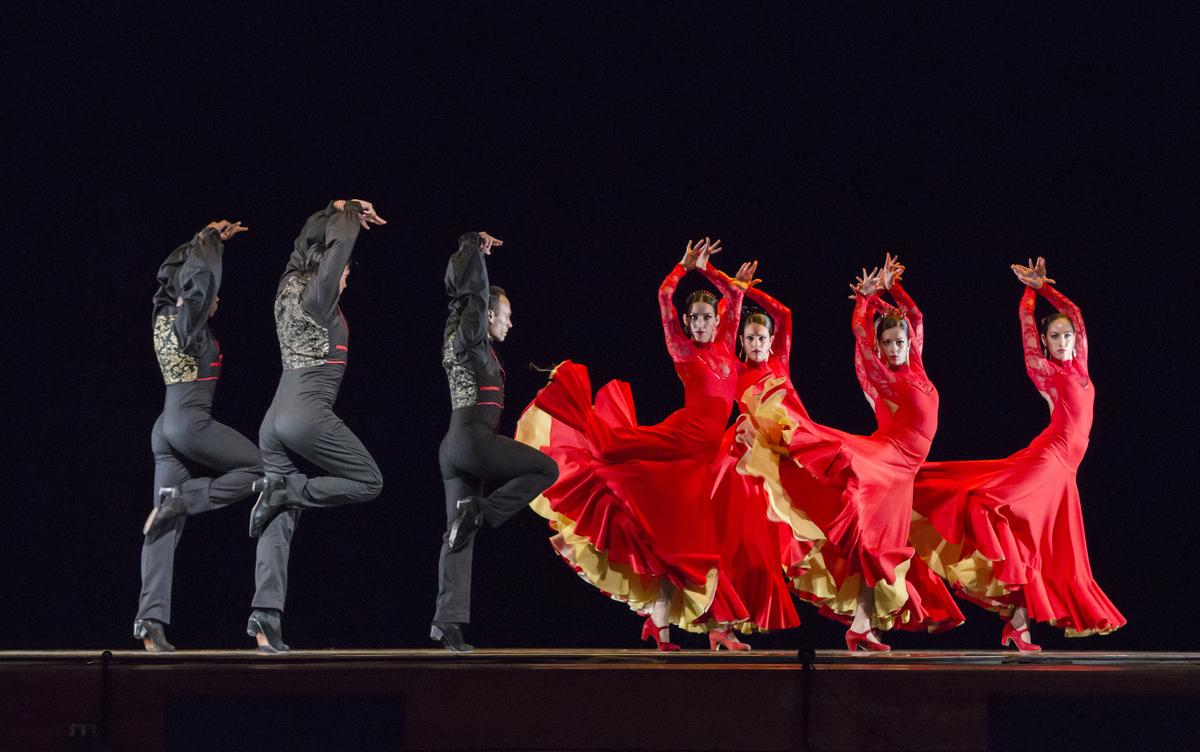 Ensemble Espanol performs "Bolero." (Photo by Cheryl Mann)
The dance scene in Chicago has been growing exponentially during the past couple of decades. And recent performances by a number of major companies – the Joffrey Ballet, Hubbard Street Dance Chicago and Giordano Dance – suggest that in a city renowned for its theater scene, an impressive component of drama also can be found in the work of its dancers.
The following is a roundup of recent examples of that theatrical impulse, along with some dance-worthy news. But before even reading it you might well want to grab seats for this weekend's performances of Ensemble Espanol Spanish Dance Theater's "Flamenco Passion" concert at the North Shore Center for the Performing Arts.
Related: Chicago's Ensemble Espanol Has Exported Spanish Dance Around the World
The company is paying tribute to Jose Greco, the fabled dancer and choreographer who introduced the art of flamenco to American audiences, and whose children carry on the tradition. Along with many samples of his work will be a performance of the company's thrilling signature piece, "Bolero," founder Dame Libby Komaiko's interpretation of the Ravel score infused with projections of Picasso's paintings.
For tickets call (847) 673-6300 or visit North Shore Center's website.
The Joffrey Ballet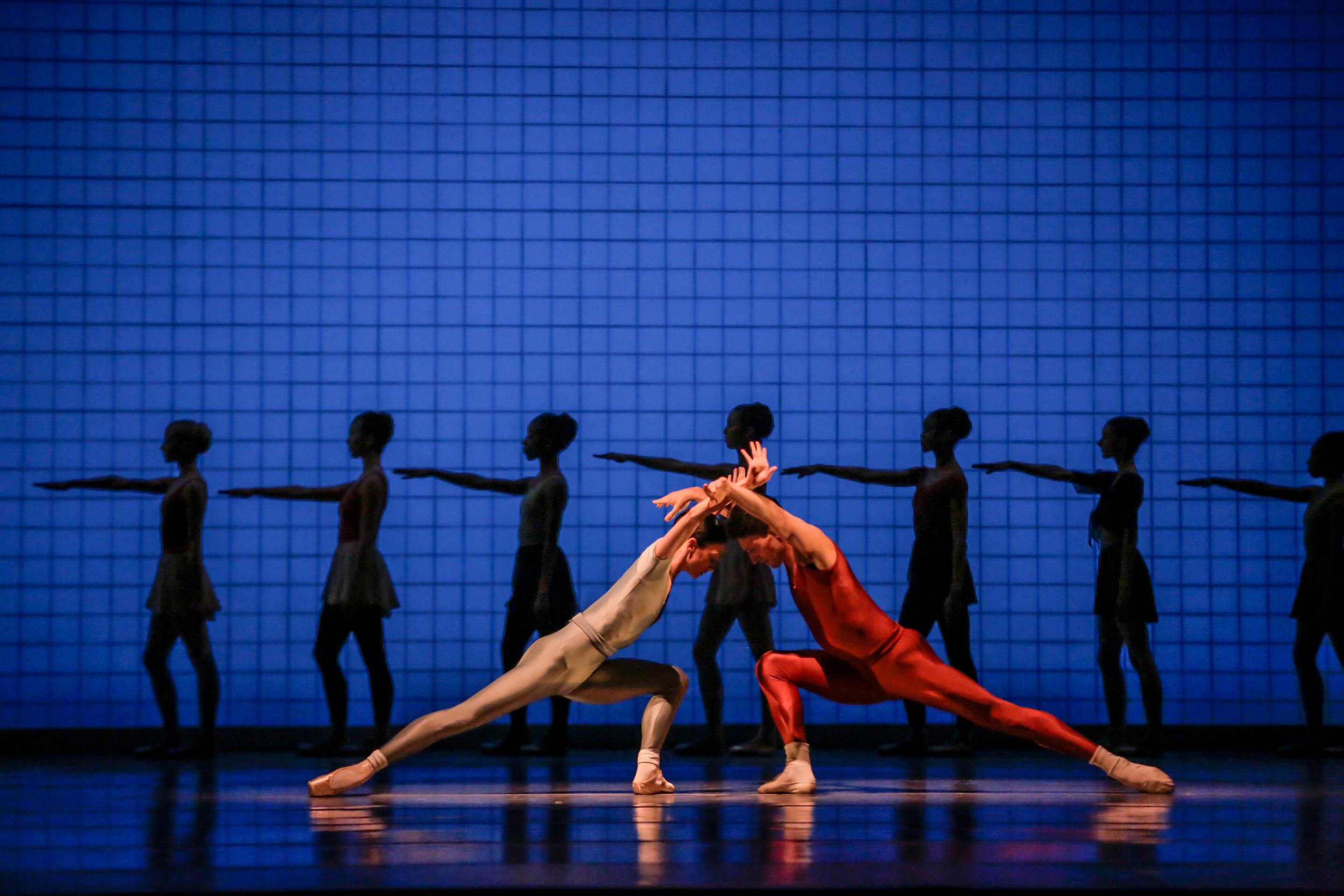 The Joffrey Ballet performs "Glass Pieces." (Photo by Cheryl Mann)
Earlier this week the Joffrey announced that its 2017-2018 season (which also marked artistic director Ashley Wheater's 10th anniversary with the company), turned out to be the highest grossing one in its 62-year history, with total attendance exceeding 100,000 and ticket revenue exceeding $7.7 million. This marked an 11-percent increase over its previously record-breaking 2016-2017 season.
Much of the credit for this success is due to the Joffrey's wide-ranging programming – from the beguiling classic, "Giselle," to Alexander Ekman's performance art wonder, "Midsummer Night's Dream," which only the most superb ballet company could pull off. Also part of the lineup was the company's bold "Modern Masters" program and the second year of Christopher Wheeldon's Chicago-inspired "Nutcracker" (which topped $4.6 million in ticket sales during its monthlong run at the Auditorium Theatre).
The Joffrey also had a monthlong residency in Los Angeles in March, performing both Kryzstof Pasteur's "Romeo and Juliet" and, in collaboration with the L.A. Opera, John Neumeier's "Orpheus and Eurydice."
Next week the company will fly to Paris where from June 25 to 30 it will be part of "Les Etes de la Danse (Summers of Dance)," a prestigious annual festival that this year is paying homage to choreographer Jerome Robbins on the 100th anniversary of his birth. As part of the program (which it is sharing with the New York City Ballet), the Joffrey will perform Robbins' "Interplay" and "Glass Pieces."
The Joffrey's 2018-2019 season will open with a revival of Wheeldon's Degas-inspired "Swan Lake," with the world premiere of Yuri Possokhov's "Anna Karenina" slated for winter.
Hubbard Street Dance Chicago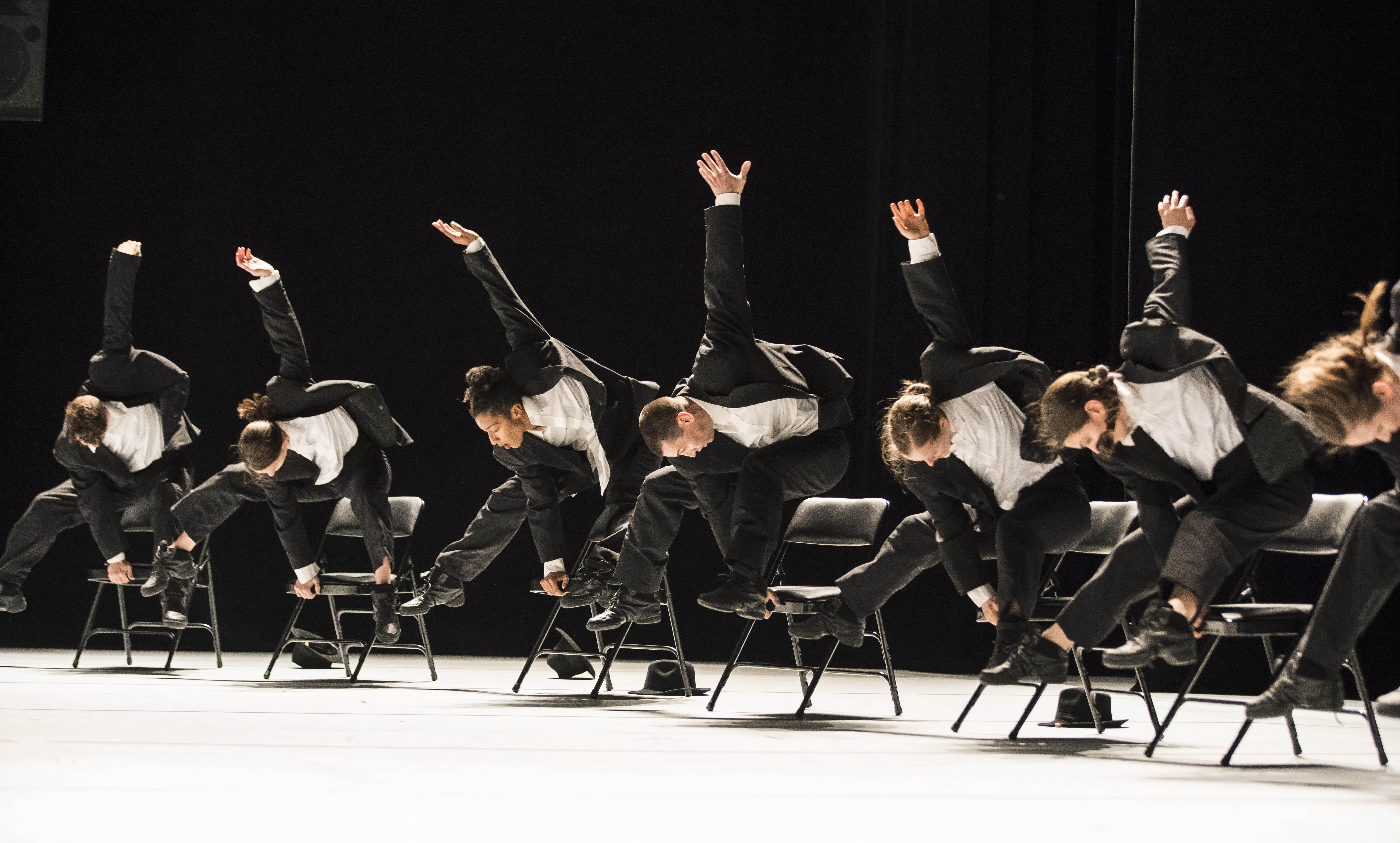 Hubbard Street Dance Chicago in "Decadance/Chicago" by Ohad Naharin. (Photo by Todd Rosenberg)
The company closed out its 40th anniversary season last weekend at the Harris Theater for Music and Dance with "Decadance/Chicago," an altogether explosive collage that juxtaposed excerpts from nine pieces by Ohad Naharin, the Israeli choreographer renowned for his "Gaga" technique, a unique movement language, devised for his Tel Aviv-based Batsheva Dance Company, that captures the human animal in all its emotional and physical states of mischief and angst, and that is far better seen than described.
Hubbard Street has championed Naharin's work for years, and his 1999 masterpiece, "Minus 16," served as its signature piece for years. Revisiting it here, with a revised mix of segments, it still holds fast to its crucial "Echad mi Yodea" sequence (set to a traditional Hebrew cumulative song sung on Passover, but here the inspiration for a wild sort of exorcism by 22 dancers in the black suits worn by Orthodox Jews), and to the astonishingly foolproof and spirit-raising audience participation exercise set to "Hooray for Hollywood." (The choice of extraordinarily eclectic music is an additional Naharin trait.)
Although many new dancers have entered the company since Naharin's work was first performed in Chicago, each successive generation grabs hold of it with total commitment and the awe-inspiring technique and fluidity that marks everything Hubbard Street touches.
In addition to Andrew Murdock's droll "narration," and the dancing of Florian Lochner, standout moments in the performance included Alicia Delgadillo's wonderfully zany, hypnotic and relentless hip-lifting parade around the perimeter of the stage, and the disturbed but glorious dancing of a quintet of women in black dresses (Jacqueline Burnett, Connie Shiau, Adrienne Lipson, Kellie Epperheimer and Delgadillo).
Naharin (along with Ian Robinson and Rachael Osborne, who masterfully staged the work) were on hand for bows.
Note: Hubbard Street's 2018-2019 season will include several intriguing collaborations including with Cuba's Malpaso Dance Company, Chicago's Grammy Award-winning Third Coast Percussion, hip-hop artists Lil Buck and Jon Boogz, and the Los Angeles-based choreographer Emma Portner.
Giordano Dance Chicago
The company's performance last Saturday at the Auditorium Theatre was a celebration of the ongoing reign of the company's artistic director, Nan Giordano (daughter of founder Gus Giordano), who has overseen the company for more than three decades.
Giordano's highly polished, aerobically fearsome dancers invariably run on high-octane fuel and generate a similarly high-powered response from their audience.
The expertly ordered program began with "Giordano Moves," Nan's deft staging of her father's essential jazz dance movement style set to the music of George McRae. It then moved on to Joshua Blake Carter's "Take a Gambol," which deployed eight terrific male dancers in black suits working a stylish riff on the Rat Pack aura of the 1950s, with all the knowingly nonchalant poses, pretenses and music of the era. It was followed by "Tossed Around," Ray Mercer's tense twist on musical chairs for six dancers, with a duet (expertly danced by Ashley Downs and Adam Houston) at its center.
The program's second half featured Ray Leeper's sexy, Fosse-inspired burlesque, "Feelin' Good," followed (in strong contrast), by Gus Giordano's 1968 piece, "Wings," featuring Cesar G. Salinas (a former company member appearing as guest artist), in an exquisitely rendered solo of spiritual yearning. He was accompanied by the ever-astonishing Bourne Family (a mother and her eight adult children), whose lush voices and ravishing harmonies on "Swing Low, Sweet Chariot" were beyond heavenly.
Finally, in one great surge of off-the-charts adrenalin, the company launched into its familiar closing showcase, Christopher Huggins' "Pyrokinesis," with enough gyroscopic turns, split jumps, vaulting leaps and gonzo partnering to take everyone's breath away.
Up next: Dance for Life
One last note: Dance lovers are advised to mark their calendars for the annual Dance for Life benefit concert slated for Aug. 18 at the Auditorium Theatre. This year's lineup will include performances by dancers of the Joffrey, Hubbard Street and Giordano companies, as well as Hanna Brictson and Dancers, Cerqua Rivera Dance Theatre, Chicago Dance Crash, Nomi Dance Company and a work by Randy Duncan.
For tickets and additional information, visit the Auditorium Theatre's website.
---
'Guards at the Taj' Conjures Extremes of Beauty and Horror in This World
In Suzan-Lori Parks' Epic Civil War Ballad, the Unbearable Weight and Complexity of Freedom
'Mies Julie' a Shattering Reworking of a Strindberg Classic
Two Very Different Musicals to Carry You to The Brink of Summer
Scalia and His Clerk Joust Their Way Through Constitutional Arguments in 'The Originalist'
---