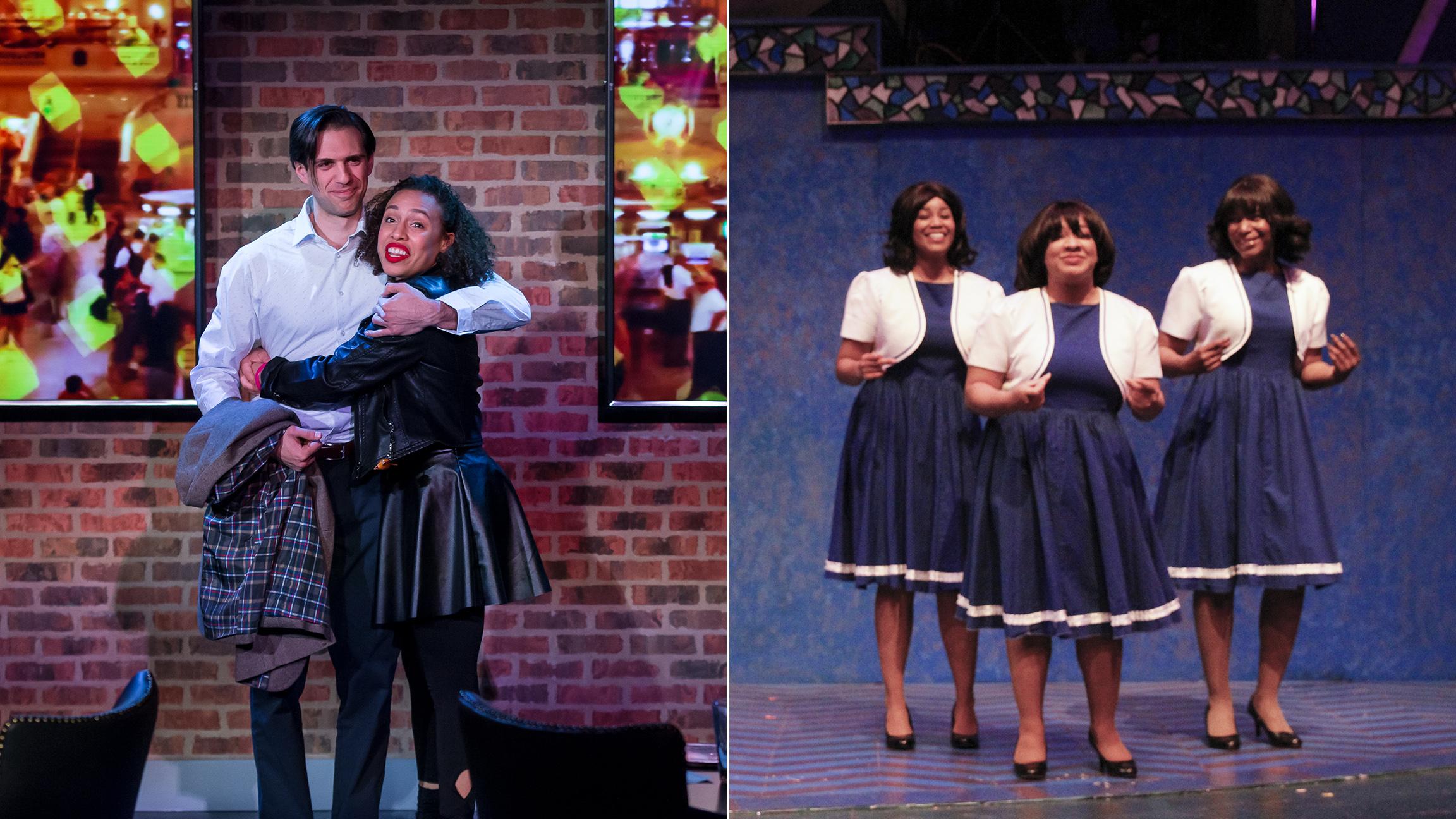 Left: David Sajewich, Kyrie Courter in "Company." (Photo by Brett A. Beiner). Right: Renelle Nicole, Jessica Brooke Seals and Kylah Williams in "A New Attitude." (Photo credit: Alan Davis)
Looking for the best way to spend a sultry pre-summer evening aside from taste-testing the latest flavor of gelato? Easy. Catch a musical.
On my list are two very different shows that are already nearing the end of their runs. But if you act fast there is still time to have some big fun.
"A New Attitude: In Tribute to Patti LaBelle," is the latest show created by the Black Ensemble Theater (BET). A chronicle of the many dramatic phases in the evolution of this enduring pop diva, it also is a rousing revue that showcases LaBelle's decades-spanning songbook of hits.
"Company" is vintage Stephen Sondheim presented in a contemporary, playfully immersive "good eats" style. It also serves as the inaugural production of Mercury Theater Chicago's new Venus Cabaret Stage, a beautifully rehabbed space (formerly Cullen's Bar & Grill) attached to the Mercury.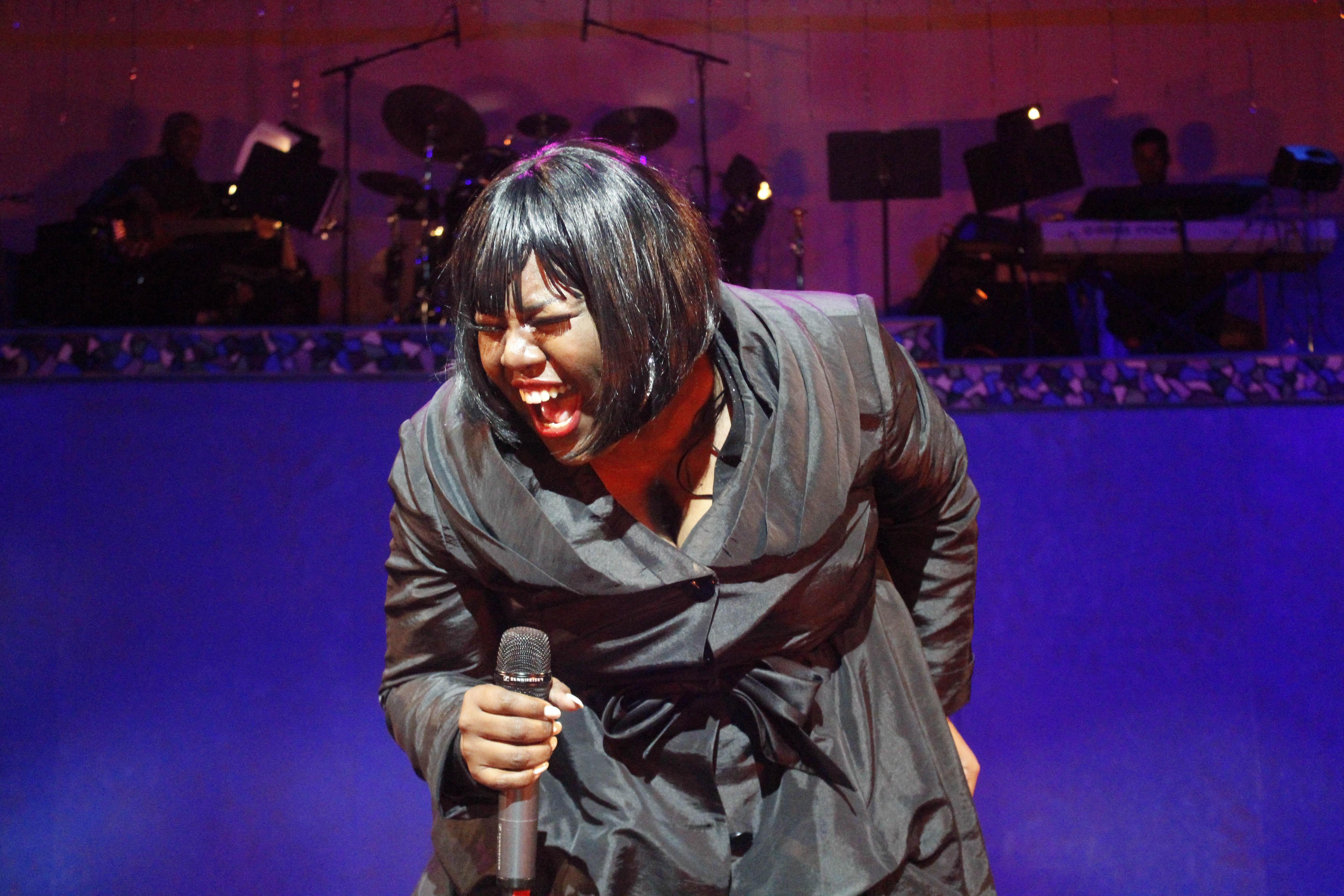 Dawn Bless in "A New Attitude: In Tribute to Patti LaBelle" at Black Ensemble Theater. (Photo credit: Alan Davis)
First, the LaBelle story, written, sharply directed and splendidly costume-designed by BET's multi-talented associate director, Rueben D. Echoles. It features sensational performances by Dawn Bless as the more mature Patti (and with her mega-range voice and volcanic personality, Bless can easily go head-to-head with the "real" LaBelle, and what greater praise can there be?), and by Cherise Thomas (as her younger incarnation, who also possesses power pipes and does an excellent job of "growing up" before our eyes).
As this show reminds us, with her turbo-charged voice and larger-than-life personality, LaBelle, now 74, is still at work. She has sustained a career spanning 50 years – reigning as disco queen in the early 1970s, subsequently dubbed the "Godmother of Soul" and along the way selling 50 million records worldwide with a repertoire ranging from "Somewhere Over the Rainbow" to "Lady Marmalade," "New Attitude," and "You Are My Friend." (I have no statistics about the number of sweet potato pies bearing her name that have been sold at Walmart, but it is a formidable number.)
Echoles' show follows the dependable BET-style biographical formula, beginning with LaBelle's early years in Philadelphia when she was still Patricia Louise Holt, a surprisingly shy young girl who adored her father, Henry (Trequon Tate), a gambling man who was sent packing when he became abusive towards LaBelle's mother, Chubby (Kylah Williams).
LaBelle initially found her voice and confidence as part of a church choir, and then became front woman with a group of young friends who called themselves the Ordettes. Eventually she attracted the attention of Harold Robinson (Mark Yacullo), a local record producer, who was wowed by her knockout rendering of "I Sold My Heart to the Junkman," and it was Robinson who renamed her Patti LaBelle, with the Blue Belles as her backup singers.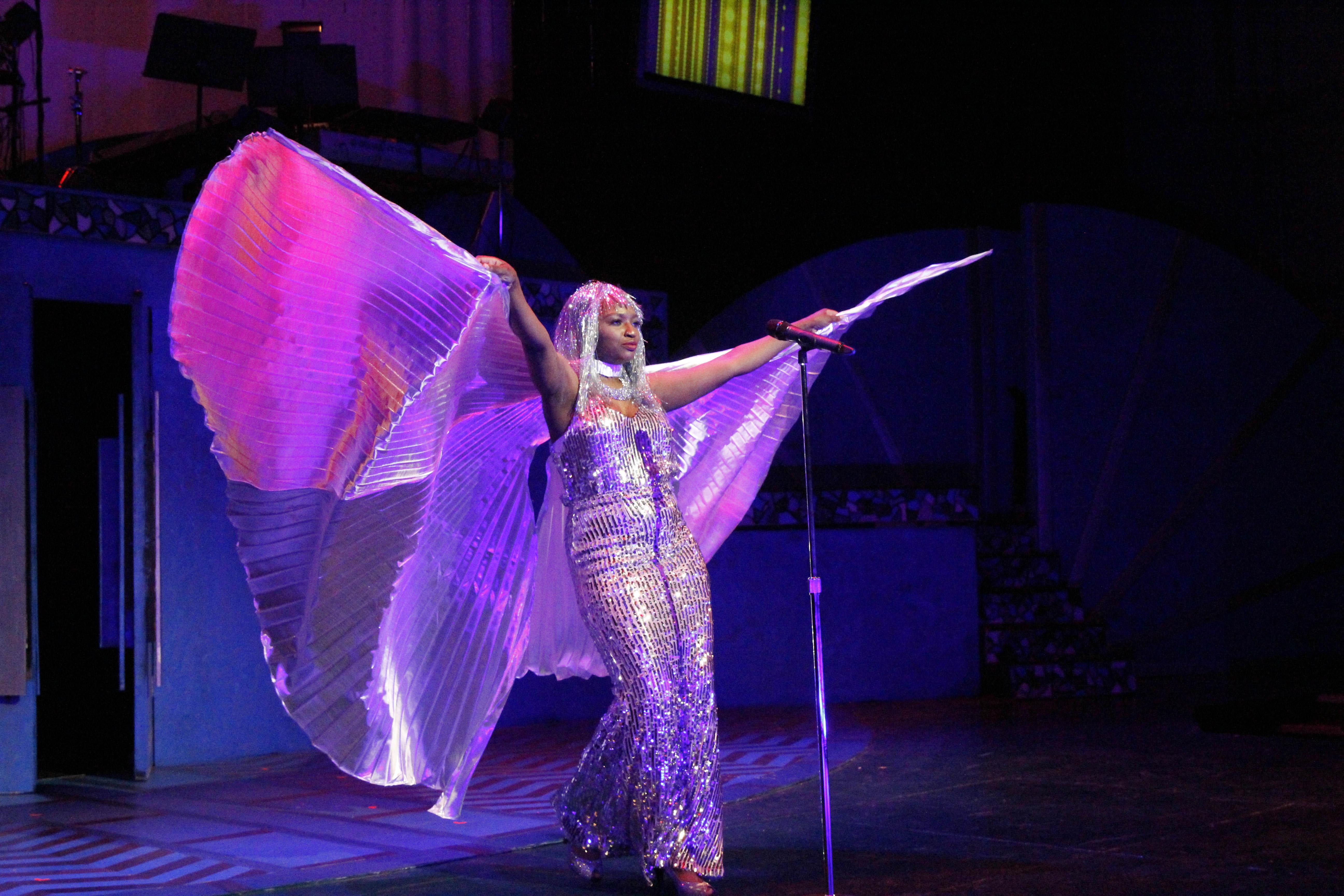 Cherise Thomas in "A New Attitude: In Tribute to Patti LaBelle." (Photo credit: Alan Davis)
By 1965 the group had moved to New York and enjoyed hits with such standards as "Down the Aisle," "Danny Boy" and "Over the Rainbow" (all beautifully sung here). Then came the rise of The Supremes, and LaBelle was taken in hand by savvy British producer Vicki Wickam (Emily Hawkins), who oversaw yet another transformation. By 1974 she was again remade into a superstar, with a shift to a rock/soul sound, with fabulous "glam" costumes and with a sexy megahit song, "Lady Marmalade," which gets a rousing rendering here by Bless.
The group eventually disintegrated, and by 1977, in yet another transition, LaBelle went solo, aptly singing "On My Own" and "New Attitude."
In fact she was not alone. In 1969 she married Armstead Edwards (expertly played by Tate), who loved her and patiently pursued her for years. Their marriage lasted for nearly three decades, and they had a son, but for LaBelle the relationship was always more of a friendship than a great passion.
The fleet ensemble here (including Renelle Nicole, Jessica Brooke Seals, Linnea Norwood, Isaac Yarborough and Christopher Taylor) all play several roles. And as always, music director/drummer Robert Reddrick and his band (Adam Sherrod on keyboards, Danny O'Conner on bass and Herb Walker on guitar) are pure dynamite.
"A New Attitude: In Tribute to Patti LaBelle" runs through June 17 at the Black Ensemble Theater, 4459 N. Clark St. For tickets ($55-$65) call (773) 769-4451 or visit www.blackensemble.org.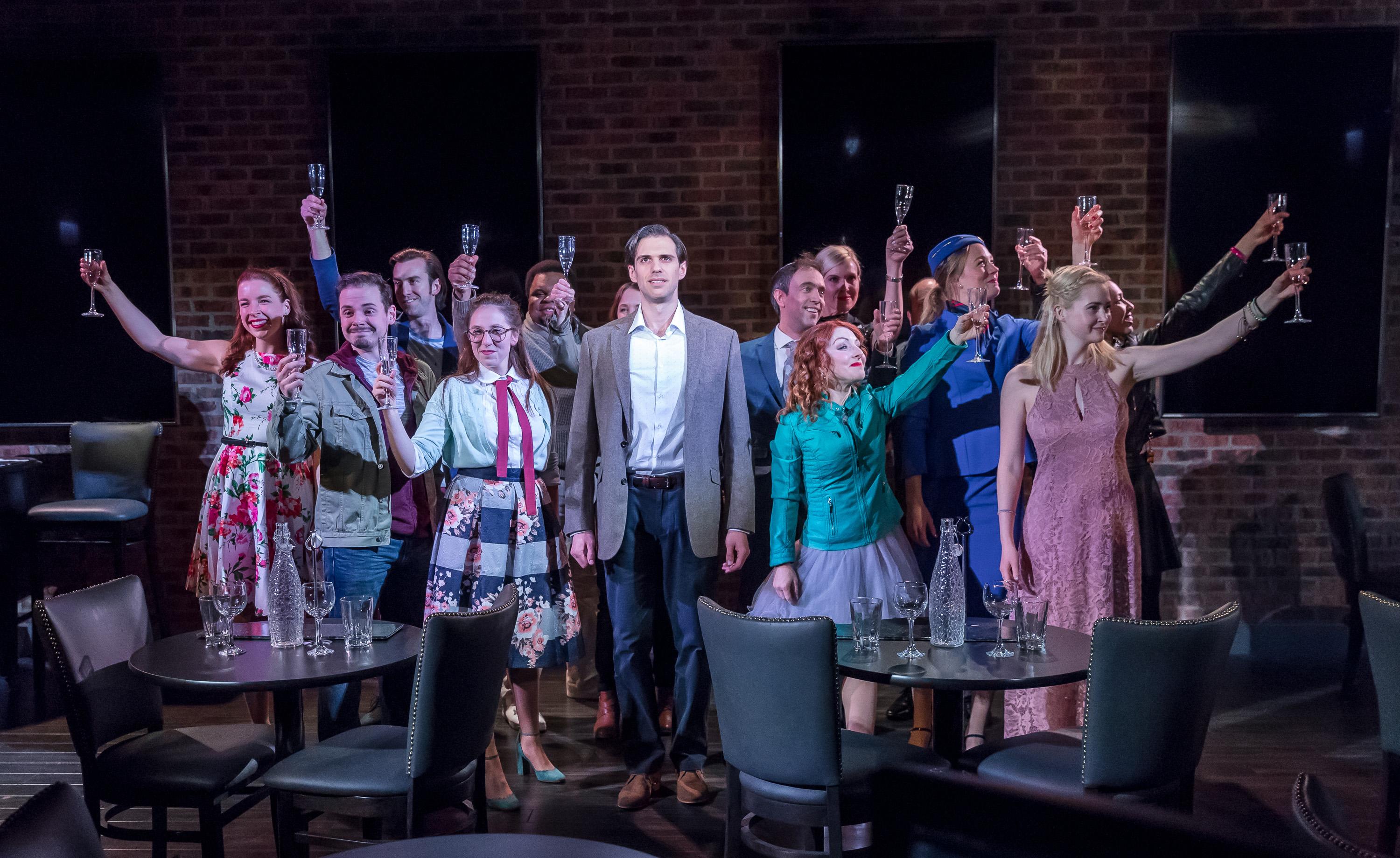 "Company" full ensemble. (Photo by Brett A. Beiner)
Now, to "Company," which ends its run this weekend. Urban, urbane, neurotic, sardonic and very New York, it features one brilliant Sondheim song after another (from "Marry Me a Little" to "Being Alive," "Sorry-Grateful" and "Another Hundred People") as it captures the ambivalent emotional state of Bobby (David Sajewich), an eligible but exceedingly wary bachelor whose friends, all in various stages of marital bliss and/or misery, stage a surprise party for him on his 35th birthday.
George Furth's vignette-driven book was considered quite unorthodox when the show debuted in 1970. It has been considerably warmed up in the intimate Venus space with director L. Walter Stearns (along with choreographer Aubrey Adams) turning the audience into a very relaxed extension of the party's guest list. A working cash bar is on one side of the 80-seat room, and, as part of the ticket price, a delicious charcuterie sampler (cheese, crackers, olives and bits of prosciutto) is set down on every table, with a slice of Bobby's birthday cake served before it's all over. The first-rate musical director, Eugene Dizon, is at the piano, backed by Dan Kristan on bass and Cara Hartz on reeds.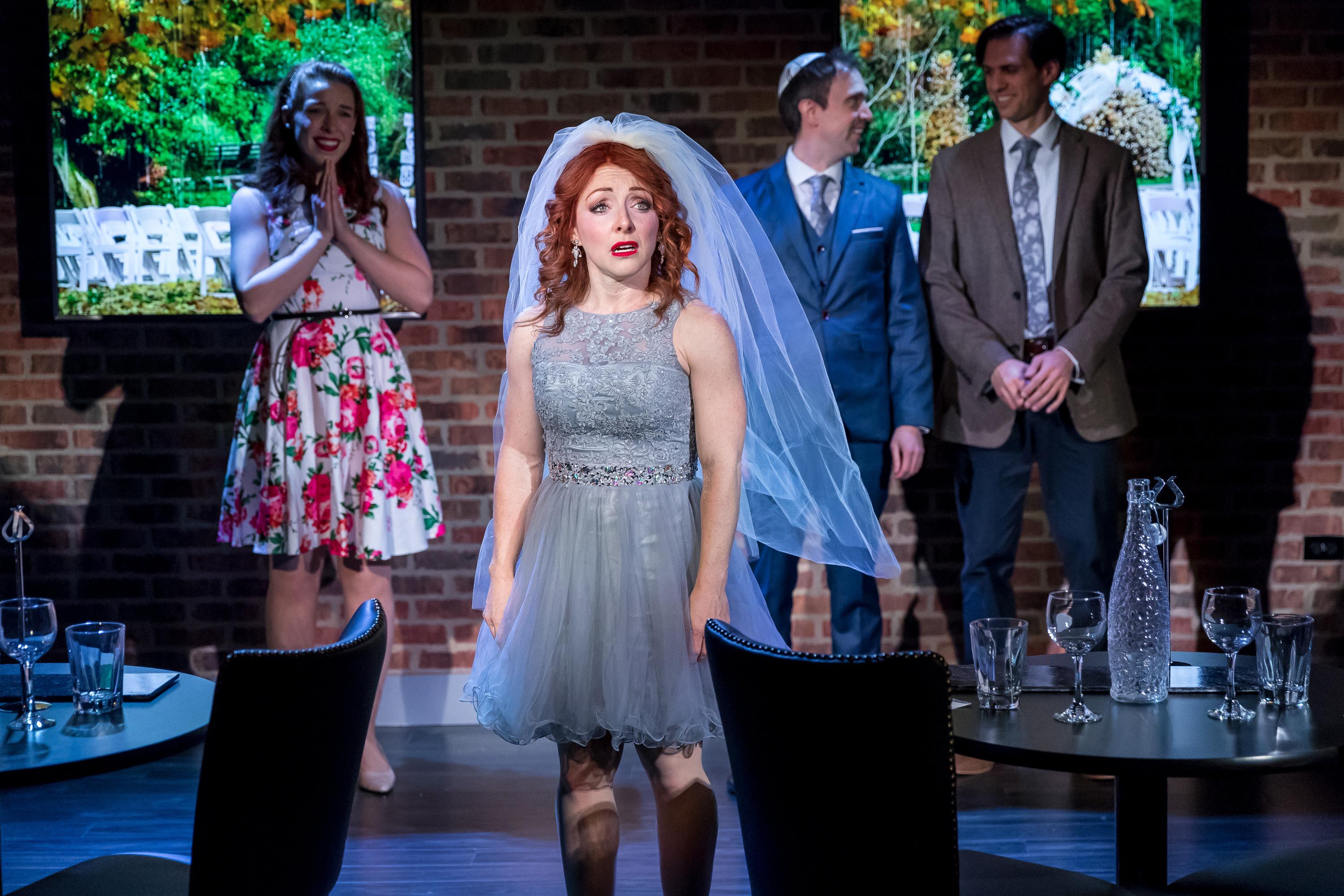 From left: Nicole Armold, Jenna Coker-Jones, Greg Foster and David Sajewich in "Company." (Photo by Brett A. Beiner)
Heather Townsend, the "older woman" who is hot for Bobby but married to a wealthy guy (played by Steve Silver) does a terrific job with the withering "Ladies Who Lunch." Jenna Coker-Jones nails the panic in the verbally manic "Not Getting Married," even as she proceeds to marry the nice Jewish guy (Greg Foster) who adores her. And there is winning work by Ryan Stajmiger and Hannah Dawe, Frederick Harris and Nicole Cready, Derek Self and Nicole Armold as the eccentric couples circling Bobby, and by Kiersten Frumkin, Kyrie Courtier and Allison Sill as the girlfriends who come and go in his life, and sing the spot-on, bitterly funny "You Could Drive a Person Crazy."
The next Venus production has yet to be announced, but I'm already looking forward to it.
"Company" runs through June 3 at Mercury Theater Chicago's new space, the Venus Cabaret Stage, 3745 N. Southport Ave. For tickets ($50-$65) call (773) 325-1700 or visit www.mercurytheaterchicago.com.
---
Scalia and His Clerk Joust Their Way Through Constitutional Arguments in 'The Originalist'
Plays by Beckett, Shepard Explore the Human Condition, European and American Style
'Having Our Say' An Irresistibly Engaging Encounter With The Delany Sisters
Chicago Theater Recommendations from Hedy Weiss
---