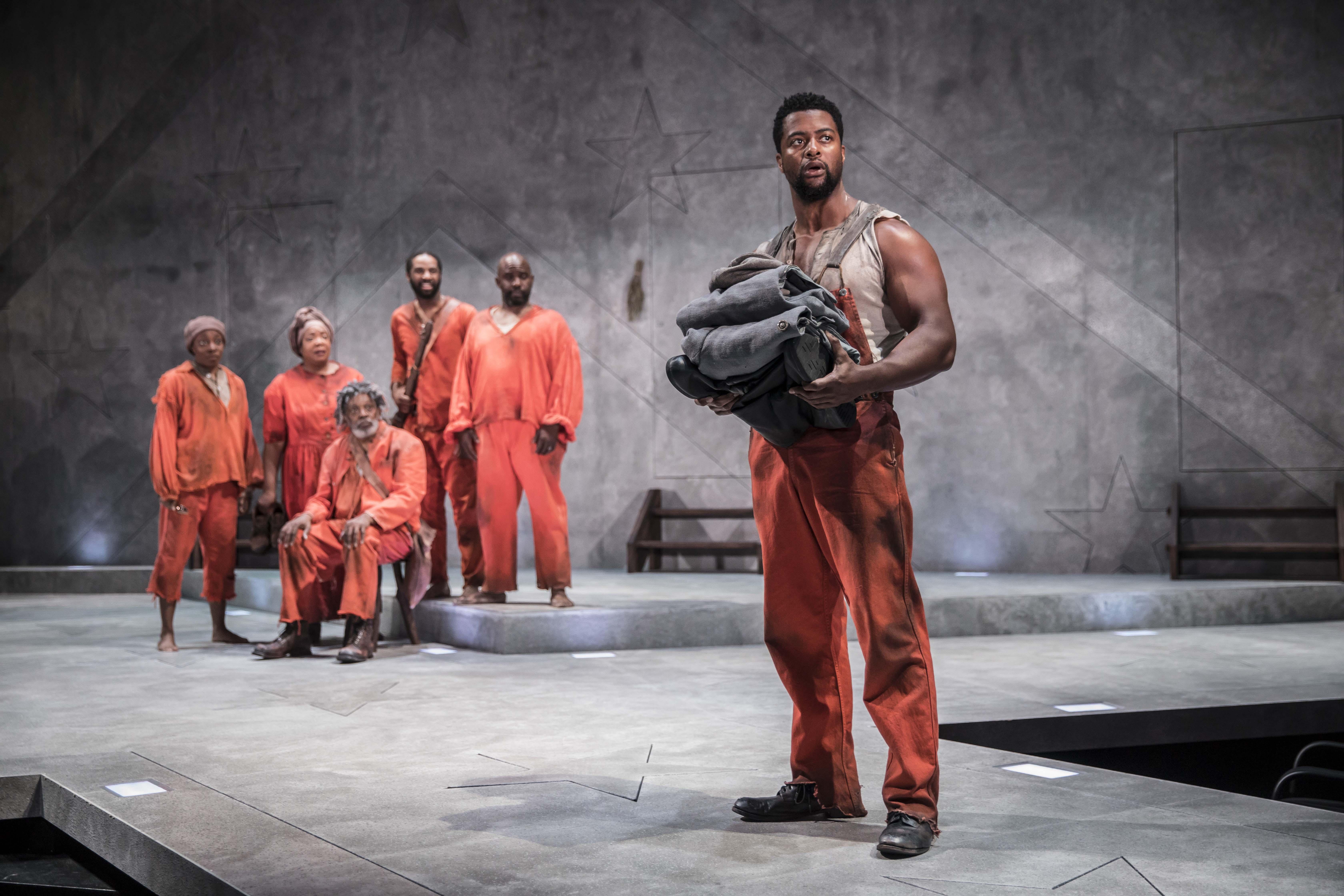 From left: Sydney Charles, Jacqueline Williams, Ernest Perry Jr., Michael Aaron Pogue, Ronald L Conner and Kamal Angelo Bolden in the Chicago premiere of "Father Comes Home from the Wars (Parts 1, 2 & 3)" by Suzan-Lori Parks. (Credit: Liz Lauren)
To go, or not to go? That is the question that sets in motion Suzan-Lori Parks' prickly, poetic, hiply satirical, often tragicomic, wholly unconventional and ultimately profound Civil War ballad, "Father Comes Home From the Wars (Parts 1, 2 & 3)" – a fascinating three-hour trilogy that probes the meaning of freedom, and all the complexity and ambivalence that word can carry with it, while also alluding to everything from Homer's "Odyssey" to Shakespeare's "Henry V."
At the root of that crucial question in "Part 1: A Measure of a Man," is this: Will a slave by the name of Hero (Kamal Angelo Bolden in a marathon role he plays with ideally measured emotion), who is tied to a Texas farm, agree to the uncertain bargain dangled before him by his owner? The bargain is that he will be given his freedom if he agrees to accompany his master as he heads off to fight in the Confederate army.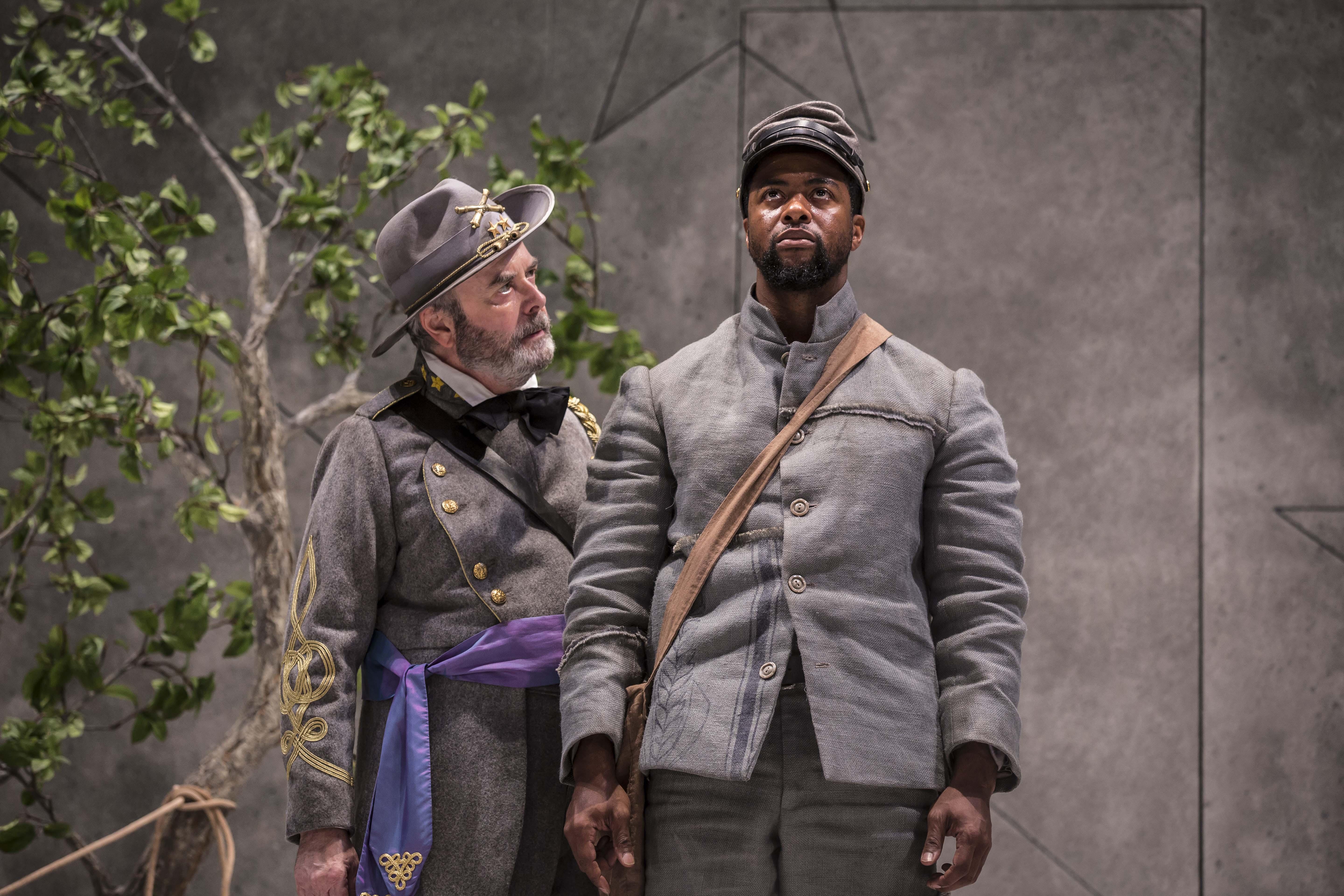 William Dick, left, and Kamal Angelo Bolden. (Credit: Liz Lauren)
This is not the first time Hero has heard such an offer of freedom from his master, the Colonel (deft work by William Dick), and he knows the man can't be trusted. Just what he will decide to do is vigorously debated by those Parks has dubbed The Chorus of Less Than Desirable Slaves (Jacqueline Williams, Sydney Charles, Ronald L. Conner and Michael Aaron Pogue, all terrific), and they even lay bets on his choice as they catalogue the pros and cons of his options in the most linguistically exuberant ways. The tone for the play has been artfully set.
Hero's dilemma is made even more difficult by the varying pleas of his surrogate father, The Oldest Old Man (Ernest Perry Jr.), his beloved Penny (Aime Donna Kelly) and Homer (Jaime Lincoln Smith), the friend he betrayed some years earlier during an attempted runaway. (All three actors are perfection.)
Suffice it to say, despite the bad omen involving the disappearance of his ever-faithful dog, Odyssey (BrittneyLove Smith, who only arrives in Part III, and is hilarious), he decides to follow the cruel and feckless Colonel, joining the very force that wants to keep slavery alive while at the same time hoping he might win his personal war. He is a divided man, to say the least.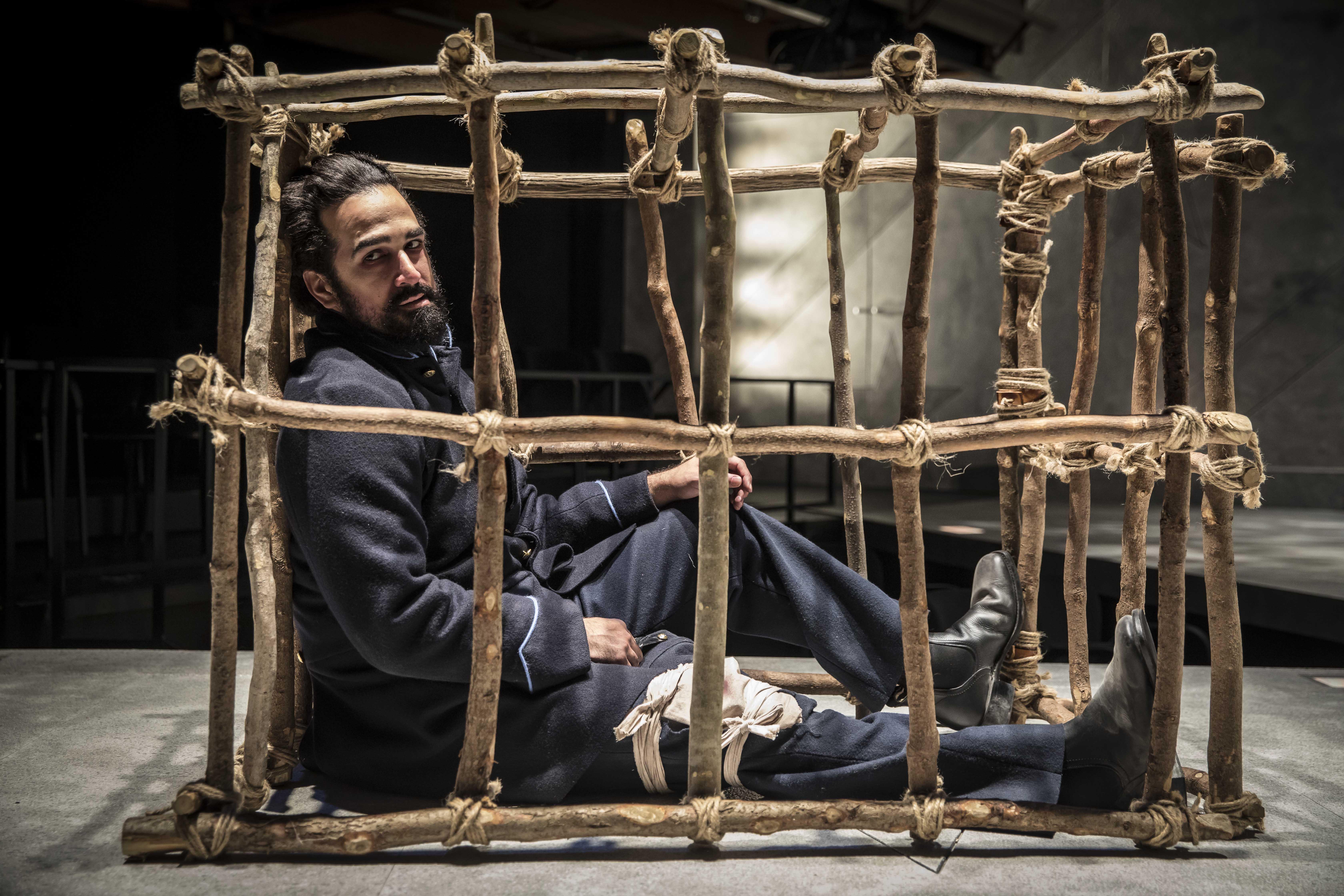 Demetrios Troy (Credit: Liz Lauren)
"Part 2: A Battle in the Wilderness" finds Hero – a strong, skillful, and somewhat literate man – still faithfully serving the Colonel somewhere at a distance from the front lines. The Colonel has captured Smith (Demetrios Troy), a young Captain from the Union Army's First Kansas Colored Infantry who has suffered a serious leg wound and is being held as a prisoner of war in a doghouse-like wooden cage.
Yet again, Hero finds himself a divided soul, unsure of where his loyalties should (or can) lie. And along the way the matter of what a man is "worth" comes to the fore as the reward for a Union prisoner is compared to the price of a slave who is the age and quality of Hero (a scene that triggers one of his most humiliating moments, as well as an act of defiance). Hearing an estimate of $1,000 he bitterly observes: "Seems like the worth of a colored man, once he's made free, is less than his worth when he's a slave." At the same time the Colonel's sense of his own worth comes down to this: "I am grateful every day that God made me white."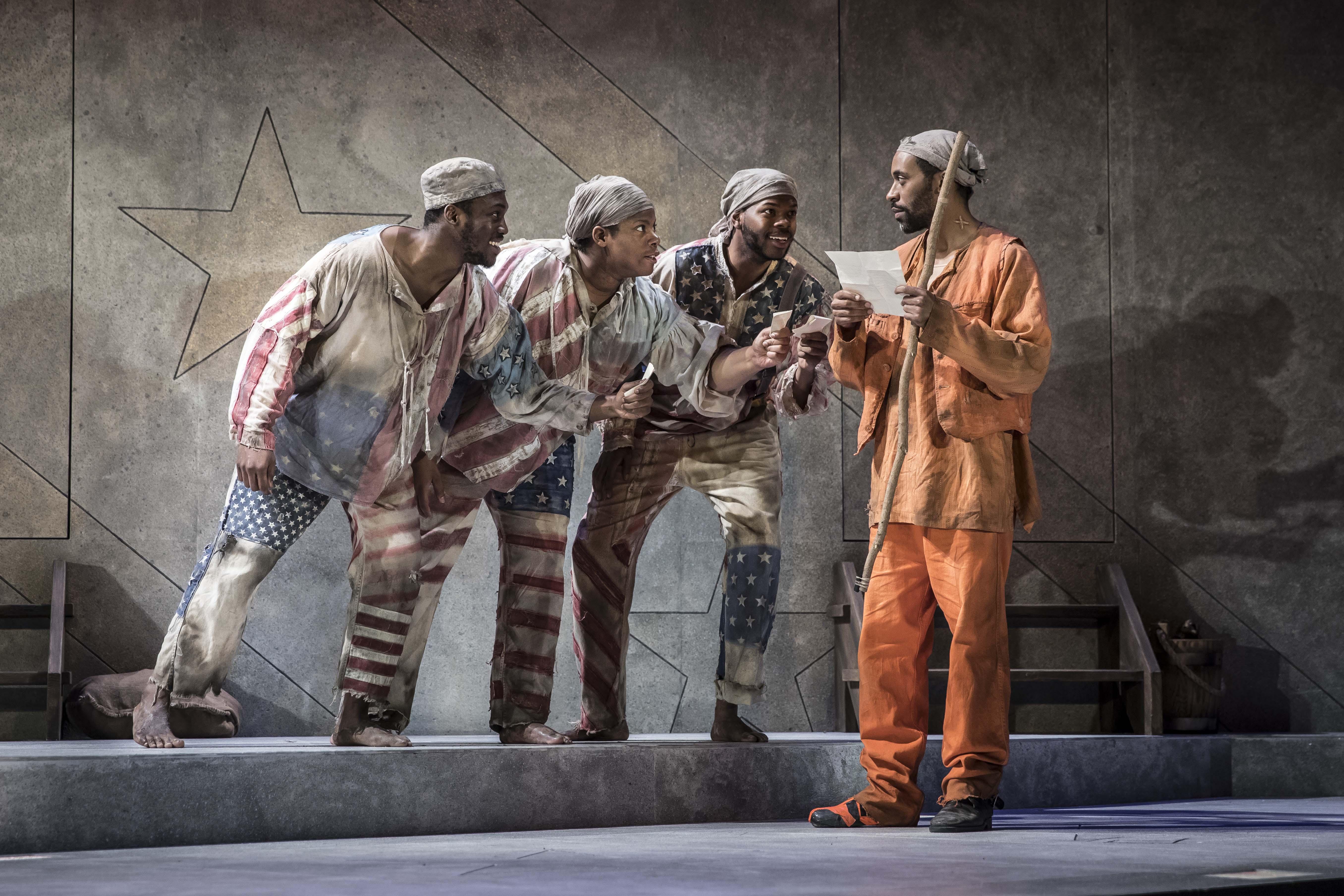 From left: Bernard Gilbert, Nicole Michelle Haskins, Tyrone Phillips and Jaime Lincoln Smith in the Chicago premiere of "Father Comes Home from the Wars (Parts 1, 2 & 3)" by Suzan-Lori Parks. (Credit: Liz Lauren)
By the time we reach "Part 3: The Union of My Confederate Parts," a trio of Runaway Slaves (Bernard Gilbert, Nicole Michelle Haskins and Tyrone Phillips) is about to head North. At the same time Hero – now named Ulysses (a reference to Homer's epic tale of a man returning from war, but more to the point, an homage to Ulysses S. Grant, the Union general) – arrives home, having made it through the war alive. He comes bearing gifts for Homer and Penny, with the latter given shattering news that suggests his newfound arrogance as well as his hunger for a legacy.
Hero also has a piece of paper in his pocket bearing the word "Proclamation." The year is 1863, so it is clear that the crucial unspoken word is "Emancipation." He is a flawed man, and a free man. Perhaps those two things are all of a piece.
Ernest Perry Jr. and Melody Angel. (Credit: Liz Lauren)
Niegel Smith, a New York-based director, has mixed the tone and rhythm of the production as meticulously and mischievously as Parks (a Pulitzer Prize-winner for "Topdog/Underdog"), has mixed the ideas in her play. And Chicago blues balladeer and guitarist Melody Angel brings a Tracy Chapman-like quality to her role as a one-woman chorus, with music and sound by Justin Ellington (plus one song by the playwright herself).
Courtney O'Neill's ingenious set turns the stage into a giant gray-toned Confederate flag, with Linda Cho's faded orange costumes for the slaves suggesting prison garb.
Parks' greatest achievement here is to capture the warping and wounding effects of slavery without erasing the essential imperfections and comedy in all human nature. Quite the neat trick.
"Father Comes Home from the Wars (Parts 1, 2 & 3)" runs through June 24 at the Goodman Theatre, 170 N. Dearborn St. For tickets ($10-$40) call (312) 443-3800 or visit www.GoodmanTheatre.org/Father. Running time is 3 hours and 20 minutes with two intermissions.
---
'Mies Julie' a Shattering Reworking of a Strindberg Classic
With Charm and Confidence, Chicago Students Take Lyric Stage for 'Empower'
Two Very Different Musicals to Carry You to The Brink of Summer
Scalia and His Clerk Joust Their Way Through Constitutional Arguments in 'The Originalist'
---