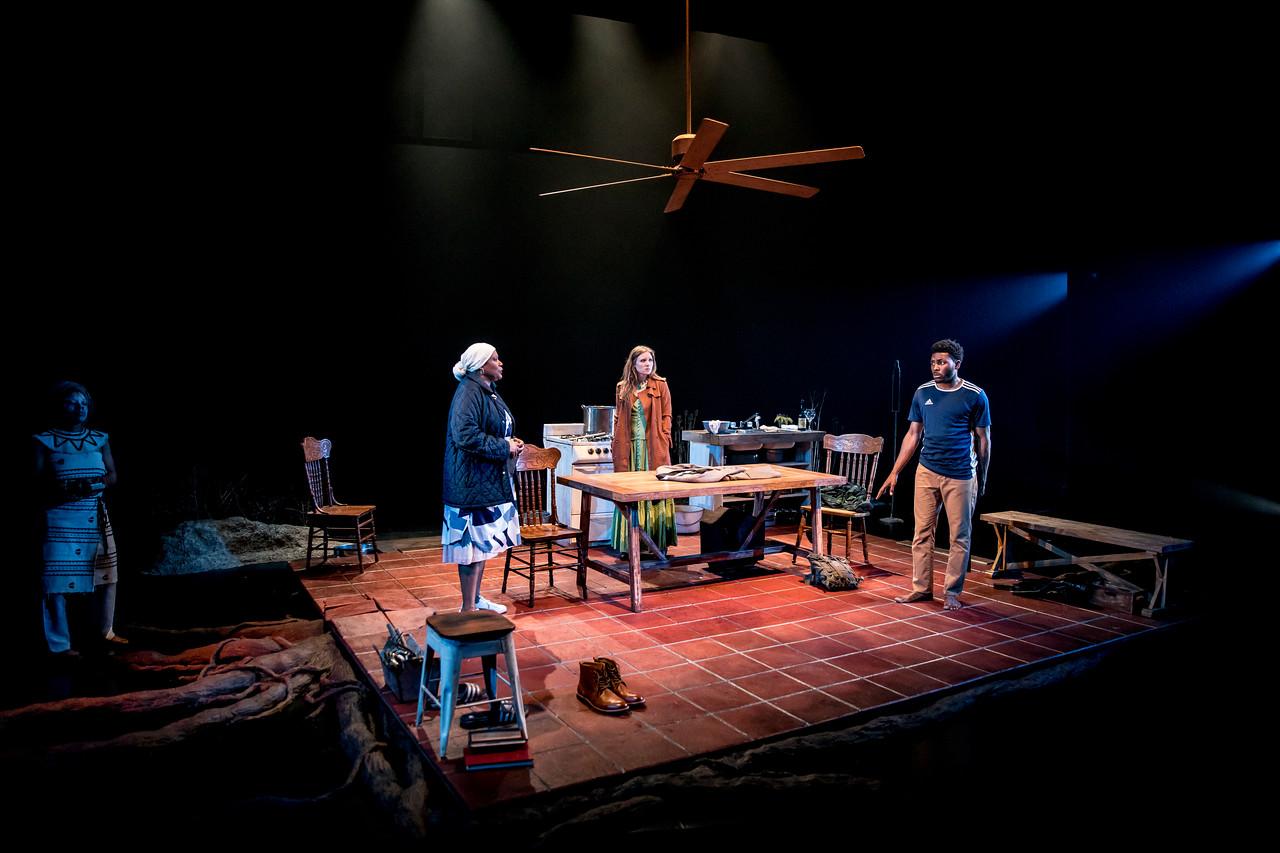 T. "Ayo" Alston, Celeste Williams, Heather Chrisler and Jalen Gilbert in "Mies Julie" at Victory Gardens Theater. (Photo credit: Liz Lauren)
To cut to the chase: "Mies Julie," Yael Farber's blistering contemporary South African version of "Miss Julie," the 1888 August Strindberg classic, is far and away the most brilliant play to arrive on a Chicago stage this season. And its production by Victory Gardens Theater – explosively directed by Dexter Bullard, and featuring four spellbinding performances – is guaranteed to leave you gasping for breath. It is that good. (And be advised: It is not for the meek.)
Strindberg's original – a story of sex, class, power, and self-destruction in Sweden – was certainly a shocker in its time, and had censors up in arms. But Farber's altogether remarkable transposition of the play to post-apartheid South Africa (specifically Freedom Day in 2012), adds a whole new dimension to the work by infusing it with elements of the profound racial divide and bitter colonial inheritance that are specific to that country, but also continue to bedevil our own. In the process, her "adaptation" also magnifies the personal dynamics between its central characters in the most incendiary ways. If "Miss Julie" is awash in perverse titillation, "Mies Julie" (the title uses the Dutch-rooted Afrikaans version of "Miss") is utterly devastating in far more wide-reaching ways.
The play unfolds in the rustic kitchen of a vast estate in the semi-arid Karoo region of South Africa that is owned by the tyrannical (if unseen) father of Mies Julie, who is played here by Heather Chrisler, a young actress of fearsome intensity. (Chrisler left an indelible impression with her 2017 performance in "Machinal" and now, once again, sets the stage on fire.)
An electrifying storm – both literal and metaphorical – is in the air throughout as Julie, a tormented soul, has just been dumped by her fiancé – the man who her father expected would eventually take control of the estate (and his daughter).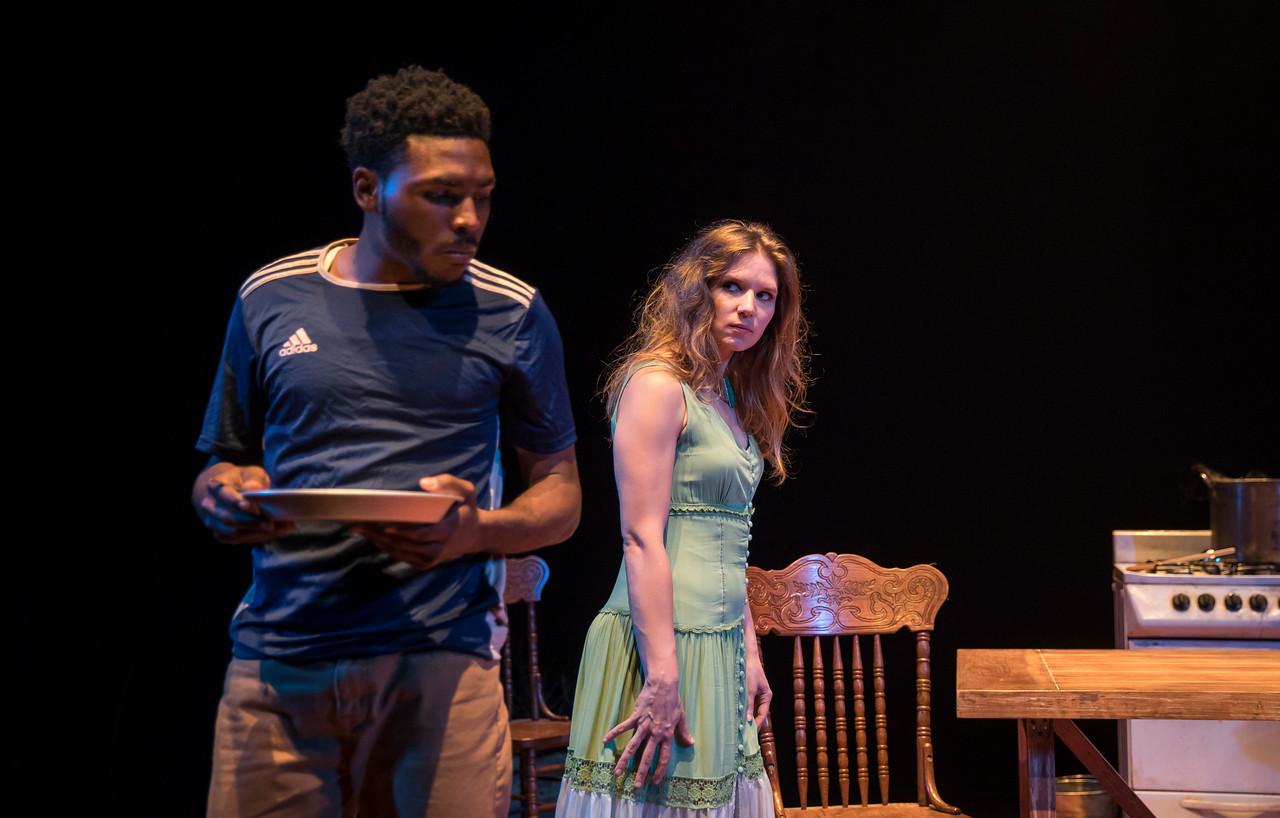 Jalen Gilbert and Heather Chrisler in "Mies Julie" at Victory Gardens Theater. (Photo credit: Liz Lauren)
Furious at her fate, and haunted by her mother's earlier suicide, she is a wild child/woman who engages in flirtatious behavior with the black laborers on the farm – behavior that is still dangerous for all involved. Bluntly warned against such behavior by her father's favorite black employee, John (Jalen Gilbert in a performance that is sure to catapult his career), she turns her attention to this young man who she has grown up alongside since childhood. The attraction between the two has been in play for years – a forbidden love that will finally be consummated in all its warped, wildly impassioned and tragic dimensions.
Watching over the household is John's faith-driven mother, Christine (exquisitely portrayed by Celeste Williams), who has long served as Julie's surrogate mother and the family's tireless maid. This character marks one major change Farber has made as she turns Christine from John's fiancée into his mother – a Xhosa woman whose deep ancestral ties to the land keep her from moving on, as does her "older generation" sense that it is safer for her and her son to continue in the oppressed situation she has known all her life.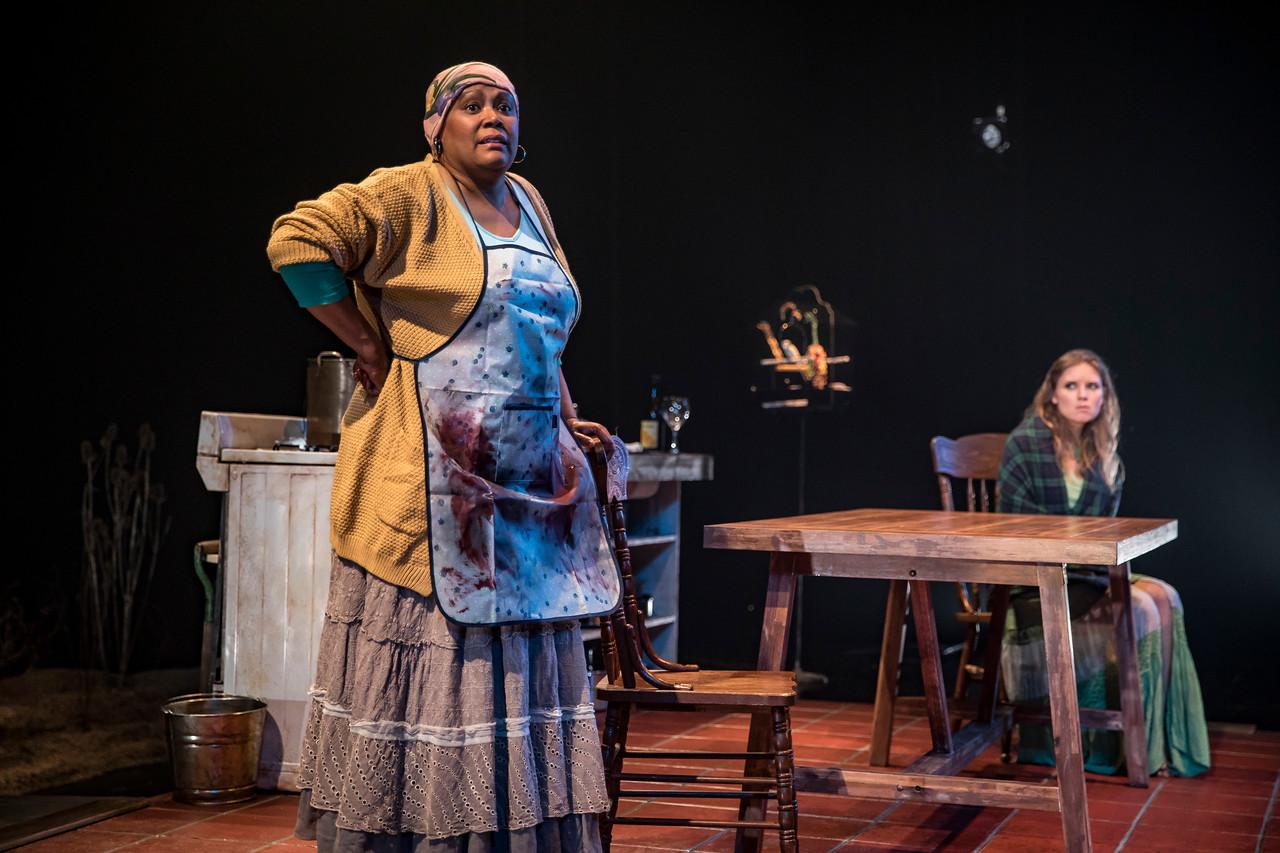 Celeste Williams and Heather Chrisler in "Mies Julie" at Victory Gardens Theater. (Photo credit: Liz Lauren)
In fact, Christine's connection to her heritage is so deep that she is often visited by the ghost of her grandmother, Ukhokho (beautifully played by T. "Ayo" Alston, who also has composed the haunting score for the show).
Farber may have borrowed the essential skeleton of Strindberg's play, but she is an audacious writer herself, and her own South African roots can be sensed in the speech Julie makes about her sense of connection to the land. In this tale of black and white there is unexpected complexity as well.
A great deal more happens in the course of the play's 70 riveting minutes but it should not be divulged here. Suffice it to say that Farber, along with Bullard and his cast, pull out all the stops, with help from "intimacy and violence choreographer" Kristina Fluty, and the expertly coordinated design team of Kurtis Boetcher (set), Diane D. Fairchild (lights), Stephen Ptacek (sound), Raquel Adorno (costumes), and Eleanor Kahn (props).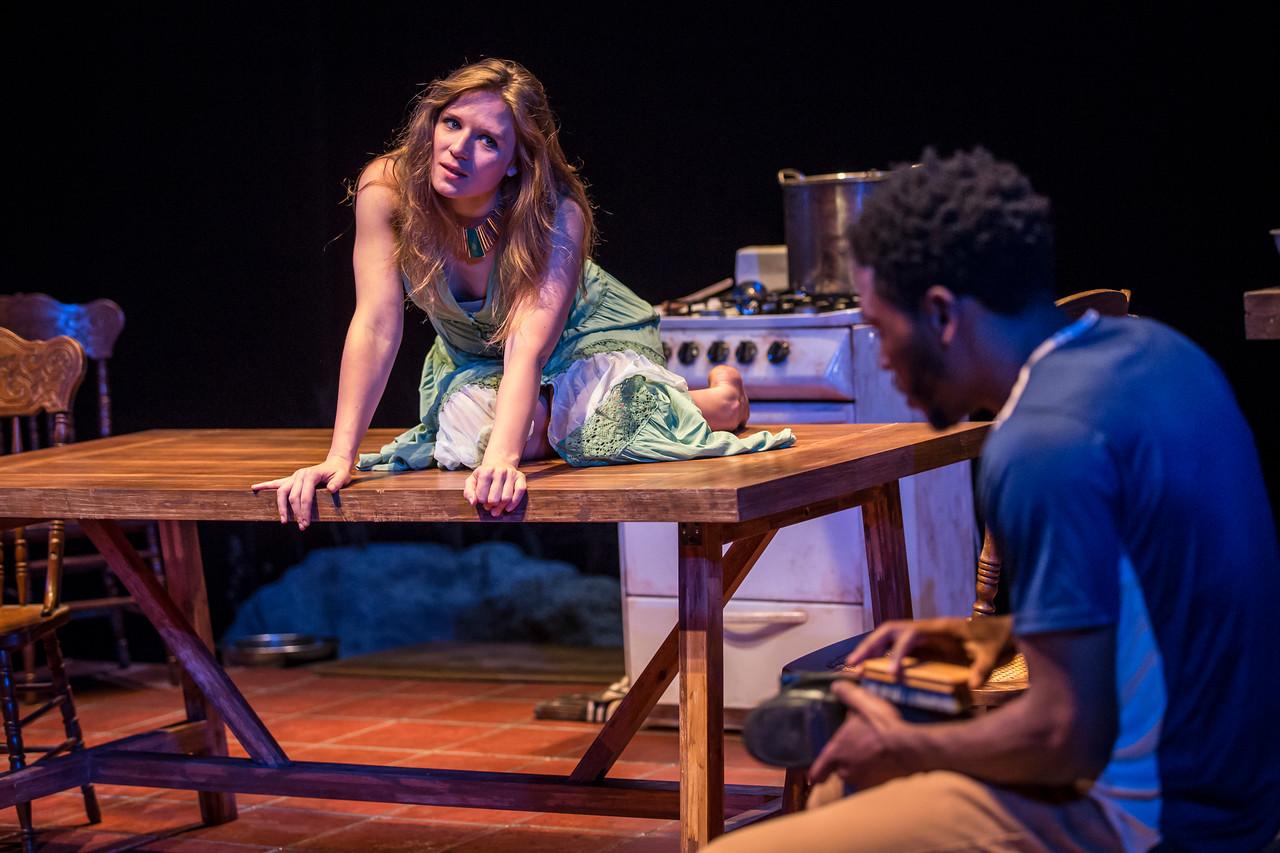 Heather Chrisler and Jalen Gilbert in "Mies Julie" at Victory Gardens Theater. (Photo credit: Liz Lauren)
Yet it is the fever and ferocity of Chrisler (who can arch her back on a table like a cat in heat), and Gilbert (who renders John's memories of youthful obsession with a heartbreaking sense of innocence and pain) that electrify the stage, and prepare it for the rites of blood and annihilation that only such an intimate knowledge of the other can generate.
"Mies Julie" runs through June 24 at Victory Gardens Theater, 2433 N. Lincoln Ave. For tickets ($15-$60) call (773) 871-3000 or visit www.victorygardens.org. Running time is 75 minutes with no intermission.
---
With Charm and Confidence, Chicago Students Take Lyric Stage for 'Empower'
Two Very Different Musicals to Carry You to The Brink of Summer
Scalia and His Clerk Joust Their Way Through Constitutional Arguments in 'The Originalist'
---