Joffrey Ballet's North American premiere of "Midsummer Night's Dream." (Photo by Cheryl Mann)
Think of it as the Swedish version of a Federico Fellini film as transformed into a ballet, with a bit of the dark side aesthetic of filmmaker Guillermo del Toro and a bit of Cirque du Soleil tossed in for good measure.
Then add a landscape strewn with giant bales of hay, a gargantuan refectory table that seems to have a life of its own, a flying bed, a maypole, a giant silver fish, a bicycle, many grand candelabras, and a good quantity of Akvavit, that Scandinavian spirit with a notably high alcohol content.
Finally, open wide the stage of the Auditorium Theatre and hand it over to the extraordinary dancers-turned-actors of the Joffrey Ballet so that they can play out the phantasmagorical madness of Swedish choreographer Alexander Ekman's "Midsummer Night's Dream."
Trust me, you will never experience anything quite like it. It is definitely not Shakespeare's royalty and fairy-driven vision. Think of it more along the lines of a contemporary "Rite of Spring," or in this case, a Rite of Summer, and a crazy dream-meets-nightmare that evokes the traditional Swedish celebration of the summer solstice – the longest day of the year, and one that clearly ignites a certain quality of playful, erotically charged exorcism.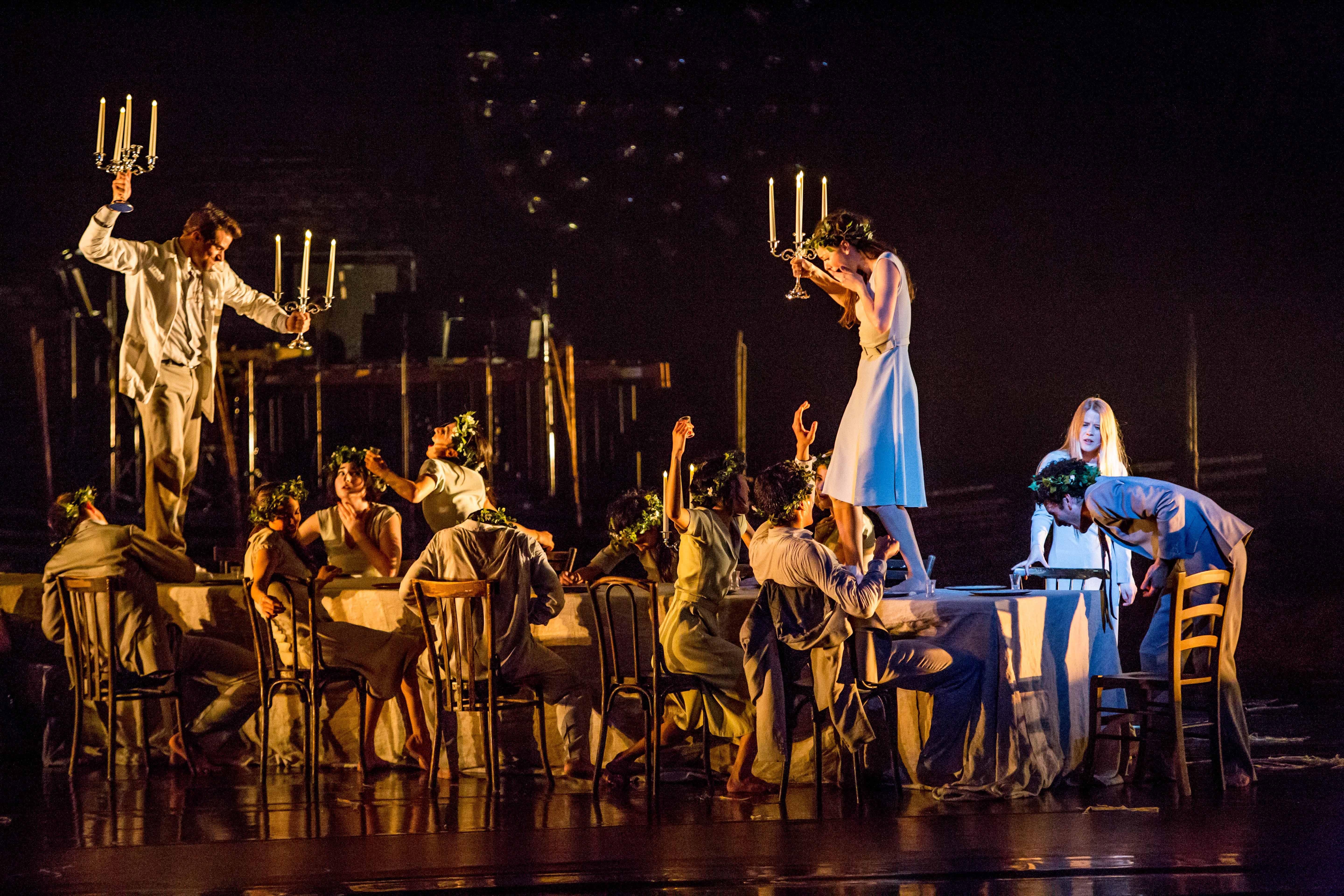 Joffrey Ballet performs "Midsummer Night's Dream." (Photo by Cheryl Mann)
Debuted by the Royal Swedish Ballet in 2015, Ekman's work is now receiving its North American premiere by the Joffrey. And if anyone needs a reason to simultaneously cheer the transformation of the company under the 10 years of artistic director Ashley Wheater's leadership, this is it. This production is a monumental achievement on every level.
It all begins with a solitary Dreamer (Temur Suluashvili) asleep in a white iron bed. He is sweetly greeted and handed his clothes by the woman who might be his wife (Victoria Jaiani), and off they go to the festivities.
As it turns out, it is no ordinary picnic in the grass – more of a wild (and literal) roll in the hay, during which the dancers churn up a gorgeous storm by sweeping great handfuls of straw through the air in a way that seems wholly spontaneous, yet clearly is stunningly choreographed and leads to a climax of both great exultation and exhaustion.
But the fun is only beginning, as the remarkable Swedish singer Anna Von Hausswolff and musicians of the Chicago Philharmonic launch into Mikael Karlsson's hypnotic score, as various friends and lovers and eccentric characters arrive on the scene, as circle dances magically take shape, as a grand table is set with even greater magic, and as the nearly 40 happily inebriated dancers move to the very edge of the stage, puckering their lips, full of attitude and nonsense babble as they gaze into the audience. Standing there, bathed in light, they invite us to feast on their dazzling beauty and individuality.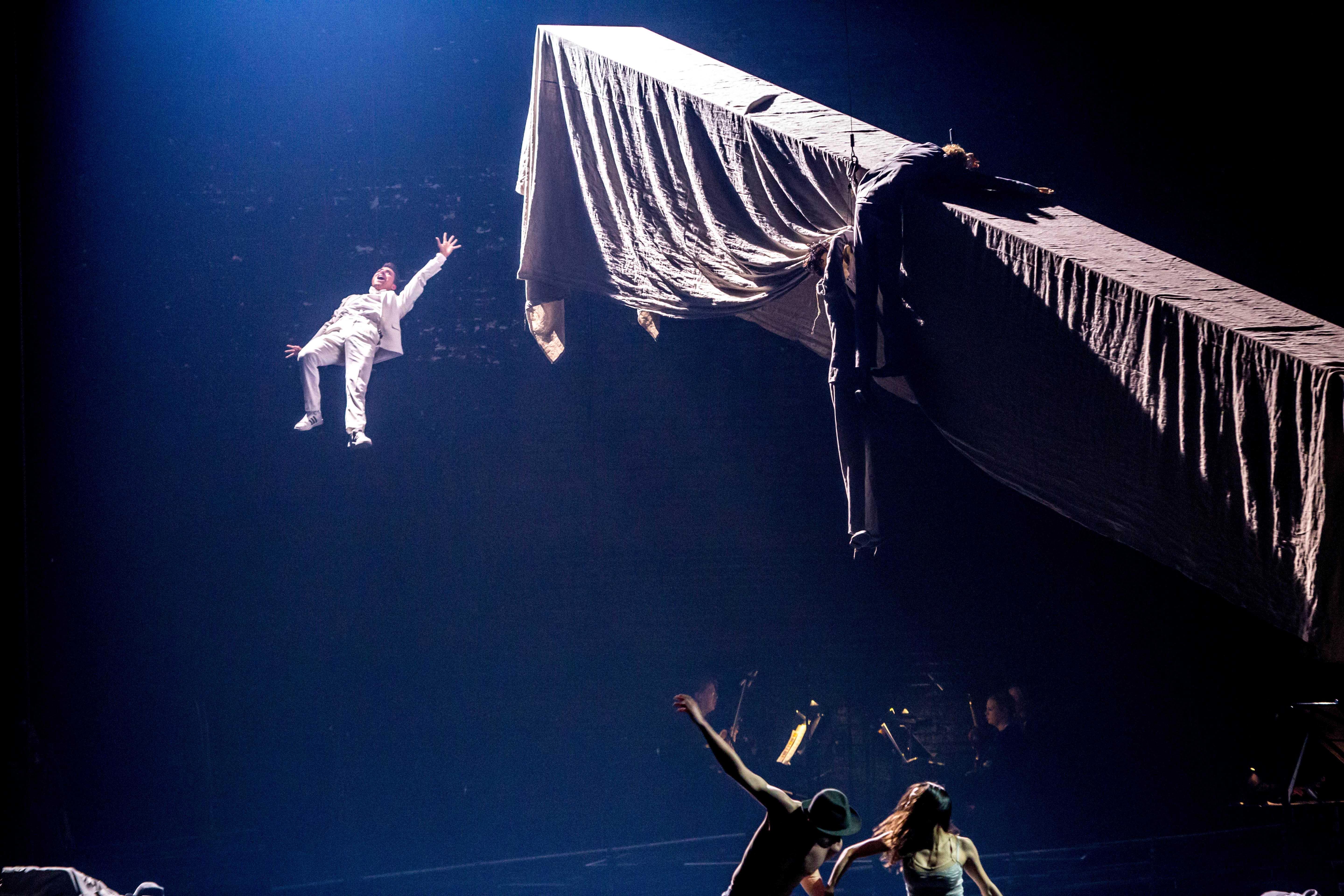 Derrick Agnoletti, Greig Matthews, Anais Bueno in "Midsummer Night's Dream." (Photo by Cheryl Mann)
The second half of "Midsummer" is even more surreal – a grand hangover of sorts, complete with an upended table, cloth dummies almost as flexible as the dancers, and the continued antics of two gray-suited headless men (Edson Barbosa and Elivelton Tomazi), a bare-bottomed chef on pointe (Fernando Duarte), and a bossy photographer (Derrick Agnoletti).
Above all there is a breathtakingly erotic duet, exquisitely performed in superbly controlled semi-slow motion by the long-limbed April Daly and Fabrice Calmels. It was enough to make the temperature in the theater soar.
And then there was the strange interaction between the beguiling Jaiani (now in pointe shoes and a stiff black tutu), and the Dreamer (Suluashvili, a most compelling actor) highlighted by what was very close to a traditional ballet pas de deux. (Earlier in the evening there also were lovely moments between two sets of lovers – Jeraldine Mendoza and Greig Matthews, and Brooke Linford and Graham Maverick.)
Part of the wonder of Ekman's work is his ability to create zany, surprising, off-kilter scenes of immense complexity and control without ever losing sight of the crucially important emotional connection the dancers forge in order to make "Midsummer" more than a purely decorative theatrical spectacle. And beyond their masterful technique and discipline, the Joffrey dancers invariably find a way to create characters in the way all great actors do – by tapping into themselves.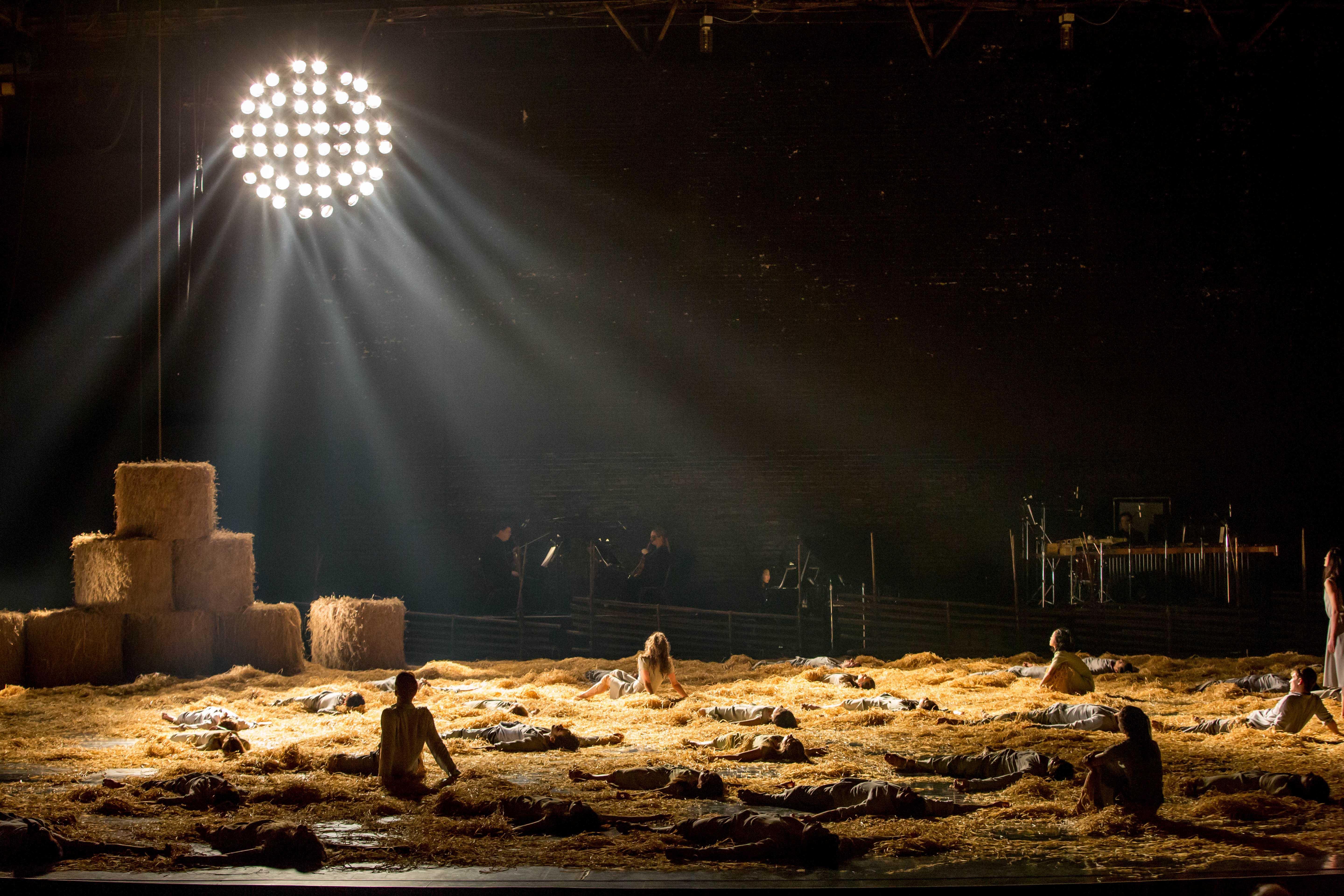 Joffrey Ballet performs "Midsummer Night's Dream." (Photo by Cheryl Mann)
Not surprisingly, Ekman also has designed the ballet's eye-popping set which moves (with some help from Flying By Foy and Linus Fellbom's vivid lighting) in ideal tandem with the dancers. And it is complemented by Bregje Van Balen's fluid costumes which range in tone from summer off-whites to nearly nude.
I confess the Ekman (who was on hand Wednesday night to take bows along with all his collaborators), hooked me from the moment I took my seat in the Auditorium and read the question projected on the curtain: "Where are the lingonberries?" I found them, along with a great feast of dance-theater beyond my wildest dreams.

"Midsummer Night's Dream" runs through May 6 at the Auditorium Theatre, 50 E. Congress Pkwy. For tickets ($34-$177) call (312) 386-8905 or visit www.joffrey.org. Running time: 2 hours and 25 minutes with one intermission.
Follow Hedy Weiss on Twitter: @HedyWeissCritic
---
Porchlight Unlocks the Blazing Heart and Soul In Musical 'Memphis'
In 'The Doppelgänger,' Insiders and Outsiders Greedily Savage an African Nation
Hersey Felder's Portrait of Tchaikovsky Fueled by Composer's Music of Suppression, Longing
Broadway Revival of 'Carousel' Injects New Elements Into Rodgers and Hammerstein Classic
'Gentleman Caller' Lays Bare the Not-So-Secret Lives of Tennessee Williams, William Inge
Blistering Grand Opera 'Sweeney Todd' at Theo Ubique's Tiny Storefront
---