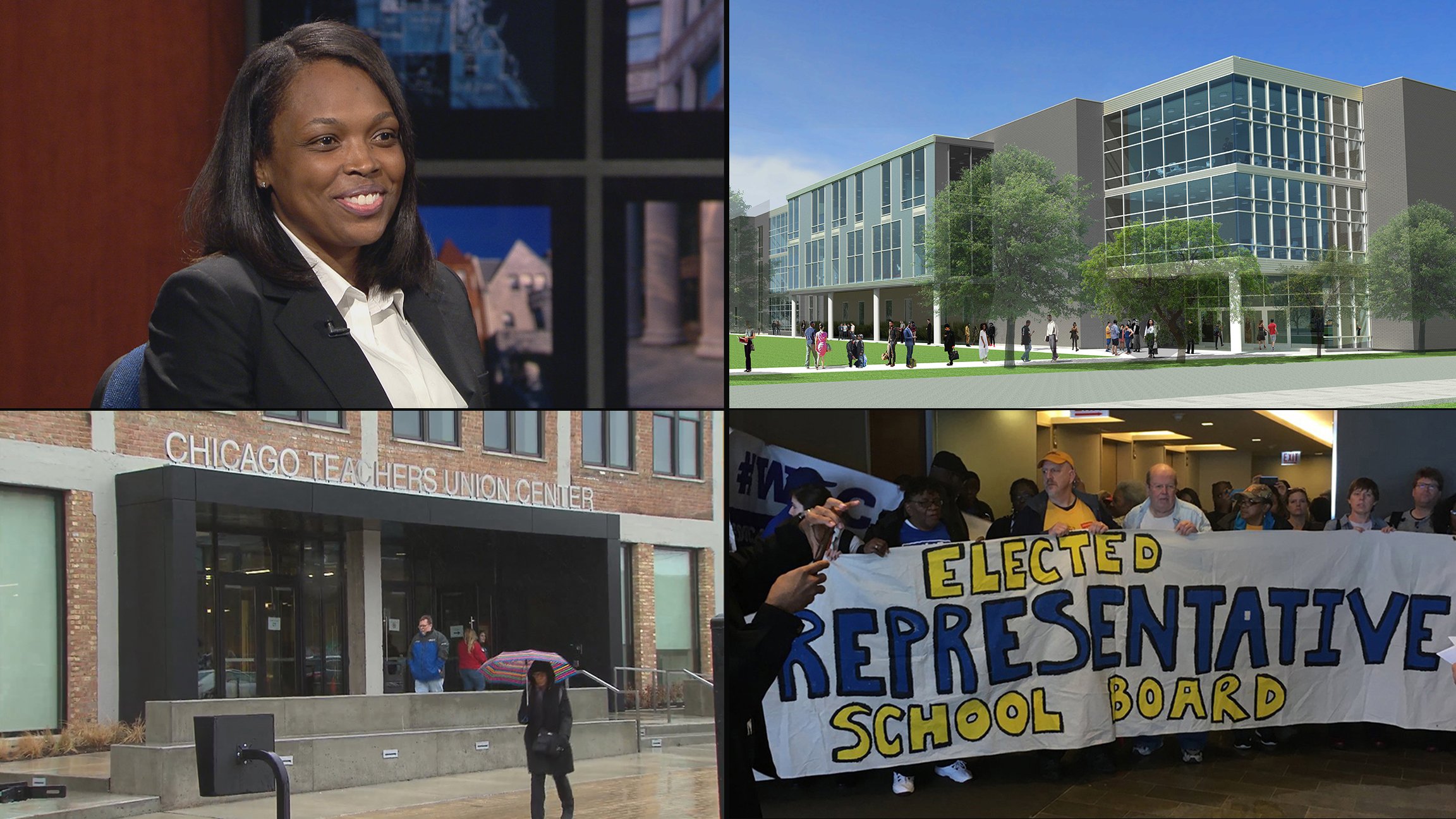 Clockwise from top left: Acting CPS CEO Janice Jackson; a rendering of the proposed Englewood high school; protesters demanding an elected Chicago Board of Education; the Chicago Teachers Union headquarters. (Chicago Tonight / Raise Your Hand Action)
In the past year, the state's largest school district tried to sue the governor, a new statewide funding formula was put into place and another Chicago Public Schools CEO stepped down following a scandal.
It was a historic year for education across the city and state, but plenty more is expected in 2018.
Chicago's Board of Education will vote on a new district leader and neighborhood schools could be closed down for the first time in five years. Legislators will renew a push to transform that same board into an elected body, and CPS officials will likely begin negotiations on a new contract with the Chicago Teachers Union.
With 2017 drawing to a close, here's a look at some of the top education issues to watch in the year to come.
The New Face of CPS
For the third time since mid-2015, Chicago Public Schools has a new chief executive officer.
This time it's Janice Jackson, the former CPS teacher, principal and chief education officer, who has taken over the reins following the resignation of Forrest Claypool in December.
She was Claypool's second-in-command and Mayor Rahm Emanuel said this month he has "100-percent confidence" in her ability to lead the district.
Janice Jackson speaks on July 16, 2015 after being named new chief education officer for Chicago Public Schools.
Jackson has essentially worked at every level of the district, and has an understanding of what needs to be done in and out of the classroom to help students succeed. That background has earned her early praise from some.
Others have been more critical.
"CPS's Executive Officers have one job: To get their talking points from the Mayor's education people, memorize them, and repeat them at every opportunity," Troy LaRaviere, president of the Chicago Principals and Administrators Association, said in an email to Chicago Tonight. "That was Ms. Jackson's job as (chief education officer), and the only thing that will change as CEO is her salary."
Jackson is currently the acting CEO, and the Board of Education will decide whether she takes over the position permanently at its January meeting.
If she does, she'll have some big issues awaiting her early in the new year ...
Chicago School Actions
Chicago Public Schools' five-year moratorium on school closings runs out in 2018, and a new slate of schools is already on the chopping block.
Among those are four Englewood-area high schools – Hope, Harper, Robeson and TEAM Englewood – that would be shuttered in favor of a new $85 million school that would open in 2019. But those existing schools will shut down in 2018, leaving a gap year between them and the yet-to-be-constructed facility.
That means students will have to go elsewhere for the 2018-19 school year – a decision that has not been well-received by some parents, teachers and students.
The proposed actions will also include the long-discussed Ogden-Jenner merger and a plan to convert the existing National Teachers Academy elementary into a high school, while shipping current NTA students over to South Loop Elementary beginning in 2019.
NTA parents have protested that move, and students at Harper have held sit-ins to voice opposition to their school's closure.
Expect those voices to only grow louder as the district holds public hearings and community meetings throughout January. The district has already recommended all of the above moves, and the Board of Education is expected to vote on them as early as February.
Also watch for a charter school on the district equivalent of death row to push for a reprieve from the state.
The board at its December meeting voted to shutter ACE Technical charter school following years of poor academic performance. But the Washington Park-area school is expected in 2018 to appeal to the Illinois State Charter School Commission, which has the power to overturn local charter closure decisions.
Three other South Side charters successfully followed that path in 2016 after the board voted to shut them down a year earlier.
Board members addressed this possibility in December when questioning the district's charter chief Mary Bradley. She said the district had planned meetings with parents and designed targeted supports to make sure ACE Tech's 300 students can find and enroll in higher performing schools.
Bradley went on to say CPS has taken steps to alter its charter closure process – scheduling regular visits and check-ins to make sure school officials are following their designated improvement plan – following the commission's 2016 decision.
"It's a very transparent process," she said. "We believe that any concern the commission has brought up in the past, that our process is very solid and they should be able to hold up this decision."
CTU Contract Negotiations
It's been only 14 months since the Chicago Teachers Union and CPS officials staved off a strike with a late-night contract agreement. Don't look now, but that deal is already drawing toward its end.
The contract, a four-year-deal, ran retroactively back to 2015 when the union's previous agreement expired. With a 2019 sunset date, the two sides will likely head back to the negotiating table sometime in 2018 to begin discussions on yet another new deal.
"Talks would begin next year but there's no timetable for that as of right now," CTU spokesman Ronnie Reese told Chicago Tonight in an email.
City and union leaders compromised on raises, tax incremental finance (TIF) dollars and the teachers' pension pickup payment in the current deal. This time around, the district has a new leader in Jackson and finds itself with a more solid financial footing after the state adopted a new funding formula in 2017.
ESSA Accountability Guidelines
Illinois and states across the country will each begin implementing new accountability guidelines under the Every Student Succeeds Act, or ESSA, in 2018.
ESSA replaces No Child Left Behind, the federal education guidelines that had been in place since the early 2000s. Illinois received federal approval for its plan this past August.
Under its framework, the 2017-18 school year will serve as a transition period. The Illinois State Board of Education says it will fully implement its accountability system to identify the schools in need of additional support prior to the start of next school year.
Among the highlights noted in Illinois' plan is a college/career readiness indicator for high schoolers that weighs factors such as GPA, attendance and postsecondary readiness exam scores, and a school climate survey that gives students a say in their school's overall summative rating.
Elected Representative School Board Bill
Will 2018 be the year legislation giving Chicago an elected school board is passed? Bill sponsor and House Rep. Robert Martwick thinks so.
"The thing about 2017 is our toes were at the goal line," he said. "It's literally hammering out two little legislative details and then the bill sits on the governor's desk."
The House this past spring approved a bill eliminating mayoral control in favor of an elected Board of Education on a 105-9 vote. The Senate then followed suit with its own amended version, passed on a 53-2 vote.
This legislation would divide the city into specific voting regions and grant each the power to elect its own board representative. In one version of the bill, a 12-member commission would be tasked with creating 14 district zones, each of which could then elect its own school board member beginning in 2023.
A board president would also be chosen through a citywide at-large race.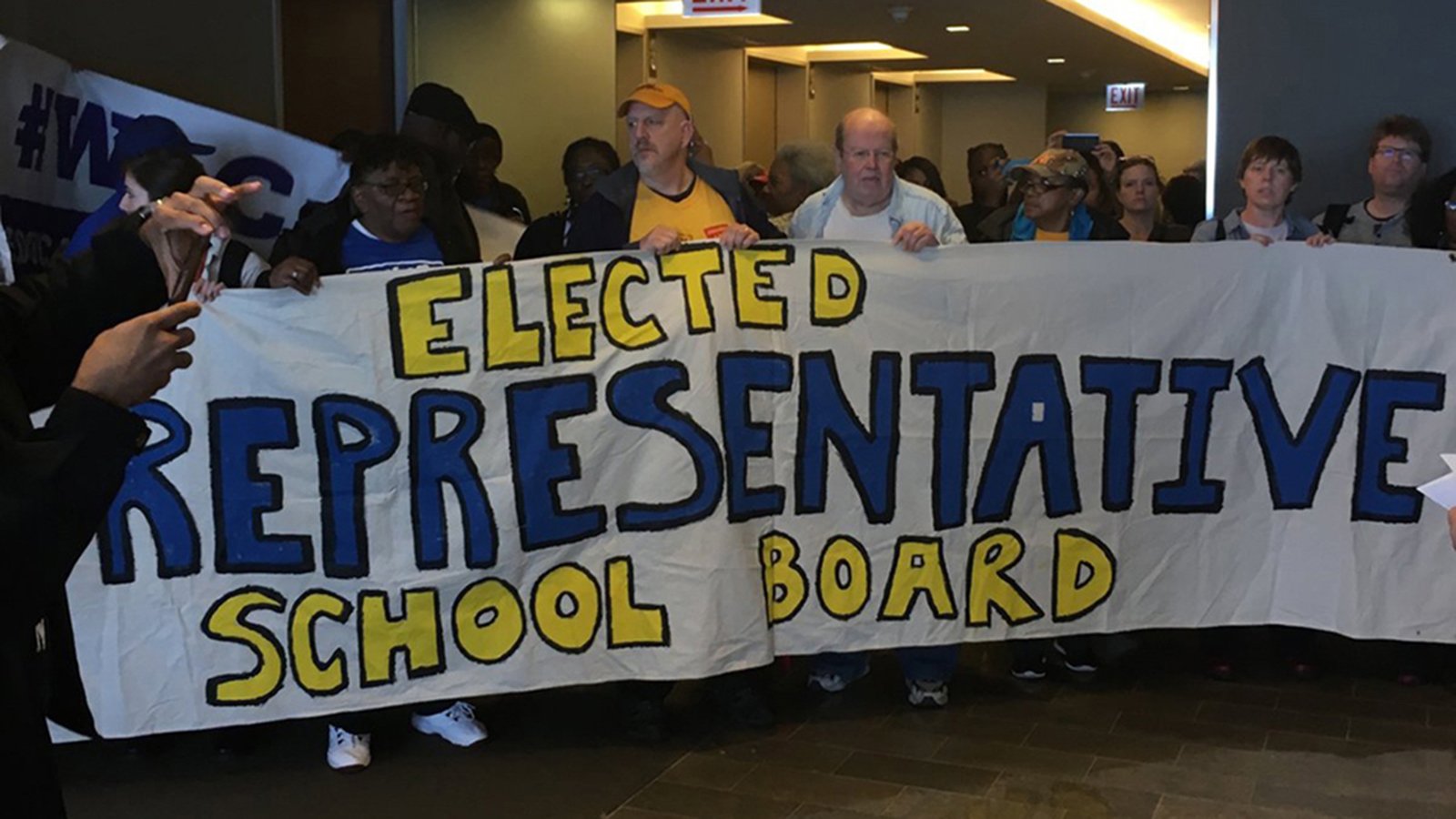 (Raise Your Hand Action / Twitter)
Legislators will begin working to reconcile any differences between the Senate and House bills in January, Martwick said, including the size of the new school board and deciding who will draw voting maps.
Chicago Public Schools remains the only district in the state where school board members are appointed by the mayor. CPS leadership, Emanuel and the board itself have all opposed the change, as has Gov. Bruce Rauner, who called the bill "political spin."
Parents and education advocates, however, have been calling for an end to mayoral control for years. Those calls have continued following the resignation of another one of the mayor's appointees, CPS CEO Claypool. Even Jesse Ruiz, a former board member and current state attorney general candidate who had previously defended mayoral control, has come out in favor of an elected board after Claypool stepped down.
Similar legislation has shown signs of progression in recent years only to stall out later. Still, Martwick believes a finished bill will make it to Rauner's desk in 2018 and will become law – even if the governor isn't on board.
"I think we have an ability to override a governor's veto so I think the elected school board is about to happen in the city of Chicago," he said. "I think people are realizing that less democracy is not the answer, more democracy is the answer to solving our problems with CPS."
Tax Credit Scholarships
Beginning in January, Illinois will venture down a controversial new path in education funding.
The state Legislature in 2017 approved a new five-year, $75 million pilot program designed to take donated funds from individuals or corporations and use them to subsidize student tuition for low-income families at private schools.
These tax credit scholarships allow Illinois taxpayers to write off a portion of the taxes they owe the state through donations to Student Tuition Organizations. Those groups then take that money, package it as a scholarship and give it to parents to use at private or parochial schools.
Chicago Tonight's full breakdown of this hotly debated system is available here.
School choice advocates say this type of program expands the number of education options for low-income families. But their overall effectiveness is unclear (some studies have shown scholarship recipients actually perform worse in the classroom after switching schools) and as the program draws students from public schools into private schools, it means less state money going to Illinois' public education.
While the program's initial bottom line isn't massive, critics fear it could balloon if the scholarships are adopted permanently following the pilot period.
Still, Rauner listed the scholarship program as his second-biggest accomplishment of 2017.
"Governor Rauner has long been an advocate of providing school choice for underprivileged students," the governor's office said in a statement, "and this program is the first step to providing quality education to every child in Illinois."
The program goes into effect on Jan. 2.
A New Majority?
Could 2018 also be the year Chicago Public Schools becomes a majority Latino school district?
Just before the turn of the century, there were about 152,000 Latino students within CPS compared to more than 226,000 African-American students. According to the latest district data, there are now almost 174,000 Latino students in a district that has since shrunk by 15 percent (or about 64,000 students).
As WBEZ reported earlier this year, Latino students became the largest student subgroup within CPS in 2010 and have continued growing ever since. They now make up almost 47 percent of the district's 371,000 students.
African-American students – who themselves had made up nearly 50 percent of the district population about a decade ago – now comprise 37 percent of CPS students (about 137,000 total students).
As WBEZ points out, this shift mirrors national trends.
In the last eight years alone, CPS has seen 15,000 students from predominantly poor, African American schools transfer out of the district and into other Illinois schools, according to the Chicago Reporter. That number doesn't even include those students who have left the state entirely.
It might be too much to expect Latino students to surpass the 50-percent mark in the next year (the percentage of Latino students has risen, on average, less than 1 point per year in recent years) but if current trends continue, it might not take much longer.
Contact Matt Masterson: @ByMattMasterson | [email protected] | (773) 509-5431
---
Related stories: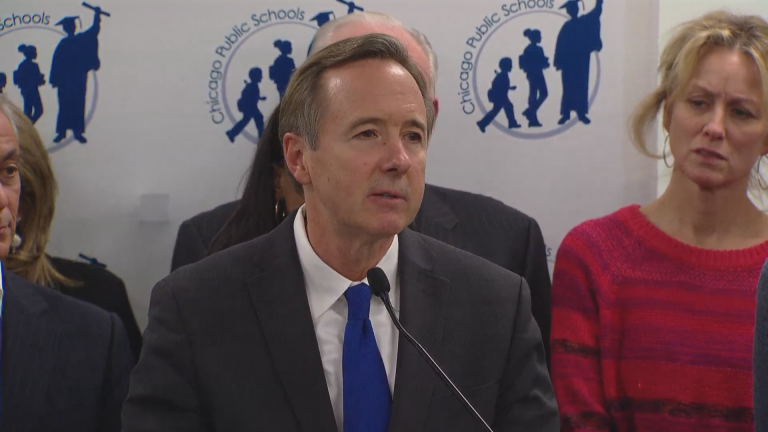 Forrest Claypool Resigns as Chicago Public Schools CEO
Dec. 8: The embattled schools chief officially resigned on Friday as Chief Executive Officer of the Chicago Public Schools.
---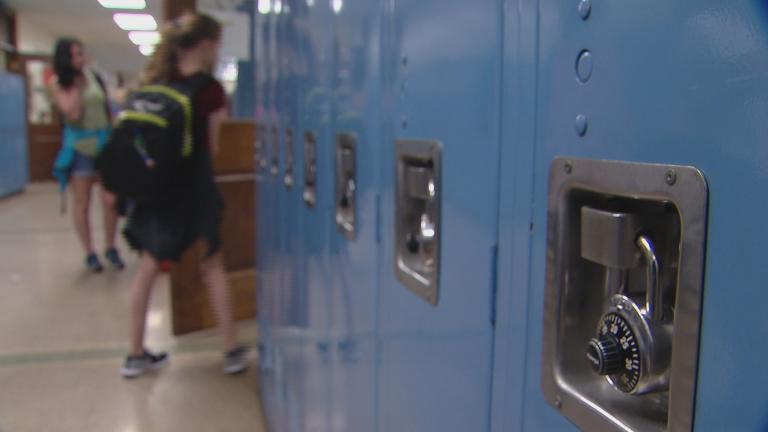 What Will Tax Credit Scholarships Mean for Illinois?
Aug. 30: What role should the state have in private school education? A look at Illinois' plan and how other states run the controversial program.
---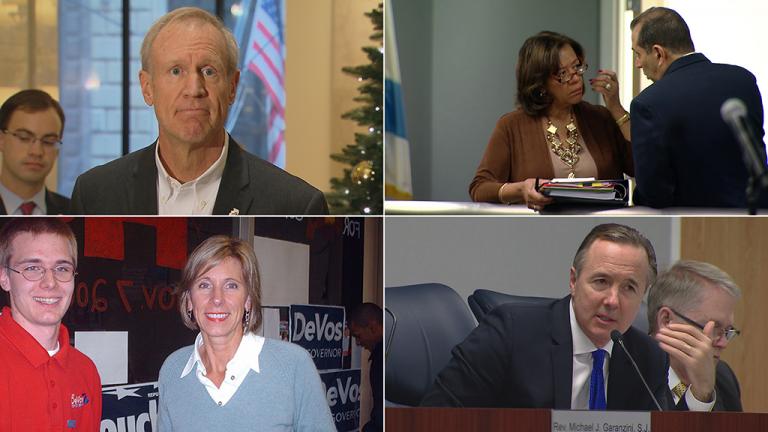 Education Issues to Watch in 2017
Jan. 3: A $215 million hole in Chicago Public Schools' budget and a sentencing date for its former CEO headline local education issues to follow in the coming year.
---