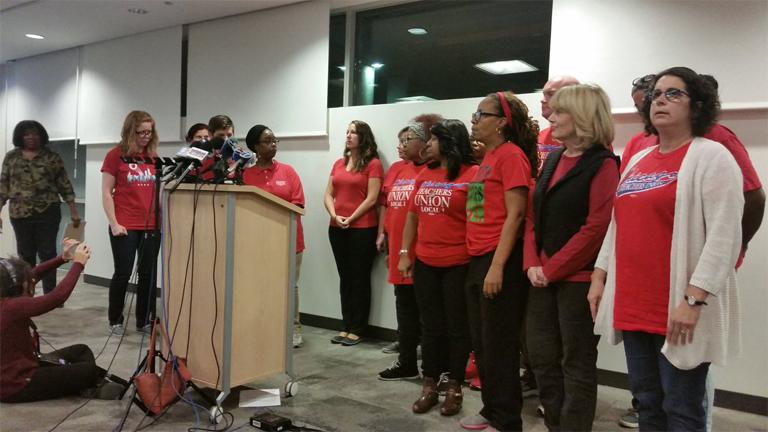 A strike by Chicago Teachers Union members has been averted after the union reached a tentative agreement with Chicago Public Schools and the Board of Education.
With less than 10 minutes to go until a midnight strike deadline Monday night, CTU President Karen Lewis announced the union had agreed to a new four-year contract with the district.
"What we found is that what we ended up with is something that's good for kids, it's good for clinicians, it's good for paraprofessionals, teachers, for the community," Lewis said. "And we're very pleased."
Lewis believes the tentative deal is a relief for the entire city after "22 months of uncertainty" going back before the union's previous deal expired last year.
The agreement, which still needs to be ratified by the union's House of Delegates and its full membership, resolved the main issue of the district's pension pickup payment. CPS will continue making its 7-percent pension payments for current CTU members, but new hires will not receive that perk. Instead they will receive offsetting raises, though the exact details have not yet been released.
---
Lewis also said there is additional TIF money on top of the $32 million the district was set to receive from the city this year rumored to be included in the deal, but would not give an exact figure. Additionally, she said the union has received commitments from the board on class size limits, layoff conditions and "a host of things that really will make the classroom a lot better."
The union has published the text of the agreement on its website. Though it's technically a four-year deal, if ratified it will be retroactive to last June when the teacher's previous contract expired, meaning the sides are now in year two.
Update (10:47 p.m.)
The Chicago Teachers Union is reviewing a new contract offer received from the Chicago Board of Education late Monday night as officials for both sides say significant progress has been made.
In back-to-back press conferences held late Monday – just two hours before a midnight strike deadline – CTU President Karen Lewis and CPS Chief Education Officer Janice Jackson each said they remain optimistic a deal can be struck to avoid a potential work stoppage.
"We're still deliberating and we have no tentative agreement in hand yet," Lewis told media. "Talks will continue. If there's no agreement in place we will strike, but understand this is a late proposal, we just got it in print and it's taking time for us to go through it."
Lewis wouldn't give specifics on the deal, but said the offer was "significantly better" than one offered by the board in January because it "addressed a lot of the things that we brought back and countered to the board."
Jackson echoed those sentiments moments later in her own press conference, where she read a statement from Mayor Rahm Emanuel.
"I do think we're pretty close," Jackson said, "and we've made compromises – compromises that are needed to ensure that our children are in school tomorrow."
As for parents and students waiting to find out whether or not there will be class Tuesday morning, Lewis said: "I wish I could tell you guys they could go to bed now, but I would say this, prepare for the worst and pray for the best."
Video of @CPSCEdO update on labor talks https://t.co/LxT85WwzpO

— Matt Masterson (@ByMattMasterson) October 11, 2016
---
Earlier Monday
With labor negotiations continuing until a midnight deadline, members of the Chicago Teachers Union spent Monday afternoon picking up signs, fliers and other materials in advance of a strike set to begin Tuesday morning.
"None of us here want a strike," said Marie Szyman, a teacher at Pershing Magnet School. "All of us are hoping to be back in the classroom in the morning. But if we have to, we're ready."
Negotiators from the union and the Chicago Board of Education met at noon Monday and were expected to work late into the evening in hopes of reaching a contract agreement that would prevent CTU's second major work stoppage in the last four years.
Teachers showed up throughout the day at the union's strike headquarters, where CTU workers distributed shirts, signs and even organized chants.
"I think it should be clear that it's not a holiday," said Gabriel Paez, a teacher at Piccolo Elementary. "It's not a little extra vacation. It's a very unfortunate reality that the city has put us in, and it's not a necessary one, it's a manufactured crisis."
CTU members previously went on strike for seven school days in 2012 before a labor agreement was reached. Several teachers on Monday said they learned from that experience and feel better prepared this time around. Szyman – who taught at Nathanael Greene Elementary for nine years before being laid off in August – said many union members have kept in better contact, texting and sharing information about negotiations and strike plans.
As teachers gathered picketing materials Monday, parent protestors also gathered in Ravenswood and marched on Mayor Rahm Emanuel's home, calling for additional TIF dollars to help fund the cash-strapped Chicago Public School district.
---
The two sides have been quiet about what's gone on at the negotiating table, but sticking points have included contract length and the district's desire to phase out its 7-percent pension pick-up payment.
The union sees this as a pay cut, but CPS has repeatedly said the contract actually offers teachers a 13.5 percent raise over the life of the contract. The union has also requested an extra $500 per student from CPS to cover teacher and paraprofessional salaries and "strengthen classrooms."
While many teachers were hopeful a work stoppage could be avoided, with only a few hours left until the strike deadline, their level of optimism was low.
"We ran out of having a contract in 2015. It took them until January of 2016 to come up with an offer," said Ozni Torres, an Ogden International High School teacher. "And now it's October, so I don't know why they would change now. I don't know how long they'll let us be out, but it really is on them to just put their money where their mouth is."
Union leaders in a letter late last week urged members and strike supporters to be ready to picket outside schools and CPS offices as early as 6 a.m. Tuesday morning.
"Check your email first, then our website and social media, and listen to the news Monday evening," the notice read. "Unless you hear otherwise, the strike begins Tuesday, Oct. 11."
Once the strike begins, teachers will picket outside their own schools until 10 a.m. before joining a larger rally expected to be held downtown where the mayor is scheduled to give a speech on the city's budget.
On top of privately run strike camps scheduled to begin Tuesday, CPS has also compiled a map of 685 contingency sites – including school buildings, libraries and other locations – across the city.
Follow Matt Masterson on Twitter: @ByMattMasterson
---
Related stories: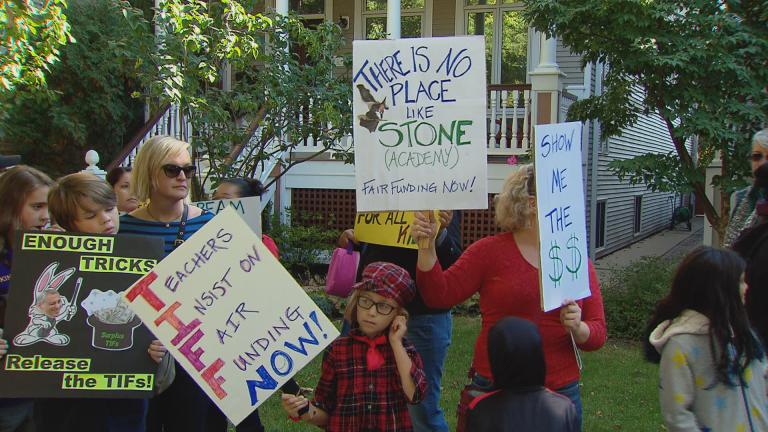 CTU Preps for Second Strike in 2 Contracts
Oct. 10: Picket signs are printed and teachers say they're ready to walk out as parents scramble to find care for their children.
---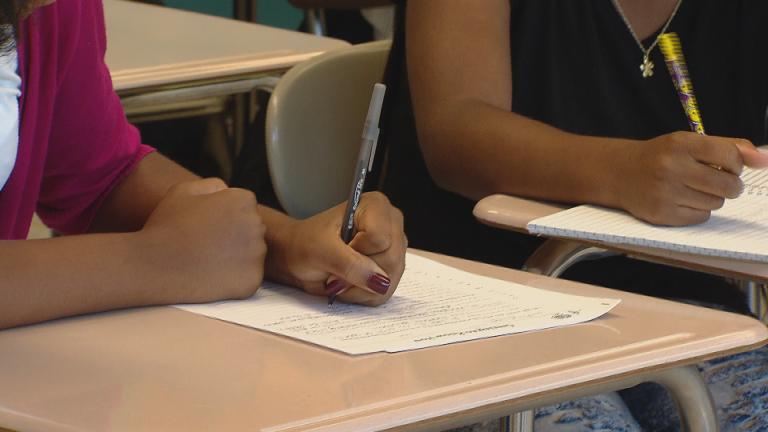 With No Deal in Place CTU, Board of Education to Negotiate Through Weekend
Oct. 7: CTU President Karen Lewis said negotiations between the two sides would continue over the weekend and through Columbus Day if necessary, but as of Friday afternoon, she had "nothing substantial" to report.
---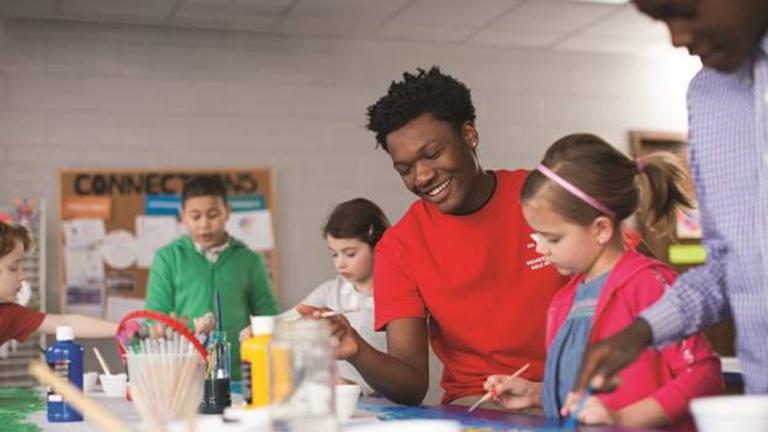 Camps, Day Care Available for CPS Students if Teachers Walk Out
Oct. 3: The YMCA and other community organizations across the city plan to hold strike camps for CPS students if the district and Chicago teachers can't reach a contract agreement by next week.
---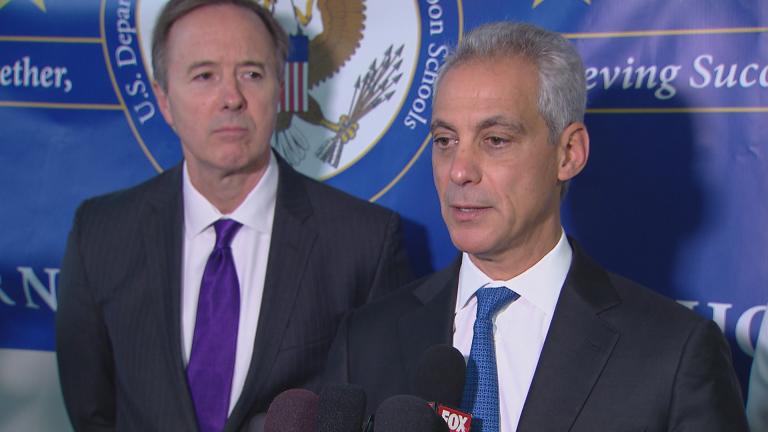 Mayor Emanuel: Teachers Strike Avoidable
Sept. 29: Chicago teachers formally give a 10-day strike notice to the Chicago Board of Education. Why the mayor and schools chief think they can avoid a walkout.
---