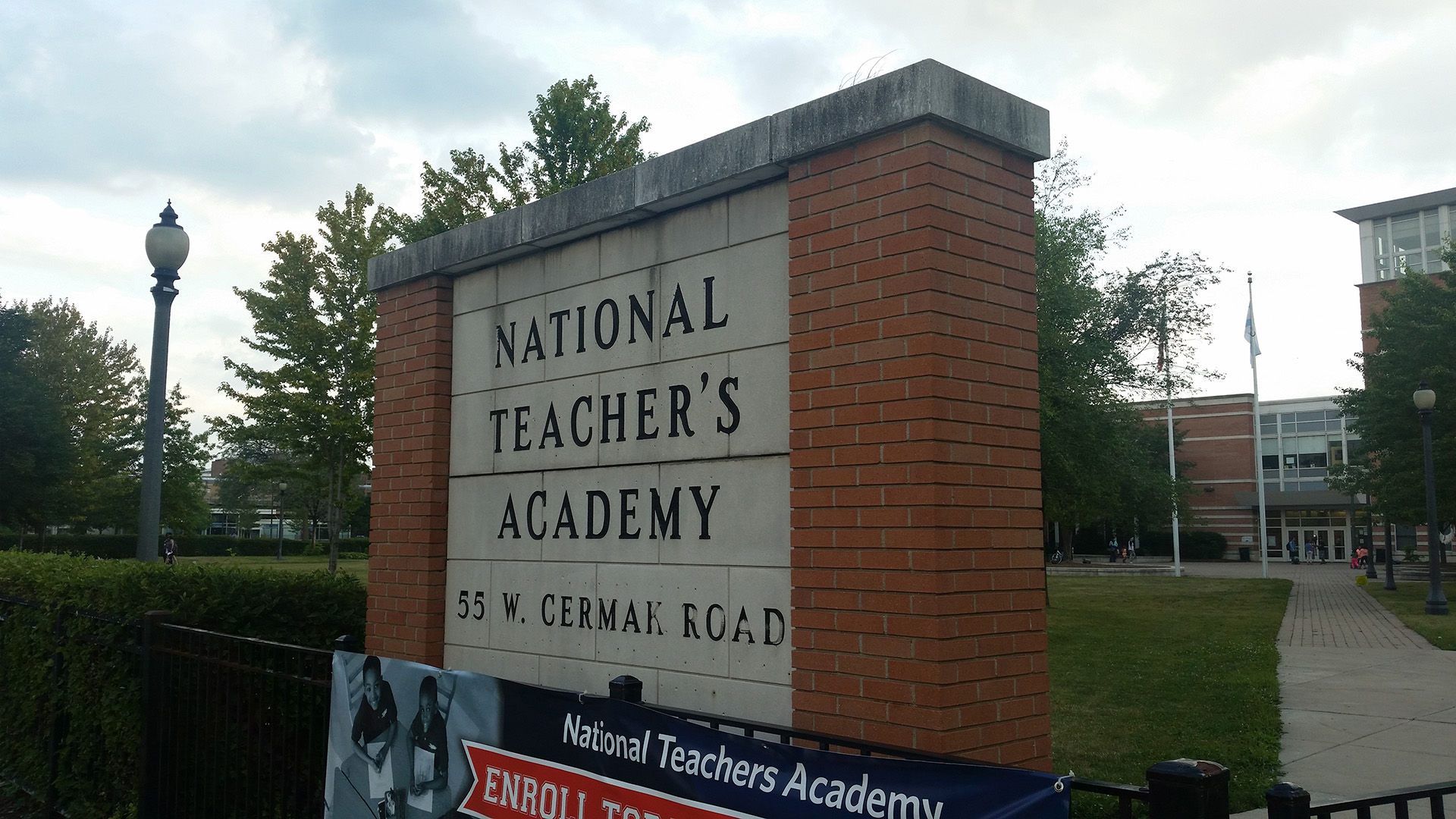 Under the district proposal, the National Teachers Academy will accept its first freshmen class in 2019 as it transitions into a high school over multiple years. (Matt Masterson / Chicago Tonight)
A controversial plan to convert a high-performing Near South Side elementary school into a neighborhood high school will move forward, Chicago Public Schools announced Friday.
The district will recommend to the Board of Education a proposal to convert the National Teachers Academy into a neighborhood high school beginning in 2019, a decision CPS Chief Education Officer Janice Jackson says will expand high-quality educational options to Near South Side families.
"There has been a fast-growing population there and people choosing CPS," she told Chicago Tonight on Friday, "and one of the things that they have said to us is that we choose CPS, we love all of the elementary options in this area. We don't even have a high school option in the Near South area for us to consider."
The district is planning to phase in high school classes at NTA beginning with a freshmen class during the 2019-20 school year. Rising second through seventh grade students currently at NTA will be allowed to stay there and will be guaranteed a seat in the new high school, while younger students will be transferred to South Loop Elementary beginning that same year.
CPS will also shift SLE's southern border south from 18th Street to 22nd Street/Cermak and will make room for an additional 1,200 seats after constructing a new addition during the 2018-19 school year.
Parents and community representatives from Chinatown, Bridgeport, Bronzeville and the South Loop have said they're desperate after waiting decades for a quality high school option close by. But NTA parents say the plan comes at the expense of a high-performing, majority black elementary school.
"We're extremely disappointed at CPS' caving at political pressure to build something up for the more wealthy, the more privileged in the South Loop at the destruction of a very high-performing school that happens to be 80 percent low-income and 80 percent African-American," NTA local school council chair Elisabeth Greer said.

Opened in 2002, NTA last school year enrolled around 700 students between its pre-K program, K-4 regional gifted center and traditional K-8 classrooms. South Loop Elementary currently has a similarly sized student population, but has dealt with overcrowding in its classrooms since 2010, forcing administration to phase out its regional gifted center and pre-K programming.
The district says it will form a steering committee comprised of stakeholders both from NTA and South Loop Elementary to help guide the transition, and is planning additional community meetings in order to answer outstanding questions.
One of those questions that remains unanswered is what will happen with NTA's regional gifted center. Jackson said it will be moving back to SLE once its addition is complete, but how that's going to occur – whether it's phased in one grade at a time or moved all at once – is not yet clear.
At a series of public hearings held over the past few months, NTA advocates repeatedly pointed to racial discrimination as a driving force behind the move after watching their school grow from a Level 3 school to a Level 1, only to now face closure.
During that process, CPS repeated that no final decisions had been made. But Greer said Friday she was actually pleased to hear the district's announcement.
She hopes the NTA community can use it to rally support for alternative options, such as diverting resources to build up nearby Phillips or Dunbar high schools, or using city tax incremental financing dollars to construct a whole new high school campus in the area.
Jackson countered that CPS has invested in those schools – including a $12 million kickoff last year of the Chicago Builds training program at Dunbar – but parents aren't sending their kids there.
"If people see Phillips and Dunbar as high-quality options, we applaud that," she said. "The data just has not shown us that families within the boundaries have been choosing that. I believe less than 4 percent are choosing the neighborhood schools, and that's something we feel strongly we have to be responsive to."
CPS has received strong backing from aldermen in the area, including Ald. Danny Solis (25th Ward), Ald. Patrick Thompson (11th Ward), Ald. Howard Brookins (21st Ward) and Ald. Pat Dowell (3rd Ward), who told Chicago Tonight the main education issues her constituents raise are overcrowding at SLE and the lack of a nearby high school option.
"The residents are looking to stay in the city and want a high school option right in their community as other communities do," Dowell said.
CPS must submit its proposal to the board by December, and the board will likely take up an approval vote next February. Jackson reiterated the district's decision was not made lightly, and she hopes that by announcing their intentions now, it will spark a continued dialogue leading up to the vote.
"I know people are experiencing loss, and there's going to be a reaction to that," she said, "but I hope through our engagement over the next few months that people start seeing the long-term effects, which is you have a high-quality school your kids currently attend that they love and they will be able to do that through 12th grade if they choose to do so."
Follow Matt Masterson on Twitter: @ByMattMasterson
---
Related stories: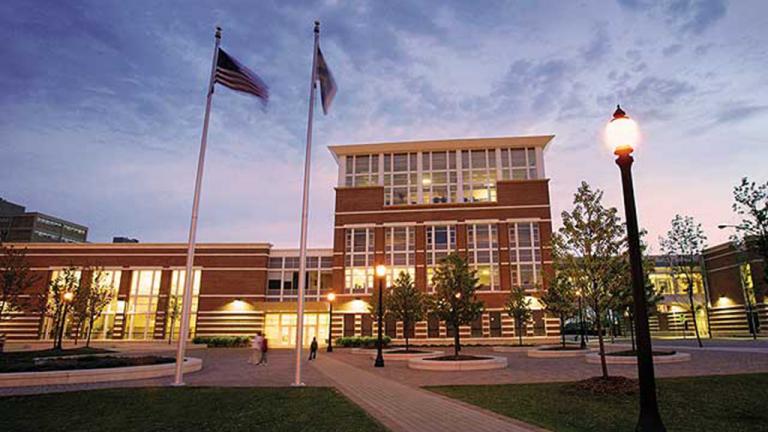 NTA Student: 'As Kids we Shouldn't Have to Worry About Our Second Home'
July 26: A trio of town halls wasn't enough for National Teachers Academy parents and South Loop-area residents, who filled a Board of Education meeting Wednesday to continue talks over a controversial plan for a new high school.
---
Ald. Dowell Voices Support to Merge 2 South Loop Elementary Schools
July 18: The 3rd ward alderman says she believes combining the schools will create a more diverse and just-as high performing elementary school, and high-quality neighborhood high school for South Loop residents.
---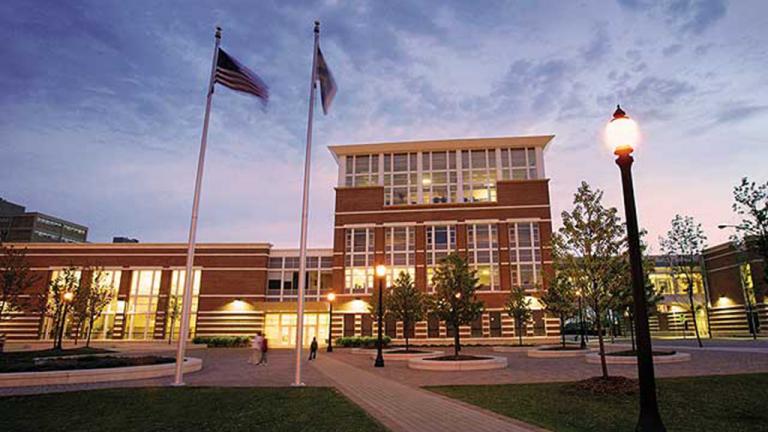 Parents, Community Split Over CPS Plan for New South Loop High School
June 15: Why a proposal to convert a Near South Side elementary school into a neighborhood high school has won support from local residents, but drawn the ire of some parents.
---