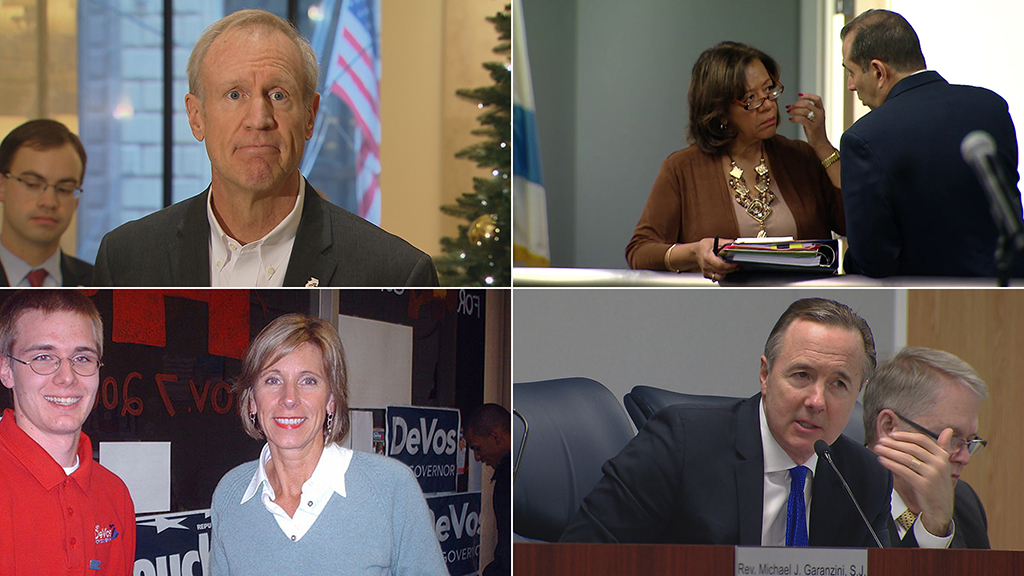 Clockwise from top left: Gov. Bruce Rauner, former CPS CEO Barbara Byrd-Bennett, current CPS CEO Forrest Claypool and U.S. education secretary nominee Betsy DeVos. (Chicago Tonight)
2016 has been a busy year for education issues locally, statewide and across the country.
The Chicago Teachers Union staged a one-day walkout in April to spark movement on a state budget – which has still not been finalized – and planned an indefinite work stoppage in October that was prevented only by a last-second labor agreement with CPS.
The first-ever charter school teacher strike was also averted at the eleventh hour when the United Educators of UNO agreed to a new contract with the UNO Charter School Network.
In June, Gov. Bruce Rauner suggested bankruptcy may be the best option for a cash-strapped Chicago Public Schools district and ultimately vetoed $215 million in state funding that would have helped the district cover its pension payments in December.
CPS reported record highs in its attendance, graduation and freshman-on-track-to-graduate rates. And a surprise presidential upset in November could mean big changes to education policy at the national level.
As 2016 draws to a close, here are some education topics to follow in the new year.
Betsy DeVos – The Senate confirmation process for President-elect Donald Trump's controversial nomination for U.S. education secretary will begin early in 2017.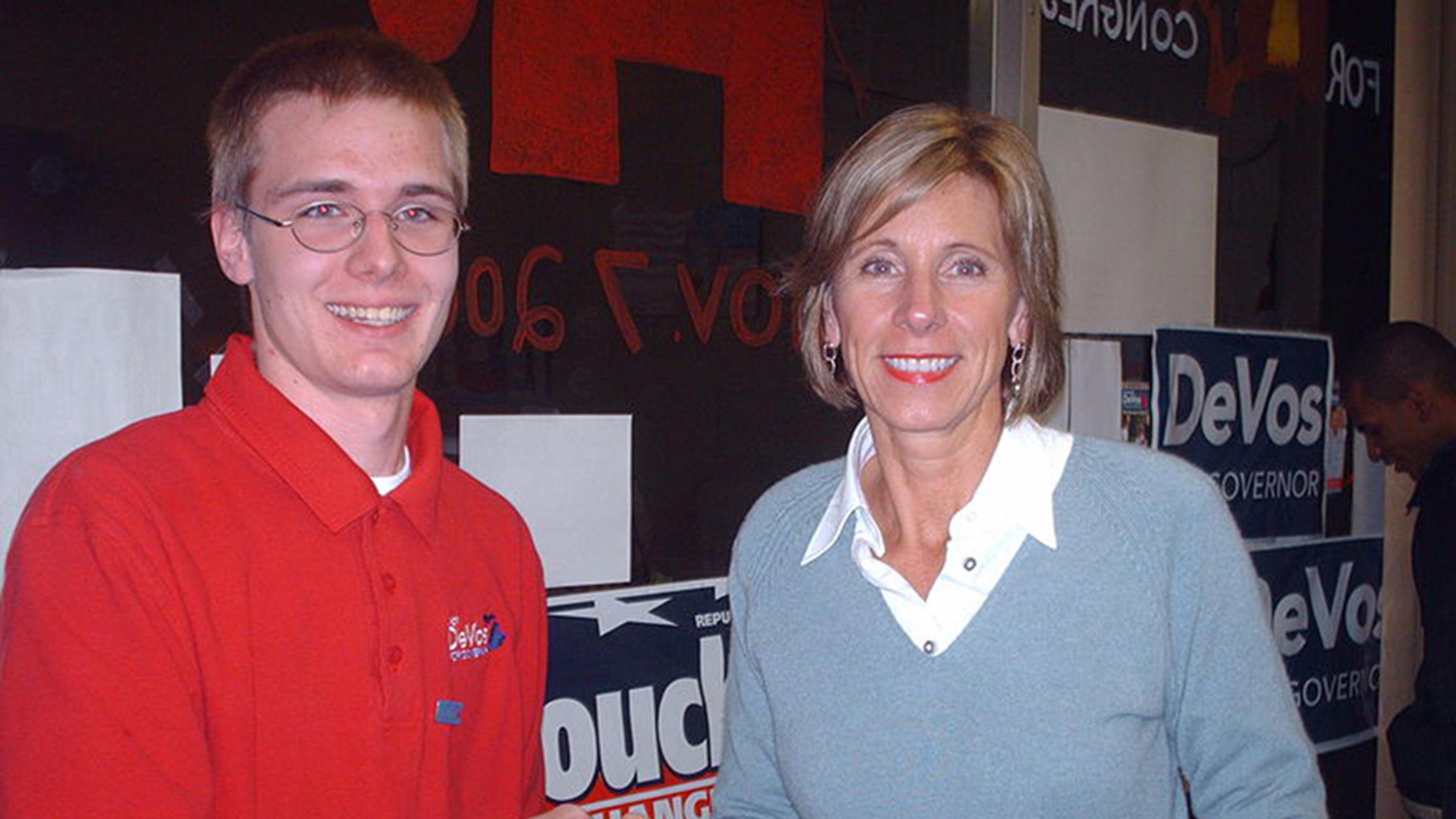 Donald Trump tabbed Former Michigan GOP and Alliance for School Choice chair Betsy DeVos, right, as his Secretary of Education. (Keithalmli / Wikimedia Commons)
DeVos, a billionaire philanthropist and Trump donor, has limited public education experience, but worked extensively to implement charter schools and school choice systems in her home state of Michigan.
Detroit Free Press editorial page editor Stephen Henderson took a closer look at how that has played out earlier this year, finding what he called a "dysfunctional educational landscape."
The former chair of Michigan's Republican Party has also been the target of criticism from education advocates and labor leaders across the country who have spoken out against her "education privatization agenda."
"Why do billionaires know what's best for poor kids?" Chicago Teacher Union President Karen Lewis said when asked about DeVos in November. "Where does that come from? I am still confused by this notion that the billionaires and the millionaires know what's best for kids."
Lewis went on to call DeVos "a nightmare" and expressed concern she could try to override a new cap on the number of charter schools in Chicago.
On her personal website, DeVos says she has been involved with education issues for nearly three decades and is committed to "transforming our education system into the best in the world." She declined to list any specifics, though, in deference to the Senate confirmation process.
That process will begin in mid-January.

CPS budget hole – The Chicago Board of Education has twice approved a Chicago Public Schools budget dependent on $215 million in state pension relief funding. But the board is expected to take a third vote on the district's revised financial plan after Gov. Bruce Rauner vetoed that measure, leaving CPS with a hole in its fiscal year 2017 budget.
SB 2822 had easily passed through the state Senate and House, but Rauner said that bipartisan agreement was dependent on sweeping pension reform at the state level, which never came to pass.
"The taxpayers of Illinois want a balanced budget," he said in a statement announcing the veto Dec. 1. "That can only be done if we address the structural imbalances that have bankrupted the State and CPS alike and drain resources that should be spent on other priorities, like improving schools and funding social services.
"The taxpayers of Illinois do not want just another bailout. Let's get back to work to end the budget impasse and put Illinois on the right track once and for all."
The board unanimously approved a re-worked district budget in December with the hope state legislators would override Rauner's veto.
"I expect the state will fill its promise and keep its word and provide the necessary funding for Chicago children," Board President Frank Clark said during a December meeting. "If, for whatever reason, the unthinkable occurs, we are prepared to deal with an amended budget at our next regular board meeting in late January."
But that override never fully came to fruition. The board's next meeting is scheduled for Jan. 25.
CPS CEO Forrest Claypool said the district could go to court to secure funding, but if state dollars do not come through, it's possible CPS could resort to midyear classroom cuts to balance its budget.

Barbara Byrd Bennett sentencing – The former Chicago Public Schools CEO faces more than seven years in prison for her role in a fraud scheme that steered millions of dollars in district contracts to the SUPES Academy where she had previously worked as a consultant.
Courtroom sketch of Barbara Byrd-Bennett from an appearance in 2015.
Byrd-Bennett and two former SUPES executives – Gary Solomon and Tom Vranas – have each pleaded guilty in federal court and all three will be sentenced in spring 2017.
According to a plea agreement, the trio "participated in a scheme to defraud and to obtain money and property from CPS by means of materially false and fraudulent pretenses … and to defraud and deprive CPS and the Chicago Board of Education of their right to the honest services of Byrd-Bennett through bribery" over the course of three years.
As CPS CEO, Byrd-Bennett worked to convince the district to spend millions on principal training through SUPES. In return, Solomon and Vranas agreed to pay Byrd-Bennett a 10-percent kickback in the form of trust funds for two of her relatives, along with a promise to hire her back once she left CPS.
Byrd-Bennett has a sentencing hearing scheduled for April 13. Solomon will be sentenced March 24 and faces up to 20 years in prison. Vranas faces up to five years in prison and will be sentenced in April.

Illinois education funding reform – Illinois legislators and education leaders spent much of the latter half of 2016 meeting to figure out how to reform the state's famously broken education funding policy.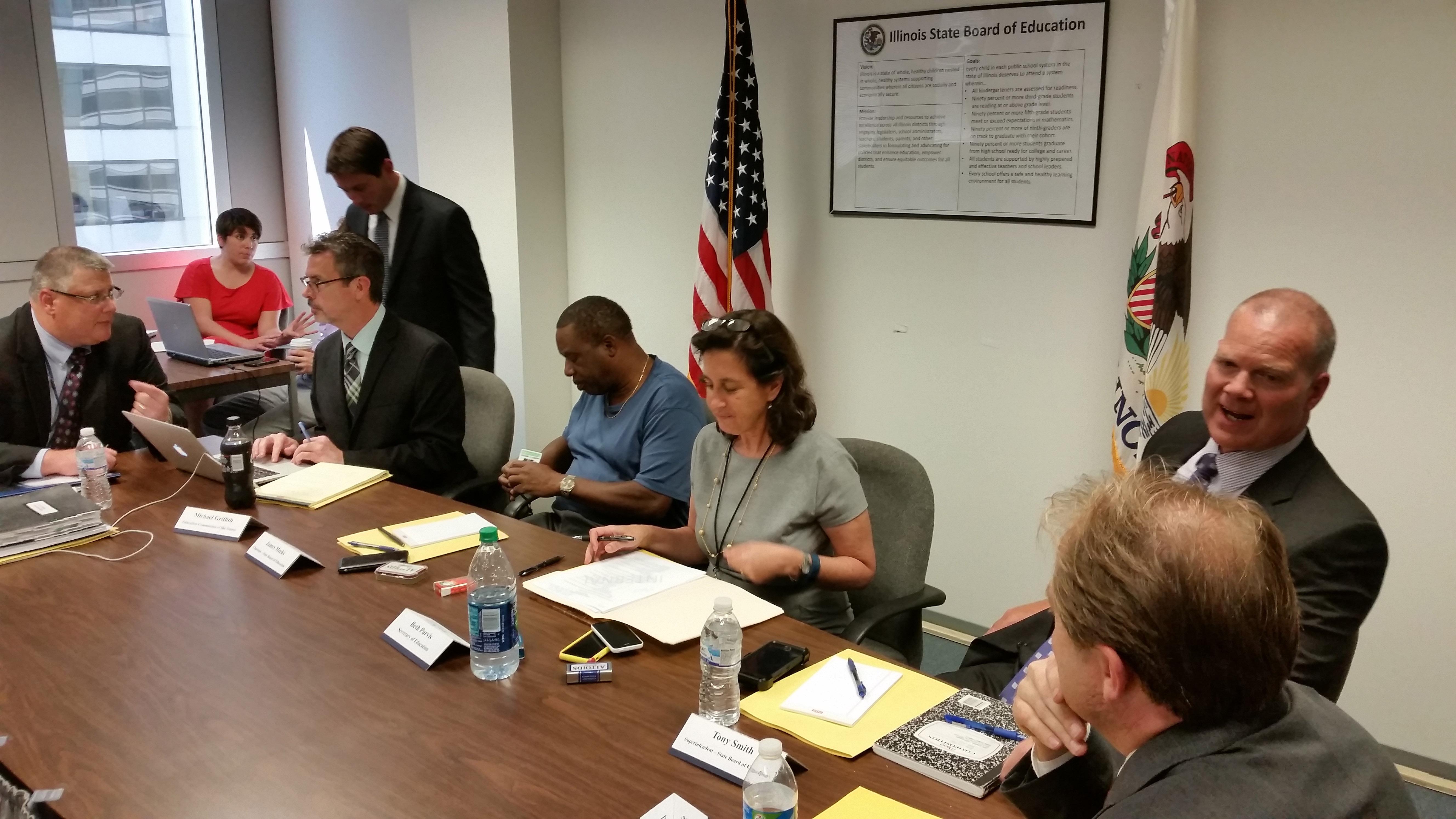 Illinois Education Secretary Beth Purvis, center, serves as chairperson for the state's newly formed School Funding Reform Commission. (Matt Masterson / Chicago Tonight)
The Illinois School Funding Reform Commission has met nearly a dozen times since August and has plans for five more meetings in January before a self-imposed Feb. 1 deadline to come up with a way to fix the nation's most regressive education funding system.
Illinois currently has the largest equity gap between its low- and high-poverty districts.
Among other solutions, the commission has examined moving to an evidence-based model, which is based on the actual cost of implementing strategies proven by research to improve student performance, such as tutoring, extended school days or smaller class sizes.
That method could require billions more in state funding on top of what it already spends on education and would demand additional funding for special education students and English-language learners.
The commission plans to make any recommendations by February to allow the General Assembly time to pass legislation during its upcoming spring session.

ESSA implementation – The Every Student Succeeds Act, a new federal law replacing the outgoing No Child Left Behind Act, begins taking effect at the start of the 2017-18 school year.
The law transfers partial control over education policy away from the federal government and gives it to the states, which are each required to draft individual accountability plans.
Each state must include four accountability measures – such as test score consistency, grades or graduation rates – along with one non-academic indicator tracking either school quality or student success.
In October, The Hamilton Project published a report pushing states to use chronic absenteeism, or the number of students missing 15 or more school days per year, as their non-academic indicator.
That's one option the Illinois State Board of Education has looked at and included in its two draft plans released thus far. ISBE has held listening tours to gather public comments on those documents throughout the fall and into the winter and plans to submit a third revised draft plan to Rauner in mid-January.
Follow Matt Masterson on Twitter: @ByMattMasterson
---
Related stories: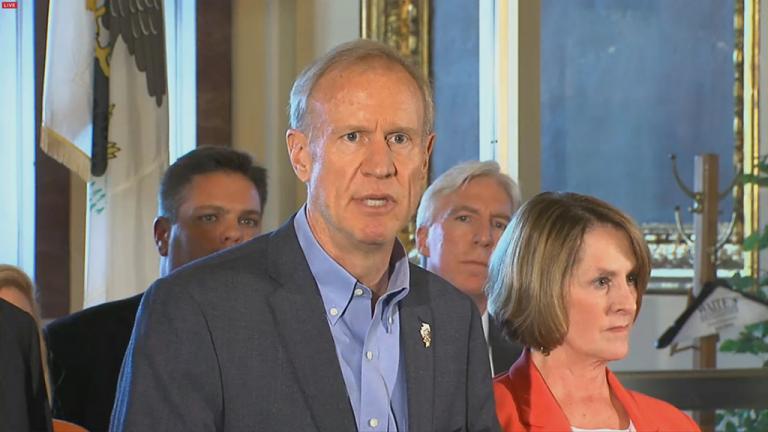 Rauner Vetoes $215 Million CPS Pension Funding
Dec. 1: Gov. Bruce Rauner has vetoed legislation that would have provided Chicago Public Schools with $215 million in pension relief funding, blowing a massive hole in the district's 2017 budget.
---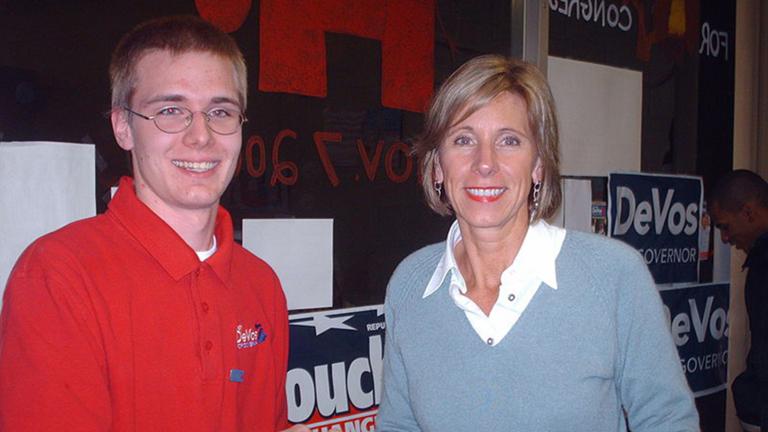 Teachers Union Leaders Blast Trump's Pick for Education Secretary
Nov. 23: President-elect Donald Trump on Wednesday tabbed billionaire donor and school choice activist Betsy DeVos as the next federal Secretary of Education, a move the head of the Illinois Federation of Teachers immediately called "hugely troubling."
---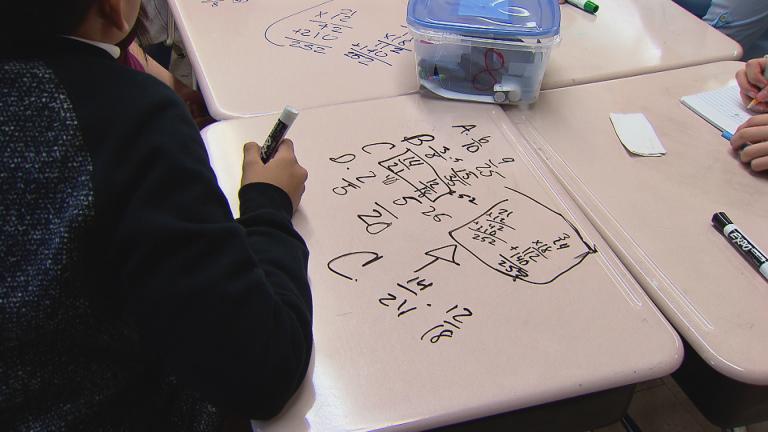 Education Funding in Illinois: How the Evidence-Based Model Works
Sept. 21: One way to achieve the goal of providing an "adequate" education to all Illinois school children? Spending much more money per child. We crunch the numbers.
---