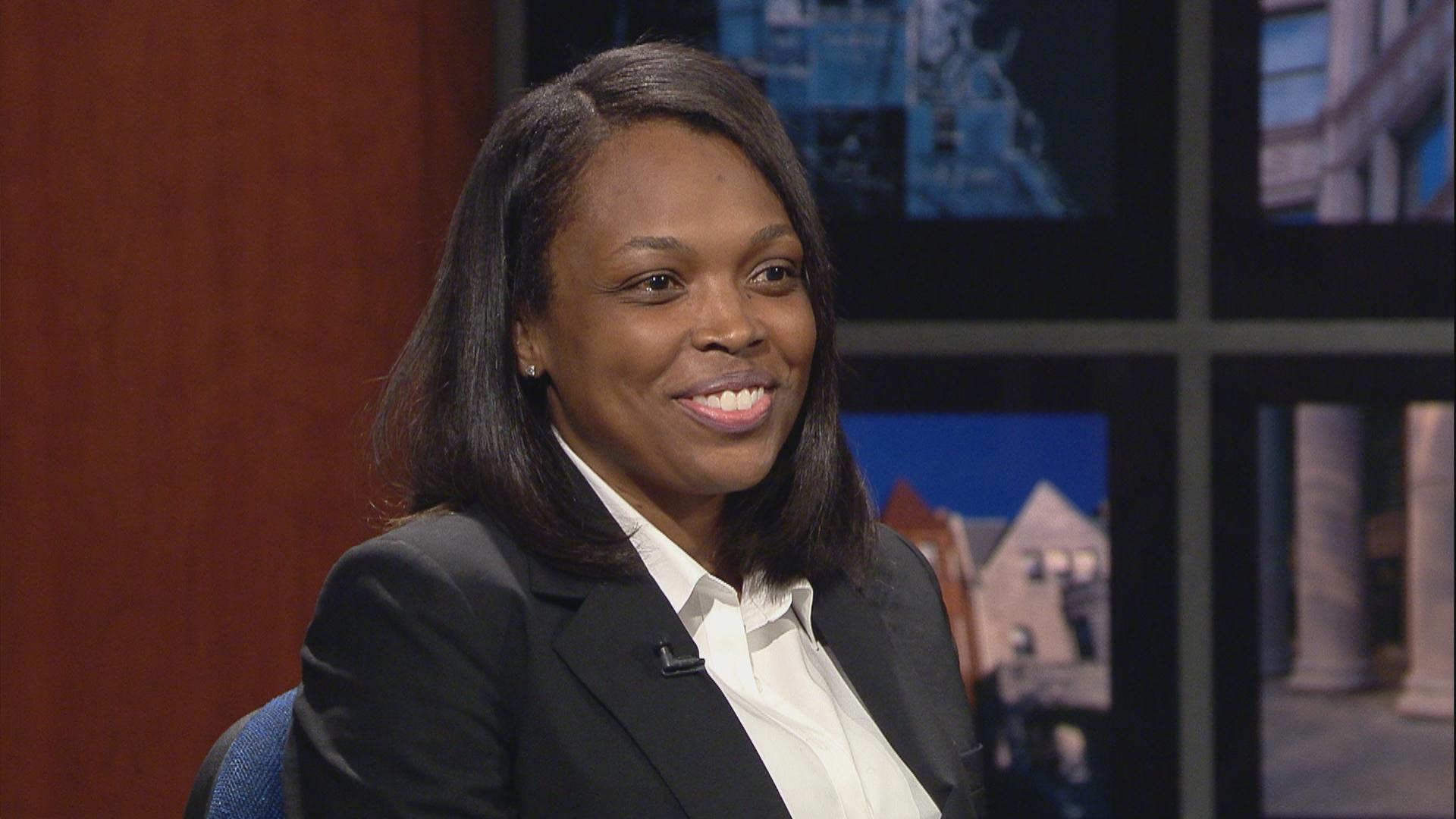 Janice Jackson makes her first "Chicago Tonight" in-studio appearance on Aug. 3, 2015.
"I'm always optimistic."
That's Janice Jackson in August 2015, answering – with a smile and a laugh – a question on "Chicago Tonight" about Chicago Public Schools' uncertain financial standing. 
Less than two weeks earlier, she had stood beside Mayor Rahm Emanuel at a press conference inside George Westinghouse College Prep in East Garfield Park, where she and longtime Emanuel ally Forrest Claypool were introduced as the district's new leadership team.
"This is not professional for me. This is personal," said Jackson, the newly minted CPS chief education officer. "I believe in the power of public education. I've seen the power of public education through my own experience and I've seen it through the eyes of the children I've had the honor of serving."
Janice Jackson speaks on July 16, 2015 after being named new chief education officer for Chicago Public Schools. On Dec. 8, she became the district's fourth interim or full-time CEO since 2015.
The location of that press conference was fitting: Six years earlier, when Westinghouse opened its doors as a new selective enrollment high school, Jackson was its principal.
She began her career within CPS in 1999, working as a social studies teacher and debate team coach at South Shore High School. From there, she became principal at Al Raby High School, then moved just a few blocks away to Westinghouse. After five years there, she entered her first central office position, overseeing 26 schools and more than 14,000 students as district network chief.
A year later, Jackson was standing with Claypool and the mayor inside the school she once led, as she assumed one of the highest-ranking positions within the nation's third-largest school district.
On Friday, Jackson, now 40, stood alongside the two men at CPS headquarters, where Claypool, now an embattled leader facing possible termination, tendered his resignation as CEO, effective at the end of the year. The move came after a report from the CPS inspector general detailed his repeated lies as part of a "full-blown cover-up" during an investigation into an ethics code violation.
In between a glowing retrospective of Claypool's career both inside and out of CPS, Emanuel made another announcement at that press conference: Jackson had been appointed as the district's new acting CEO.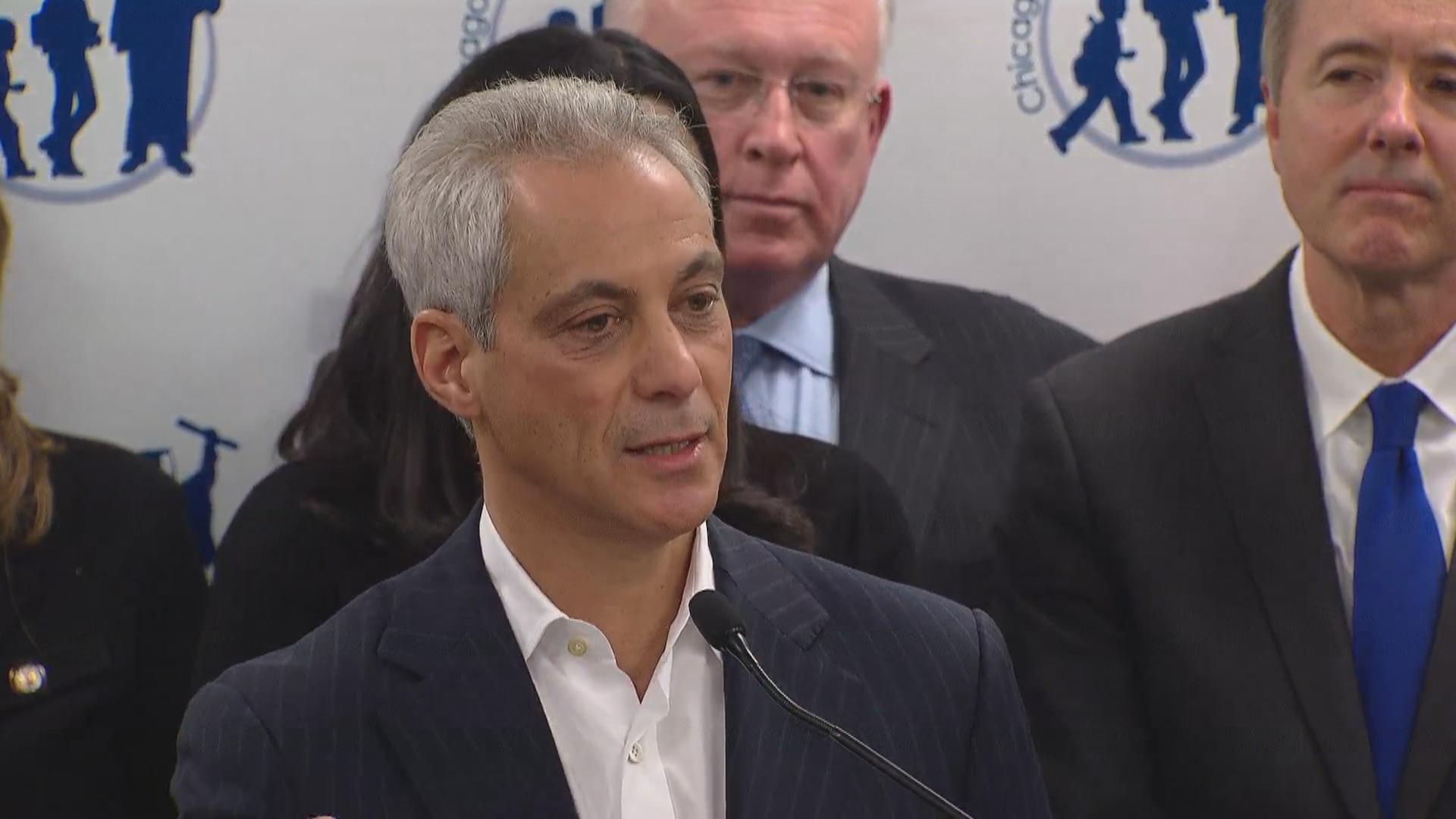 Janice Jackson "has an incredible record herself," Mayor Rahm Emanuel said Dec. 8 when announcing Jackson as acting CEO of Chicago Public Schools. She "will build off of the progress that Forrest [Claypool] selflessly has done."
Finding stability
In a 2016 profile of Jackson, Steven R. Strahler of Crain's Chicago Business wrote, for the publication's annual 40 Under 40 list, "Her mantra as CPS slowly improves graduation rates and test scores while confronting chronic teacher attrition and principal turnover: 'stability, stability, stability.'"
As soon as Emanuel announced Jackson's appointment, she became the district's seventh interim or full-time CEO since Arne Duncan left for Washington D.C., in 2009. That includes five during the mayor's tenure and four since the middle of 2015.
For perspective, the New York City Department of Education – the largest public school district in the country – has had four chancellors since 2002.
But unlike some of her predecessors who came from politics (Claypool), other cities (Barbara Byrd-Bennett, Jean-Claude Brizard) or state government (Paul Vallas), Jackson is a Chicago lifer with a strong background in education.
Her first CPS experience came when she was just a toddler, entering the district's Head Start pre-K development program. From there, she graduated from John W. Cook Elementary and Hyde Park High School.
She earned a bachelor's degree and her first master's from Chicago State University, then picked up a second master's and a doctorate in education from the University of Illinois at Chicago. Her dissertation focused on the many ways principals can help teachers improve their instructional capacity.
Now a parent, Jackson's daughter, Tori, also attends a Chicago public school.
She is unabashedly a product of the same school system she's now been chosen to lead.
As a CPS student, teacher, principal, and now parent, this new study only validates the progress I have seen and felt. https://t.co/Pr2z2OoTn4

— Janice Jackson, EdD (@janicejackson) December 6, 2017
---
Aside from the announcement by Emanuel of her new interim position, Jackson's name didn't come up much at last week's press conference. She didn't speak to media and no one answered any questions from the press. But the mayor on Tuesday said he has "100-percent confidence" in her ability to lead the district. And he's not the only one who feels that way.
"If anyone can bring stability to that position, it's her," current Westinghouse Principal Patrick McGill said. "If anyone wants to commit her life to that position and to the students of Chicago, it's her."
McGill came to Westinghouse in 2013 as a resident principal through UIC's Urban Education Leadership internship. Jackson, an alumna of that same program herself, served as his mentor. She left Westinghouse a year later, but McGill still credits her with laying the foundation of what remains one of the district's top performing schools.
"It's one thing to be a good principal when you're in a school," he said. "It's another thing to be a good principal in a school that built the capacity of every single person in that building and outside that building – the community and the parents and the students – so that trajectory continues. That's what she was able to do.
"I think that is something that's just indicative of the type of work she was able to accomplish for the students of CPS.
"Now people are looking to Chicago to learn about how to improve large urban school districts. And rightly so, they should. I think she's had a huge hand in that all the way from when she was a teacher to a principal to a network chief to the chief ed officer. And I'm really excited to see what's going to happen under her leadership as CEO."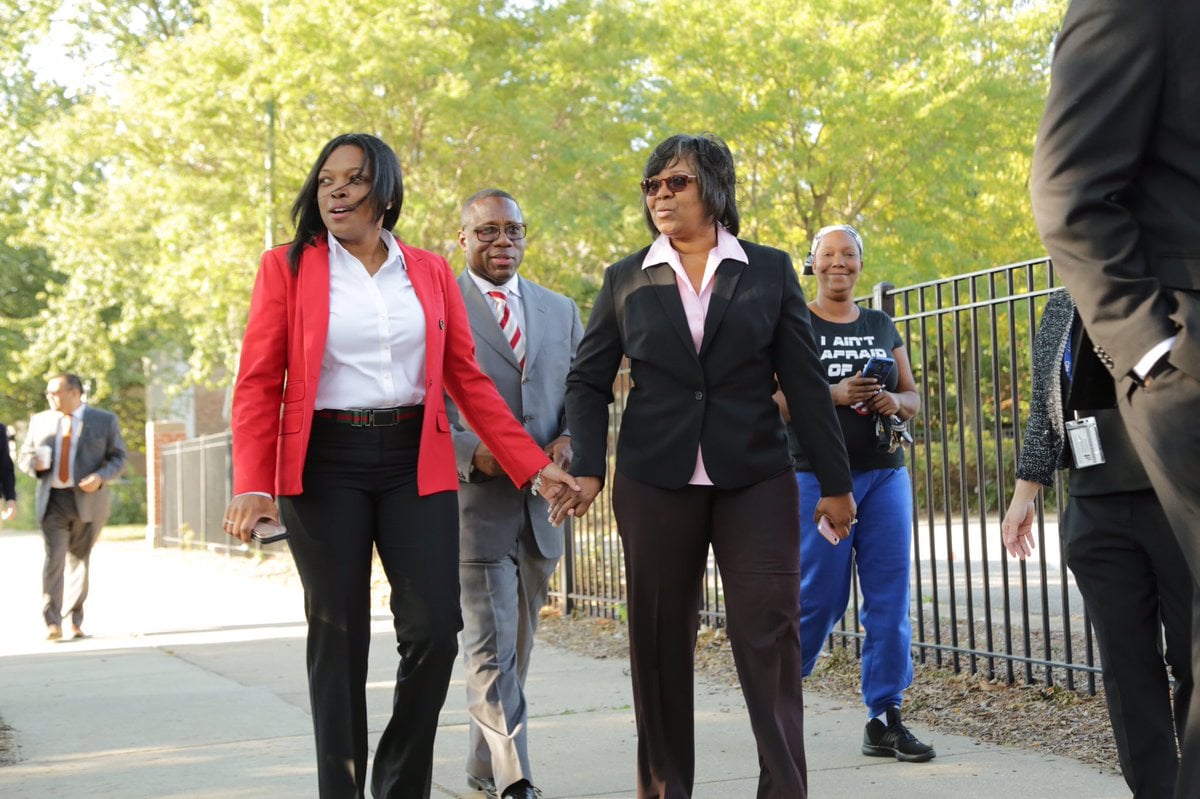 Jackson walks with Ald. Michelle Harris along a CPS Safe Passage route at Harold Washington Elementary last fall. (Janice Jackson / Twitter)
Wait and see?
"She seems like a good choice," one Chicago teacher said of Jackson, "but the system is still jacked up."
No group was more critical of Claypool during his 30-month tenure than the Chicago Teachers Union.
Its leadership and rank-and-file members rarely, if ever, had anything good to say about the outgoing CEO. The union had already called for him to lose his job multiple times and issued a nearly unanimous vote of no-confidence earlier this year. CTU Vice President Jesse Sharkey said last week he and his colleagues were "delighted" to see Claypool resign.
The union wants an educator in charge of the district – someone who knows the rigors of managing a school or handling a classroom – and that's what they're getting now in Jackson.
She has been out in front of the district's new high school application process and its efforts to retain high-quality principals. In her time as chief education officer, CPS has also seen improvements both in its overall financial outlook and student achievement in the classroom. 
But at the same time, she's been criticized for standing behind some of Claypool's more controversial decisions.
So how does the union feel about the new acting CEO?
"It's a wait-and-see kind of position," another longtime teacher said.
That was the sentiment several CTU members shared with Chicago Tonight in the days following Jackson's appointment: extremely cautious optimism. They respect her strong personality, Chicago roots and background in education, but many are still concerned she could simply follow in Claypool's footsteps.
For instance, she has been a vocal supporter of the district's plan to close four under-enrolled Englewood and West Englewood high schools next year, despite the fact a nearby replacement won't be completed until 2019.
That proposal has already sparked protests by those who say students have been driven from the area not by a lack of quality options, but by CPS' own disinvestment in the existing schools in their communities.
"When I look at Englewood, at the experience some kids are getting, I can't make the case they're getting a good high school experience," Jackson told Chicago Tonight earlier this month.
Multiple teachers took issue with that comment, saying Jackson understands what schools need to succeed and "should know better" than to claim there simply aren't any good high school options in that area. They've questioned her involvement in the Englewood decision and are holding out to see if she'll continue standing by that plan moving forward.
They also want to know how she'll handle district special education policies and whether she'll be willing to sit down and engage school and community leaders.
But beyond any single issue, teachers want to know the answer to two driving questions before they throw their support behind the new CEO: Will she view them as partners rather than adversaries? And will she put students first?
"She's got to show that she will take a different approach on revenue, reject her predecessor's agenda to close schools and expand charters," Sharkey said last week, "and start listening to educators and parents."
---
---
Contact Matt Masterson: @ByMattMasterson | [email protected] | (773) 509-5431
---
Related stories: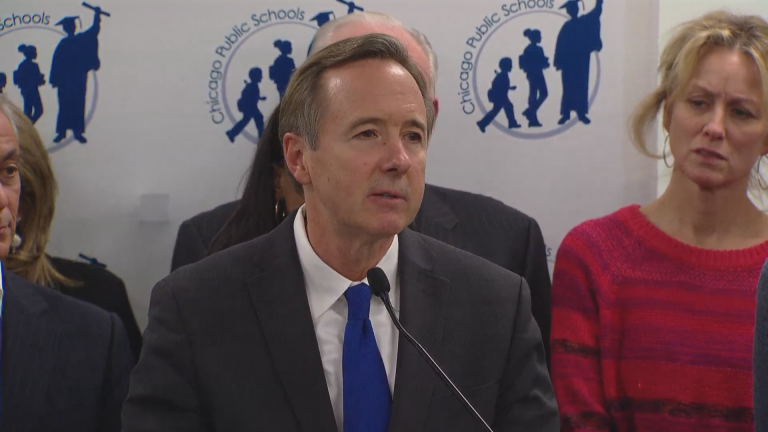 Forrest Claypool Resigns as Chicago Public Schools CEO
Dec. 8: Forrest Claypool said he hopes that when this chapter of his life is written, "people will say that even good men can make stupid mistakes." And with that, the embattled schools chief officially resigned on Friday as Chief Executive Officer of the Chicago Public Schools.
---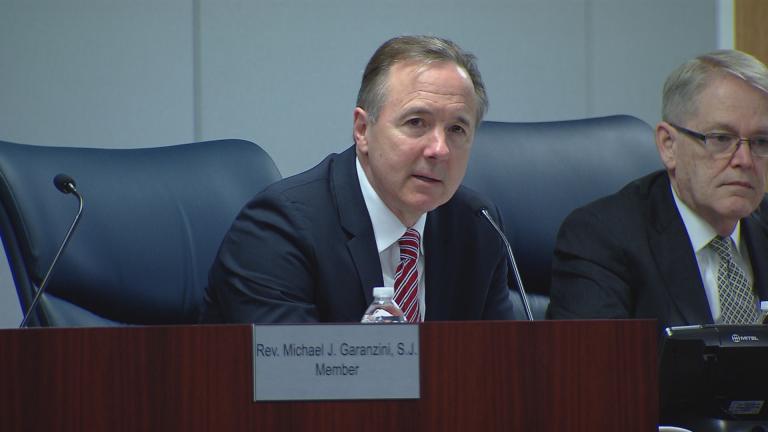 CTU Calls on Emanuel to Fire Claypool After Leaked Watchdog Report
Sept. 22: Calls for the ouster of CPS CEO Forrest Claypool and General Counsel Ronald Marmer come on the heels of a leaked report alleging Marmer violated the district's ethics code.
---
CPS Emphasizing Science, Financial Literacy in New Grad Requirements
May 23: Chicago high schoolers already take three years of science, but a new policy concentrates that specifically on biology, chemistry and physics, requiring students to achieve one credit in each course in order to graduate.
---